Smoking Weed In A Car?
Ever smoke a doobie on the road? I'm not gonna lie to you. I smoke weed and drive. I don't know of a pot smoker who doesn't. Even C-List Celebrities do it! (like above, Misha Barton. Remember that show she was on called "The OC"? Me neither.) I smoke n' drive alone, and with friends. Some say it's not safe, and I only partially agree. I do however, feel like I am a better driver when I'm high. My senses are heightened and I always follow traffic laws to the letter (I'm just afraid of getting pulled over).
Here is a list of 10 rules that everyone who smokes while driving should follow. The first five rules are to help you avoid the police, but the rest are tips to make your time smoking more enjoyable.

10 Tips For Driving High
1) Only Smoke Rolled Bud- I might be guilty of not following this rule every time I cruise. I used to ride with a bowl and smoke, but after getting pulled over with the bowl in my glove box, I'll never do it again. I didn't get caught, but I was so nervous he was gonna ask to search my car, it ruined my high. Don't let this happen to you. Smoke only joints and blunts. You can eat a roach, you can't eat a bowl. (Unless you are retardedly high)
2) Hold It Like A Cigarette- If your smoking a joint while driving, hold that thing like a cig. I've passed numerous cops while smoking J's, and as long as you don't hold it like a roach, you'll never get pulled over. Cops don't assume everyone is smoking weed.
3) Smoke At Night- About 75% of my doobie cruising occurs at night. This is the prime time for road smokin'. Fewer cars on the road, fewer cops, and no one can see what your doing (or smoking) inside your car. This would be the only time of day I would recommend smoking a bowl.
4) If Not At Night, Drive In Rich Suburbs- This rule is only for smokers who don't live in a big city. Where I live, there are 100s of suburbs that seem to sprout up like weeds. Generic people living in generic houses who work at generic jobs who have generic kids. Not for me, but I love using their perfect cookie-cutter subdivisions as smoking spots. No one is ever outside (they have Tivo) and I doubt any cop is gonna patrol a place that has $750,000 houses lining the streets.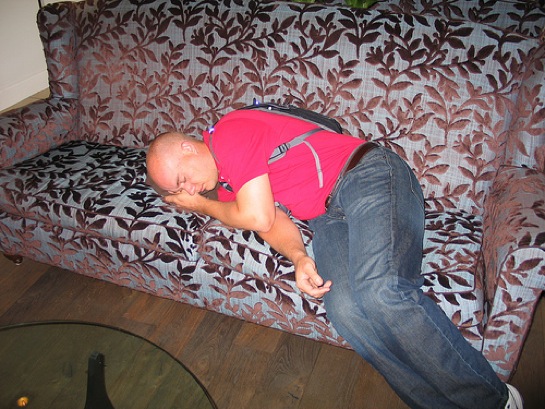 5) If You Think You're Too High To Drive, You Are- Everyone knows their limits when it comes to marijuana. And although I believe driving high is 1000 times safer than driving drunk, sometimes you can be too high to drive. If you feel like this, crash on a buddies couch or wait to come down. It's not worth going to jail or crashing your car (or someone else's).
6) Ride With A Drink- Trust me you'll thank me later, after your done smoking, cottonmouth is gonna kick in and you'll be stuck in your car, drinkless. Bring a 20oz pop, or a water bottle or whatever, just keep it in your cup holder. I do this: Bring your J with you and go to a Speedway gas station. Buy one of the 42 oz Slurpee drinks and fill it with half frozen coke/half wild cherry. Smoke your J and drive around sipping on a Slurpee. Best Time Ever.
7) Music Is Essential- If you're fortunate enough to have a iPod hook-up in your car (like yours truly), make a playlist of songs you like to listen to high. Mine is called (of course) "High Mix". If not, make a mix CD. Radio isn't always reliable to play good music, and commercials are boring. I personally enjoy Wild Wood by Paul Weller.
8 ) Driving With Friends = Good Times- I enjoy smoking alone like any stoner, but nothing beats a doobie cruise with smoking buddies. Don't have more than 5 people in the car though. Roll up a fat weed joint, roll down the windows, turn on some singable music (Pusherman by Curtis Mayfield), and let the laughter commence.
9) Obey All Traffic Laws– You don't want to give the police any reason to pull you over. They are looking for you to mess up some small traffic law so they can pull you over. No need to have a cop come up to your window with your car reeking of weed. You will definitely be searched.
10) Be Aware Of Your Surroundings– Take a look around before you take a toke. Make sure you're not at a stop light with someone looking at you while hitting the blunt. You never know how people will take it. Most people have no care for people smoking. But you can get those idiots who call the police.