The Blue Cookie Strains has taken the San Francisco bay area by storm, with new hybrids popping up consistantly. Few of those hybrid strains pack as strong a punch as, Blue Cookies. Bred from parents Blueberry x Girl Scout Cookies, Blue Cookies is an Indica-leaning hybrid that is sure to satisfy the toughest critic. Never one to disappoint, the Smilehouse collective in San Francisco have their own Blue Cookies strain that I had to put to the test. Here is what I found:
Sight: Green and purple hues. Resinous and hairy
Smell: Sweet, Piney, Skunky
Taste: hints of blueberry in the smoke, sweet and easy
Touch: Sticky, resinous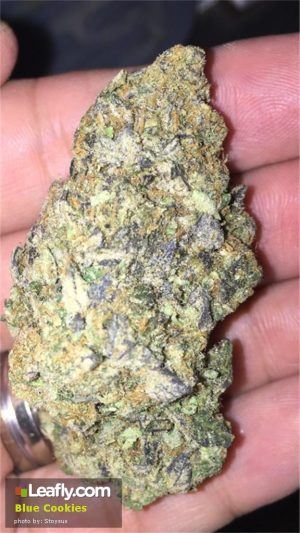 The buds are olive green and flecked with purple patches. Dense and resinous, my sample was covered in crystals and light colored hairs that stuck to your fingers while packing a bowl. The scent of this strain is so skunky it seeps through my jar; Not the best bud for discreet stoners. The smoke is surprisingly smooth, coming from such a pungent strain. The draw from a bong is sweet and the smoke is easy on my lungs. Candy-like flavor fades to blueberry and doesn't leave a bad taste in one's mouth. The effects come on almost immediately after the first hit. A deep spacey sensation from the sativa side gives way to body tingles of the indica. The body high does not leave you couch-locked for long however, the sativa creativity buzz will have you up wandering around with a big smile on your face.
Great for a hike or hanging out in the backyard, Smilehouse's Blue Cookies will leave you with a silly smile on your face. A curious Indica-dominant strain that gives relief to the body and release to the mind. For me, this Blue Cookie strain elevated my mood and gave me burst of inspiration in writing this review. They have great taste and a green thumb over at the Smilehouse collective, I cannot wait to see what they come out with next!