As you can see HERE, there are many places in Colorado which will tolerate at least some kind of cannabis consumption in certain areas of their property, but there are actually quite a few places that do more than just tolerate your usage of cannabis… they pretty much hope that you will partake!
CROWNE PLAZA MY 420 TOURS SILVER SURFER VAPORIZER ROOMS
COST: $209, per night (minimum 2 night stay)
CAN YOU SMOKE? No, that might result in a $250 charge, but you can use the Silver Surfer Vaporizer, which be waiting for you in your room, along with the essential oils attachment (a combination that costs around $350). And that's the very same vaporizer I've used almost exclusively since February, so that's quite a nice perk to be able to use it! You can vaporize dry herbs, as well as dab concentrates, because the vapors of cannabis don't smell the same or as potent as cannabis smoke. Plus, they hook you up with a My 420 Tours swag bag (probably filled with some awesome stuff) and an herbal guide to the city of Denver.
IS IT A NICE PLACE? Yeah, I guess… if you're cool with a rooftop pool, a nice Sunday brunch, a programmable safe, and an on-site bar and restaurant. It's a pretty nice place for a 3-star hotel in the heart of Denver, with a nice lounge, ATM, plenty of parking, a fitness center, and almost too much to do in the surrounding area.
CONTACT FOR RESERVATIONS: (855) My-420-Tour – Which is 855-694-2086
BUD AND BREAKFAST AT THE ADAGIO
COST: $299 and up, per night
CAN YOU SMOKE? Not inside, unless you're OK with a $100 cleaning fee, but you can smoke anywhere you want in their garden area. And given the fact that you're provided with a wake-n-bake cannabis sampler every morning, a top-shelf cannabis selection around brunch-time, and even more cannabis at night, I'm sure you'll be out in those gardens a lot! Plus, from 4:20 PM to 6:20 PM is happy hour, which includes an open bar, cannabis treats, and munchies, and you get a gift bag on top of all that!
IS IT A NICE PLACE? This place looks so fancy, inside and out, that you would never assume that there's a garden full of potheads out back. A continental, or made-to-order, breakfast is included with your stay, you get mimosas with brunch, cookies and milk with your cannabis at night, and the rooms are incredible! There are 6 different rooms to choose from, which include amenities like luxury bath robes, reclining chairs and sofas, gas fireplaces, hot tubs, and walk-in closets.
HIGH COUNTRY CANNABIS TOURS CONDO AND GANJA FARM
COST: Condo – $449 per night, Farm – $420 per night (2 people max)
CAN YOU SMOKE? Yes, you can! (Well, not if it's tobacco; that stays outside. ;)) In fact, every single night you stay at the condo, there will be 6 more grams of different strains of cannabis and another gram of hash waiting for you! And I'm sure you'll love putting to use the fancy glass and vaporizers they provide you with as well. Hell, you do realize that you have the option of staying at an actual cannabis farm, right? Sure, this option includes organic cannabis and hash as well, but you're going to be sleeping right beside a 4,000 square foot greenhouse, where you'll be able to learn different growing methods from the staff.
IS IT A NICE PLACE? The condo looks to be fully decked out with a big screen TV, 2 bedrooms, 2 baths, and indoor parking, all in a secure building which is within walking distance of a lot of fun and artsy things. And the farm lodging may not look as fancy, given the fact that it's an off-the-grid micro-dwelling that runs off of solar power, but you do get to have a campfire every night, and they hook you up with a bunch of free organic food, a bottle of local wine, a growler of craft beer, and you can even request a personal cook.
LOCATION: I'm not sure if they want that information freely available, because I couldn't find locations for either place, but the condo is in Denver by the convention center, and the farm is out in the southwest corner of the state.
CLICK FOR RESERVATIONS: The farm's only available to rent from June 1st to September 15th, so that they don't have to tend to visitors while they're harvesting all the cannabis and produce.
GET HIGH GETAWAYS BED & BREAKFAST
COST: $199 and up, per person, per night (2 night minimum)
CAN YOU SMOKE? Oh yes, you can! They provide you with "everything herbal", a gift bag, and a chauffeur that will drive you anywhere you want (24/7), so that you don't have to risk getting in trouble while driving high. And, as their site says, you'll be their exclusive guest, where your stay will be more of a party than anything else.
IS IT A NICE PLACE? There are two themed-rooms to choose from, a common area, library, reading space, a customized free drink and snack bar, hot breakfast, live music, deep soaking tub, outdoor hot tub, steam room, and an outside grilling area. And don't let the word "party" scare you, because you get to choose the type of party you'll be having. You can choose from hitting up the mountains and casinos, getting massages and going to some hot springs, going to comedy and dance clubs, or you can hit up a museum and ride around in a horse and carriage. Oh, and did I mention this is an entirely clothing optional bed and breakfast? See, they cater to all types of people here!
LOCATION: The closest thing I could find to an exact location is that it's in the Belmar Area in Lakewood, Colorado, which appears to be a nice area, complete with a huge park with a lake, and plenty of shopping and restaurant options nearby.
CONTACT FOR RESERVATIONS: (303) 564-3700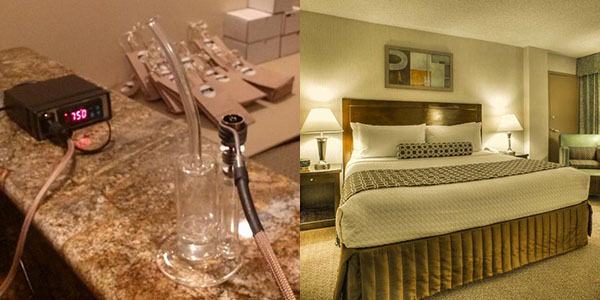 CROWNE PLAZA DENVER DAB HOTEL D-NAIL ROOMS
COST: $259 and up, per night
CAN YOU SMOKE? No, you can't, but every single room has a brand new D-Nail and oil rig, which is an awesome set up which allows you to dab at the perfect temperature without a torch. And while dabbing like this is actually a form of combustion, you're obviously allowed to use this set up, or any vaporizer you like, in your room. I'm not actually sure if they provide you with any concentrates to dab, but I would imagine that you'll have access to plenty of ganja goodies.
IS IT A NICE PLACE? Well, if you were paying attention, this is the exact same hotel that the Silver Surfer rooms (which I mentioned above) are located, so it's definitely a nice place!
travelTHC
But there are plenty of other cannabis-friendly vacation rental spots in Colorado and, thanks to services like travelTHC, you have an easy option of tapping into their database of good places to light up without any worries. I wish they would allow you to browse all the different rental options, and then rent from them directly, but it appears that at this point you have to fill out a contact form, and then travelTHC will contact you to get you a reservation. Some places may not want to broadcast that they let people smoke herb in their place, so I guess that's understandable.
If money wasn't an issue, which place would you stay?