If you hate preparing weed, the OTTO Electric Grinder will fast become your new best friend. This nifty device is without doubt the best automatic grinder on the market, or frankly anywhere. It is bigger than others you find available, but the evenness of its grinding and its ease of use is simply unrivalled. Even if you are a pot cleaning, joint rolling connoisseur, you can find good use for the OTTO.
Banana Bros. sells this excellent grinder at a hefty price tag, but you will save big money in the end. Its grind is so insanely even that you will never waste weed again, and its quality ensures it will last a long, long time. It is also extremely versatile, since it works fantastically with any herbs, including tobacco. No matter what you want to grind, the OTTO Electric Grinder will do a brilliant job of it for you.
OTTO GRINDER
Automatic Smart Rolling Machine
In fact, this delightful gadget should be within reach in every kitchen. If you grow your own herbs, then the OTTO will grind your oregano, basil, thyme, lavender, everything perfectly and within seconds. No more battling a pestle and mortar, no more fighting with other grinders that stick and do not grind properly. This one will do it right, and do it right every single time, provided you clean it now and then.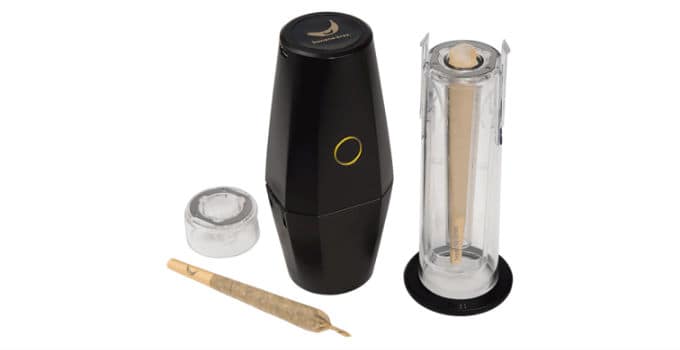 Every dank bud deserves only the best grinder, and the OTTO promises just that. The day it arrives will be cause for a celebratory spliff the likes of which you have never seen before. This elegant grinder does such a great job that you can use it in vaporizers, as well. You could not make a better joint yourself, and it makes giant ones too. When you open its box, you should find the following inside:
OTTO Weed Grinder
O Funnel
Fresh Seal Cone Tube
4-in-One Tool
USB Cable
Measuring Cup
20 OTTO Grinder
Cones
As far as automatic grinders go, the OTTO is big. It is sleek, though, with a minimalist design that looks good wherever you put it. It also has an array of features that, no matter how hard you try, you will not find anywhere else. The feature that stands out most is that it will grind your cannabis directly into your joint. You need never pre-roll again. Preparation time with the OTTO is literally zero.
Its grinding function is fully automatic. It actually has sensors that adjust both pressure and rotation based on what you put inside it. All you need do is push the power button, no adjusting or calibrating necessary. This sexy, intuitive, high-tech device is the epitome of simple. It has only two parts to it, and you can snap the O funnel or the cone tube onto it with extreme ease. Its main features include:
Compatibility with weed, tobacco and any other herbs.
Fully automatic grind adjustment.
Extremely fast and efficient.
Cone tube hides odor.
Measuring cup makes overfilling impossible.
How to Use – Rolling the Perfect Joint with OTTO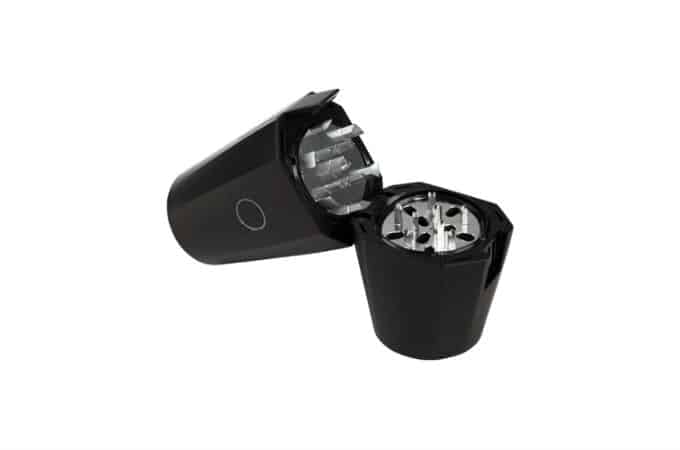 The OTTO is so easy to use, since you really do not do much. The hardest part is determining how much weed you will need, but the measuring cup does that for you. You can throw in a joint's worth, if that is what you want, or you can adjust the quantity according to how you want to use it. To grind, simply open the grinder, throw herb in, close it, attach the O funnel and hit the power button. To make joints:
Open the OTTO so you have access to the grinding chamber.
Throw weed into the chamber and close the OTTO again.
Take a cone and place it into the cone tube, then join the tube to the OTTO.
Hit the power button to get it grinding.
When finished, take the cone tube off the OTTO and remove the ready-filled cone.
Sit back and enjoy the perfect toke.
Officially, you cannot find a better, more efficient, more technically advanced automatic grinder anywhere than the Banana Bros. OTTO Weed Grinder. It is ideal for both vaporizers and joints, and because it grinds so evenly and prevents wastage, it promises the best value from your herb. It is also absurdly easy to use, making this grinder a non-negotiable must-have for any serious stoner or chef.
The only potential hiccup comes when transferring weed to a vaporizer. The O funnel has a large mouth, making it tricky to get all of it into the vape's chamber. This is easily preventable, though. Just empty the grinder into something else first. You will also need to clean it occasionally. Resin builds up in the chamber quite quickly, but cleaning is very easy. The odd clean for a perfect grind? Yes, very worth it.