There is nothing better than getting a fresh new bong or bubbler. Filling it with water for the first time, stuffing it with some fresh fuego, and sharing that experience with your friends. Now a days you have so many different styles from beaker bongs, straight tube bongs, and percolator bongs. And with so many different bong brands and new products coming out regularly, finding the perfect bong to satisfy all of your needs can be a challenging task. That's why we wanted to create a list with the best bongs and water pipes in the market. Whether you're a first-time buyer or a veteran bong collector, we want to make sure you can find the right fit at the best price between all the quality glass available for sale.
Bongs and Water Pipes 
With the soaring number of choices for cannabis consumption, innovative types are creating a better cannabis experience in a variety of ways.
And that means countless choices. They're crafted in a myriad of colors, from one of a plethora of materials, and with extras and add-ons that make for a truly individualized sesh every time.
So what exactly is it? And how is it different from a water pipe?
Essentially, a bong is just a tube with a diameter of about 1-3 inches and sealed base. And although a variety of accessories and extras can be added on or purchased with the bong or waterpipe, it usually consists of three basic features – water chamber, tube, and downstem.
It's typically fashioned from a variety of materials, with common ones being the following:
Glass Bongs
Acrylic or plastic Bongs
Wood Bongs
Metal Bongs
As long as the tube holds water, it's normally considered a bong. A bowl, where you put the weed to be smoked, is attached on the down-stem near the base of the device.
To consume cannabis from this apparatus, just inhale at the top of the tube as you heat up your smokable with a type of combustion – a lighter or another type of heating mechanism. Draw the smoke downstem from the bowl into the water and up through the tube into your lungs. Once you cash the bowl into ash, remove the bowl to open up the carburetor hole.
A water pipe is essentially the same, but the features are inverse to the bong. The bowl is usually at the top of the tube, and there's a straw or pipe protruding at an upward angle from the side of the water pipe near the bottom.
As you heat the bowl of weed, draw on the straw or pipe. The smoke is pulled downstem into the water, up into the water pipe, through the straw or pipe, and into your lungs.
In either a bong or water pipe, the device is filtered with water for a smooth, clean, cool hit of your favorite dried flower. The water filters out residue, particles, and more – no one wants those to enter your lungs or respiratory system.
Our Favorite Best Bongs and Water Pipes for 2022
Bongs are a statement of you and your toking preferences, regardless of whether you're a serial solo smoker or a pass-the-bong-or-joint party partaker.
As we mentioned earlier, the most common materials from which pipes and bongs are made include:
Glass
Acrylic (plastic)
Wood
Metal
Although the materials can be used to compose the water chamber, tube, downstem, and bowl, we usually refer to what the bulk of the bong is fashioned from, which usually means the water chamber and tube.
Glass is typically more expensive and has far more choices than the bongs from the other materials. Wood is generally more naturally attractive while ceramic allows the maker to display their artistry and innovation more freely. Acrylic ones are popular due to their portability and value for the money.
What Kind of Smoker Are You?
Although most people will choose a bong based on how it looks or smokes, it's a good idea to take into account what type of smoker you are.
Do you smoke every day? Or just a few times a week?
Are you a heavy smoker? Or do you toke only 1-2 times a day?
Do you regularly solo sesh? Or do you share your sesh?
Are you a homebody? Or are you always on the go?
Size also matters, as you'll want to consider pieces that match your lung capacity, the size of weed nugget that you normally smoke, and more.
Best Glass Bongs
Glass is classic and smooth. It's durable and good-looking – and it's tough to beat the quality of toking and seshing from a glass water bong.
In doing research about the best pipes and bongs, we found what every else knows – it's not easy to rank them because of the wide variety of them. Mini-bongs, percolator bongs, gravity bong, beaker bongs, borosilicate glass bongs, straight tube bongs, double chambers etc. Bongs also can utilize different complex attachments that make for hybrid alien spaceship-Persian hookah bongs, and more.
There's also size, price, and extras to be considered.
To complicate matters is the explosion of glass bong makers, all of which are churning out their own versions of standard glass devices as well as being so creative that new categories are being invented seeming every month.
So, we decided to break down several not-too-outlandish glass bongs and what makes them so great. A more elaborate breakdown of only glass pieces might be a future post.
Impressive Glass Bong Manufacturers
When talking about glass, it's good to start with the bong makers that are changing, or at least influencing, the industry. Among the best bong brands that we've run across include the following:
Nothings Impossible
Higher Standard
Marley Natural
High Tech Glassworks
Burner Glassworks
Honey Supply
Illadelph
Hi Si
Pulse Glass
Nexus Glass
5 Glass Bongs We Recommend
Glass is a classic choice for your bong material because it's durable, attractive, and provides a consistently good quality bong that doesn't warp.
As a result, it's actually pretty hard to rank the best glass bongs your money can buy, because there are so many varieties designed to cater to every kind of smoker. From upright bubblers to double chambers to 3-foot long stems, there is something out there for everyone at nearly every price point. Here are some of our top recommendations next time you're in the market for a glass bong.
Nothing's Impossible Glass is a San Diego, California-based glass maker that creates one-of-a-kind pieces for the contemporary individual. They use only the best quality materials, such as borosilicate glass, to ensure that our work isn't just durable but built to last.
The price point and quality you are getting with is hard to beat with Nothings Impossible. They have a ton of options to choose from and also offer a variety of accessories including ash catchers, down stems, glass bowls, bangers, carb caps dab rigs and nectar collectors.
The Higher Standards heavy duty beaker bong is designed for fat rips of your favorite strain. The Higher Standards Heavy Duty Beaker is a borosilicate glass water pipe designed to rip with maximum filtration. The Heavy Duty Beaker has exceptional thermal resistance, thanks to its wide base and ground-glass connection.
The heavy-duty beaker is made for maximum thermal resistance, so it can handle all temperature variants for the whole length of your inhale. The diffused down stem creates tiny bubbles, which brings forth a smooth plume of water-chilled smoke. Comes with a reusable collector's case for safe storage and a custom ice catcher if you like extra cool smoke.
The beaker-style Smoked Glass Water Pipe is a museum-quality work of art that you'll want to proudly show off. This item is thickly bolstered in the base for added strength and balance and is made from durable hand-blown borosilicate glass. The Marley Natural Smoked Glass Water Pipe has an angled neck pullout bowl, eight-slit percolator, and big expansion chamber, all of which are bolstered in the base for extra strength and balance.
The Stündenglass which means hourglass in german is a gravity bong which you may have seen being enjoyed by Seth Rogen or Wiz Khalifa. This epic and unique gravity bong was invented in 2012 and became a business venture backed by popular vape company Grenco Sciences in 2020. This piece does come at a premium price of $600 but if you are in the market for a high end piece of smoking hardware this is definitely a piece you will want in your collection.
The Gravity Infuser, a stunningly elegant 360° rotating glass infuser that produces kinetic motion activation via cascading water displacement, opposing airflow technology, and the natural force of gravity, is the latest fruit-infusing innovation from Stündenglass®. The Stündenglass Gravity Infuser creates an immersive experience while providing smooth, consistent and vaporous draws.
The Stündenglass Gravity Infuser is a complete set that includes an aluminum bowl kit and a glass liner, but it can also be used with any smoking or vaporization device with a 14mm male joint and two 2.4-ohm coil springs. A 3-foot silicone hose is included for direct draws, yet a steady stream of smoke may be obtained through the 45° adjustable mouthpiece, which allows for completely contactless ingestion. 
The Stündenglass Gravity Infuser is a unique design that comes with an extended 10-year warranty and is packaged in a reusable craft box with a handle for safe storage and transportation. The Stündenglass Gravity Infuser stands alone at the top of smoking and vaporization devices, being both extremely durable, futuristic in design, and fantastic in function.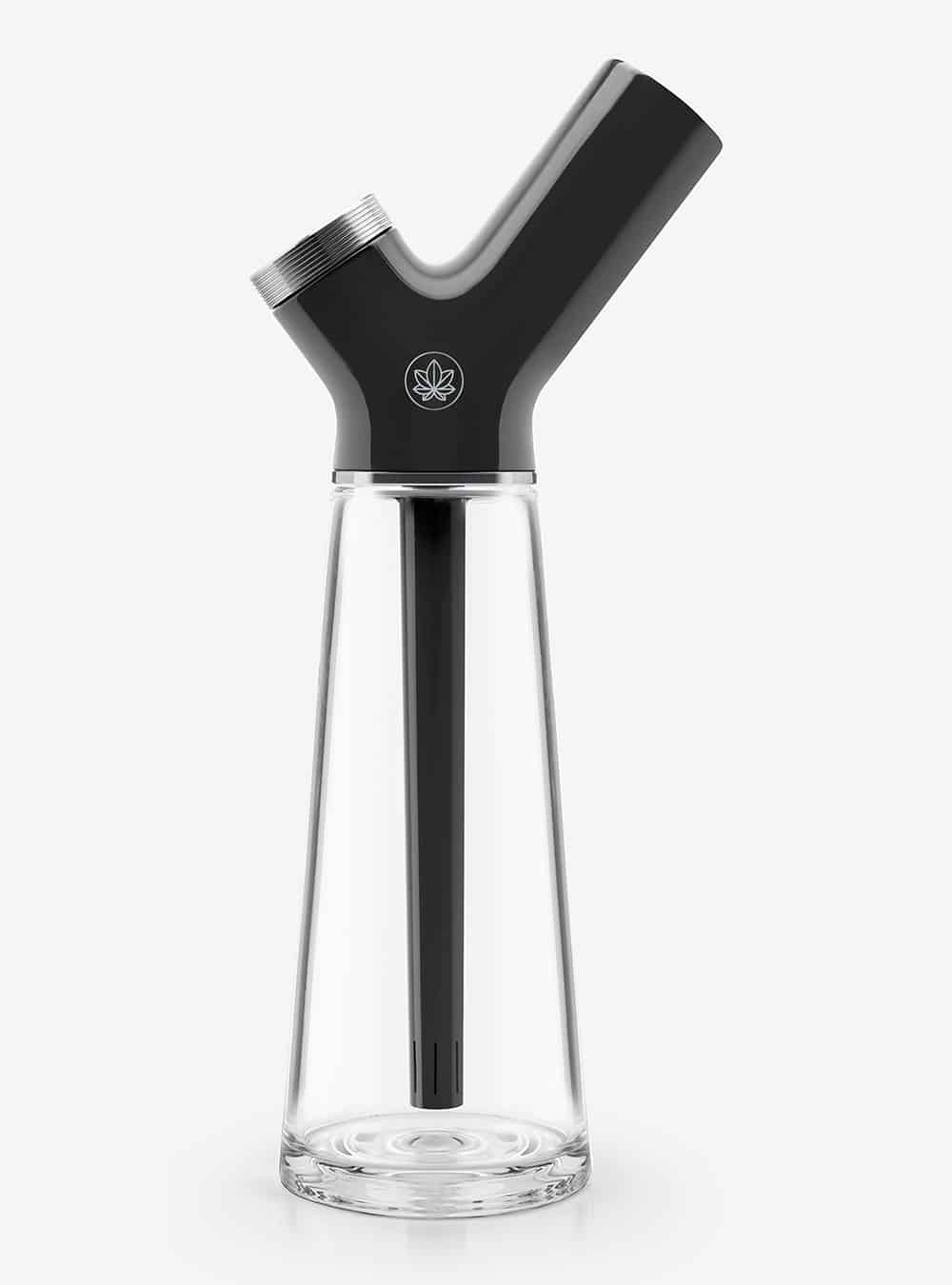 Heir
Removable glass that is dishwasher safe

8 slot percolated downstem
Heir Waterpipe is the reinvention of the traditional waterpipe that doesn't mind being seen in the contemporary living room. Enjoy a smoking buddy who's more friendly on your lungs and eyes, as well as elevating your flower appreciation with the most efficient and user-friendly experience imaginable.
The Heir Waterpipe has an amazing ergonomic mouthpiece that artfully branches off from the innovative bowl design that has a platter like rim that prevents spills and a 7 hole design prevents clogs.
The angled mouthpiece, tapered shape, and how it feels in your hands to the sound it makes when you set it down all indicate that this designer bong was designed to effectively complement your life and house.
This unit is composed of high-quality 4mm thick borosilicate glass and has an angled mouthpiece with a molded indent for an ergonomic grip that also tucks away the bowl and downstem. The silicone footer prevents damage to the glass, hides unsightly water, and marks the correct water line for a great hit. In the event of any unavoidable mishaps, two distinct bowls and an additional downstem are always provided.
Best Acrylic Bongs and silicone bongs
Acrylic (or plastic) bongs are popular because they're usually low-maintenance and less expensive. They also come in a variety of shapes, designs, and colors to suit your individual style and smoking preferences.
Acrylic water bongs are also usually durable, as the downstem and bowl are usually made of material that doesn't break easily, such as metal or plastic. Overall, because the materials are thick, yet lightweight and durable materials used, acrylic pieces are easily portable for those on-the-go or outdoor seshes.
Yet, plastic bongs also carry risks because of the toxic fumes given off when heated. More importantly, though, they often mask the great taste of your weed.
Even though bongs made from other materials, such as glass, don't cause the harmful fumes that acrylic ones do, acrylics are excellent for both beginning bong users and veterans alike. One of the best such manufacturers is Headway Plastics.
Some smokers think bigger is better, and if that's you, then you need this 2 feet tall Bubble Bong, available in dozens of colors. It's both shatterproof and dishwasher safe, so you'll never have to worry about cleaning or breaking.
This acrylic bong comes with a unique pistol grip, which makes it easier and more comfortable to hold onto than a standard stem. Available in dozens of color combinations, the pistol grip bong is 12 inches tall with a 1.5" diameter tube, metal bowl, and removable metal down stem. We recommend this for people with chronic pain, like arthritis sufferers, who enjoy smoking from a bong but struggle with maneuvering it.
Best Wood Bongs
Wood bongs are simple, often undecorated, and thoroughly gorgeous. Many popular, beautiful wood pieces are made from bamboo. They are stylish, durable, and authentic.
As we researched bongs, we saw a variety of simple wood pieces with a natural appeal. Although a variety of figures, shapes, and designs are popular, we noticed a theme that we liked: wood bongs in the form of a superhero or supervillain from movies, television, or even computer games.
For example, we saw the following that we consider among our favorites:
Batman
Spider Man
Iron Man
Predator
Pikachu
Each is a bust of the torso and head with a wooden bowl at the base where the character's chest or stomach would be. From the back of the head or neck, the mouthpiece sticks out.
Although many wood bongs are simple and efficient, many have design and craftsmanship that are amazing to behold.
Yet, the most common type of wood bong is one fashioned form bamboo.
Best Bamboo Bongs
Genuine bamboo bongs are almost always beautiful. Fortunately, they're also functional. A bong crafted from bamboo is smooth to touch and easy to use. The bamboo also affects the flavor of your weed, as the fibers of the bamboo enhance the taste of your rip.
Natural bamboo bongs are meant to be dry pieces, meaning that no water should be poured into the chamber.
2 Bamboo Bongs We Recommend
We are sure that you are now thinking: 'Bamboo? For a bong?'. We know, it might sound unconventional, but bamboo bongs are as functional as they are beautiful and stylish. However, they can be a bit difficult to clean as you cannot use hot water or chemicals on most of them. Here are two of our favorites.
This 16-inch hand-carved coconut base Thailand bamboo bong has a base width of 4.5 inches and a rubber grommet 45-degree female joint. The body is made of a real coconut shell and the neck is bamboo; use the included removable silicone down stem when you smoke for easier clean-up.
This hand-carved Indonesian bamboo bong is sure to be a conversation starter when you pass it around. At 16 inches tall with a 4-inch base, this Primitive Pipes bong includes a marble bowl, beeswax lining, a 45-degree female joint, and a removable silicone down stem for easy clean-up. The deep bowl allows for big, smooth hits every time.
Best Ceramic Bongs
Ceramic bongs provide the creator with a smorgasbord of choices for shapes and figures.
Wizards
Naked figures
Aliens and alien heads
Mushrooms
Ships and submarines
Snakes, elephants, fish, tigers, and more
Red, yellow, light blue, black, and every color imaginable
Striped, tie-dyed, patterned, polka dotted
Ceramic pieces are some of the most fun and creative smoking devices you can find. Often, they are more a work of art than a smoking piece. You can put them on a shelf or table without anyone being the wiser.
They are also very functional, being both water- and air-tight with a stem that guides the air below the water level and a packed bowl. With the unique shapes and designs, carb holes can hide in plain sight.
The ceramic bongs with water allow you to rip to your heart's content without that burning sensation in your lungs and throat.
2 Ceramic Bongs We Liked
Ceramic bongs are a classic, especially when it comes to style. Ceramic bongs are more delicate than glass or ceramic and in many cases, they're displayed as collector pieces only due to their beautiful, intricate designs. Here are two of our favorite ceramic bongs.
This gorgeous ceramic bong is hand-carved to resemble a cobra snake, which is both incredible to look at and smoke from. At 8.7 inches tall it's one of the smaller pipes on this list, but it's perfect for when you don't want to deal with 2 feet of glass. Featuring sturdy, durable craftsmanship, a standard metal down stem, and a removable bowl, this piece is a must-have for any distinguished pipe collector.
We had to save the most eccentric bong on this list for last, of course. This ceramic skull head bong is 7.3 inches tall and includes a stable base for keeping it tabletop ready. The down stem, bowl, and hoses are all removable, and with four hoses available this is the perfect piece to whip out at a house party.
A Brief History of Bongs Worldwide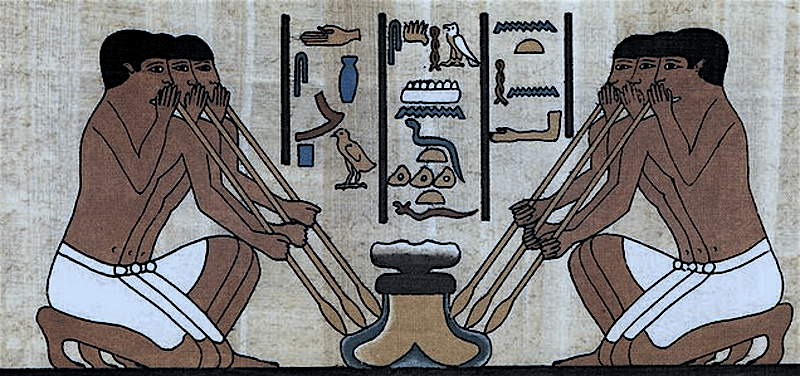 Bongs have been around for centuries and, as you might imagine, have a fascinating history.
The word might actually come from the Thai word "baung", which is defined as a round tube made of made of bamboo. Nowadays, of course, a bong is a cylindrical pipe made for smoking dried cannabis flower (or other plant material).
The use of a water pipe for smoking dates back centuries in places all over the world:
Ming Dynasty in China
Tribes in various African countries built such devices into the ground from earthen materials
Accounts of pure gold bongs dot the ancient history of a warrior race of nomads in what is known now as Russia
There's also a popular relative, the Persian hookah, which is used to smoke flavored tobacco through a hose for a mouthpiece; this device is designed to be shared from a single packed bowl.
These days, bong makers add their own personal touch, like an artist, to make unique, one-of-a-kind water pipes using both artistic and scientific principles. The results are often amazing – a beautiful, functional statement of your personality.
Necessity Is the Mother of Invention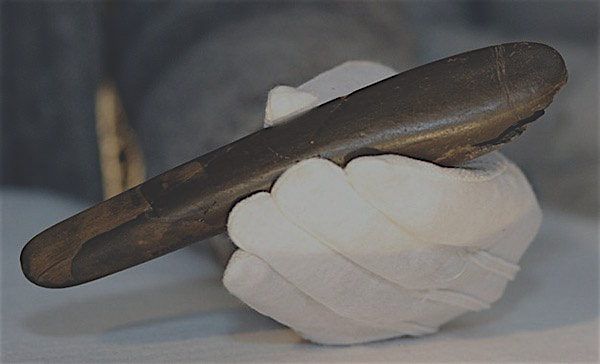 You thought you were going to read only about bongs and water pipes, didn't you? Particularly ones that have been designed, created, and crafted from various materials that look and smoke great.
And you will.
But an article about such smoking devices isn't really complete without at least a mention of the truly unique ways that cannabis connoisseurs get their sesh on when they don't have a bong (or papers, vaporizer, blunt wraps, cigarettes, etc.) to have a proper smoke.
We've all been there. And we've all had our moments where we impressed even ourselves by fashioning a makeshift, simple bong in lieu of a conventional one.
Records indicate that a common smoking "device" centuries ago in some cultures was a gourd. But if you don't live in an area bursting with gourds, don't despair.
Commonly, a simple "bong" can be created from the following:
Fruit (e.g., apple, watermelon, orange, pineapple, etc.)
Vegetables (avocado, pumpkin, cucumber, etc.)
A soda or beer can
A water bottle
Toilet paper and tin foil
Film cannister
The Anatomy of a Bong
Let's take a look at the three basic pieces:
Water Chamber:

At the bottom is its base, which usually includes a bulbous, bubble-shaped chamber for holding water, hence the term "water bong". It's this part, when filled with water, that filters out residue and unwanted particles while also cooling the smoke.
The end result is a smoke that is smoother on the throat and easier on the lungs. For many people, the effects are also clearer and more noticeable.
Tube:
When you draw from the heated bowl of weed, the smoke passes through the water chamber and streams up into a vertical tube, through the mouthpiece, and into your lungs.
Usually, tubes are straight and upright. However, truly inspired and creative bong makers tend to create tubes with various chambers that are often elaborate and intricately linked for further filtering of the smoke. It's also a major reason it is considered artistic, beautiful, innovative, and/or valuable.
Downstem:
The purpose of the downstem is, when you inhale, to draw air and smoke into the water, which creates bubbles.
The downstem protrudes diagonally from a small hole near the base of the tube. The top of it is where the bowl rests, usually flared into the right shape to hold your dried weed. The bottom part of it sits in the water chamber.
A stationary downstem includes a carburetor, a small hole located above the water line. The carb is covered while inhaling, usually with your thumb, and then released when you're ready to clear the tube as you finish your toke. A slider downstem, on the other hand, functions differently, as the stem is pulled out instead.
The bowl can be large, medium, or small according to your sesh preferences. If the maker was in a particularly creative bent, the bowl can be as decorative as the chambers and other parts of the device.
Some people consider the bowl and carburetor basic parts, so they describe a bong as having five pieces.
Advantages of Bong Smoking
Smoking using a water bong has several advantages that illustrate why it's such a popular smoking device.
Advantage 1: Smooth Pulls
One of the main advantages that attracts smokers is the bong's ability to filter and cool the smoke as it percolates through the water. This makes for a smooth pull even when you inhale a lot of smoke.
Advantage 2: Cleaner Hits
Smoking from a bong is cleaner than smoking a joint or firing your weed up in a small pipe. Your throat and respiratory system don't suffer as much from these hits, yet you still can enjoy the aroma and flavor cannabis is known for.
Advantage 3: A Fluid Experience
Using a bong is usually a more fluid experience than other means of smoking dry herb, which means there is less chance of getting clogged or dirty.
Advantage 4: It's Social
Although a joint can easily be a shared experience – "pass the grass, dude" – not much is more shareable than seshing with a gaggle of your BFFs.
There are disadvantages, as well. One is that bongs are bulky and often awkward, especially if designed with an assortment of intricately linked chambers. Although mini-bongs are easy to carry around, bongs in general are not portable. There's always a risk of one breaking into a gazillion pieces.
So, while we don't recommend bongs for traveling or smoking on the go, it's hard to beat such a sesh at home.
Best Type Of Bongs
There are several things that must be considered before you make such a serious choice:
Are you a daily smoker? Heavily so?
Are you a couple-times-a-week type?
Is it just for you? Or do you sesh and share with others regularly?
Are you constantly mobile? Or do you prefer a home sesh?
To truly choose the right bong for you, your smoking habits should be heavily factored in.
As is sometimes the case when describing cylindrical apparatuses, size matters. In this case, however, it can refer to more than one aspect of your sesh:
Lung capacity (can you fill the chamber with smoke and then clear it all or are you leaving room in the chamber and/or having to hit it a 2nd time?)
Chamber
Mouthpiece
Bowl
Nugget to be smoked
Now that you've clarified the size of your needs, it's time to consider the various materials that bongs are commonly made of.
In general, there are two basic categories of materials – traditional and modern.
MODERN
Glass
Glass is easy, smooth, and classic – it looks great, offers a clean smoke, and can be used every day.
There's always the risk of breakage with a glass bong – and this is true of a soft glass water bong, where the glass is thinner and weaker. Although popular, it might not last too long with heavy daily use.
However, there are plenty of glass bongs that are sturdy and powerful, making them ideal for everyday use. Good strong glass makes it sturdy, durable, and popular.
Nearly any glass bong can be personalized with an assortment of attachments that fasten or attach onto it for a unique sesh experience. Such attachments include:
Diffusers
Ice catchers
Splash guards
Ash catchers
Extra bowls
And more
Although extras can customize your sesh experience, cleaning is more time-consuming and detailed. Yet, clear glass bongs allow you to see the degree of cloudiness in your water. This means that, despite the drawbacks of cleaning, you always know when it's time to clean it, especially if you're the type who's obsessed with clean smoking devices.
Acrylic/Plastic
Acrylic or plastic has always been popular because it is generally cheaper. Most plastic or acrylic bongs include a carburator, which also adds to their popularity. They're also durable, which also makes them good value for the money.
Despite their popularity, plastic bongs come with risks, as more and more evidence states the harm they can cause to your health when regularly used.
For most cannabis connoisseurs, however, that might not be the most important thing; that plastic bongs minimizes the great taste of the weed is!
TRADITIONAL
Wood
Wood bongs are gorgeous. They are typically made from bamboo for a more durable, stylish attention-getter. For many smokers, a wood device is thought to be an authentic way to sesh, as it's been used for smoking in Thailand for centuries.
Though simple, undecorated wood bongs have a natural appeal, they can be made with ornamentation or intricate, creative designs and colors for a more personal style.
Ceramics
Ceramic bongs are fantastic. First, they usually come in a variety of creative, fun designs that can be a funky center of attention. Common figures include:
Buddha
Jesus
Naked figures
Skulls
Mushrooms
Gnomes
Animals
And more
For a clean, pure-tasting hit, a ceramic water pipe or bong is fantastic. Many cannabis connoisseurs say no other material is better.
Ceramic is heavy, so smoking devices are usually smaller. This makes them difficult to clean. It also makes them better for infrequent use of special occasions.
Lastly, the water in a ceramic water bong is hidden, so frequent use can make the water dirty without your even knowing it.
If you're looking for a short-term solution, and can't buy a bong right now. Check out our homemade bong ideas!
You can find interesting bongs buying a stoner subscription box.