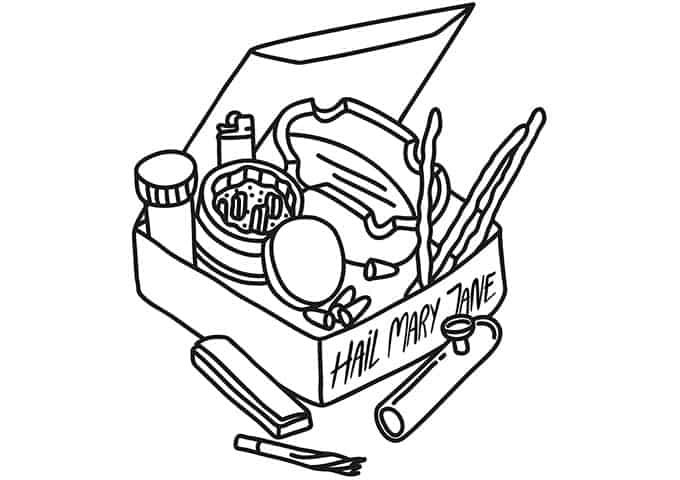 Looking To Try A Weed Subscription Box?
We got you covered! We just spent a couple weeks trying different weed boxes. Fun right? But we did it for you. So you don't have to waste a year to find the perfect fit. Well, we also had fun getting these weed products delivered to our door ; )
Best Overall
The Daily high club is, based on our preferences and opinion, the best choice when looking for a Weed subscription box. 
Runners-Up –
The 8 Best Weed Subscription Boxes of 2018
Why Subscribe To A Weed Box?
That's the first thing I thought when I stumble a couple years back with an offer for a weed box. Didn't seem appealing at all. My buying habits for this type of products (grinders, papers, pipes & other cool cannabis stuff) are always impulsive.
Go to a store. Ask what's cool. Buy. Get high.
But the reality is, I don't do that often enough. I stick to my old habits and don't see myself trying the newest and greatest weed products.
Years later. I got invited to try for free a weed monthly box. Nothing to lose, so I gave it a shot.
It came with some of the expected items. Rolling paper, Lighter, Stickers… But then I saw some cool pipes and cleaning supplies for my dry herb vaporizer. Then I was excited. The last pipe I had, broke a week ago. So it was a perfect time to get a new one and my vape was dirty as it gets months of heavy use and not a single cleaning done.
That was the moment I thought this could actually be great!  So I got my team and myself into different cannabis subscription boxes. We decided to get a decent amount tested and reviewed, so you don't have to wait months to find the good fit for your needs.
Still here? Cool. We're going to show you the best 420 subscription boxes up to date.
Choosing the right cannabis subscription box for you
Before we jump in. Here are some of the learnings. If you check most of the bullet points, then you should at least consider trying a monthly weed box. Otherwise, it might not be the right fit for you and should better to buy from an online head shop or your local store.
You are a daily or frequent smoker.
Like to try different stuff.
Get's excited about new smoking gear.
Likes to share. Yes. You will get a surplus of lighters.
Have a convenient shipping address. AKA don't have to send to your work's or parents.
Don't travel 24/7. You will miss out.
Are of legal age!
Top Weed Monthly Boxes
Daily High Club is our favorite Weed box. It comes every month full of surprises with different themes and collaborations with artists and cool brands, custom products and custom glass pieces and surprises every month that will make you enjoy  your weed moments even more.
It also offers next day shipping,  which is a really handy feature.
They have three different plans to chose, starting at $1 with the "All- Natural" you'll receive every month the highest quality essentials all natural and organic. for $12 you have "the Connoisseur", for experienced smokers that need more than one set of papers each month, and our favorite, "El Primo"  in which for $30, you'll receive $80 worth of products, including a new glass piece every month, the essentials and many surprises that you'll love
You can't go wrong with them. If you want to find out more,  read our full Dollar High Club Review.
The Hemper box has set the new standard for Premium subscription boxes in the industry.  Offering three different subscription boxes, starting from $0,99 with the basic elements needed to enjoy our weed afternoon up to $29,99 with premium glass pieces. What sets HEMPER apart from its competitors is the ability to consistently develop their own custom products in-house, completely based upon subscriber feedback! Overall offers great value for the money with great quality products you won't find elsewhere. If you want to know more, here's our full Hemper Box Review. 
The Puff Pack is one of the most complete Stoner Boxes offering all the essentials for good laughs for just $1. A good thing compared to some of their competitors is that they provide first class brands as RAW rolling papers.
If the basic subscription plan is to basic for you, they also offer they mediator plan for $12 and the Artisan, the biggest one, for $24. You can find all their info in our full Puff Pack Review 
It's one of the top weed subscription services out there. They start at $23 (with a 6-month plan). Besides the Standard box, they also offer a 710 Box and Craft Box. The weed box we received had 9 items, which is what they show on their site and is an average from the other brands we tested. Usually between 5-12 essentials. Highly recommended –  Get 10% with Code: WELCOMECBB
It's a newer company in the cannabis subscription business. But they offer really good stuff. Starts at $20.00 for their Toke Box. They even have boys and girls boxes with their main plan. That one is priced at $35.00.
Get $10 Off Using the Code HMJ10
The most customizable Weed Box
Hippie Butler is a know smoke shop that has now entered the weed subscription boxes market and offers something different, as they're an store, they give you the opportunity to fully customize your box. Prices start with the cheapest one, The Party Favor, at $3 to the most complete one, The masters Club box for $139,99. All of them give great value for the money. If you want to kow more, you can read our Hippie Butler review.
Best Stoner Subscription Box
Awesome company and most known weed boxes out there. The offer 1, 3 and 6 months plans which can reduce the price for the standard boxes. With pricing as low as $9.95. The best thing about 420 Goody box, is they also offer premium boxes for the fancy stoners. Starting at $79.98. But their standard 1-month box, is more than enough to get started. Read our 420 Goody Box Review for all the details.
Club M Has set the standars to the highest level in the weed subscription box market. It is the only one offering real marijuana products, Yes it includes WEED! There's only one subscription available for $97 it can seem a bit pricey but the retail value of all the included is around $200 so it is good value for the money. Read our full Club M Box Review for all the details
Benefits of subscribing to a monthly marijuana subscription box
After a couple months trying these weed boxes, we've found several advantages of subscribing to them:
Helps reduce impulse buying
Face it, buying a grinder, pipe, or paper is often done on impulse. You limit this impulse by having a regular delivery of accessories via monthly box subscriptions.
Helps keep the sesh going
Have you ever been in the middle of a smoke sesh and run out of papers or lighters? Or maybe someone's dropped the pipe or forgot to bring enough snacks?
If you've been smoking for more than a minute, things like this have most likely happened. With a regular 420 box subscription, this stops.
Helps encourage trying new weed related products
If you're like many smokers and cannabis enthusiasts, you're a creature of habit. Despite talking often about how you'd like to try out new cannabis-related items or products, you like your smoke or dabs or vapes done the way you like it and you don't usually veer from it.
A weed box allows you to try new items without having to think too much about it. Since most monthly box subscriptions include an item that you may have never tried or didn't know you were getting, each monthly delivery brings with it the possibility of trying something new.
More Value for Your Money
If you're a patient on a budget, this is one of the best things about subscription boxes. Taking the time to go to the smoke shop to get papers, lighters, glass, and/or cleaning supplies also costs more money, as the price of each item is not lowered when you buy several other products at the same time.
With each box, you get "bundled" pricing, so to speak. Items that all together might cost $20 at the shop might be half that as part of a bud box subscription.
Good Timing
It might not always happen, but often you'll get items that you didn't know you needed. Perhaps you're about to run out of papers or haven't cleaned your bong in ages.
Yet, with a weed subscription, you don't have to stress over stopping at a smoke shop or worrying where one is. What you need is likely to show up on your doorstep very soon.
Last thoughts
These are the 8 weed subscription boxes we tested. We will be reviewing more as they come up. For now, we have plenty of goodies to enjoy a couple more weeks.
We were impressed by the quality of the products we receive. The shipping was super discreet. Nothing was missing. On time. All 8 subscription weed boxes companies are recommended. We'll update if there are any issues on recurring shipments.
If you have any suggestions of weed boxes you tried or are thinking of getting. Let us now!
Which weed gift box would you get to your smoke partner?