Looking
To Try A Weed Subscription Box?
We got you covered! We just spent a couple weeks trying different weed boxes. Fun right? But we did it for you. So you don't have to waste a year to find the perfect fit. Well, we also had fun getting these weed products delivered to our door ; )
Best Overall
The Hemper Box  has recently become our favorite box and the best choice when looking for a Weed subscription box. 
Runners-Up –
420 Goody Box
Club M
The Weed Box
The 8 Best Weed Subscription Boxes of 2020
Why Subscribe To A Weed Box?
That's the first thing I thought when I stumble a couple years back with an offer for a weed box. Didn't seem appealing at all. My buying habits for this type of products (grinders, papers, pipes & other cool cannabis stuff) are always impulsive.
Go to a store. Ask what's cool. Buy. Get high.
But the reality is, I don't do that often enough. I stick to my old habits and don't see myself trying the newest and greatest weed products.
Years later. I got invited to try for free a weed monthly box. Nothing to lose, so I gave it a shot.
It came with some of the expected items. Rolling paper, Lighter, Stickers… But then I saw some cool pipes and cleaning supplies for my dry herb vaporizer. Then I was excited. The last pipe I had, broke a week ago. So it was a perfect time to get a new one and my vape was dirty as it gets months of heavy use and not a single cleaning done.
That was the moment I thought this could actually be great!  So I got my team and myself into different cannabis subscription boxes. We decided to get a decent amount tested and reviewed, so you don't have to wait months to find the good fit for your needs.
Still here? Cool. We're going to show you the best 420 subscription boxes up to date.
Choosing the right cannabis subscription box for you
Before we jump in. Here are some of the learnings. If you check most of the bullet points, then you should at least consider trying a monthly weed box. Otherwise, it might not be the right fit for you and should better to buy from an online head shop or your local store.
The Hemper box has set the new standard for Premium subscription boxes in the industry this has made them our weed box of choice.  Offering three different subscription boxes, starting from $0,99 with the basic elements needed to enjoy our weed afternoon up to $29,99 with premium glass pieces and a lot more of goodies and surprises with a total retail price of $100. What sets HEMPER apart from its competitors is the ability to consistently develop their own custom products in-house, completely based upon subscriber feedback! Overall offers great value for the money with great quality products you won't find elsewhere. If you want to know more, here's our full Hemper Box Review. 

If you want to get 5% OFF click here to check out the Hemper discount codes available.
Daily High Club is one of our favorite Weed boxes. It comes every month full of surprises with different themes and collaborations with artists and cool brands, custom products and custom glass pieces and surprises every month that will make you enjoy  your weed moments even more.
It also offers next day shipping,  which is a really handy feature.
They have three different plans to chose, starting at $1 with the "All- Natural" you'll receive every month the highest quality essentials all natural and organic. for $12 you have "the Connoisseur", for experienced smokers that need more than one set of papers each month, and our favorite, "El Primo"  in which for $30, you'll receive $80 worth of products, including a new glass piece every month, the essentials and many surprises that you'll love
You can't go wrong with them. If you want to find out more,  read our full Dollar High Club Review.
The Puff Pack is one of the most complete Stoner Boxes offering all the essentials for good laughs for just $1. A good thing compared to some of their competitors is that they provide first-class brands as RAW rolling papers.
If the basic subscription plan is to basic for you, they also offer they mediator plan for $12 and the Artisan, the biggest one, for $24. But, if you want to receive what you want, the Puff Pack offers the possibility of customize your own subscription receiving every month what you want. You can find all their info in our full Puff Pack Review.
The most customizable Weed Box
Hippie Butler is a know smoke shop that has now entered the weed subscription boxes market and offers something different, as they're an store, they give you the opportunity to fully customize your box. Prices start with the cheapest one, The Party Favor, at $3 to the most complete one, The masters Club box for $139,99. All of them give great value for the money. If you want to kow more, you can read our Hippie Butler review.
It's one of the top weed subscription services out there. They start at $23 (with a 6-month plan). Besides the Standard box, they also offer a 710 Box and Craft Box. The weed box we received had 9 items, which is what they show on their site and is an average from the other brands we tested. Usually between 5-12 essentials. Highly recommended –  Get 10% with Code: WELCOMECBB
It's a newer company in the cannabis subscription business. But they offer really good stuff. They offer two levels of subscription: the SensiLight Box for $23.00 which includes 5 items every month, and the Sensibox Original for $38.00, a monthly themed box with unique and high-quality products. 
Top Subscription Boxes For Men (with Weed)
Au is the chemical symbol of gold and that's exactly what this subscription service is — gold. Their thoughtful collections range from the lover's collection (designed to enhance intimacy between lovers or even with yourself) to an edibles collection (for those who like the body high only eating cannabis can provide). Au Box for men is a monthly subscription in which you'll receive 7 to 8 products for guys.
Best Stoner Subscription Box for cannabis lovers
Awesome company and most known weed boxes out there. The offer 1, 3 and 6 months plans which can reduce the price for the standard boxes. With pricing as low as $9.95. The best thing about 420 Goody box, is they also offer premium boxes for the fancy stoners. Starting at $79.98. But their standard 1-month box, is more than enough to get started. Read our 420 Goody Box Review for all the details.
Club M Has set the standars to the highest level in the weed subscription box market. It is the only one offering real marijuana products, Yes it includes WEED! There's only one subscription available for $97 it can seem a bit pricey but the retail value of all the included is around $200 so it is good value for the money. Read our full Club M Box Review for all the details
Most Convenient Subscription Box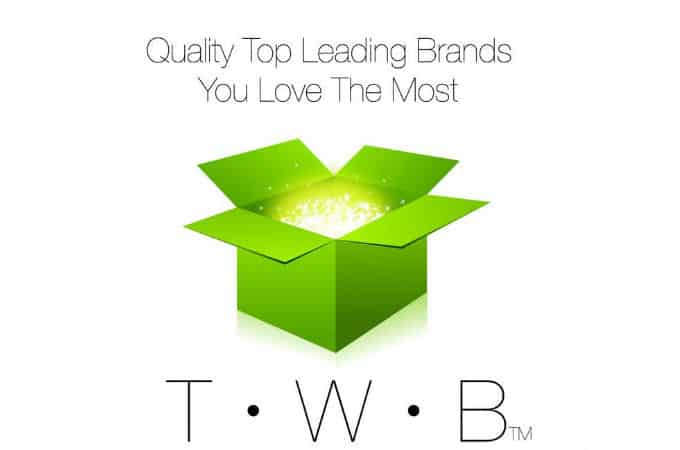 The Weed Box is a very well-known subscription box due to its convenience. This is because they don't use auto ship or auto bill like the other brands, so you can pay for one whenever you want and never be worried about being billed!
You can choose between different boxes as the mystery box, the b-day box or the premium box. And something that it's very cool about this brand is that every month they offer a promo code or sales.
But, you are probably wondering what's inside these boxes… Well, something that is clear is that you will find a glass in every box and you will receive from 12 to 20 items, but the products will depend on the box you've purchased.
The prices start at $12.99, and the most expensive is $72.97 mega box, but as we said before, you'll always find some discounts.
Weed Subscriptions Boxes with Flowers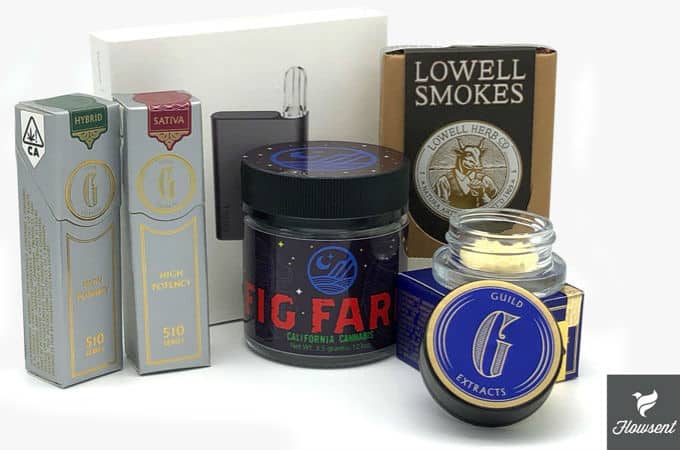 Most of the weed subscription boxes offered online have no pot, but we have you covered. If you live in California, there's a brand called Flowsent that delivers weed directly to your home, in some places even in less than 2 hours!
Flowsent subscription boxes are a great option to have a box full of goodies every month. These boxes provide organic flowers and other great California based products at the best price possible. And we can say that their products are the best, because if you order one of these boxes you will receive award-winning pot (best stain winners, etc.).
The only con? They only deliver to some California cities like Oakland and Sacramento (see availability here.)
And, what Flowsent send you in their boxes? The best California flowers, weed products like pre-rolls or THC cartridges and cannabis derived goodies like balms or body creams.
You can choose between 4 boxes: 710 Racing Club Box, Keep Tahoe Green Box, Goddes Collection Box and Flow Box. The prices start at $149, it may seem a little expensive, but you'll get the best flowers and cannabis products of California at your door.
The most expensive weed subscription boxes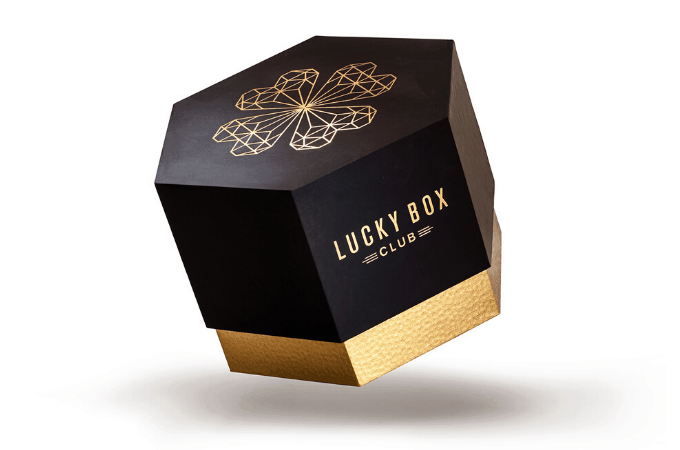 Lucky Box is an apt name for this weed subscription box — whomever orders it is one lucky consumer. It's not expensive for the sake of being expensive, it's expensive because it is a luxury line of products, tailored to you and your desires. Currently only available in California, Lucky box delivers an elite experience — high quality products, curated by cannabis sommeliers to exceed your expectations.
I don't live on the US: Can I get weed subscription boxes?
Canadian Weed Subscription Boxes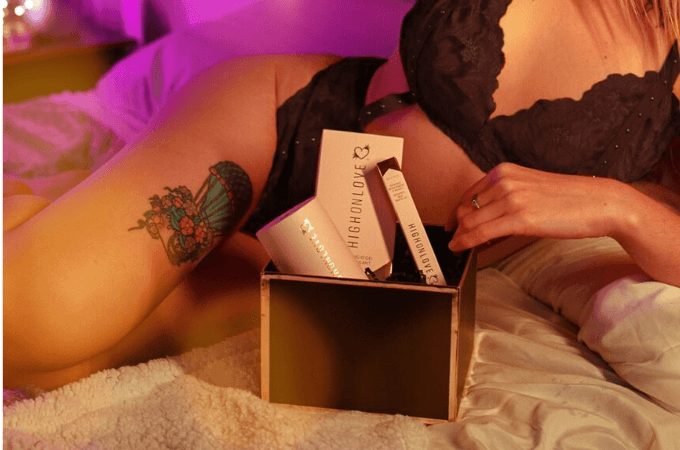 Canndora is a brand oriented towards women who like weed and it just so happens they offer the best weed subscription service in Canada. With themed boxes suited for the season, their current holiday "High on Love" box is sure to be a favorite.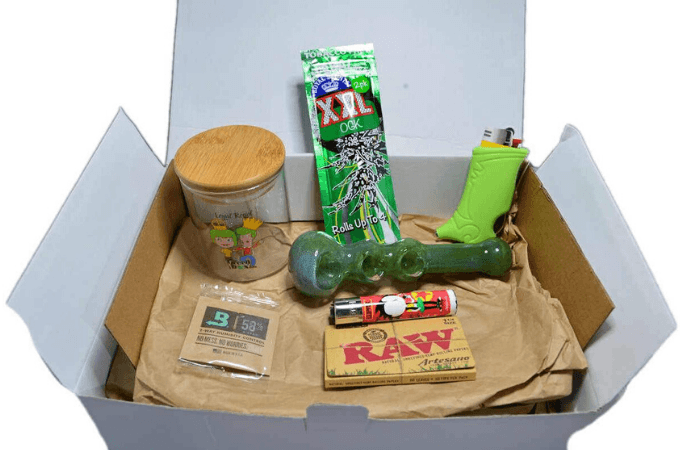 The Green Box is Australia's premier weed subscription box service and they even offer limited international shipping! Their boxes are tailored for the month, with offerings like a halloween themed box in October, and are designed to introduce consumers to fun new smoking products. Because they ship internationally, these boxes contain no cannabis, but hey, when you have all these amazing accessories to try, what's a little trip to your local dispensary?
Benefits of subscribing to a monthly marijuana subscription box
After a couple months trying these weed boxes, we've found several advantages of subscribing to them:
Helps Keep the Sesh Going
Have you ever been in the middle of a smoke sesh and run out of papers or lighters? Or maybe someone's dropped the pipe or forgot to bring enough snacks?
If you've been smoking for more than a minute, things like this have most likely happened. With a regular 420 box subscription, this stops.
Helps encourage trying new weed related products
If you're like many smokers and cannabis enthusiasts, you're a creature of habit. Despite talking often about how you'd like to try out new cannabis-related items or products, you like your smoke or dabs or vapes done the way you like it and you don't usually veer from it.
A weed box allows you to try new items without having to think too much about it. Since most monthly box subscriptions include an item that you may have never tried or didn't know you were getting, each monthly delivery brings with it the possibility of trying something new.
These are the 14 weed subscription boxes we tested. We will be reviewing more as they come up. For now, we have plenty of goodies to enjoy a couple more weeks.
We were impressed by the quality of the products we receive. The shipping was super discreet. Nothing was missing. On time. All 13 subscription weed boxes companies are recommended. We'll update if there are any issues on recurring shipments.
If you have any suggestions of weed boxes you tried or are thinking of getting. Let us now!
Which weed gift box would you get to your smoke partner?
Weed Subscription Boxes: FAQs
Most frequent questions and answers