You may already know that CBD has powerful medicine properties and, for this reason, people are using it to manage their health problems without relying on dangerous pharmacological cocktails prepared in laboratories. 
One of the best brands to try CBD is Hemp Bombs. A company that offers a range of potent CBD products beloved by medical patients everywhere, which manufactures premium-grade CBD sourced exclusively from organic-certified industrial hemp free of pesticides, heavy metals, genetically modified organisms, or GMOs, and other toxins. It guarantees a THC-free experience, confirmed by third-party laboratory tests, and it prides itself on the finest quality.
Do you want to know more about their products? Well, keep reading. 
The
CBD Gummies
are among the most popular products in the Hemp Bombs line. Conveniently designed for portability, you can take them with you wherever you go. Derived from GMO-free industrial hemp, their lack of THC makes them legal nationwide.
Each gummy contains 15 milligrams of pure CBD
, and the company ships them direct to your door or wherever you may be, quick as can be.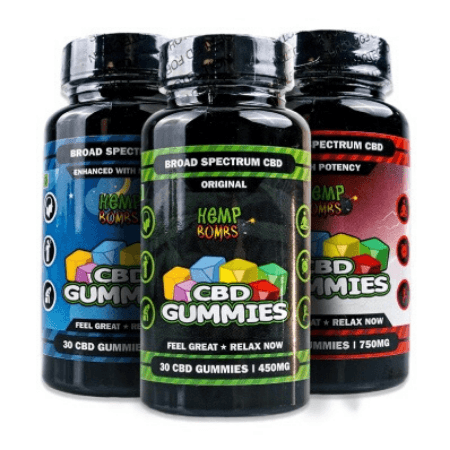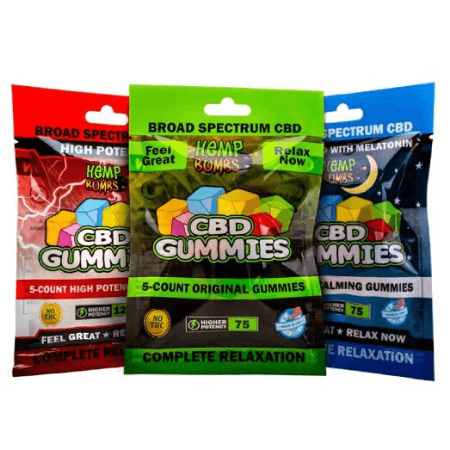 The benefits of CBD Gummies are many. Science shows CBD effective for improving mood, relieving all types of aches, including joint and muscular pain. They lower stress levels significantly and encourage healthy, natural sleep, making them ideal for insomniacs or anyone having difficulty sleeping through the night. Simply take one or two of these tasty treats every day to enjoy their full benefits.
Hemp Bombs offers an array of CBD-rich gummy products, with each gummy a fruity, bite-sized single dose. They come in five-count packs or in 15-count, 30-count, or in 60-count bottles. There is even a 60-count option with higher potency, containing 25 milligrams of pure, organic CBD. Their differing potencies and quantities spoil you for choice, and you can use them daily as an additional supplement.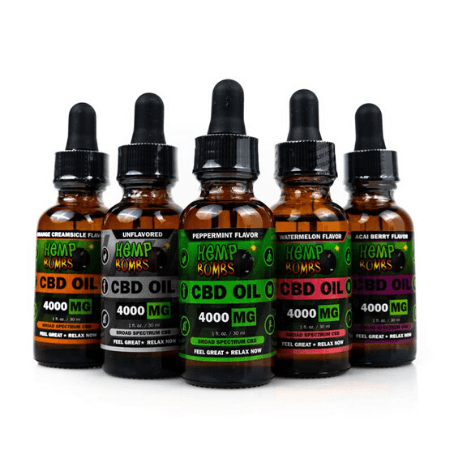 Hemp Bombs CBD oil tinctures deliver premium effects with robustly delicious flavors. With over six different concentration choices, your flavor and potency combos are almost limitless. It's not just an abundance of options that make Hemp Bombs CBD oil stand out. Their flavors are mild for a natural taste without being overbearing. With a flavorless option, too if that's what you're into.
The CBD Capsules come in highly effective doses of easily digestible pure CBD. As with the company's CBD Gummies range, these capsules fit snugly into any pocket or purse for use whenever you need them. Containing organic CBD made from non-GMO industrial hemp, they do not make consumers stoned and are legal in all 50 states. The company also delivers them direct to your doorstep.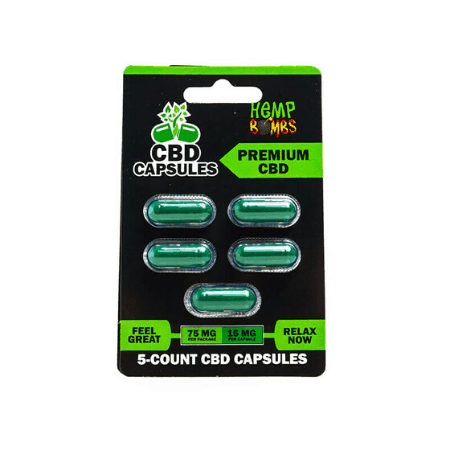 If you ever feel anxious, stressed, or otherwise overwhelmed, these capsules will calm you down and make you feel serenely tranquil.Medically, they can relieve even the most chronic pain and ensure you get a good night's rest. Additionally, you can use CBD capsules as a mood enhancer, helping you manage depression and other mental issues. They quell nausea and reduce intensity and frequency of seizures.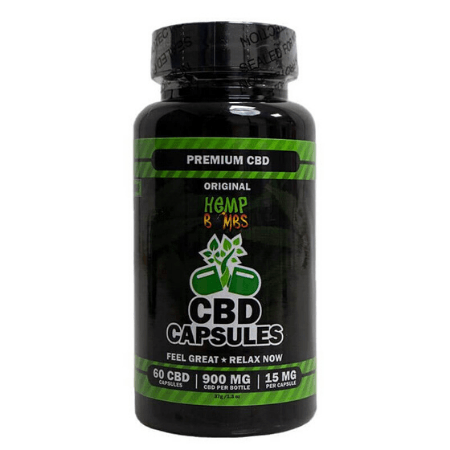 Each CBD capsules is a single dose. Swallowing just one or two a day can have a significantly positive effect on your overall wellbeing. You can purchase a five-pack containing 15 milligrams of pure CBD, but there are bottles with 15, 30, and 60 capsules, as well. The higher potency 60-count bottle contains 25 milligrams of CBD, which is ideal for anyone needing a long-term solution for treating their symptoms.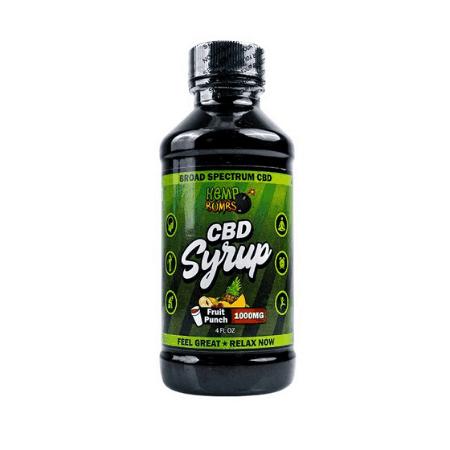 Hemp Bomb's Complete Relaxation Syrup is tasty enough on its own, but you can also mix it with other beverages according to your preference. Its formulas use a potent concentration of GMO-free hemp-derived CBD infused into the syrup, and despite being in liquid form, manageable servings make dosing easy. You can carry a bottle with you wherever you go, for those times when you just might need it.
This syrup offers a wealth of health benefits. CBD is a proven cure for sleep deprivation. Insomniacs use it widely to regulate their sleeping patterns. As a powerful painkiller, it is able to numb even the worst types of discomfort, which is one of the reasons for its popularity among cancer patients. It relaxes, calms and restores wellbeing, making it an excellent treatment for mental and mood disorders too.
If you need help sleeping, these vape oils will do wonders for you. They effectively combat a variety of health issues, from severe pain to stomach issues, depression, anxiety, stress, muscular disorders, epilepsy, and so much more. The E-Liquid line is extremely popular among medical patients across the country, all of whom use it to manage just about everything.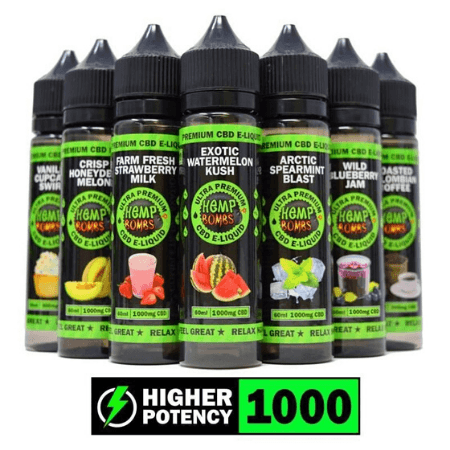 Hemp Bombs blends each bottle perfectly to enhance flavor, improve cloud production, and ensure ultimate satisfaction. Potency ranges from 75 milligrams of CBD to 4,000 milligrams of CBD, and you can order a la carte or choose your own Mix & Match packages. You can stock up on various flavors and potencies, or you can stick to your favorites, all at some of the best prices anywhere in the country.
Hemp Bombs doesn't just have one topical to choose from…they have seven. Including their CBD pain freeze, patches, beard products, roll-ons, lotion, tattoo ointment, and heat relief spray. And they all have the same successful effectiveness that we've seen from their other products.
CBD Topicals are preferred for targeting specific areas of pains, and the formulas that Hemp Bombs produces gets the job done. Their Pain Freeze product eliminates pain on the spot by soothing deep aches. Their patches and roll-on products allow CBD to absorb transdermally for convenience or discrete use increasing the brand's topical offerings and advantages. Hemp Bomb's CBD lotion is infused with high quality moisturizing ingredients like shea butter and marula oil for extra boosts of hydration. The beard cream and tattoo ointment goes to show Hemp Bomb's innovation in utilizing CBD to its fullest.
Your furry friends will be just as big of fans of Hemp Bombs products, as you are. In addition to carrying CBD oil to add to your pet's daily food regimen, you can also choose CBD treats for dogs, too. The oils come in two pet approved flavors, chicken and beef. While the CBD oil is human-grade you may not want to test the taste. But don't worry – you'll watch as your pets lap up their natural flavors. Available in varied doses for different pet sizes, the CBD oil or treats help relieve muscle or joint pain associated with age, anxiety, stress and support hip and joint health overall.
Where To Buy Hemp Bombs Near Me?
The U.S. National Library of Medicine finds CBD highly effective at helping people suffering tremendously from stomach-related problems, such as vomiting and nausea, psychosis, neurodegenerative disorders, inflammation, depression, anxiety, and seizures. The purity of Hemp Bombs range of CBD products is a must-have for anyone enduring these and related issues.
As with everything one takes for medical reasons, it is crucial to discuss CBD treatment with your doctor beforehand. Most people laud CBD for the immense way it helps them and improves their quality of life. Whether you are taking CBD for specific ailments, however, or just for your overall health and wellbeing, it is completely safe to use and extremely effective.
Hemp Bombs promises some of the purest CBD products available on the market, and its product range is just huge. There is something for everyone, for smokers and edible lovers alike. The company has so many choices on offer that choosing can be difficult, but all of their products are extremely affordable and adaptable to any budget. Additionally, they are all legal, so you will never have to break the law.
If you are looking for CBD products that are potent, effective and easy to consume, then Hemp Bombs should be your go-to solution. From gummies to capsules, syrup, vape oils, even juices, rest assured that you would get the maximum health benefits possible whenever you buy any product in its range. Prices vary to fit any pocket and the best place to find whatever you need is from Hemp Bombs directly.