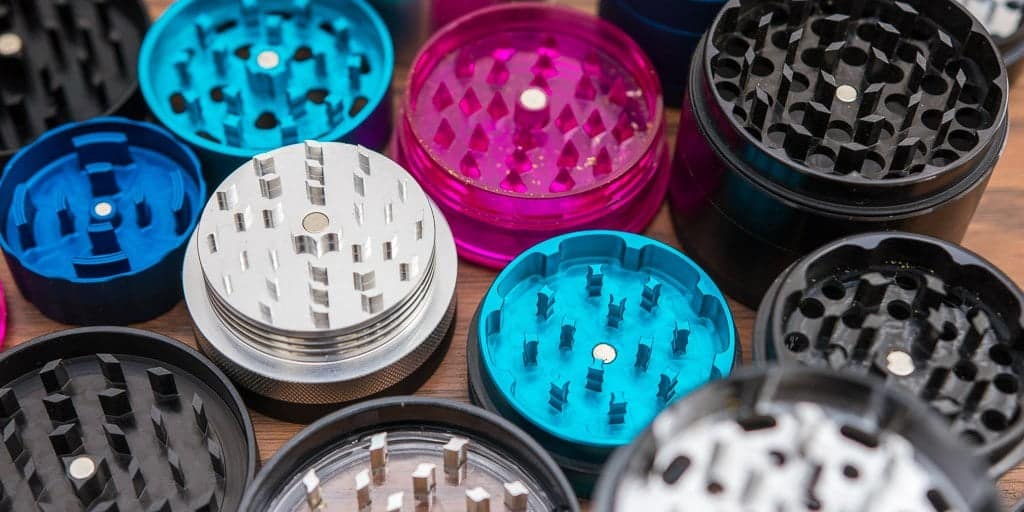 weed grinder
?
We got your back! Our team has tested and reviewed the best marijuana grinders on the market. Wasn't easy, as every one had their go to weed grinder. But we all had to agree to make this list!
Best Overall
The Santa Cruz Shredder is the best grinder for your weed. Trust me. Well priced and excellent fine grind makes it our number one option.
Runners-Up –
Nothing's better than starting off the day with a good ole wake 'n' bake. Pair it with a cup of good, strong coffee and how can you have a bad day?
Well, you can if your smoke isn't as smooth and strong as your joe.
Do you know what makes your favorite dark roast so tasty?
The fine in the grind, my friend.
The finer your coffee is ground, the better your coffee is – smoother, stronger, tastier.
It's the same with your weed, regardless of how you take it:
Rolled in a joint
Wrapped in a blunt
Paired with your favorite weed vaporizer.
That makes the herb grinder one of the most important parts of your smoking experience, and if you don't have one, you're missing out.
What Exactly Is a Weed Grinder?
If you've ever ground up your favorite sticky strain between your thumb and forefinger to get a good roll on your joint, do yourself a favor – get a weed grinder.
While it seems cool to do something as OG as grind your weed with your fingers, you're robbing yourself of a great sesh.
An herb grinder comes in many names – weed grinder, marijuana grinder, cannabis grinder, or flower grinder
Whatever you call it, a grinder is a small device with "teeth" designed specifically to grind up or shred most any type of small plant material – including marijuana, tobacco, and herb.
Before you jump online or roll into your local smoke shop for the cheapest or most colorful weed grinder you can find, consider a few things first:
Grinder material
Teeth shape and total number
Number of total compartments and/or pieces
Type of screen
Accessories and more
Wood, Acrylic, or Metal?
The most common materials all have advantages and disadvantages:
Acrylic
There's not much positive about acrylic herb grinders
Advantages:
Disadvantages:
Weak construction (the teeth easily break)
Short life expectancy
Can contaminate your herb
Usually only available in two pieces (you can't get any kief)
We suggest not buying an acrylic grinder.
Wood
Wood grinders certainly have a better appeal than acrylic ones do.
Advantages:
Cool look
Retro vibe
Feels good to the touch
Disadvantages:
Almost exclusively available with 1 compartment
Inner finishes such as ink or paint can contaminate your weed
Teeth usually are of poor quality
Teeth can be sharp
If looks matter – but getting kief does not – then a wood herb grinder is for you. However, if you're interested in a stronger, cleaner high, then skip the wood.
Metal
Many metal grinder manufacturers claim their grinders are made of titanium. If that were true, the market would be saturated with grinders costing hundreds of dollars.
In fact, most metal weed grinders are made from aluminum; the ones claiming to be "titanium" are really aluminum ones coated with titanium. Adding to the confusion is that sometimes the color of anodized aluminum is called "titanium".
Even so, aluminum or titanium-coated aluminum grinders are unsurpassed in durability, sharpness, quality, and safety.
Compartments of a weed grinder
The next thing to consider is the number of compartments in your marijuana grinder.
As with materials, each number of compartments has both benefits and drawbacks:
Also called two-piece grinders, they have only a single compartment where the weed is ground and retrieved. However, the ground herb is often inconsistent in size and texture.
Getting the ground weed out of the single compartment is problematic because of the teeth.
2 compartment herb grinders
Known as three-piece grinders, these have a second compartment under the main grinding one. This has small holes in the bottom that opens into the bottom piece, where the ground weed of a certain size or smaller lands.
The result? More evenly ground weed.
And, since the bottom compartment is removable, retrieving the herb is as smooth as the smoke you're about to have.
3 compartment herb grinders
These are also called four-piece grinders because they have a third compartment under the second one. The two pieces are separated by a fine screen that catches the finest part of the flower, kief.
If you're going for the ultimate grinding and smoking or vaping experience, a 4-piece herb grinder is the only choice, even if such grinders are more expensive.
To a true connoisseur, though, the benefits of producing kief is worth the extra coin.
Design
Weed grinders design has come a long way. And the elevated experience has improved not only how grinders look but also how they function.
Teeth
Simply put, the more teeth, the better. To get your weed thoroughly ground, which means better and cleaner smoking or vaping, a lot of teeth is necessary.
A good weed grinder should have roughly 50 teeth on a grinder that's about 2.5 inches in diameter.
Removable Screens
This is a fairly recent innovation that allows for easier cleaning and replacement after it wears out. Removable screens are regularly included in quality grinders.
Kief Scraper
A kief scraper is exactly what it sounds like – a small device, usually plastic, device used to scrape out the kief.
Because the scrapers are small, they're easy to lose, so some grinders now include at least one extra scraper.
Pouches/Carry Bags
A pouch or carry bag is among the nicer features available these days. Often, you can get them in such materials as velvet. With a drawstring for tightening, the weed grinder easily fits in to keep it protected and clean while not in use. It's also more portable.
Shape
Although round grinders are the norm, grinder shape is important enough to take into account other shapes.
For example, diamond shaped weed grinders have become the norm for many of the best aluminum grinder manufacturers nowadays. Square shaped herb grinders and ones with long, narrow lines and multiple sharp edges to grind herb are also becoming common.
For thorough grinding and a better sesh, a diamond is your weed's best friend.
Our Top 5 Weed Grinders
It seems like a flood of new grinders hits the market every few months, so you have choices. It can be overwhelming, though, especially if you're unsure what you want.
That's okay – we've done our homework for you:
Black Tie – Best Price for Performance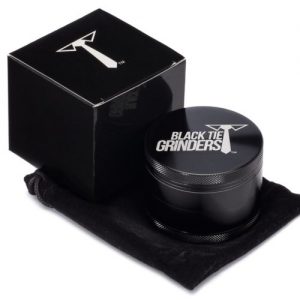 Black Tie makes a 2.5-inch herb grinder that gives you more bang for your high. The average price is around $30 but comes with features and quality normally found on grinders that are a lot more expensive.
Material
Black Tie grinders are made of anodized CNC aluminum, which helps the ground herb keep the flavor you want. The weed grinder itself is light, feels smooth, and resists corrosion.
Teeth
Black Ties come with 50 diamond-shaped teeth that finely grind your plant material. It works consistently well enough for joints, blunts, or vaporizers.
Grind It
The grind is – in a word – smooth.
There is virtually no resistance when you grind your herb. It's as good as a shredder. And along with lots of teeth, this marijuana grinder comes with plenty of holes in a second compartment for a no-jam grind.
Screen It
A Black Tie grinder has a well-fitting, secure steel mesh filter screen for making kief. The metal screen gives it an advantage over competitors that have filter screens held fast by a piece of plastic.
Furthermore, it's obvious that the folks at Black Tie are experienced smokers, as only a smoker would think to have rounded corners on their grinders for easier removal of kief.
It's little touches like this that make Black Tie grinders stand apart.
Extras
The grinders come with not one but two kief scrapers as well as a convenient velvet pouch with draw strings.
Verdict
Black Tie is king of the grinders. With its relatively low price, it's hard to beat its combination of value and quality.
The only thing that might be considered a drawback is the lack of sizes and variations, as Black Tie offers only one size – the 2.5-inch diameter.
But that's grasping at straws.
Rating: A strong 5/5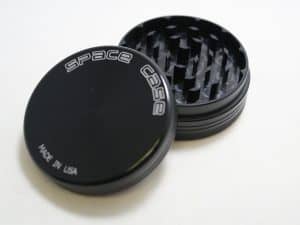 The Space Case herb grinder is legendary. It is American-made and of high quality.
Although they are more expensive than many other grinders on the market, they are very popular because they are stylish, simple, and incomparable.
Material
There's a misconception that Space Case weed grinders are made of titanium, but they are not. The black anodized finish that Space Case grinders are famous for is called "Titanium", but it's the name of the color not the type of material.
Teeth
Space Case makes its grinders with a large number of diamond shaped teeth that shred your material easily and consistently.
Grind It
Space Case sets a high standard for grind quality and fine texture and numerous holes for the ground material to fall through. You get a complete grind for a great smoke sesh.
Screen It
The metal filtering screen on the Space Case grinder is secure and well fitting. And although it makes good kief, the corners aren't rounded, which makes scraping it out more difficult.
Extras
Space Case grinders are fashioned with neodymium magnets on the lid as well as on the second piece. The magnets are strong to better prevent spills.
Every Space Case grinder includes a guitar pick of a kief scraper with the Space Case logo – pretty cool even if you don't play guitar.
Verdict
The Space Case grinder is a premium grinder. For many people, though, it makes no sense to pay as much as $60 for a 2.2-inch grinder when one of its top competitors is of similar quality for half the price (and is slightly bigger).
In addition to the elegant black or silver that Space Case has always been famous for, a broader range of colors is now available.
*4.8/5
*Before you buy a Space Case grinder online, be sure you're not buying a cheap knock-off. Space Case is notorious for having its design ripped off, and it's you who suffers.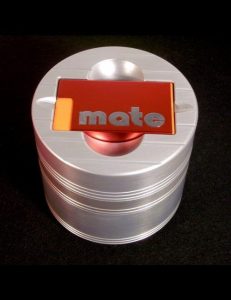 Mama P's Grinder is known for racking up awards at various Cannabis Cups, one reason these grinders are near the top of the class.
Made in the U.S., they feature precision and durability as well as fine shredding abilities. Mama P's makes a 4-part herb grinder that includes a magnetic lighter, a thoughtful touch from people who know smoking or vaping.
Mama P's grinders also are made with among the deepest grinder trays on the market.
Material
The grinders are made from top quality recycled aircraft aluminum material. This makes maintenance easy and results in a long shelf life, not to mention ease of use and a clean smoke.
Teeth
57 sharp teeth in diamond shapes grind your herb so fine every time. It's easy to twist every time, excellent for patients who have problems opening other, lesser grinders.
Grind It
Mama P's grinders feature numerous holes that filter out unwanted pieces so that only the finest excess falls into the kief compartment.
Screen It
The replaceable screen of a four-piece Mama P's grinder is made of titanium mesh. It's designed to consistently shred your herb into the perfect sizes that easily pass through once it's ground how you like it.
Extras
Mama P's is hip to the changes in cannabis culture and attitude as it becomes more mainstream. As such, they make a smaller, 1-inch mini-grinder to be worn around your neck.
Furthermore, they make a magnetic lighter that is an ideal complement to your grinder.
Verdict
Mama P's makes one of the best weed grinders you can find. They look great and are durable. If there is a complaint, however, it's price.
Yes, you get what you pay for. The construction is immaculate, the design elegant, and the function superior. But several other competitors are of equal quality for similar sized products with also similar features.
So, as good as Mama P's is, it's not as cost-efficient as others you can find.
4.6/5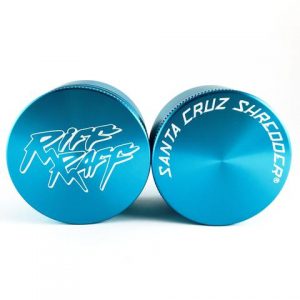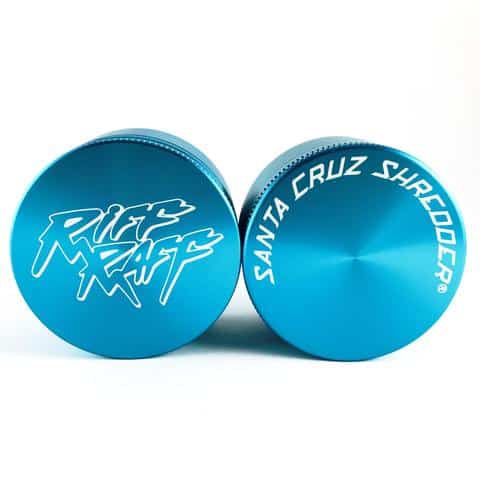 The Santa Cruz Shredder is a quality, American-made weed grinder that comes in several sizes and includes unique features.
For comparison purposes, we discuss the medium sized Shredder, which is 2.13 inches in diameter.
Material
Santa Cruz Shredders are fashioned of anodized aluminum for flavor retention as well as for a smooth finish that is corrosion-resistant.
Teeth
The teeth are the distinguishing feature of this weed grinder.
Whereas other competitors have diamond-shaped or hybrid diamond-trapezoid shaped teeth, the Santa Cruz Shredder teeth are rectangular with indented sides. This makes the corners razor-sharp for a fine grind.
Another benefit of the rectangular shape? Instead of the two sharp points normally found on diamond teeth, the rectangle with indented sides showcases four sharp points.
Yet, many cannabis connoisseurs feel that the Shredder still does not grind herb as well as several of its diamond-shaped counterparts.
Grind It
Another distinctive feature of the Santa Cruz Shredder is that its holes are oval not circular. This is beneficial in that more of your ground herb falls through.
And isn't that the point?
In this respect, it is unsurpassed.
Screen It
Santa Cruz Shredders come with a stainless steel mesh filter screen. It's perfectly sized for making kief and filtering out what you don't want to smoke or ingest
Extras
The Shredder comes with two small magnets to keep the lid secure and avoid spilling herb.
And although it's also available in a variety of colors, the Shredder is known for its simplicity. It also comes with a kief scraper in the form of a guitar pick.
Verdict
Overall, the Santa Cruz Shredder is an excellent grinder. Despite its seeming advantages, the overall quality was less than expected. For example, the kief scraper doesn't seem to scrape as well as it should.
Also, the teeth don't seem to grind as consistently or as finely as those on several competitors. Lastly, a medium-sized Shredder is only 2.13 inches in diameter. This is too small for a medium-sized grinder.
4/5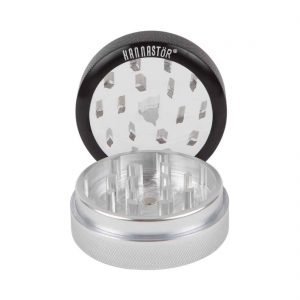 The Kannastor herb grinder is efficient and easy to use. Though the top of the line is an 8-piece marvel called GR8TR, we're discussing the 4-piece version measuring 2.5 inches in diameter.
Known for its minimalist design, the Kannastor herb grinder is clear, which allows you to see how much herb you're grinding. Kannostor devices also come in different varieties, from single-chamber designs to multi-chamber ones.
Material
Top-notch aluminum designed from aerospace technology makes this a highly durable grinder. It's a smooth finish that's easy to carry, clean, and use.
Teeth
Kannastor comes with aluminum teeth designed for problem-free grinding that doesn't stick. Your marijuana or tobacco is ground into fine pieces for ease of smoking and a cleaner taste.
Grind It
What makes Kannastor grinders unique is that you can choose how finely you want to grind your plant, thanks to a screw in the mechanism that helps grind the herb in such a way that it doesn't burn too fast upon vaping.
Screen It
The screen has virtually the ideal-sized holes through which the precious crystals can pass. The replaceable screen is non-stick, as well, and you have options on how fine your screen should be, which means you can customize your sesh with the perfect consistency.
Extras
Kannastor grinders are simple and low-maintenance, especially for cannabis connoisseurs.
Verdict
Kannastor is a paradox. For a weed grinder whose main selling point is the quality of its removable screens, it's strange that replacing the screen is unnecessarily difficult. It's a small concern, as replacing screens doesn't happen often. But it can make the difference when comparison-shopping.
Some Kannastor grinders feature multiple compartments, which could be inconvenient or difficult to use if you're a newbie. Furthermore, the weed grinder features plastic parts that detach at inopportune times and disrupt your sesh.
3.5/5