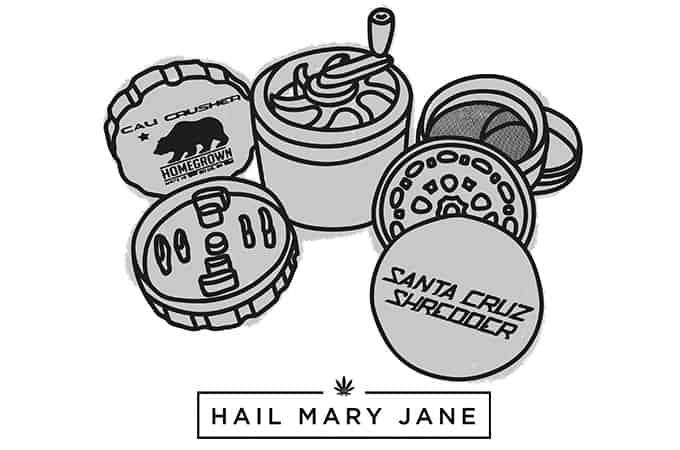 Looking for the best weed grinder?
We got your back! Our team has tested and reviewed the best marijuana grinders on the market. Wasn't easy, as every one had their go to weed grinder. But we all had to agree to make this list!
Best Overall
The Santa Cruz Shredder is the best grinder for your weed. Trust me. Well priced and excellent fine grind makes it our number one option.
Runners-Up –
Nothing's better than starting off the day with a good ole wake 'n' bake. Pair it with a cup of good, strong coffee and how can you have a bad day?
Well, you can if your smoke isn't as smooth and strong as your joe.
Do you know what makes your favorite dark roast so tasty?
The fine in the grind, my friend.
The finer your coffee is ground, the better your coffee is – smoother, stronger, tastier.
It's the same with your weed, regardless of how you take it:
Rolled in a joint
Wrapped in a blunt
Paired with your favorite weed vaporizer.
That makes the herb grinder one of the most important parts of your smoking experience, and if you don't have one, you're missing out.
It seems like a flood of new grinders hits the market every few months, so you have choices. It can be overwhelming, though, especially if you're unsure what you want.
That's okay – we've done our homework for you:
1. Cali Crusher Homegrown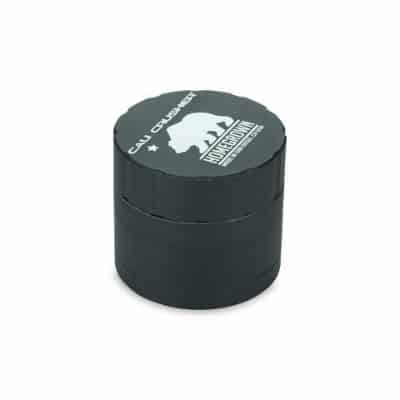 Cali Crusher has been in the grinder market since 2010 and it's a brand with a solid reputation for its high quality grinders with cool designs.
That's the reason why the Cali Crusher's Homegrown is our favourite grinder: an amazing designed, made in California of high quality aluminium with a great performance.
Material
The Cali Crusher's grinders are made of full-on areospace medical grade anodized aluminum which helps the ground herb keep the flavor you want. The weed grinder itself is light, feels smooth, and resists corrosion.
Teeth
The HomeGrown comes with a novel teeth design. It doesn't have diamond or square-shaped and it has less teeth than most of the grinders, but it works better. That's because its grind system slices cleanly everytime you use it because of its rectangular teeth with sharped endings.
It has as well a patented dual cut action in order to achieve a maximum shredding.
Grind It
The grind is – in a word – smooth.
The HomeGrown's patented system ensures that your ground material never gets bound up.
Screen It
Its filter screen catchs perfectly the kief because it's reinforced and it prevents bending.
Extras
All the Cali Crusher's grinders come with a lifetime manufacturer's warranty.
Verdict
The HomeGrown worth it. It can may seem an expesinve grinder but it will last you forever (and if it won't, you have the lifetime warranty). It's a high quality grinder, with a great design and performance.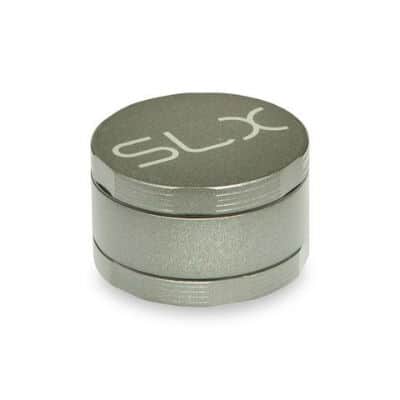 This grinder is the improvement of the original version of the SLX, a 4 piece grinder with a discreet and portable design. 
The XLS 2.0 model comes in different sizes (this is the medium one): medium size (2 inches in diameter) and large size (2.4 inches in diameter).
Material
The SLX 2.0 is a manufactured product made with CNC'd from a single piece of 7075 aerospace grade aluminum. After that, it's covered with a non-stick ceramic coating which prevents herb from sticking to its wall.
Teeth
Related to its size, this is the grinder with more teeth. It has 55 teeth with square-shaped and sharp edges on the end of them. More teeth, better performance!
Grind It
All the SLX grinders are well-know for being, non-sticky grinders and collecting kief in an amazing way.
Screen It
It has a high quality sifter screen built into the base to enable you to collect all the resin glands that fall off your flower during grinding.
Extras
It doesn't have many extras, it only comes with a kief scraper. 
Verdict
The vast majority of grinders get sticky as time goes on, but the SLX doesn't. With the SLX you won't have to clean frequently your grinder or change it because after a while it's very difficult to use it.
This grinder is a very good choice because it's made with high quality materials that make it long-lasting.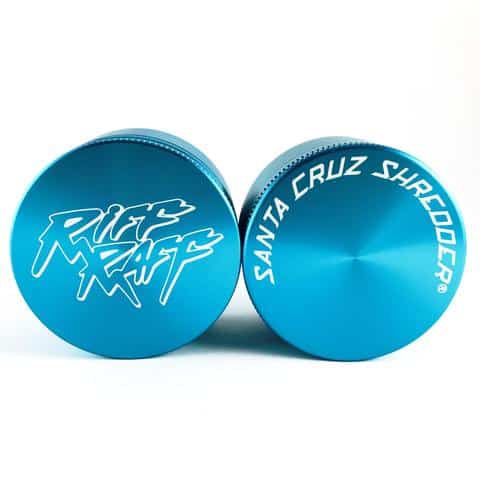 The Santa Cruz Shredder is a quality, American-made weed grinder that comes in several sizes and includes unique features.
For comparison purposes, we discuss the medium sized Shredder, which is 2.13 inches in diameter.
Material
Santa Cruz Shredders are fashioned of anodized aluminum for flavor retention as well as for a smooth finish that is corrosion-resistant.
Teeth
The teeth are the distinguishing feature of this weed grinder.
Whereas other competitors have diamond-shaped or hybrid diamond-trapezoid-shaped teeth, the Santa Cruz Shredder teeth are rectangular with indented sides. This makes the corners razor-sharp for a fine grind.
Another benefit of the rectangular shape? Instead of the two sharp points normally found on diamond teeth, the rectangle with indented sides showcases four sharp points.
Yet, many cannabis connoisseurs feel that the Shredder still does not grind herb as well as several of its diamond-shaped counterparts.
Grind It
Another distinctive feature of the Santa Cruz Shredder is that its holes are oval not circular. This is beneficial in that more of your ground herb falls through.
And isn't that the point?
In this respect, it is unsurpassed.
Screen It
Santa Cruz Shredders come with a stainless steel mesh filter screen. It's perfectly sized for making kief and filtering out what you don't want to smoke or ingest
Extras
The Shredder comes with two small magnets to keep the lid secure and avoid spilling herb.
And although it's also available in a variety of colors, the Shredder is known for its simplicity. It also comes with a kief scraper in the form of a guitar pick.
Verdict
Overall, the Santa Cruz Shredder is an excellent grinder. Despite its seeming advantages, the overall quality was less than expected. For example, the kief scraper doesn't seem to scrape as well as it should.
Also, the teeth don't seem to grind as consistently or as finely as those on several competitors. Lastly, a medium-sized Shredder is only 2.13 inches in diameter. This is too small for a medium-sized grinder.
4. Banana Bros. Otto Grinder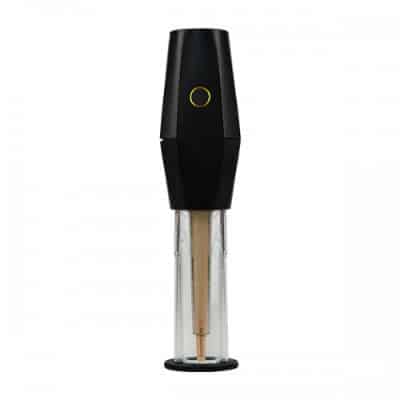 The Otto grinder is an innovative and complete product. It's a very special electric grinder because as well as grind your herbs, it rolls your joints!
The Otto Grinder is the first of its kind. This original product comes in a box full of tools and it has a smart patented technology that prepares perfectly your joints: a micro-fine grind only pressing a button.
Material
This electric grinder is made of premium grade wear-resistant metal teeth. It has a sleek design with 
Teeth
Its metal Grinder Teeth are perfectly lined up for cutting up your dry herb.
Grind It
The Otto Grinder has a patented smart grinding technology that detects the material consistency and automatically adjusts to the optimal grind for whichever material is loaded.
Extras
The box is full of tools for this grinder: a fresh seal cone tube, an extra seal, a cleaning brush, a USB charging cable, a cone retention straw and 20 premium cones carefully hand rolled.
Verdict
The Otto grinder is an all-in-one article. It may seem expensive, but it's technology and performance make it worth it.
With it, you can start your sessions as soon as possible and save a lot of time.
Despite the fact that it's an incredible product, it has a drawback: it hasn't a screen for kief.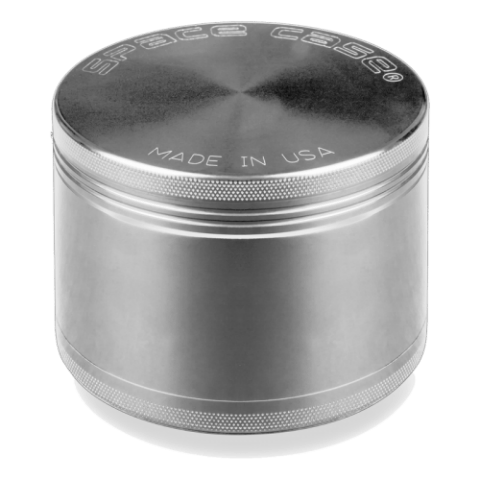 The Space Case herb grinder is legendary. It is American-made and of high quality.
Although they are more expensive than many other grinders on the market, they are very popular because they are stylish, simple, and incomparable.
Material
There's a misconception that Space Case weed grinders are made of titanium, but they are not. The black anodized finish that Space Case grinders are famous for is called "Titanium", but it's the name of the color not the type of material.
Teeth
Space Case makes its grinders with a large number of diamond-shaped teeth that shred your material easily and consistently.
Grind It
Space Case sets a high standard for grind quality and fine texture and numerous holes for the ground material to fall through. You get a complete grind for a great smoke sesh.
Screen It
The metal filtering screen on the Space Case grinder is secure and well fitting. And although it makes good kief, the corners aren't rounded, which makes scraping it out more difficult.
Extras
Space Case grinders are fashioned with neodymium magnets on the lid as well as on the second piece. The magnets are strong to better prevent spills.
Every Space Case grinder includes a guitar pick of a kief scraper with the Space Case logo – pretty cool even if you don't play guitar.
Verdict
The Space Case grinder is a premium grinder. For many people, though, it makes no sense to pay as much as $60 for a 2.2-inch grinder when one of its top competitors is of similar quality for half the price (and is slightly bigger).
In addition to the elegant black or silver that Space Case has always been famous for, a broader range of colors is now available.
*Before you buy a Space Case grinder online, be sure you're not buying a cheap knock-off. Space Case is notorious for having its design ripped off, and it's you who suffers.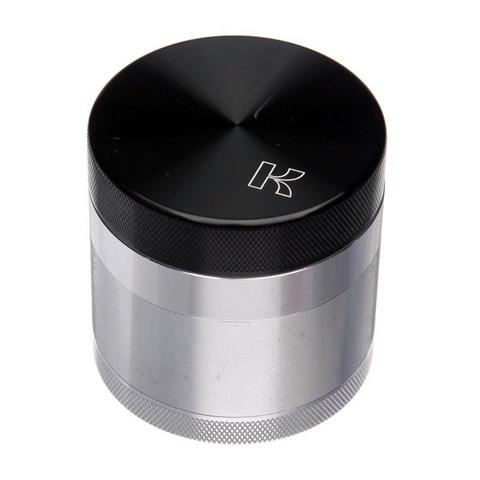 KANNASTOR
Minimalistic Herb Grinder
The Kannastor herb grinder is efficient and easy to use. Though the top of the line is an 8-piece marvel called GR8TR, we're discussing the 4-piece version measuring 2.5 inches in diameter.
Known for its minimalist design, the Kannastor herb grinder is clear, which allows you to see how much herb you're grinding. Kannostor devices also come in different varieties, from single-chamber designs to multi-chamber ones.
Material
Top-notch aluminum designed from aerospace technology makes this a highly durable grinder. It's a smooth finish that's easy to carry, clean, and use.
Teeth
Kannastor comes with aluminum teeth designed for problem-free grinding that doesn't stick. Your marijuana or tobacco is ground into fine pieces for ease of smoking and a cleaner taste.
Grind It
What makes Kannastor grinders unique is that you can choose how finely you want to grind your plant, thanks to a screw in the mechanism that helps grind the herb in such a way that it doesn't burn too fast upon vaping.
Screen It
The screen has virtually the ideal-sized holes through which the precious crystals can pass. The replaceable screen is non-stick, as well, and you have options on how fine your screen should be, which means you can customize your sesh with the perfect consistency.
Extras
Kannastor grinders are simple and low-maintenance, especially for cannabis connoisseurs.
Verdict
Kannastor is a paradox. For a weed grinder whose main selling point is the quality of its removable screens, it's strange that replacing the screen is unnecessarily difficult. It's a small concern, as replacing screens doesn't happen often. But it can make the difference when comparison-shopping.
Some Kannastor grinders feature multiple compartments, which could be inconvenient or difficult to use if you're a newbie. Furthermore, the weed grinder features plastic parts that detach at inopportune times and disrupt your sesh.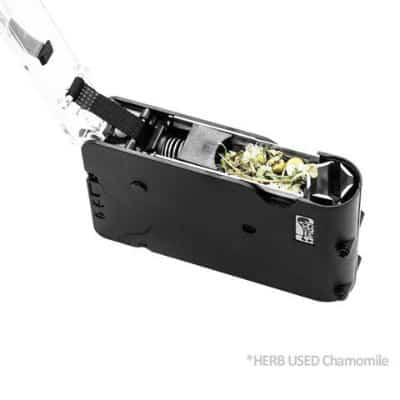 Chewy Grinder is an unusual product that doesn't seem like a grinder at all. It's an electric grinder that retails $60, it's very easy to use and its blade system is perfect to grind for vapes.
Material
The cover of this grinder is made of mill polycarbonate and its blade of  carbon steel, making it very sharp.
But if you don't like plastic grinders, another version is available made of aluminium instead of mill polycarbonate.
Teeth
The Chewy Grinder doesn't have "teeth", it has a blade that slices in a perfect way your marijuana instead of crush or compress your herbs like conventional grinders.
Grind It
As we said before, its blade is very sharp, and it cuts your dry herbs perfectly for pipes, bongs and vapes. 
It holds 2 grams of herbs and it can grinds your dry herbs very fine and grinds fantastic especially if you don't include the buds.
It's electric system is very easy to use: you only have to put your herb inside the grinder and press the power button.
Extras
This grinder comes with a 9 volt battery which offers about 8 hours of battery life.
Verdit
The Chewy Grinder is for those who want something different and easy to use.
This innovative electric grinder has an incredible battery life and a convenient design that make it perfect to carry around.
The only thing that might be considered a drawback is that it doesn't have a pollen catcher.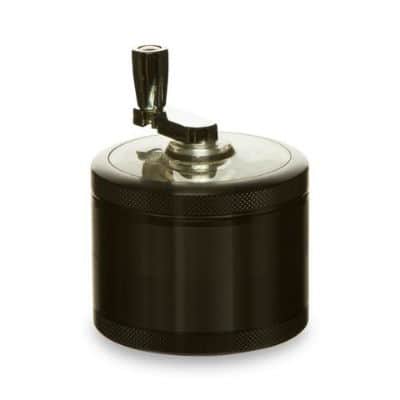 This four piece grinder by EDIT uses rotary crank handle. Maybe, it seems worse to grind your herbs by hand, but it's not. This mechanism is easier to use, better and efficient.
Material
The Crank Grinder is made of aluminium and high graded metal which makes it stronger and long-lasting.
Teeth
This EDIT collection grinder comes with 24 aluminum teeth with diamond-shaped. This shape is the best to grind your herbs, grounding your dry herbs is into fine-grained components.
Grind It
It grinds your herbs to be consistent and very fine and its crystal top cover allows you to see when to stop to grind your herbs while you're using it.
Screen It
The sifter screen helps to catch pollen with the storage compartment on the bottom.
Extras
As most of vaporizers, it comes with a bag to save it.
Verdict
The Crank Grinder is an affordable product accordint to its amazing performance and the materials it's made of. 
The fact that uses a rotary crank handle system to grind herbs it's not a disadvantge like some people may thing. This mechanism has been improved and now it provides an extreme efficiency.
Also, the diamond-shaped teeth help to grind better and as finely as possible, making this grinder a great buy option.
9. Aerospaced 4 Piece Grinder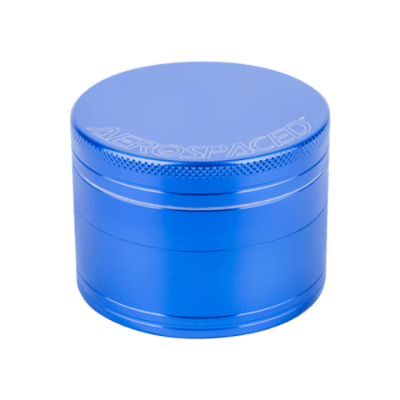 The Aerospaced herb grinder is a competent and handy grinder. This is the 4-piece version measuring 2.5 inches in diameter, but you can choose between a wide variety of colors and sizes.
Known for its colorful design, the Aerospaced herb grinder is made for everyone and everything: blunts, joins, vapes or whichever from you want to smoke.
Material
As its name suggests, the Aerospaced is a grinder made of aerospace-grade aluminium
Teeth
Aerospaced comes with 50 diamond-shaped teeth that finely grind your plant material. It works consistently well enough for joints, blunts, or vaporizers.
Grind It
This is a the finest grinder on the market. Its sharp cut grinding teeth will never dull with a great performance every time you grind your herbs.
Screen It
Its fine screen sifter help you create pollens.
Extras
Aerospaced grinders comes with powerfult lid magnets. In addition, they include a pouch to save it and a scraper.
Verdict
Aerospaced is king of the grinders. With its relatively low price, it's hard to beat its combination of value and quality.
In adittion, a lot of sizes and variations are availble, so you can have your custom grinder in the color and size that you prefer with the benefits of Aerospaced.
10. Grizzly Originals 4 Piece VGrinder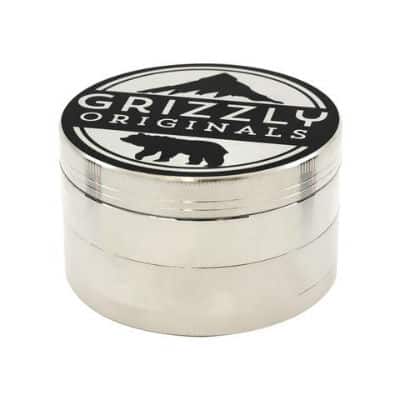 The Grizzly Originals is a premium grinder made in California and designed to grind your herbs for vaporizers.
We are going to talk about the 4 piece grinder which is 75mm in diameter.
Material
This 4 piece grinder is built with aircraft aluminum graded material.
Teeth
Its diamond cut teeth made it perfect for grounding dry herb for vaporizers. Its teeth are diamond-shaped with sharped endings. 
Grind It
It's a very functional product that crushes your dry herb wonderfully.
There is virtually no resistance when you grind your herb. It's as good as a shredder. And along with lots of teeth, this marijuana grinder comes with plenty of holes in a second compartment for a no-jam grind.
Screent it
It comes with a collection screen and it has perfect-sized holes .
Extras
As the HomeGrown, it comes with a lifetime manufacturer warranty.
Verdict
The Grizzly Originals is a great 4 piece grinder. It's an inexpensive product that competes in quality with the expensive ones.
Its teeth grind very well, it has a sleek design and its size is handy as well as big (75mm in diameter). The only thing that might be considered as a disadvantage is the lack of sizes and variations, as Grizzly Originals offers only one size and color.
11. The Wolf Pocket Aluminum 2 Part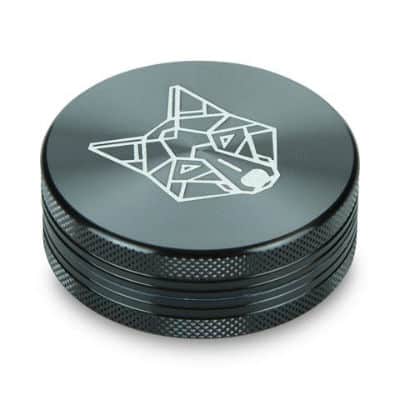 The Wolf Pocket Aluminium is a 2.2-inch herb grinder that gives you more bang for your high. The average price is around $15 but comes with a quality normally found on grinders that are a lot more expensive.
Material
The Wolf Pocket is a 2 piece grinder made of anodized aluminium.
Furthermore, you can choose betweent a variety of colors and sizes and it comes with a wire diagram of a Wolf on the top, and on the bottom it's written the word "Wolf".
Teeth
It has sharp metal teeth that allows you to grind a lot of material at once with the best results.
In addition, the teeth are made with molds, so they aren't perfect.
Grind It
Because of its very sharp teeth, this grinder can grind a lot in no time with maximum performance.
It's perfect to obtain fine dry herbs for your blunts and joints.
Extras
The Wolf Pocket comes with a velvet pouch to save it.
Verdict
This is the only 2 piece grinder of our list and there's a reason why.
The Wolf Pocket is a premium grinder with the same performance as a 4 piece grinder. Its teeth are very sharp and can grind a lot of herbs in one time.
Also, the materials used to make it are high quality and it's design with the Wolf on the top makes it very cool to carry around.
12. Volcano Vaporizer Acrylic Grinder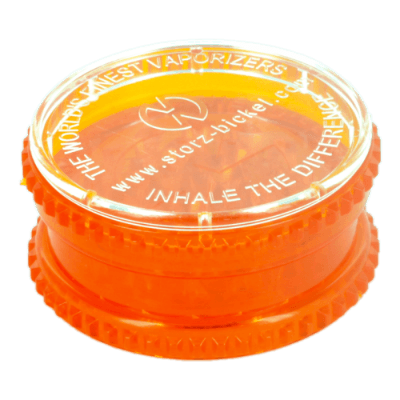 VOLCANO VAPORIZER ACRYLIC GRINDER
The most common grinder, the one which everyone knows and have had: the acrylic grinder.
This one is made by the well-known vaporizers brand Storz and Bickel and it was made to come as a gift with the Volcano and Plenty vaporizers.
Material
This grinder, as its name suggests, is made with plastic. All of its parts were made with the same material with a mold, as all the acrylic grinders.
Teeth
As we said before, the teeth are made of "stash case". This material isn't very good and the teeth can break easily.
Grind It
Plastic isn't the sharpest material, so you can't expect a lot of the acrylic grinders.
Extras
It comes with a third part to save our herbs after grind them.
Verdict
Acrylic grinders aren't for everyone. This type of grinders have some disadvantages that make them a worse option in comparison with the expensive ones.
Some of its disadvantages are: it hasn't a pollen chamber, the materials is made of aren't high quality material and it's poorly made.
But if you want to buy the cheapest and simplest grinder on the market, this one is for you.
13. Magic Flight Launch Box Finishing Grinder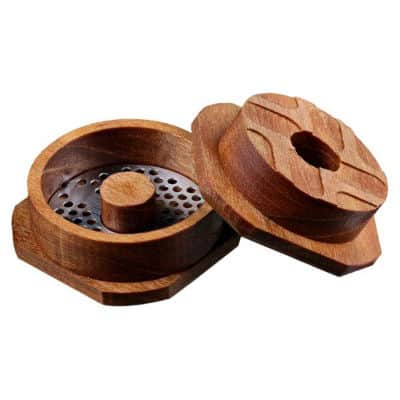 We must say that the Magic Flight Launch Box is not a conventional grinder, it's a finnishing grinder. This means that you should use it to finish your herbs after grind them with a conventional one. 
It was created as an accessory of the Magic Flight Launch Box and with this product you can have the finest herbs possible with a simple movement.
Material
It's made of sustainable wood and handcrafted in San Diego.
Teeth
Actually, it hasn't "teeth". This grinder has a sharp screen for slice your grinded herbs in the finest way. 
Grind It
The truth is that it doen't slice or break up your herbs, it compress them pushing down through the screen at the bottom of the grinder.
Extras
It comes with a felt-lined storage tin and an instructions guide. In addition, you can choose between 3 models: Maple, Cherry or Walnut.
Verdict
The first thing you have to know before buying the Magic Flight is that it's a finnishing grinder, so you can't expect the same results as a traditional  grinder.
Although, it's perfect to complement your grinder if it doesn't grind very much your herbs and you want the finest herbs possible.
But, if you are impatient, we don't recommend you to use a finnishing grinder, it might be better to buy a more complete article.
What Exactly Is a Weed Grinder?
If you've ever ground up your favorite sticky strain between your thumb and forefinger to get a good roll on your joint, do yourself a favor – get a weed grinder.
While it seems cool to do something as OG as grind your weed with your fingers, you're robbing yourself of a great sesh.
An herb grinder comes in many names – weed grinder, marijuana grinder, cannabis grinder, or flower grinder
Whatever you call it, a grinder is a small device with "teeth" designed specifically to grind up or shred most any type of small plant material – including marijuana, tobacco, and herb.
Before you jump online or roll into your local smoke shop for the cheapest or most colorful weed grinder you can find, consider a few things first:
Grinder material
Teeth shape and total number
Number of total compartments and/or pieces
Type of screen
Accessories and more
Materials Used In Weed Grinders
The most common materials all have advantages and disadvantages:
Acrylic
There's not much positive about acrylic herb grinders
Advantages:
Disadvantages:
Weak construction (the teeth easily break)
Short life expectancy
Can contaminate your herb
Usually only available in two pieces (you can't get any kief)
We suggest not buying an acrylic grinder.
Wood
Wood grinders certainly have a better appeal than acrylic ones do.
Advantages:
Cool look
Retro vibe
Feels good to the touch
Disadvantages:
Almost exclusively available with 1 compartment
Inner finishes such as ink or paint can contaminate your weed
Teeth usually are of poor quality
Teeth can be sharp
If looks matter – but getting kief does not – then a wood herb grinder is for you. However, if you're interested in a stronger, cleaner high, then skip the wood.
Metal
Many metal grinder manufacturers claim their grinders are made of titanium. If that were true, the market would be saturated with grinders costing hundreds of dollars.
In fact, most metal weed grinders are made from aluminum; the ones claiming to be "titanium" are really aluminum ones coated with titanium. Adding to the confusion is that sometimes the color of anodized aluminum is called "titanium".
Even so, aluminum or titanium-coated aluminum grinders are unsurpassed in durability, sharpness, quality, and safety.
Types Of Weed Grinders
The next thing to consider is the number of compartments in your marijuana grinder.
As with materials, each number of compartments has both benefits and drawbacks:
Also called two-piece grinders, they have only a single compartment where the weed is ground and retrieved. However, the ground herb is often inconsistent in size and texture.
Getting the ground weed out of the single compartment is problematic because of the teeth.
Known as three-piece grinders, these have a second compartment under the main grinding one. This has small holes in the bottom that opens into the bottom piece, where the ground weed of a certain size or smaller lands.
The result? More evenly ground weed.
And, since the bottom compartment is removable, retrieving the herb is as smooth as the smoke you're about to have.
These are also called four-piece grinders because they have a third compartment under the second one. The two pieces are separated by a fine screen that catches the finest part of the flower, kief.
If you're going for the ultimate grinding and smoking or vaping experience, a 4-piece herb grinder is the only choice, even if such grinders are more expensive.
To a true connoisseur, though, the benefits of producing kief is worth the extra coin.
Design
Weed grinders design has come a long way. And the elevated experience has improved not only how grinders look but also how they function.
Teeth
Simply put, the more teeth, the better. To get your weed thoroughly ground, which means better and cleaner smoking or vaping, a lot of teeth is necessary.
A good weed grinder should have roughly 50 teeth on a grinder that's about 2.5 inches in diameter.
Removable Screens
This is a fairly recent innovation that allows for easier cleaning and replacement after it wears out. Removable screens are regularly included in quality grinders.
Kief Scraper
A kief scraper is exactly what it sounds like – a small device, usually plastic, device used to scrape out the kief.
Because the scrapers are small, they're easy to lose, so some grinders now include at least one extra scraper.
Pouches/Carry Bags
A pouch or carry bag is among the nicer features available these days. Often, you can get them in such materials as velvet. With a drawstring for tightening, the weed grinder easily fits in to keep it protected and clean while not in use. It's also more portable.
Shape
Although round grinders are the norm, grinder shape is important enough to take into account other shapes.
For example, diamond shaped weed grinders have become the norm for many of the best aluminum grinder manufacturers nowadays. Square shaped herb grinders and ones with long, narrow lines and multiple sharp edges to grind herb are also becoming common.
For thorough grinding and a better sesh, a diamond is your weed's best friend.