There's always adventure in trying something new, regardless of what it is – driving a new car, trying a new strain of weed, sleeping on a new mattress, or trying the new neighborhood bistro.
The arrival of the G Pen Pro for testing and reviewing was no different. The makers of G Pen Pro, from Grenco Science, design and manufacture other types of vaporizers for weed, but there was a fair amount of hype surrounding the drop of this new product from them.
Everybody has their favorite way to medicate with cannabis (or, for recreational users, a favorite way to find lifted enlightenment) – hitting a bong, toking from a joint, sharing a blunt, vaping, nibbling edibles, applying topicals, or ingesting a tincture.
It never hurts, though, to try a new method of cannabis consumption.
So if you've never tried a portable vape pen specifically designed for dry herb, then the G Pen Pro could be something you want to add to your repertoire.
Manufacturer and Product Background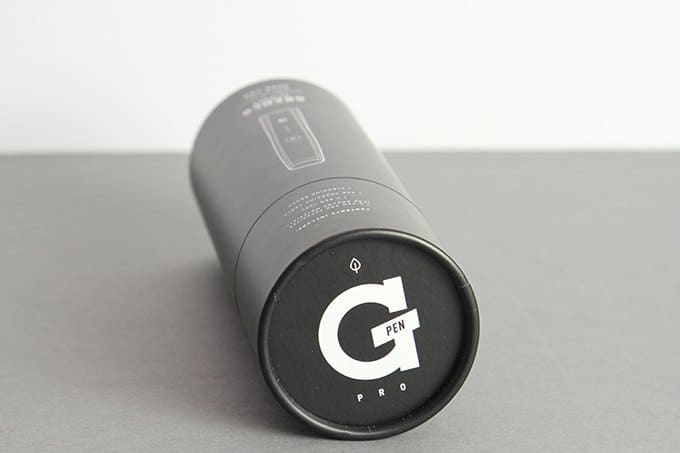 The folks at Grenco Science, based in Los Angeles and founded in 2012, are makers of advanced, user-friendly portable vaporizers. The manufacturer was among the first to make a pen-style portable vaping device and is famous for its vaporizers designed for dabbing of cannabis concentrates such as oils, shatter, wax, etc.
Grenco's newest drop, the G Pen Pro, is specifically designed for ground-up dried herb. To be sure, the manual that comes inside the vaporizer's carrying tube even states the following:
"not intended for use with tobacco, liquids, or concentrates".
That it's not intended for tobacco use rates it higher than it would have been otherwise!
The Unboxing of G Pen Pro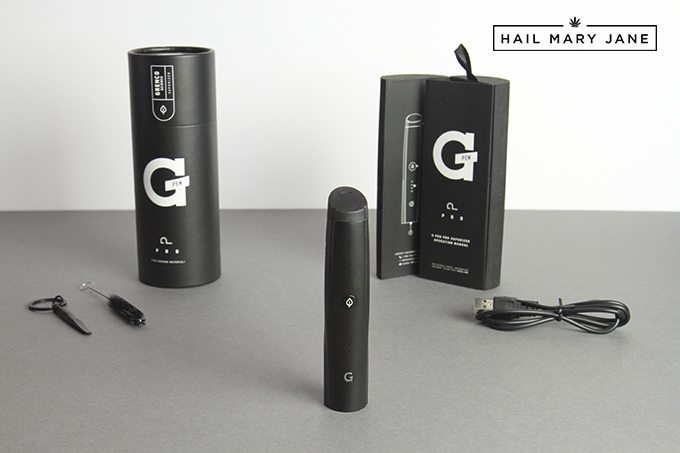 The G Pen Pro arrived in a plain brown envelope only a few days after the order was placed. Inside was a simple, elegant black tube (that helped shed light on the jokes online from users about it resembling a container that some colognes come in).
The excitement was building, nonetheless, as we took it out for our first look.
Inside the tube was a pull-out foldable cylindrical container where the G Pen Pro and accessories were stored. The container had storage pockets on either side – one side for the vape pen itself and the other for the following:
G Pen tool
USB charging cable
Cleaning brush
The first thing to notice about the pen itself is that it's compact and portable. It easily stores in a pocket or carrying bag. (Again, though, it elicited humorous comments from users, one likening the pen to a vibrator!)
However, the tube itself is somewhat bulky and awkward when tossed in a backpack with a laptop, notebooks, and other pack-friendly items.
Finally, there's an instruction manual, as well, which is easy to read; the instructions are simple, well-written, succinct, and come in five additional languages (German, Italian, French, Portuguese, and Spanish.)
G Pen Pro Design and Features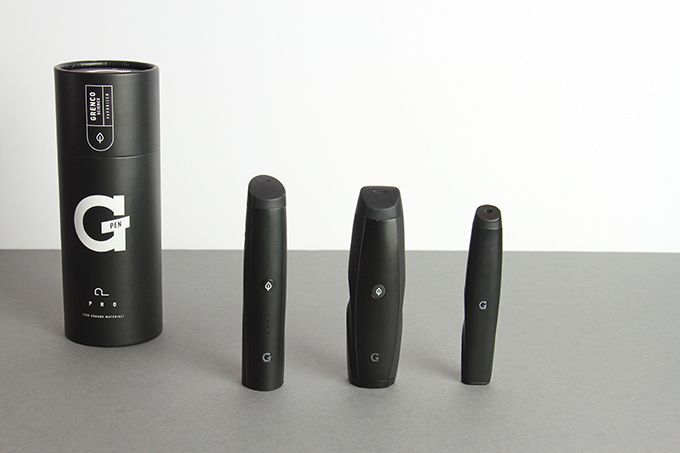 As stated above, the G Pen Pro is small and compact: its dimensions are 116mm x 25 mm x 24mm, which makes it easy to take anywhere. In fact, it's smaller than its predecessor and has a price around $100 that's more palatable.
The aluminum exterior is durable, so it slides easily into a pocket, bag, or carrying case and you can expect that it won't break easily. The silicone mouthpiece is sturdy and is easily removed for quick, simple cleaning. The ceramic internal chamber holds about 0.25 grams of ground-up dry herb.
The pen is sleek and, with or without the instruction manual, is simple to use. One button does everything:
Turn the pen on and off
Set the temperature you want.
Although you can turn the pen off manually, it also shuts off automatically after 4-5 minutes (the manual says 5 minutes but their website says 4 minutes – we got somewhere in between).
On the side of the aluminum body is a set of four LED lights, which indicate the temperature setting you've chosen, which is as follows:
BLUE (375° F)
GREEN (400° F)
RED (428 ° F)
The LED lights also serve as an indicator of how much charge is remaining (one by one, the lights indicate this, though you never really know how much time is exactly left).
The silicone mouthpiece sits just above the ceramic chamber where the dried herb is placed for smoking. Just below the chamber are the battery and the rest of the pen.
The bottom of pen is where to insert the cable for charging, which can be completely done in 2-3 hours.
To be honest, the design of the G Pen Pro is far from revolutionary; it's a simple upgrade from the earlier incarnation, but that's not to say that the pen isn't effective in doing what you want (and with a modicum of discretion as well).
Finally, although there is no concrete information from either the website or accompanying manual, it seems that the battery is rated at 1300mAh, but there is no confirmation of this.
G Pen Pro Functionality

The Button
To turn the pen on, click the button five times.
The default temperature is setting is BLUE (375°F); to change to GREEN (400°F) or RED (428°F), hold the button until the color changes to your desired temperature.
There is no info on the G pen itself to tell you these temp levels, so you'll have to remember them.
Temperature Settings
The temperature difference of about 25° from setting to setting is a nice feature, as it makes for a wider range of vape preferences.
Once you've set your temperature, allow 30 seconds for the pen to heat up for taking pulls, which are easy; there's minimal draw resistance as you inhale and the air flow through the ceramic chamber is good.
However, be sure that your herb is ground up well, as it won't pull well after the first hit and you'll have to constantly clean it to get use from it. If your herb is finely ground, each pull maintains an even temperature.
The three temperature settings are not bad for a portable vape pen in this price range but not as many compared to vaporizers in general.
Taking a Hit
Pulls from the G Pen Pro are smooth and easy.
However, as stated earlier, make sure to grind up your herb well so one pull doesn't clog up the mouthpiece. Pack the well-ground herb into the chamber; the tighter the better but don't overpack, either.
The chamber isn't too roomy – it holds about 0.25g or dried herb (no concentrates) – but it's enough for a decent hit that delivers the effects you want.
Vapor
For many vape users, the vapor produced is the most important part. The new G Pen Pro produces vapor that is an improvement over the original pen. Still, compared to other vape pens we've tried, the quality is not spectacular.
Upon exhalation, the vapor is only average – above average, at best. The vapor is not thick or dense and not a lot is produced, either. Glass mouthpieces are much better for this.
The flavor of the pull is good at first, but as the sesh continues, there is a noticeable drop-off in quality. Glass mouthpieces are also much better if you like to taste your weed.
Turn Off
There are two ways to shut off the G Pen Pro:
It will shut off automatically after 4-5 minutes (see above)
To shut off manually, click the button 5 times
Cleaning
The G Pen Pro is easy to clean, especially if you're fanatical about cleaning (meaning every day or even several times a day). If you like to have continuous hits without cleaning after each one, though, then make sure the herb is ground (yes, we keep making the point!).
We're obsessive about cleaning smoking apparatuses; smooth, clean hits unaffected by clogged mouthpieces are essential to a good sesh. That said, the cleaning brush does its job; pop the mouthpiece from the top of the pen and get to work.
The chamber, on the other hand, is less easy to clean, especially if you leave herb residue or leftover resin in there for a few days (this is not recommended, however; clean it daily if you use it daily).
G Pen Pro Accessories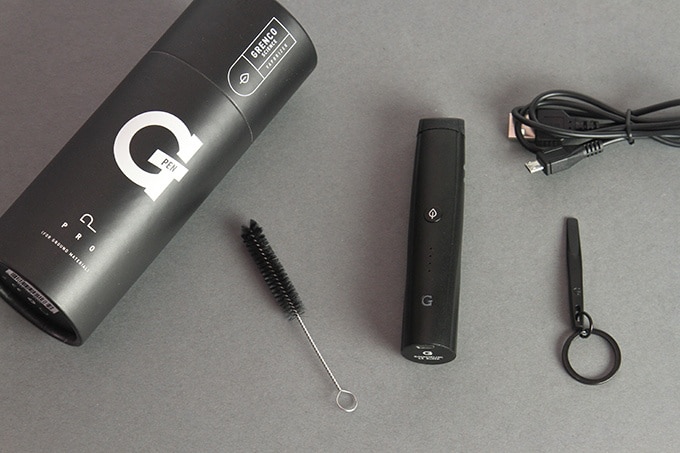 Grenco offers several items to help accessorize your G Pen Pro for the best sesh possible:
Filter screens
Shredder x Grinder
Extra Mouthpiece
G Card
Each is an extra charge and can be found here.
G Pen Pro Performance
Let's highlight both the benefits and drawbacks of the G Pen Pro before offering a final score on the performance of the piece.
Benefits
Smaller size is a huge plus over the original

Portable
Easily fits in pockets, bag, or carrying cases

One-button functionality

Turning on device
Temperature settings

Hold button to get BLUE, GREEN, or RED setting

Turning off device

Quick, consistent heating
45-60 minutes of continuous use

Depends on the temperature level being regularly used

Easy to clean and maintain
Automatic shut-off is convenient when you lose track of time during your sesh!
Great for beginners
Drawbacks
Silicone mouthpiece

Clogs easily if herb is not ground finely enough
Gets hotter than you might want or expect

Silicone does reduce the risk of overheating, but it still gets hot

Weed is not tasty after the first pull of a sesh

The silicone taste overwhelms after that first pull
It begs the question: why do manufacturers still insist on using plastic for a mouthpiece? It compromises both the quality and taste of the smoke

No digital display

Some competitors have this, even at $10 cheaper

Vapor lacks both density and volume
Hail Mary Jane G Pen Pro Conclusion
The G Pen Pro is excellent for beginners because of its convenience, ease of use, and portability. Even more experienced users will enjoy it immensely.
However, if you like the taste of your weed, and you want to taste it consistently with each hit, the G Pen Pro might disappoint. The silicone mouthpiece is a major drawback in that regard.
For medical patients, the pen is efficient and effective in mitigating pain. For recreational users, getting lifted is no problem. The G Pen Pro hits the mark in both cases.
For portability, the G Pen Pro is also ideal; newbies and connoisseurs alike will enjoy taking discreet hits nearly anywhere.
However, for connoisseurs who put stock in vapor, G Pen Pro might disappoint.
Overall, the G Pen Pro is a very good vape pen. We give it a score of 4/5.
Despite the fact that other pens have better or even more features at a cheaper price point, the newest incarnation from Grenco should be near the top of your list when considering upgrading your current pen or striking out into the vape pen domain.
And, as times goes by, the G Pen Pro could be considered an out-of-time product, but nothing could be more untrue… The truth is that the G Pen Pro can brag about its great shape after almost a years on the rising vaporizers market because, even in 2020, we considered it a great choice for those who want a convenient, easy-to-use and, probably, the best cheap vaporizer.
G Pen Pro Discounts and Coupon codes
If you're looking to buy a G Pen Pro at a lower price, we recommend subscribing to their newsletters, where they offer 15% off on your first purchase. Other G Pen Coupon Codes are not as good. This is a great deal for an already fair price vape. We don't expect it to be found cheaper elsewhere. Don't be fool by greater discounts, as it might be a counterfeit unit.
Where to Buy the G Pen Pro
We recommend purchasing directly from Grenco Science website.