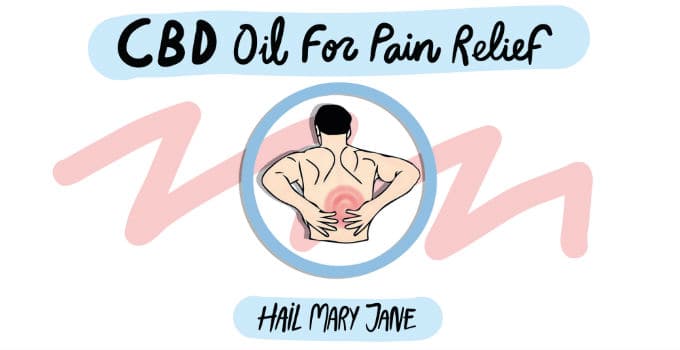 While many people opt for psychoactive THC oil for pain, you don't need to get high to experience effective pain relief.
A growing body of research suggests that cannabidiol (CBD), a non-intoxicating component of the cannabis plant, can also reduce pain in some instances.
Particularly useful for daytime pain relief, CBD does not inspire the sedation or psychoactive "high" that THC does.
Instead, the compound often produces a slight mental energy coupled with an improved mood overall.
As a bonus, CBD is a 100% plant-based compound and has little to no known serious side effects.
However, in high doses, some might find that the phytochemical makes them feel drowsy. Still, there is much reason to believe that cannabidiol for pain is an effective, natural remedy to add to your treatment plan.
15 Best CBD Oils for Pain Relief in 2018
Consumers can now choose from more CBD products than ever.
But, amidst all of the choices, how do you find the best CBD products for pain?
To help you out, we've done a little research. Here are the top picks:
Third-party lab testing is always a good sign that a CBD product is legitimate.
CBD FX is well known for selling CBD products based in the USA. One of the most popular products of this brand is its CBD Oil Vape Additives.
These variety of CBD FX oils are made for vaping, as tinctures or applied to your skin as a topical oil. It's an organic product made from natural hemp plants grown in Europe, but produce and third-party lab tested in the States.
With this CBD oils you can enjoy the benefits of hemp without getting high, because it doesn't contain THC at all.
SOL CBD offers a wide variety of amazing CBD products, including CBD vape oils and all kind of tinctures.
If you suffer from anxiety, sleep or inflammation problems, this may be the solution. The SOL CBD vape oil is a minty-grape flavor product that helps your body to feel better. This high quality vape oil contains CO2 extracted hemp-derived CBD. Besides, SOL doesn't use pesticides and herbicides and its products are non-GMO.
The SOL CBD vape oil is made only for vaping, so get a proper vaporizer to enjoy its benefits.
CBD Pure is an American company that produces CBD oils from organic content grown in Colorado.
Their hemp oils are very popular for their efficacy. They contain high CBD content and no THC, so you won't experience the psychoactive effect of the cannabis when you take it.
It's a daily supplement that lasts 1 month.
Believe it or not, not all CBD oils are THC-free.
While hemp-based CBD products are required to have less than 0.3% THC, some consumers feel most comfortable avoiding the compound altogether.
Kat Natural's CBD is made with CBD isolate, meaning that it contains purified CBD and there is no THC involved. This is truly a pure CBD oil for pain.
A company with an environmental conscience, Kat's Naturals ensures that all of its ingredients are sustainably harvested.
Apart from cannabis compounds, some of Kat Natural's CBD tinctures include soothing essential oils, like peppermint and orange oil.
Hemp Bombs offers a wide variety of amazing CBD products, including CBD oils and a variety of edibles like gummies.
However, their CBD oils are certainly worth it. These concentrated CBD products are perfect for those people who struggle with body pain, anxiety and sleep problems. You only need the recommended dosage of 1 or 2 drops a day, and all those health problems will be gone.
Hemp Bombs CBD Oil has a peppermint flavor that gives a pleasant minty taste in your mouth.
ESSENCE CBD Oil Tinctures
CBD Essence is a company with an extensive inventory of products: hemp tinctures, capsules, topicals, edibles and even pet care CBD products.
They have two different types of CBD oil products: medical hemp oil tincture or CBD edible oil tincture. They come in a amber glass bottle with a dropper to mesure your daily dosage. Furthermore, they don't contain THC, preservatives, pesticides or alcohol.They taste great because of their natual flavor and they are suitable for gluten intolerants.
A 100% natural product for those who want an eco-friendly premium quality product.
GREEN ROADS
100, 250, 350, 550, 1000 or 1500mg
Green Roads World is becoming a well-established brand in the world of CBD oils and tinctures.
Created for those seeking pain relief from muscle soreness and joint pain, this powerful CBD oils boasts 100 to 1500 milligrams of CBD per container.
Hand-formulated by a compounding pharmacologist with more than 20 years of experience, this product also contains additional vegetable glycerin.
Each person may require a different dosage, so if you're interested in used this CBD oil it's recommended to go to a health specialist. CBD oils tend to work best for knee, shoulder, wrist, and elbow pain, for example.
There are several different kinds of CBD oils out there. NuLeaf Naturals makes the list as one of the best CBD products of 2018 thanks to it's full-spectrum CBD action.
Not only does NuLeaf Naturals offer a wide variety of dosages, but NuLeaf tinctures are made with full-extract hemp oil.
Unlike isolated CBD, full-spectrum hemp oil also contains beneficial aroma molecules and other phyto-compounds that may work synergistically with CBD.
As close to the hemp plant as an extract can get, full-spectrum hemp oil captures the essence of the plant without excess adulteration.
All of NuLeaf's extracts are made from organically grown hemp flowers from Colorado farms.
They are also lab-tested to ensure quality, meaning that consumers can trust that NuLeaf Naturals is providing a safe, natural pain reliever.
Elixinol Hemp Oil offers a wide variety of CBD products. However, their Hemp Oil Drops Tincture is one of the purest CBD oils avaible.
The Hemp used for this product is grown organically and CO2 extracted. It's made with natural ingredients and mixed with coconut oil.
The tincture comes in a glass dropper bottle and it's perfect for daily used: 1/2 dropper taken under the tongue three times a day. This dosage will provide you many health benefits.
There are two flavors avaible, cinnamint and natural flavor, both fantastic.
Is always a good sign that a product passes rigorous standars, because it makes a CBD product trustworthy.
When it comes to pain relief, Ananda Hemp Spectrum is a high-quality choice.
The Ananda products are 100% grown and processed in the USA and made with only plant-based ingredients. This hemp oil makes the cut as one of the best CBD products for its potency and cost-effectiveness.
Featuring 200 milligrams of active cannabinoids, Ananda Hemp Oil boasts a humble price of just $39.95.
Pure Kana is a brand based in Los Angeles whose purpose is to provide high-quality and affordable CBD products.
Their CBD oil Drops are natural supplements made with only three ingredients: hemp extract, MCT oil and natural flavors. Designed for take orally and perfect for pain and anxiety, they provide an instantaneous positive relief.
They have three types of CBD oil with different flavors (mint, vanilla and natural flavor) and the price of this product goes from $48 to $52.
If you like juice flavors, Cannabidiol Life CBD oils products are made for you.
These flavored CBD oils are infused with a CBD-rich, full spectrum hemp extract. They feature 250 or 500 milligrams of pure CBD per bottle and come with a wide variety of flavors as chocolate mousse, apple, cereals or pineapple. These flavors are all made naturally by the brand, giving the customer an aromatic and tasty experience.
Vaping these CBD oils will enhance the pain-fighting effects of this high-quality CBD supplement.
With the intention of selling a finest cannabis product at the lowest possible price, LoveCBD has brought to the market the CBD E-liquid.
This cannabis infused product is all natural and made with the safest method of straction without any harmful chemicals. They have two different products: Indica and Sativa CBD e-liquids.
Intended for vaping, it has to be taken as needed. The only thing you have to do is add the drops to the cartomizer, switch on the e-cigarette and inhale.
Not only is this product natural and high-quality, but LoveCBD has made accessing CBD possible for everyday consumers.
In The CBD Distellery website you can find all sort of products like capsules, CBD care creams and disposable Vape Pens.
However, The Spectrum CBD Tincture is a pure and natural CBD oil that provides a faster relief of sympthoms like back pain or arthritis. It contains the maximum CBD concentration and it's lab-tested for guaranteed the quality of the tincture.
You can take it mixing the tincture with your food, drinks or putting it under your tongue.
Medterra is an american brand well known for its quality CBD products. All its products are grown and made in the USA with non-GMO.
The CBD Tincture is the Medterra's most popular product. It contains 0% THC, it's odorless and tasteless and was laboratoy tested. You can take it at day or night sublingually.
You can choose between 3 strenghts: 500, 1000 or 3000 milligrams bottle and it's pretty affordable.
How To Use CBD Oil For Pain
There are now many different types of CBD products available for those interested in trying hemp oil for pain. Before trying the herbal remedy, here are a few tips on how to use CBD oil for pain:
Find high-quality products
Depending on the type of pain you are experiencing, you may need to use several different types of CBD products to control your symptoms. CBD oils can be taken orally and applied topically, allowing you to manage your pain both externally and internally.
It's important to do some research on the products you're trying before purchasing. Knowing the dosage of your CBD oil and knowing what additional ingredients the product includes can help you keep track of how effectively the oil manages your pain.
Work with a medical professional
CBD may interact with certain medications. Further, some people may need higher doses of the cannabinoid to manage pain than others. Working with a trusted medical professional can help you determine whether or not
It's important to note that some patients may need to find a doctor experienced with medical cannabis products to get the support that they require. Medical school students and medical professionals are not often taught about cannabis medicines.
Find the right dose for you as an individual  
There are no routine doses of CBD oil recommended for pain management. While it is common for consumers to begin with five milligrams daily and work up, every individual will require a different amount of CBD. This is why working with a canna-friendly medical professional is worthwhile.
Benefits of CBD Oil
There's a reason why interest in the cannabis plant has taken off over the past several years.
The potential benefits of CBD oil and other cannabinoid products are vast. From nausea relief to antipsychotic properties, the cannabinoid has demonstrated a wide variety of potential uses.
Early preclinical and animal research suggests that the cannabinoid is:
While few clinical trials of CBD oil for pain-related ailments exist, many consumers enjoy CBD oil for chronic back pain and other ailments. Here's why:
Does CBD Oil Help With Pain?
Whether its hemp oil for back pain or CBD supplements for post-exercise muscle fatigue, there are several reasons to experiment with cannabis-based pain remedies. Here are four reasons why CBD oil helps with pain:
Anti-inflammatory
CBD is thought to have greater anti-inflammatory potential than its psychoactive relative.
Should this research hold true, this makes it an excellent choice for those experiencing inflammatory pain conditions.
Interestingly, research shows that CBD may treat inflammation in a variety of ways.
Most directly, the compound engages certain receptor sites on immune cells associated with inflammatory response.
Whether it's muscle soreness, arthritis, or another inflammatory condition, the immune-modulating effects of this plant compound make it a promising new treatment for a wide variety of pain and inflammatory conditions.
CBD is an analgesic
Chronic pain is one of the most common reasons consumers seek out medical cannabis.
In fact, states that allow medical cannabis access have seen reductions in both prescriptions and overdoses from opioid painkillers.
While no large-scale clinical trials have tested the use of CBD for chronic pain management, early research suggests that CBD has analgesic effects, relieving the felt experience of pain and reducing inflammation at the injury site.
Improves pain tolerance
While not all pain can be successfully controlled with CBD, the cannabis compound may be helpful for improving mood and your emotional outlook regarding pain.
As it turns out, CBD interacts with some of the same cell sites as antidepressant drugs.
Specifically, the compound engages the 5-HT1A serotonin receptor. This receptor is also a target for the most common type of pharmaceutical antidepressant.
Rodent research has found that CBD boosts levels of the feel-good neurotransmitter serotonin within minutes after exposure.
In contrast, antidepressant drugs can take several weeks to take effect.
The mood-boosting capabilities of CBD may help chronic pain patients better tolerate their condition, as well as possibly relieve pain and inflammation.
CBD can be used during the day
It's common for medical cannabis patients to opt for CBD products during the day and high-THC products at night.
Why?
CBD may provide the most pain relief when used in tandem with the psychoactive. Yet, too much THC can make it difficult to function in daily life thanks to its euphoric and sometimes sedative effects.
While many cannabis patients are able to consume THC during the day without problem the energizing and clear-headed nature of CBD makes managing workday pain easier.
Further, CBD is legally sold online and in stores in several different countries.
THC, on the other hand, remains tightly regulated worldwide.
As such, supplementing with CBD is an excellent way to add cannabis to your daily life without negative side effects and, most of the time, without consequence.
Where To Buy Hemp Oil For Pain
Fortunately for many, it's possible to buy hemp oil for pain online. While hemp oil is available in pharmacies in some countries, the most common way to access non-intoxicating marijuana oil for pain is via online order.
When purchasing CBD oil online, however, there are a few things to keep in mind:
Opt for products that have been laboratory tested by a third party.
Opt for products that supply an ingredient list.
Opt for products that do not contain artificial additives.
Opt for reputable brands that have been reviewed by customers.
Opt for products made from organically grown cannabis.
Unlike other pain medicines and supplements, there is little legal framework that regulates the safety of CBD hemp oil in the United States.
As such, it is recommended to opt for products that are made using the highest safety standards, especially if you choose to consume CBD oil while battling a chronic illness.