It's not surprising that weed boxes or cannabis boxes (however you want to call them) are a growing trend among cannabis lovers. These subscription boxes send you great cannabis-related products every month, and even though they're called "weed box" with no real weed sometimes, they're an excellent weed gift box for those living in a state where cannabis isn't legal yet. Grinders, bongs, rolling paper, blunt papers, and more will be sent at your door monthly with no effort!
But, as every trend, there are now a lot of companies offering this service, and how do you know which is worth it? Well, Hippie Butler is!
Hippie Butler has hit the stoner subscription box market with four different options to meet the needs of all kinds of stoners. What's cool about Hippie Butler is that they give you the ability to "customize" your weed subscription boxes by filling out a small questionnaire. The survey helps them to throw in some items that are tailored specifically for you.
Hippie Butler deliver their cannabis subscription boxes in wonderfully decorated brown cardboard boxes. They are covered in little bow ties – the kind your butler might be wearing when he delivers delicious food to your table.
The design is fun, but at the same time no one would suspect that there are weed supplies in the box. All the glass comes wrapped in bubble wrap and everything is laid on green tissue paper – giving the illusion of a bed of weed, perhaps?
The Hippie Butler has teamed up with Raw, Juicy Jay and Doob Tubes, just to name a few of the big brands you can expect to see in their marijuana subscription boxes.
Different subscription options
Do you want the best weed subscription box based on your needs? The Hippie Butler offers four different subscription plans, one for each kind of smoker.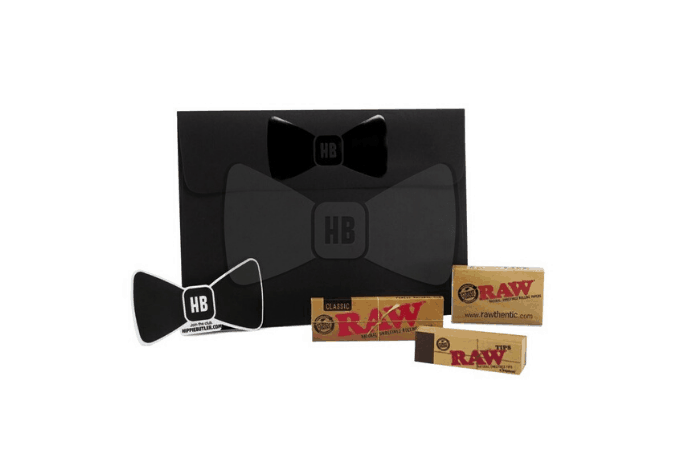 The Party Favor box is Hippie Butler's version of the most basic subscription box. It only has 3-4 items inside, and costs only $1. In this box, it's likely you'll just get a packet of papers, some filter tips and a lighter. They might throw in some hemp wick or another packet of papers from time to time, but it's a basic subscription.
The shipping and handling of this box costs $1.99, bringing the entire cost of these weed monthly subscription boxes to about $3 per month. It's pretty standard in comparison to other subscription box services, and is a pretty good deal for having supplies delivered to your door.
This is the box for those who would rather spend their money on weed than on the supplies to smoke it with. Simple and practical!
The Rollers Club - $11.99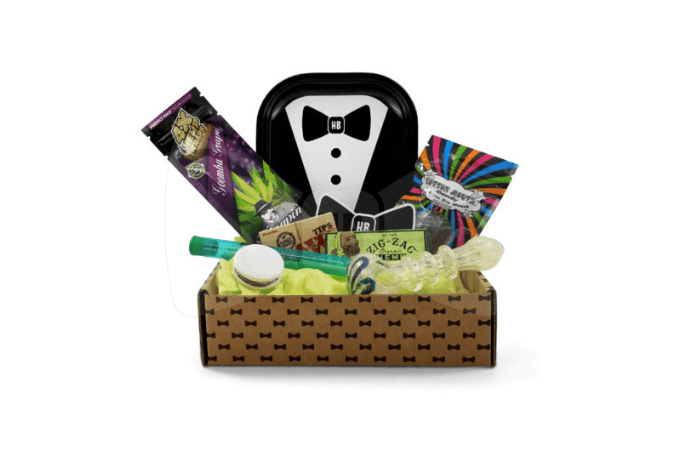 The Roller's Club is Hippie Butler's second level of hippie subscription box service.It costs $11.99 per month and includes the shipping and handling. We think this one is a good bargain – especially because it occasionally comes with a piece of glass.
When you're subscribing to this box, Hippie Butler asks you if you prefer blunt wraps or rolling papers, flavored or unflavored. This is so that your box can come with items that you actually like and will consistently use.
This box usually comes with a few more items than the Party Favor. You can expect some rolling papers or blunt wraps, depending on what you selected as your preference. It should also include some filter tips, hemp wick, a lighter and some pre-rolled cones. It usually comes with a doob tube as well. It will also sometimes come with a piece of glassware for you to add to your mantle. The box is especially good value if you get the glass pipe included.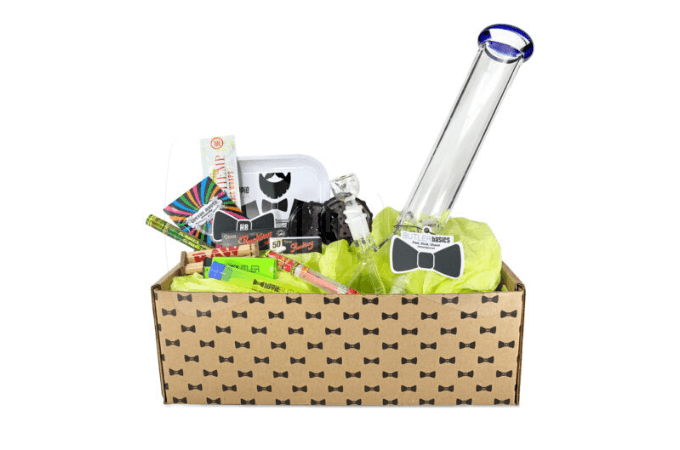 The Butler Box comes with a couple of preference selections. First they will ask you if you prefer to smoke concentrates or flowers. If you select flowers, they'll ask you what kind of rolling papers you like – flavored or unflavored? If you fancy yourself a concentrate smoker, the Butler Box costs an extra $7, bringing it up to $39.99 including shipping and handling, compared to the regular price of $32.99.
If you select flowers as the option, this box usually comes with a decent selection of different rolling materials. You can expect filter tips, rolling papers, hemp wraps, blunt wraps and pre-rolled cones. Hippie Butler is also known to throw in some deliciously scented wooden filter tips to use with your joints. The Butler Box always comes with a marijuana grinder and a glass pipe for bud smokers, and of course, you always get a lighter or hemp wick included.
For concentrate aficionados, it's less likely your box will come with such a huge selection of things to roll with. But rather, you're likely to get some glassware included for dabbing with, not to mention the controversial blow torch.
Definitely getting your money's worth on this box, especially because of the glassware that comes included. You get a lot more items in the box for flower smokers, which makes it more fun to unwrap and get into. That's not to say it's better value if you smoke flowers than if you smoke concentrates, but who doesn't like unwrapping 15 items rather than 10?
The Master's Club Box - $139.99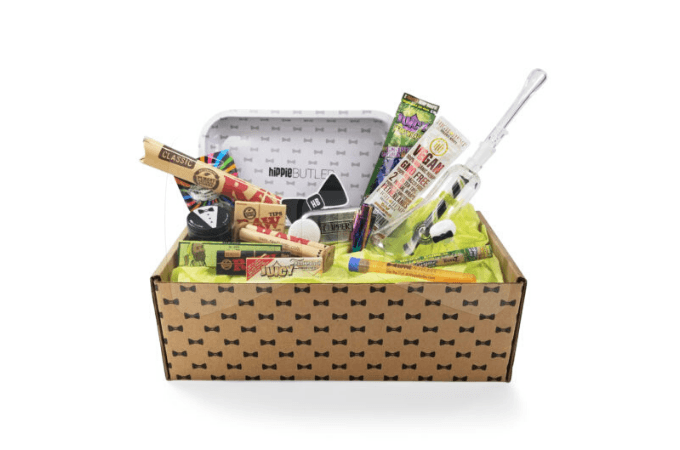 Ahh, this box is for some serious stoners. If getting high is your life, then this box might be worth paying $139.99 a month? It seems like a lot of money that you could spend on weed, rather than on rolling papers.
With the Master's Club Box, you get to choose whether you smoke concentrates, flowers or even a mix of the two. Hippie Butler will customize the box for you to ensure that you have items in there that suit your needs.
You can expect a plethora of different smoking materials, such as papers, filter tips, doob tubes, pre-rolled cones and blunt wraps. If you told them you smoked concentrates, they will probably throw in a blow torch or dabbing pen. There is always glass included in this box, so each month you should be surprised with a new glass pipe or a dabbing rig. And they will almost always throw in a tray to make your prep station with.
Hippie Butler is known for putting candies in all of their boxes. Sometimes they are cotton mouth weed candies that prevent you from having dry mouth, which is a pretty cool addition.
Final Thoughts - Should we subscribe to the Hippie Buttler Box?
The Hippie Butler definitely stocks their boxes with well known brands that you love to use. We think it's pretty rad that you can tell them what kind of a smoker you are. Sometimes the problem with subscription boxes is that you subscribe for the few items you love, and you end up wasting the rest. With Hippie Butler, you can ensure you're not going to get flavored rolling papers if that just ain't your thang.
The best value for money weedbox is definitely the Butler Box (and you can even have it cheaper with the Hippie Butler coupon the brand offers from time to time). The Master's Club box just seems like overkill, while the other two seem pretty on par with what you might expect to pay in stores – or just a little bit less.