CBD vape cartridges are disposable cartridges designed to be attached to vape battery pens. Vaping CBD is one of the fastest ways to get CBD into your bloodstream, especially if you use it for immediate relief when you're not feeling well. CBD vape cartridges are easy to use because all you have to do is pop one onto your favorite vape pen or battery attachment and take a puff of CBD concentrate whenever you need some relief.
CBD cartridges are small vials, usually holding about 1ML of liquid concentrate. With the CBD concentration typically ranging from 300mg to 1000mg or more, they are available at different price points and potencies so you can adjust based on your needs.
CBD vape cartridges are nice and convenient if you want results that work more quickly than oils that are ingested but don't want to deal with a dab rig or other complicated device. Most vape pens are designed to fit in the palm of your hand, so you'll have no problem tucking it away in your bag or your pocket to grab when you need a puff.
The CBD industry is filled with hundreds of brands of CBD cartridges at varying price points that go from dirt cheap to expensive luxury prices. Unfortunately, not all are created equal and a high price tag does not always mean a quality product. We've rounded up some of our favorite, most trusted brands of CBD vape cartridges that we would recommend to friends and loved ones looking for a quality product. All of these brands are tested for quality, purity, and potency and contain less than 0.3% THC so you can shop with confidence without worrying about failing a drug test.
These brands come at several different price points, flavors, and concentrations, so you should have no problem finding something just right for you.
The fast-acting Hemp Bombs CBD vape concentrates are available in 125mg, 300mg, and 1000mg cartridges so you can easily increase your dose as needed. Even more exciting, however, is their selection of 12 flavors like Arctic Spearmint Blast, Glazed Chocolate Donut, Wild Blueberry Jam, and Vanilla Cupcake Swirl (who's hungry?). If you dislike the earthy taste of cannabis oils, Hemp Bombs is a great option because their flavor selection is unmatched.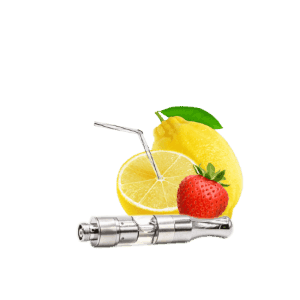 CBDISTILLERY
Strawberry Lemonade Flavor
CBD Distillery's Strawberry Lemonade CBD vape cartridge is another delicious option if you love to vape fun flavors. Each cartridge contains 200mg of high-quality cannabinoid oil and natural flavors for a vape experience that's as delicious as it is healing.
Koi Naturals is a great option if you like sticking to the basics and keeping it natural. Each 250mg cartridge is filled with full-spectrum cannabinoid oil with no additives or flavors, so you can vape without sending cotton candy clouds to the people next door.
Pure Hemp sells a 500mg CBD vape cartridge made with 100% industrial hemp grown in Colorado. Their focus on plant terpenes during extraction and blending allows for full-spectrum flavor that's as full-bodied and natural as it gets. If you love the earthy taste of hemp, this is the perfect option for you.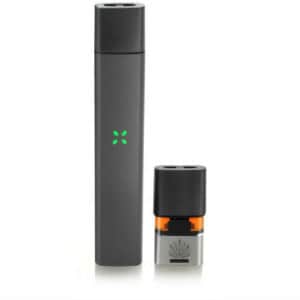 PAX ERA
Only Compatible with PAX Era
PAX Era CBD cartridges work differently than other cartridges on this list. First of all, they are designed specifically for use with the Pax Era Vaporizer, one of the most popular concentrate vapes available on the market (you can read our Pax Era review to know more about the device). So you're not going to be able to use these unless you have a Pax. The Pax Era pods are shaped differently than other cartridges but work the same. Think of a Pax Era like the iPhone of vaporizers – it's not compatible with everything, but the quality makes millions of customers keep coming back.
SelectCBD vape pens are one of the most convenient options on this list (and people know it, read some Select CBD reviews to see it)because you don't need to attach it to a separate vaporizer. The pretty blue pens fit in your palm or pocket and require no setup or warm up before use. Just grab it, take a puff, and enjoy a controlled dose of CBD whenever you need one. Flavor options include lavender and cinnamon for relaxation, grapefruit and lemon for energy, and spearmint and peppermint for focus. They are made using organic full-spectrum industrial hemp combined with fractionated coconut oil and natural flavors.
CBDFx makes unique vape kit cartridges that are made of steel and glass, a step above your typical cartridge. They've mastered the adjustable airflow settings and air intake holes which keep your vapes potent while minimizing product waste. CBD Fx vape is refillable and come with instructions to keep the process as simple as possible.
Hempods is a very well-known brand because of its compatible CBD JUUL Pods, but they're expanding the business to other products as tinctures and universal vape cartridges. This CBD cartridge comes with 1mg of oil made with Blue Dream Hemp Strain; a Sativa dominant hybrid strain that possesses a great profile with 75.9% of cannabinoids like CBD, CBC, CBG, and CBN. This vape cartridge has no-THC or nicotine and was third-party lab tested, so you can see here the potency and content of the product.
What to know before buying a CBD Vape Cartridge?
The first thing to know when buying a CBD vape cartridge is that this kind of CBD product is NOT the same as e-liquid or vape juice, which are used in a different type of vaporizer. If that's what you're looking for, check out our guide to CBD vape juice here.
Aside from knowing the difference between these disposable cartridges and refillable CBD juice, there are a few other factors to take into consideration when buying CBD vape cartridges.
Potency
Always check for the strength of the product and make sure it says how much cannabidiol it contains. Most vape cartridges run from 300mg of CBD per cartridge to 1000mg, as you've seen on our list. We recommend starting with 300mg and increasing the potency you purchase from there.
Purity
It's also important to confirm the purity of the oil. It's best if you buy from companies that verify they use only 100% organic industrial hemp so you know it's blended without residual pesticides, herbicides, or fungicides.
Co2 Extraction Method
The best method for extracting cannabidiol from hemp plants is through a process called supercritical CO2 extraction. This is a food-safe method used to create all kinds of FDA-approved consumable goods, and it requires no residual solvents that can leave junk behind.
Full-Spectrum
Full-spectrum is the ideal choice for most CBD consumers, and it's what you'll find in most CBD vape cartridges. Full-spectrum just means that all of the plant's cannabinoids (except THC), terpenes, and flavonoids have also been extracted. This is beneficial because it creates what is known as an "entourage effect," which allows each component to work more efficiently with the help of each other's powers.
All-Natural
The best CBD vape cartridges are made using all-natural ingredients without the use of unnecessary additives or fillers.
THC-Free
If you're wondering if CBD will cause you to fail a drug test, the answer is no. That's because CBD products are required to contain less than 0.3% THC, which should always be verified on a product's label.
Lab-Tested
Lab testing results are the easiest way for you as a consumer to get proof of what exactly is in that tiny cartridge. Third-party lab testing will verify everything on this list – the cannabinoid content, whether it contains any residual solvents, any additives used, the THC content, and whether or not it's full-spectrum. If you're ever in doubt about a product, look for the company's lab results and you're sure to find all the information you need.
We hope this makes it a little easier for you to find a quality CBD vape cartridge at a price and potency you can afford.