The Hemper Subscription Box Review
The Hemper subscription box is packed with smoking essentials at a really affordable price. There's no need to compromise on quality products with Hemper, but you have to be ok with a little bit of mystery when it comes to your subscription. Let's check it out.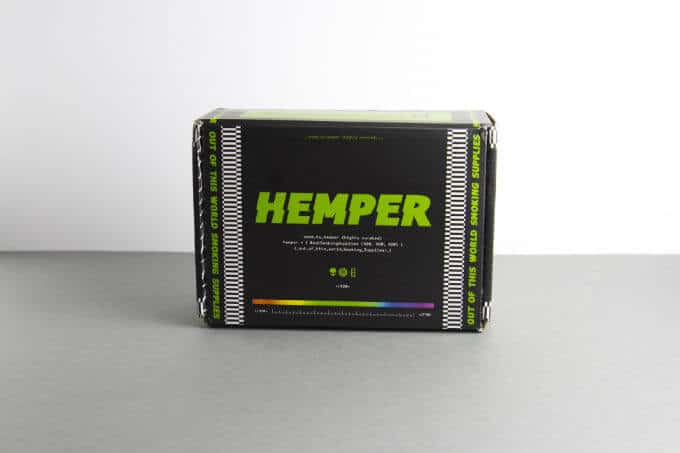 In general, the box looks really good and inconspicuous. Hemper uses the same standard brown paper to deliver their items in, so there's no chance someone in your apartment block is going to bust you. 
Hemper doesn't give the exact product list on their website, preferring to keep things a little bit of a secret. Every month the package is a little bit different, to keep the receiver on their toes. This makes Hemper a bit different from other subscription boxes, which usually send more or less the exact same package every month.
Different Subscription Options
Hemper offers three different subscription plans to find the perfect suit for each one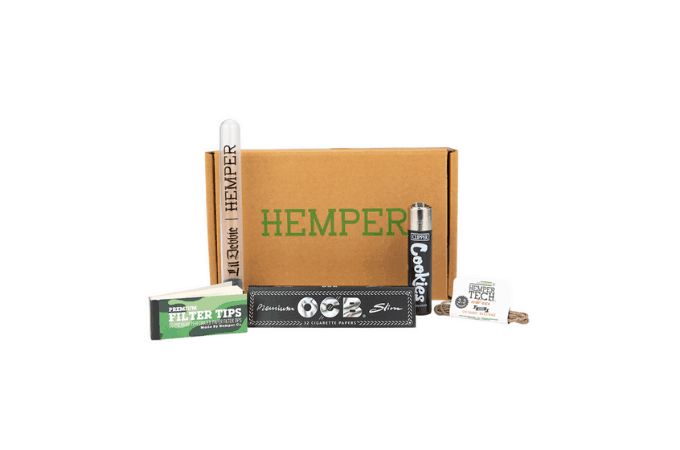 Being the most cost-efficient option, Hemper's Build-A-Box Core subscription offers a wide variety of bare essentials for less frequent smokers. You have the option to choose your frequency, re-upping your supplies every 1 month, 2 months or 3 months depending on your specific timing needs. Even better, the new 'build-a-box' subscriptions allow you to choose 6 'core essential' items. From papers (even flavored!), blunt wraps, cleaning supplies, pouches, to lighters and air fresheners…your personalized box options are almost endless. For a little over $10 bucks (shipping is $2.99) at the timing you request, you'll replenish the exact items you need with the convenience of being delivered straight to your door.
Hemper really aimed to please when updating their subscription box options to a 'build-your-own' type format. The Build-A-Box Plus option delivers you 7 items per box. You'll choose 6 items from their 'core essential' goodies plus 1 additional premium item, too. The plus box option makes sure that any stoner is keeping their stash of supplies fresh, clean and up to date. The premium items you can choose from include glass pipes, ashtrays, rolling trays and dab accessories making the price of the box highly affordable. With shipping at just $2.99 you're getting a deep discount on essential and premium products being delivered on a timely basis. If you have your favorite accessories already and you're not interested in collecting more, then the 'core' box might be best for you as it delivers the same amount of core essentials as the plus option.
If you're a cannabis connoisseur and are constantly adding to your collection of ganja goods…then the Hemper Box is for you. While you can't pick and choose your goods like the 'build-a-box' options, Hemper ensures you get the supplies you'll need and want each month. While the price may seem steep, you'll be receiving over $125 worth of items each time a box is delivered. Since most glass pieces at retail storefronts cost over the amount for the box itself, it's definitely worth the money. In the latest box, not only did we get a premium glass bong, but a bowl and a glass blunt. And, since the supplies you'll get from Hemper can't be found just anywhere…you're getting the latest and most unique products with the convenience of home delivery. This box is by far the best value for anyone who follows the motto, 'smoke weed everyday'.
Final Thoughts - Should We Subscribe To the Hemper Box?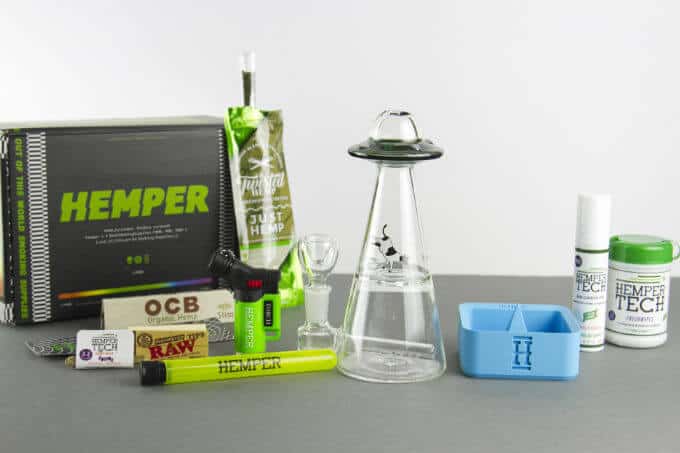 Hemper Box is our Weed subscription box of choice, as we've said you have three different boxes to subscribe to, depending on your needs as a smoker, but we definitely recommend subscribing to the Hemper box, you'll receive a complete kit of products with a total value of $100 for just $29.99!
Also, for every stoner who wants to stay up to date on a lot of the latest paraphernalia and have the convenience of having them delivered right at their doors, Hemper is awesome. The quality of their products is really good and the variety from month to month keeps things from getting awfully boring.
The Hemper Box delivers good quality products at a cheaper price than buying each them separately. This combined with the excitement of receiving something new in your mail is what makes weed subscription boxes fun and worth.
Currently there are no discount codes for the Hemper Box itself but we've been able to get for you guys a 5% discount on all Hemper Staff Pics using the code "HMJ"