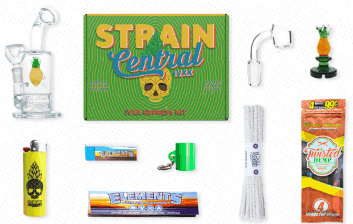 The Hemper Subscription Box Review
The Hemper subscription box is packed with smoking essentials at a really affordable price. There's no need to compromise on quality products with Hemper, but you have to be ok with a little bit of mystery when it comes to your subscription. Let's check it out.
Hemper Box review
In general, the box looks really good and inconspicuous. Hemper uses the same standard brown paper to deliver their items in, so there's no chance someone in your apartment block is going to bust you. The packaging is marked with a green "H" – nothing to suggest that there's cannabis paraphernalia inside!
Hemper doesn't give the exact product list on their website, preferring to keep things a little bit of a secret. Every month the package is a little bit different, to keep the receiver on their toes. This makes Hemper a bit different from other subscription boxes, which usually send more or less the exact same package every month.
Different subscription options
Hemper offers three different subscription plans to find the perfect suit for each one
The Bare Essentials Pack – $0.99
The Bare Essentials pack is exactly that – the bare essentials. This box comes with just enough to keep a low maintenance smoker happy. A packet of king size papers, a packet of filters and a lighter. You don't really need anything else to start enjoying your weed, do you? Oh, and Hemper throws in a changing mystery item every month.
This box costs less than $1 per month, but you pay a little more on the shipping than other subscription boxes. At $2.99 for shipping, you're looking at a total cost of about $4 per month for your bare smoking essentials. Not a bad deal for having them delivered right to your door.
The Hemper Pack – $14.99
While the Bare Essentials pack is for a low maintenance stoner, the Hemper Pack is more for a regular marijuana user. The box is a little more comprehensive, featuring 7+ items rather than the 4 that come in the Bare Essentials.
Hemper actually make some of their own original products, which they send along in the Hemper Pack. You also get some new product drops. So, the Hemper pack is the Bare Essentials completed with some exciting new stuff
Maybe not the best value for money to get the Hemper Pack, especially if you are looking forward to getting a new piece of glass every month, glass is not included in this box. If you're looking forward to getting glass in your monthly subscription box, It's worth paying a bit extra for the next level box (The Glassentials). However, if you'nr not a glass user , the Hemper might be the best box for you.
Costing almost $15 makes Hemper's medium-density box one of the more expensive across different subscription companies. It's important to keep in mind that they do stock original products, which is pretty cool. And there's always brands in there that you know.
The Glassentials Box – $29.99
Of all the boxes from Hemper, the Glassentials Subscription Box from is probably the best value for money. You get a lot of items inside including a premium glass piece. Which by the way – is actually amazing.
Other subscription boxes will feature a piece of glass monthly, but there's nothing high quality about it. The glass pieces that come in the Hemper Glassentials box is great quality – a proper rig that you might want to use on a regular basis, rather than just once or twice. They definitely haven't compromised on providing good quality glass, even if it doesn't look all colorful and fancy.
One of Hemper's recent boxes that landed in our mail featured a White Widow scented candle, which we thought was an awesome addition. The items that come in the Hemper boxes are unique in comparison to other subscription boxes. While some others feature incense as a way to deal with the smell, we thought the candle took it to the next level.
You get 10 or more items in the Glassentials box, making it worth your financial while. They don't mind including some gear for keeping the smell under control as well as some good qualtiy cleaning materials.
This is the comprehensive box for those who love to smoke every day.
Final thoughts – Should we subscribe to the Hemper Box?
Subscribing to Hemper isn't cheap. But you're promised to get some bang for your buck, at least in the glass department. This subscription box isn't for the person who is looking for the biggest bargain. Hemper definitely won't satisfy those needs.
However, for the stoner who wants to stay up to date on a lot of the latest paraphernalia and have the convenience of having them delivered, Hemper is great. The quality of their products is good and the variety from month to month keeps things from getting awfully boring.
If you can afford the extra few dollars a month, it's worth going for the Glassentials. A great box for those who aren't shy of cash and like to explore smoking products!
Hemper Box Discount code
The Hemper Box delivers good quality products at a cheaper price than buying each them separately. This combined with the excitement of recibing something new in your mail is what make weed subscription boxes fun.
Currently there are no discount codes for the Hemper Box but we'll try to get them for you to save a couple extra bucks when subscribing.