Ignite is fast growing a near cult-like following. The brand is a massive success. Chair and co-founder Dan Bilzerian, or more famously the "King of Instagram," launched the company at his Bel Air mansion, in a manner such as would make the Gods blush. The marketing guru has exceptional business acumen, a skill taking Ignite cannabis to the masses. Its high-quality cannabis products are forever in short supply.
Ignite products ooze attention to detail. They would by a professional poker player. As well as an impressive range of potent items rich in tetrahydrocannabinol, or THC, the company specializes in cannabidiol, or CBD, products too. With more than 40 different cannabinoid-rich goodies on the market, Ignite is a true bestseller popular with medical and recreational consumers alike.
Ignite CBD is a hemp CBD brand based out of New York state. They sell an extensive list of CBD items, including edibles, drops, bath bombs, Ignite vape devices, topicals, balms and pet products.
Also available are full-spectrum CBN (cannabinol) and CBG (cannabigerol) products, which are beneficial cannabinoids with no intoxicating effects.
Ignite cannabis also partners with e-cigarette provider J Well to sell CBD e-liquid pods in Ignite's vape devices, modeled after J Well's BO line of vapes.
Ignite also has a line of THC products. However, these are unavailable online and can only be purchased where recreational marijuana is legal in the U.S.
Ignite CBD is an independent operation founded by Dan Bilzerian, a professional poker player and entrepreneur who enjoys a strong presence in the media and on Instagram.
Ignite's a large range of CBD vaping pens cater to every mood and occasion. In fact, High Times awarded this range its 2018 Cannabis Cup for "Best CBD Vape Pen." The entire line costs a reasonable $45. In return, you get a quality hemp-derived CBD oil rich in valuable cannabinoids, flavonoids, and terpenes. Infused into fractionated coconut oil, it contains no THC at all, guaranteeing no psychoactive effects.
Ignite Disposable CBD Vape Pens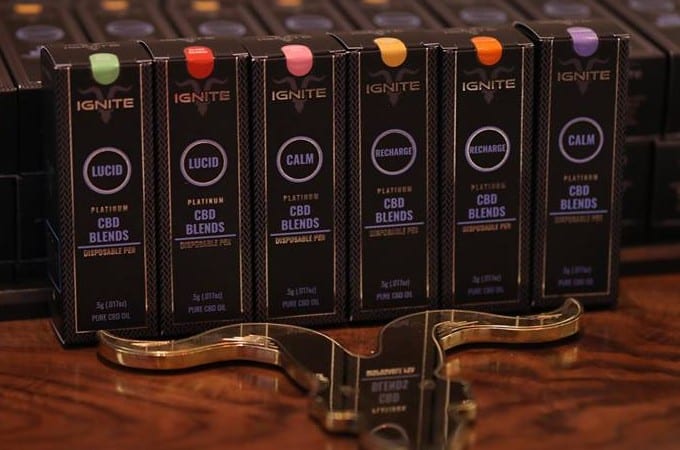 Every Ignite vaping pen gives you roughly 20 days of use at 25 milligrams a day. The pen itself contains 500 milligrams of the purest CBD oil. Unfortunately, the company is unable to ship to certain states, but if you live in a state that qualifies, you will get your oil from FedEx within the week. Customer service is impeccable, but its disposable vaping pens even more:
· Calm Vape Pen
Ignite designed a vaping oil perfect for evening use. Its Calm pens offer the ultimate relaxation, ideal for forgetting the trials and tribulations of a long, hard day. Popular among those suffering insomnia, muscular spasms, and pain, these pens come in tasty Lavender and Bubble Gum flavors. Clouds are thick, delicious, and bursting with unmatched quality and value.
· Recharge Vape Pen
Recharge pens are energizing. Designed to wake you up and get you through the day, they are the go-to choice for an early morning boost. Suitable for use at work, or whenever you need to maximize performance, Ignite's Recharge pens are a firm favorite among fans. Available in Tropical Fruit and Tangerine flavors, these tasty clouds are big, smooth, and pure.
· Lucid Vape Pen
Lucid pens do what they say: They help you focus on tasks in front of you and declutter your mind. Ideal for enhancing concentration and relieving attention-deficit disorders, Ignite's Lucid pens are creative, motivating, and busy. Its pull is gentle and easy, and since it comes in tasty Spearmint, Blood Orange, and Tropical Fruit flavors, it can prove difficult to put it away.
Ignite CBD Rechargeable Pens (with Pods)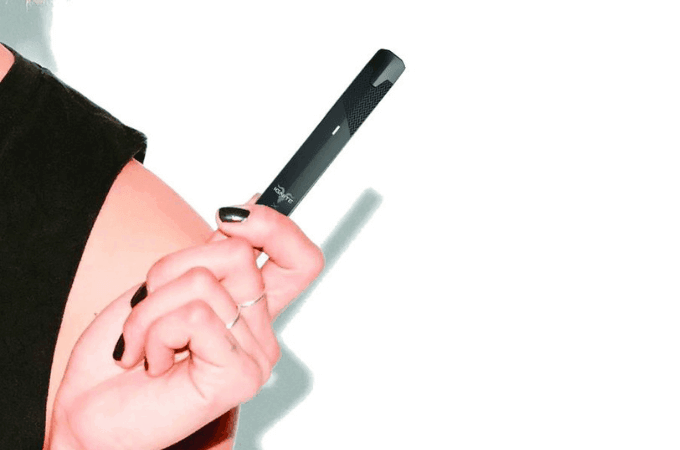 Bō Vaping collaborated with Ignite to bring to market debatably the most impressive range of rechargeable CBD pens. Featuring Bō's sophisticated vaping technology and inventive style, combined with Ignite's purest quality oil, these pens are the delight of all who try them. They pair with disposable CBD pods, each of which contains 1.5 milliliters, your flavor of choice, more than double its competitors.
Rechargeable CBD pens from Ignite are lightweight with a sturdy ergonomic design. Consisting of a ceramic coating, 380mAh battery, and just 10 centimeters of size, they are easy to carry around with you. They come with their own magnetic USB charger, anti-dry hit system, and unique disposable liquid pod setup that allows you to change the oil according to your mood or flavor preferences.
Ignite also offers a very nice range of CBD drops the envy of its business counterparts. This Ignite CBD oil is tasty, potent, and made from only the finest quality, using only the purest extraction techniques. Consumers get a full-spectrum CBD oil rich in all the medicinal properties of cannabis. The company also makes choosing between them easy enough, with its different flavors and effects near self-explanatory: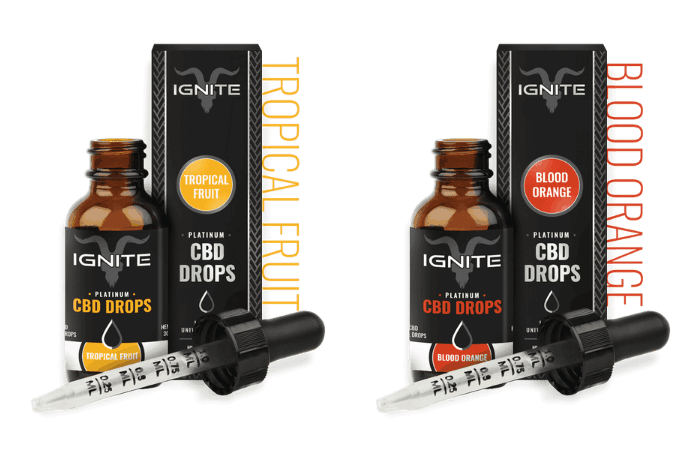 · Tropical Fruit Drops
Ignite's Tropical Fruit Drops come in 30-milliliter bottles. Each contains 1,000 milligrams of CBD, which equates to roughly 33 milligrams per serving. This delightfully fruity oil comes with an integrated easy-drop applicator to make dosing easy and accurate. Effects are happy and busy but without the psychoactive buzz of THC. This oil is free of THC, toxins, pesticides, even genetically modified organisms.
· Blood Orange Drops
Ignite CBD oil Blood Orange is citrusy, as its name implies well, a flavor that lingers to tantalize the taste buds. Ignite's Blood Orange drops are energetic, perfect for daytime use. Each bottle contains 30 milliliters of the purest CBD oil, with 1,000 milligrams of CBD itself. Tested for quality and purity, you get only the best cannabinoids, terpenes, and flavonoids, all working together to maximize your health.
· Lavender Drops
Also with 1,000 milligrams of CBD in a 30-milliliter bottle, Ignite's Lavender Drops offer a horde of full-spectrum benefits. Effects are relaxing, sleepy. Favored by those treating insomnia, chronic pain, epilepsy, muscular disorders, and more, this rich and flavorful oil is especially suited for evening use. Tested free of dangerous chemicals, THC, genetically modified organisms, and more, quality guaranteed.
· Unflavored Drops
Blended with fractionated coconut oil designed to exhilarate, Ignite's Unflavored Drops offer an all-natural CBD oil of the highest purity. It contains no other ingredients, and tests gluten-, genetically modified organisms-, THC-, pesticides-, and other contaminants-free. As with all its other oils, it is suitable for both oral and topical use, easy to dose with an included drop applicator.
Ignite CBD Lip Balm is a new way to deal with chapped lips while getting a healthy dose of natural CBD. Each stick contains a total of 50mg of CBD.
The mix of essential oils helps keep lips moisturized and protected, with a small amount of CBD delivered with every application along with a nice, natural mango flavor.
Made with THC-free hemp-derived CBD isolate, GMO-free/gluten-free oils, shea butter, cocoa butter, beeswax and natural flavors, Ignite CBD Lip Balm contains no pesticides and is tested for potency and contaminants.
Ignite's lip balms come in three different flavors
Where Does Ignite CBD Ship To?
Ignite CBD Reviews: What Do People Think About These Products?
If we could summarize all the Ignite reviews, we can tell that the public's reception of Ignite CBD's products is "universal acclaim." Customers all over the U.S. praised Ignite's quality and efficacy.
According to several Ignite reviews on the popular cannabis website, MarijuanaBreak, Ignite is rapidly carving a presence in the highly competitive CBD industry.
Final Thoughts: What We Think About Ignite CBD Products
Ever since Bilzerian launched Ignite in September 2018, all forty-odd of the company's products have been flying off the shelves. Stores cannot stock it in sufficient supply to meet demand, so Ignite ships direct to the public. Its CBD product range is vast and includes not only vaping pens and drops but also a few select edibles. In just six months, Ignite took California by storm, with expansion plans ahead.
Its partnership with Bō Vaping only makes Ignite's products more enticing. Well-priced, guaranteed quality, assured safety from contaminants, exceptional delivery service; these are just some of the reasons Ignite comes highly recommended. Offering near double the quality and value of other CBD companies in the space, Ignite offers something for everyone, at any time and for every occasion.
Most frequent questions and answers