By now you've more than likely heard of the JUUL, an electronic vaporizer traditionally used to smoke tobacco and nicotine products. Well, it didn't take long for brands to jump on the JUUL train, especially with CBD booming in popularity. Cannabis and CBD companies have started offering their oils in JUUL pods, expanding their reach to those who own a JUUL and use that as their preferred way to smoke. If you're a JUUL owner and want to introduce CBD into your rotation of pods, we have some great recommendations for you.
Keep in mind that none of these brands are directly associated with JUUL. They have simply taken the device and created a pod that will fit, but it is not officially affiliated with JUUL, who has yet to officially dive into the cannabis niche.
CBD JUUL Pods: Are they a thing?
It's your lucky day – CBD JUUL pods are most definitely a thing, and you can find several different brands that sell their CBD vape oil in the form of a JUUL pod. Whether you already own a JUUL or you're looking for a convenient new way to consume CBD throughout the day, a JUUL is a great way to do that.
One reason people choose to consume CBD through a JUUL pod is because they're trying to cut the nicotine habit by using something like CBD, which is non-addictive and non-psychoactive but can still be vaped when you're craving the fixation of smoking. The health benefits of CBD reach far and wide, and many people enjoy CBD for pain relief or inflammation as well as improved sleep and mental clarity. The full range of effects of CBD are still being researched and more is coming out all the time, so it's a great way to cut down on tobacco use while doing something amazing for your body.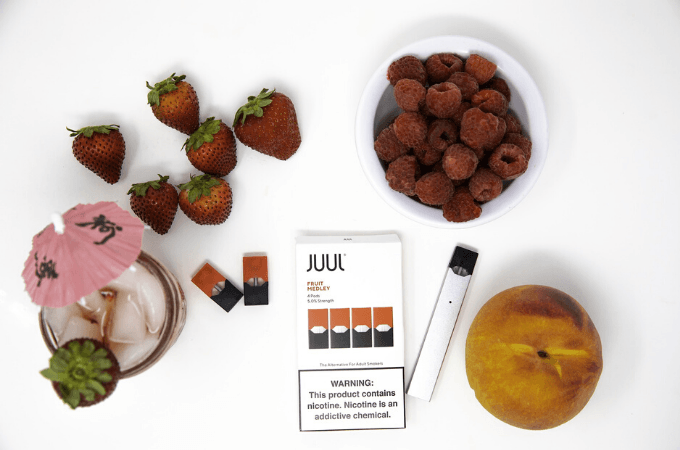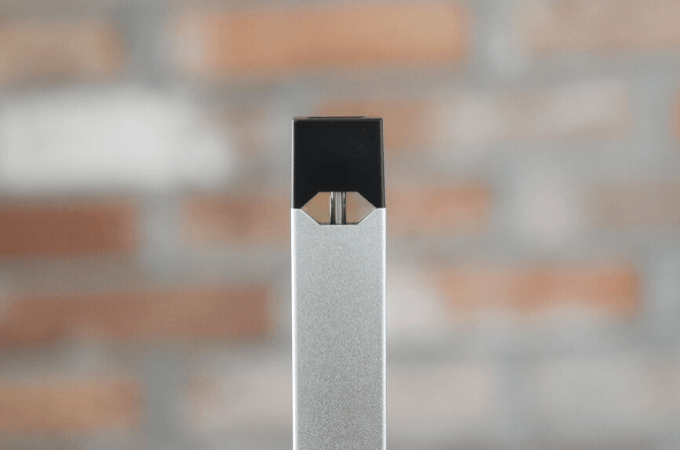 The benefit of smoking CBD through a vape rather than ingesting the oil is that vaping CBD kicks in much more quickly. Vaporizer CBD is absorbed through the delicate membranes in your mouth, so it will reach your bloodstream quicker and you'll feel relief more quickly as well. If you consume an oil tincture, the effects could take as long as an hour to kick in as it works its way through your stomach and gastrointestinal tract. For this reason, many CBD consumers like to have a vape on hand for immediate effects that kick in while waiting for the tincture.
Best CBD JUUL Compatible Pods
There are dozens of companies selling CBD JUUL pods, but as you know by now, not all CBD is created equal. Here are some of our top recommendations for when you're looking to buy a high-quality CBD JUUL pod. Our selections come in potency levels as low as 40mg per pod and as high as 425mg per pod, so there's sure to be something for everyone on this list, regardless of your CBD experience or preferred dosing amount. Keep in mind that these are not official JUUL pods, they are pods that have been created by these brands to be compatible with your JUUL device.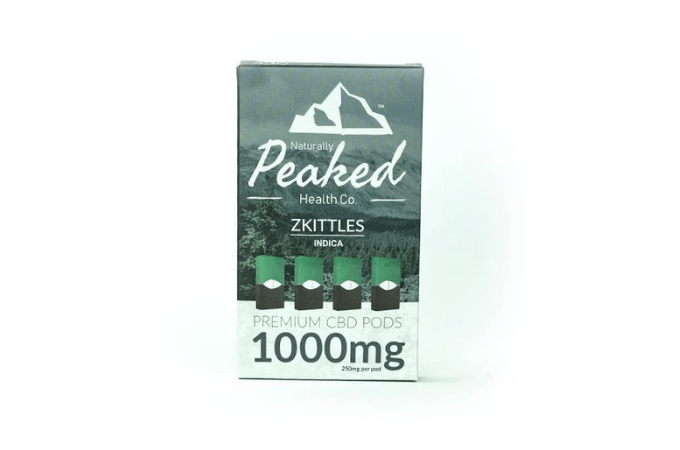 Peaked JUUL pods contain 1000mg of high-quality organic CBD and CO2-extracted cannabis-derived terpenes for premium flavor and results. Made with coconut oil, it provides relaxation and pain relief almost instaantlly, you can choose from 6 different flavors and the strain legend (sativa, indica or hybrid). These pods are free of THC and made using popular, well-liked strains of cannabis.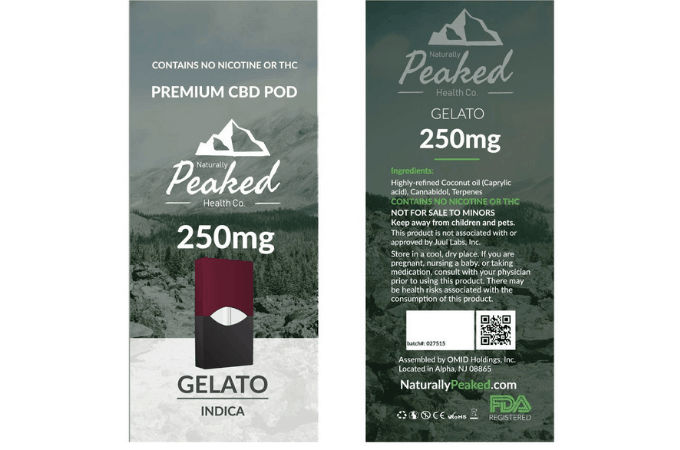 Another Peaked CBD JUUL Compatible pods. These contain 250mg of high-quality CBD and come in delicious flavors like Tahoe OG, Watermelon, Zkittles, Clementine, Gelato, Blue Dream and Pineapple Express. You can purchase a 1 pack CBD pod for $19.99, so it's a great deal if you like to puff on CBD throughout the day. 250mg is somewhat of an industry standard for CBD content (and also in THC vape pods), so with this amount of CBD you'll feel the effects quicker than a pod that only contains 100mg or less of CBD oil.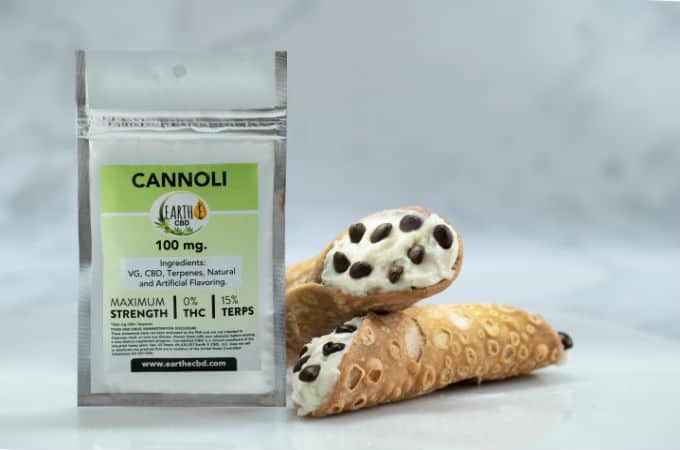 Earthe CBD JUUL Pods also come in a 2-pack, and each pod contains 100mg of high-quality CBD Concentrate. Choose from dozens of delicious flavors like Blueberry Mint, Cappuccino, Green Apple, Spearmint, Vanilla Bean, Wild Cherry, and more. If flavor is your top priority and you're trying to kick the nicotine habit, Earth CBD's pods are mild on the cannabinoid content and you're sure to find a flavor that tastes delicious and works best for you.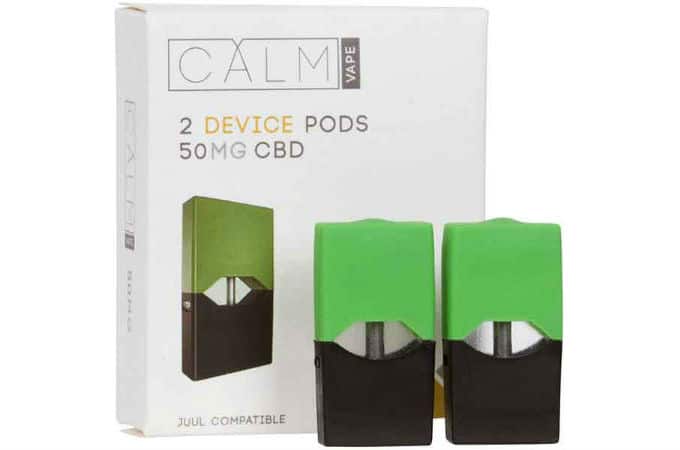 Calm Pods for JUUL come in packs of 2 and contain 50mg of high-quality CBD for your vaping pleasure. Flavors and strain origins include Blue Dream, Gelato, Girl Scout Cookies, Granddaddy Purple, OG Kush, Super Lemon Haze, and Trainwreck. This is one of the only selections where you can choose strain-specific CBD rather than just a flavor, so if you're passionate about certain strains and like their cannabinoid and terpene profiles, Calm CBD will give you that selection when you choose your pod.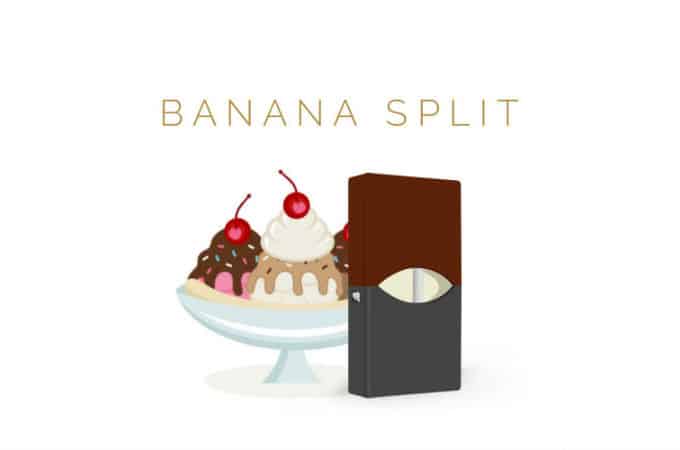 Chill CBD Vape Pods come in packs of 2 and each contains 40mg of high-quality CBD oil. If you're unsure about how CBD will work for you, these are a great start because they are less potent and you can ease your way into your CBD experience without something more potent, like a 300mg pod. Although, if you want to consume CBD oil for anxiety and depression, we recommend you start with something mild like CBD Genesis 40mg pods.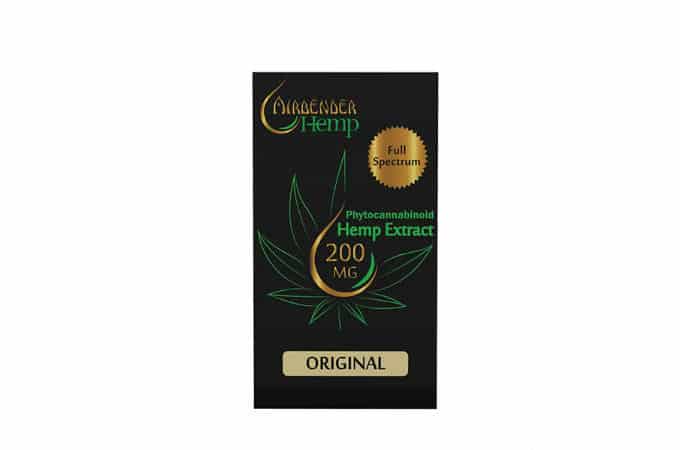 Airbender JUUL Pods contain 200mg of their high-quality cannabinoid hemp extract. Each pod gives about 250 puffs of CBD, so they're long-lasting for when you need to vape consistently without running out of oil. Airbender JUUL CBD pods come in flavors like Sweet Melon, Lemon Bar, Original Hemp Flavor, and Mint. Purchase a pack of up to 5 pods for a great deal on your JUUL-compatible CBD.
Emerald CBD JUUL Pods (Natural Hemp)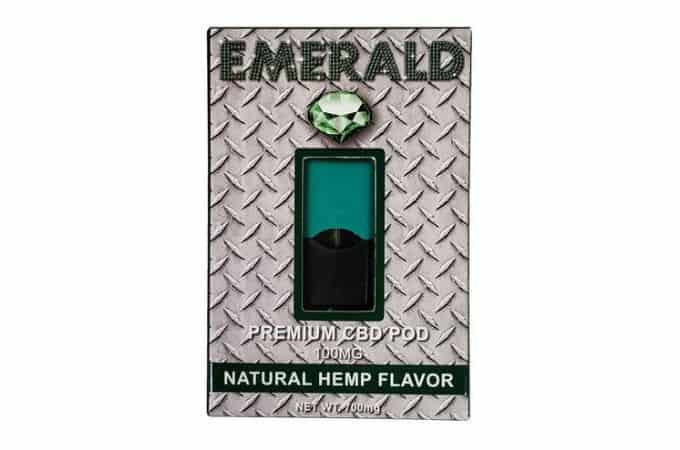 Emerald Natural Hemp CBD JUUL Pods contain 100mg of high-quality CBD hemp oil per pod, so as far as potency, these are a middle-of-the-road selection out of this bunch, with CBD Genesis on the low end and Hempods on the higher end. Emerald CBD pods contain zero THC and are proudly made in the USA, so you can feel confident knowing your purchase is helping to boost the economy.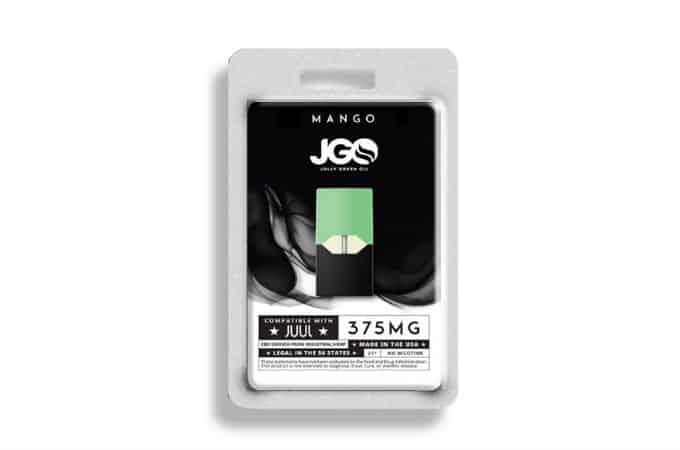 JGO CBD Juul Pods contain 375mg of high-quality CBD, delivered through about 200 puffs over the life of the disposable pod. Choose from flavors like Berry Blast, Froot Loop, Mango, and Watermelon Bomb. As one of the higher potency levels in the mix, JGO JUUL Pods are ideal for chronic pain sufferers who require consistent dosing of CBD. If you regularly take CBD tinctures and need something to puff on while waiting for it to kick in, we recommend either JGO JUUL Pods or JGO+, the next product on this list.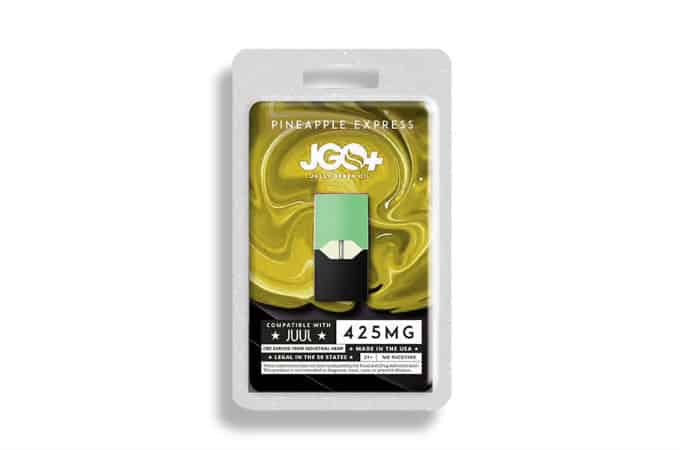 JGO+ JUUL Pods contain 425mg of high-quality, THC-free hemp CBD oil, but they are also infused with natural plant terpenes to enhance the natural flavor and potency of the CBD. This helps achieve the entourage effect, which provides a more thorough wellness experience between CBD and your body. This is a great option if you want as many of the medicinal benefits of CBD as possible.
CBD JUUL pods work in exactly the same fashion as their nicotine counterparts. They're designed to contain a fixed amount of oil or e-liquid, then discarded when empty.
Simply snap them into the bottom of the JUUL, then take them out once you're done.
Each pod contains a small coil with a wicking material to absorb the contents for vaporization. JUUL branded pods use silica wicks, but third party CBD JUUL pods might use something different, depending on the brand.
Once absorbed into the wick, a metal coil heats up the material enough to turn the oil or e-liquid into an aerosol, carrying the CBD (or nicotine) into your lungs.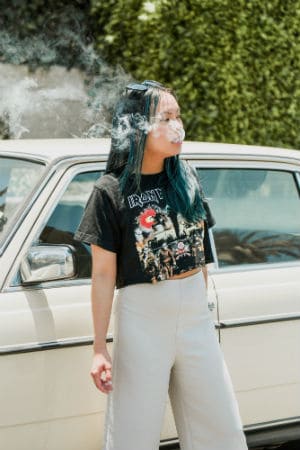 Where to Buy CBD JUUL Pods
Alternately, some sources sell hemp-derived CBD products, but their legality is a bit murky. However, as a consumer, you won't have to worry about getting in trouble, but the FDA has been coming down hard on consumers.
Unlike marijuana-based CBD pods in legal states, hemp-derived ones are unregulated. So be very, very careful when choosing where to buy your CBD JUUL pods.
One good source is Vaping 360, as they're an established brand with solid knowledge and a strong online presence.
If a supplier posts third party lab tests, that's usually a good sign you're dealing with a solid company.
How Much do CBD JUUL Pods Cost?
How do You Fill JUUL Pods With CBD Oil?
The JUUL e-cigarette was designed for simplicity and convenience. This is why the pods are meant to be used and then discarded when empty. However, you can refill the pods with a little bit of skill and patience.
But first, you need to understand the difference between CBD e-liquid and CBD oil. E-liquid is what regular e-cigarette tanks are designed to carry. The liquids contain a mix of propylene glycol (PG), vegetable glycerine (VG), flavorings and nicotine (or in this case, CBD).
When it comes to vape oil, you need an entirely different kind of tank. So the first thing to do is make sure that your JUUL pods are designed to carry vape oil, not e-liquid.
Second, make sure that the CBD oil you have is for vaping. Most CBD oil is only meant to be taken orally, so check the label to be safe or – best case scenario – you'll end up with a lungful of burning fumes and a dead pod.
If you're still up for the challenge, follow these quick steps:
Remove the mouthpiece
Remove the silicone cover
Carefully fill the empty pod about ¾ full of CBD oil
Put back the silicone cover and mouthpiece
That's all there is to it. You're no ready to reuse your cartridge. Keep in mind, though, that vape coils eventually burn out. If the vapor feels harsh or tastes funny, don't keep using the pod.
How do CBD JUUL Pods Make You Feel?
The effects you'll experience from CBD JUUL pods depend on the CBD concentration, how much you vape and the quality of the oil.
A lot of people report that CBD helps with conditions like anxiety, depression, insomnia, nausea and pain – to name a few.
However, these are mostly anecdotal and backed with preliminary animal research at best, so don't take this as anything definitive.
Next time you're searching for something to vape from your JUUL pod, we hope you give one of these wonderful selections of CBD a try.
Have you tried any CBD pods with your JUUL? Share your experience in the comments!
Most frequent questions and answers