CBDmd has a motto of 'Powered by Nature. Enhanced by Science'. And the wide variety of products they produce, back-up that theory. From gummies to tinctures, topicals to bath bombs…CBDmd has a high-quality CBD product for practically any use you're searching for.
With recommendations from mainstream media publications like Entrepreneur, USA Today, Elle Magazine, Rolling Stone and Buzzfeed…CBDmd is trending for good reason. Their celebrity ambassadors include athletes like Bubba Watson, Lolo Jones, Steve Smith Sr and Kerri Walsh Jennings. Meaning the CBDmd products provide ultra recovery and relief for muscles, and overall relaxation, too.
Let's learn more about the growing CBDmd brand, and why they're products are some of the best to try.
Quality and innovation is what CBDmd prides themselves in. They use state-of-the art techniques and production, to create high quality CBD products at an affordable cost.
Before choosing their growing location, CBDmd went through extensive research. Traveling to 3 continents, 14 countries and 8 states to secure uniquely composed soil for their growing needs. Hence why ideal year-round growing conditions, and strict growing regiments, produce high quality hemp their CBD formulas begin with. Further processing in the USA, for premier quality of their completely THC-free products, too. Additional characteristics that CBDmd boasts is being third-party lab tested, non-gmo and even vegan friendly.
So, who's at the forefront of the top growing CBD brand, CBDmd? We'll learn more about their leadership, next.
With that said, CBDmd's oils deliver consistent quality. In a variety of sizes and potencies, too. Doses range from 300 mg to 5000 mg, in 30 ML bottle sizes. Their 60 ML bottles boast 1000 mg and 1500 mg options for high potency with longevity. Even better, the oil tinctures come in a number of flavor options that are pure and clean in taste.
Users can try natural (or tasteless), berry, orange or mint, finding their favorite along the way. The oils are simply made with just two ingredients for natural CBD results. The formulas combine hemp-derived CBD with gentle MCT oil. The easy to use dropper, in a clean package make's CBDmd's tincture products portable, in nature too.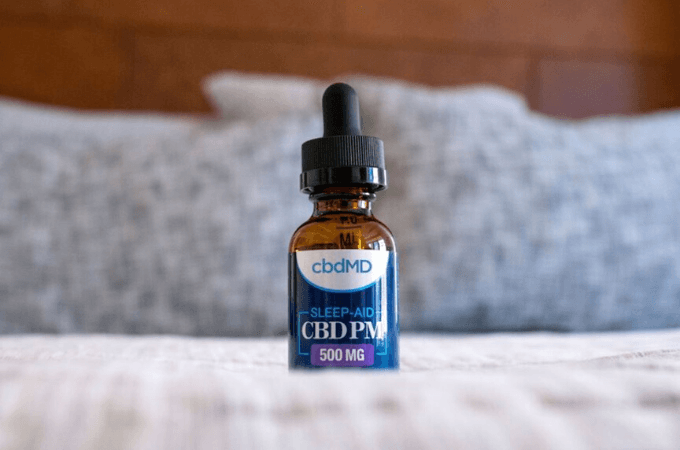 While trying CBD, you're aware of its' relaxing qualities that can promote falling asleep faster, or a more restful sleep. And CBDmd amplifies those effects, with its specific sleep formula CBDmd Oil for Sleep. Their CBD Sleep Aid 500 MG oil has an extra 150 mg boost of melatonin that creates an ultra smooth sleeping experience. This combination additionally blends with all-natural ingredients including chamomile, valerian root extract, passionflower, cascade hops and lemon balm for extra calming qualities.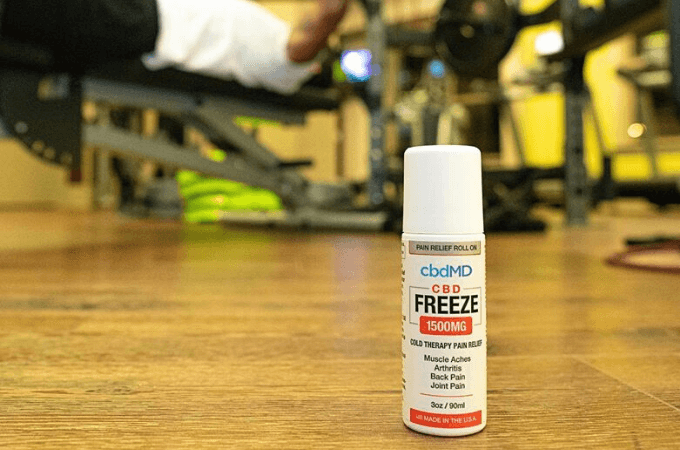 Chill CBD pain relief qualities even more with the cool and relaxing sensations from CBDmd Freeze. Available in 300 Mg, 500 mg and 750 mg, CBDmd Freeze allows you to choose your topical potency. Even your type of application, with 3 ML squeeze bottles or roller-top containers. The gel combines the proven pain-relief properties of menthol with CBDmd's natural CBD relief for soreness and aches. Lastly, the formula promotes deep absorption and lacks the greasy feel that many gels can leave behind.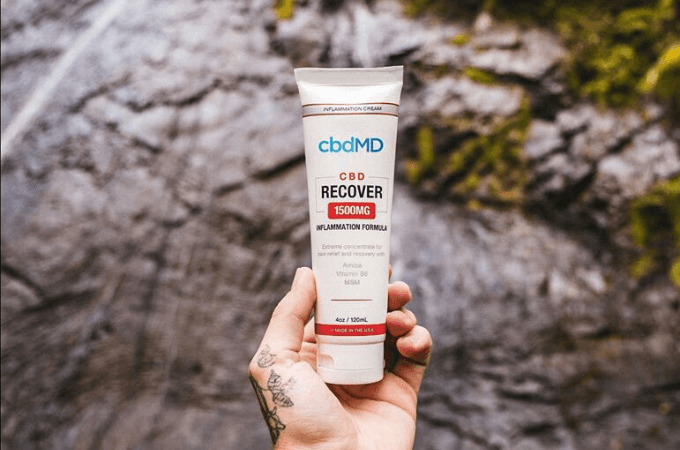 Another topical that addresses specific needs, is CBDmd's recover product. With inflammation in mind, the Recover topical comes in 300 mg, 750 mg and 1500 mg potency options. And again, in two types of on-the-go packaging, with a tub or squeeze container option, too. The blend combines unique ingredients that further promote recovery through anti-inflammatory effects. You can increase your relief with the infusion of CBD with arnica for white-cell stimulation, vitamin B6 to repair inflammatory and arthritic damage, and MSM for increased flexibility and absorption within cellular walls.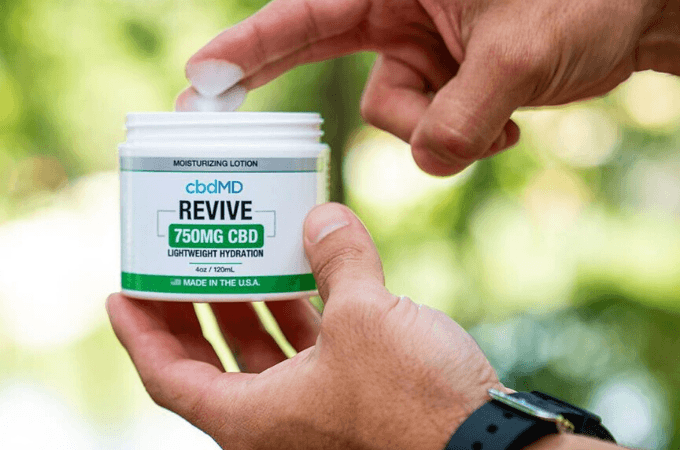 CBDmd's final topical offering is one for anyone who could benefit from ultra-hydration. The proprietary formula benefits boost being enriched with aloe vera, coconut oil, the natural oils of acai berry, passionfruit, rice bran, and shea butter. All adding to its' extra moisturizing powers. The CBDmd Revive topical moisturizes and nourishes year-round, without a greasy feel and available in three potencies - 350 mg, 700 mg and 1500 mg.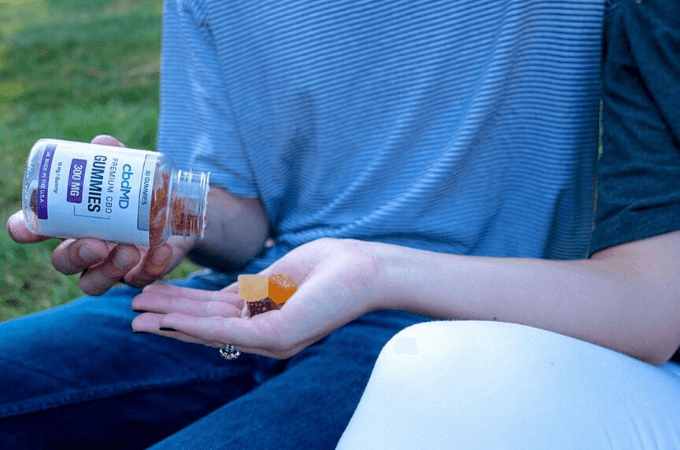 With a plethora of CBD gummies on the market, it's hard to stand out in the crowd. But CBDmd's Gummies do, with their naturally sourced CBD combined with exceptionally tasty flavors including Tropical, Orange, Strawberry, and Mixed Berry. The gummies are easy to consume for sensitive users, and provide natural relieving effects. CBDmd's Gummies are infused with CBD rather than being coated. Ensuring that each treat, has an equal dose and consistent flavor, too. Available in 10 mg per gummy, or 25 mg per gummy, you can easily dose daily, or multiple times in a day as needed.
At CBDmd, they know that relief for humans is just as important as relief for furry friends. Which is why they've developed Paw CBD an extensive CBD line for pets. With almost as many CBD options for felines and canines, as others. Their products come in 'animal approved flavors' and provide natural, calming relief for pets, alike.
Treat your pups, while dually calming and nourishing their bodies with CBDmd's naturally sourced CBD. The baked cheese, sweet potato or peanut butter flavored treats come in 150 mg, 300 mg or 600 mg dosage options. The Paw CBD treats are convenient to give, and avoid mixing CBD oils or tinctures into dog's food. And you know your furry friend is safe, with the no additive and THC-free formula.
The CBDmd Pets CBD oil line is versatile in use, and serves a variety of animals. Formulas are specifically designed for dogs, cats and even horses. The Paw CBD line offers 150 mg – 3000 mg bottles for different sizes of dog breeds, while their cat line supplies 150 and 300 mg options. For their bigger stature, the Paw CBD horse formula comes in a potent 5000 mg product. Dog owners can choose from a tasteless flavor, or peanut butter, while cat owners have the option of tasteless or catnip. With a crisp apple flavor for horses. This shows CBDmd is in tune with your pets, their flavor profiles and the need to relieve naturally.
CBDmd offers even more for chewable pet CBD options. Standard CBD chewables are accompanied by a calming line, hip and joint line, and cat specific chewables, too. With a variety of dosage options, and flavors like chicken, bacon and turkey. The chewables are easy to eat and digest for pets of all ages.
CBDmd Peanut Butter for Pets
All dogs love peanut butter right? Which is why CBDmd is infusing the tasty treat with its' naturally sourced CBD for relief. Available in 3 different dosages in a 16oz jar, your dog will be happy to lick-up the relaxing compounds of CBDmd's high quality hemp extract.
Pets paws cover a lot of ground, so they need some TLC like our own feet do, too. The CBDmd Paw Balm addresses this with 500 MG of their naturally relieving CBD. Veterinarians helped CBDmd formulate the perfect combination for the health of pet's paws. The balm is blended with olive oil, shea butter, beeswax, and MCT oil for additional relief.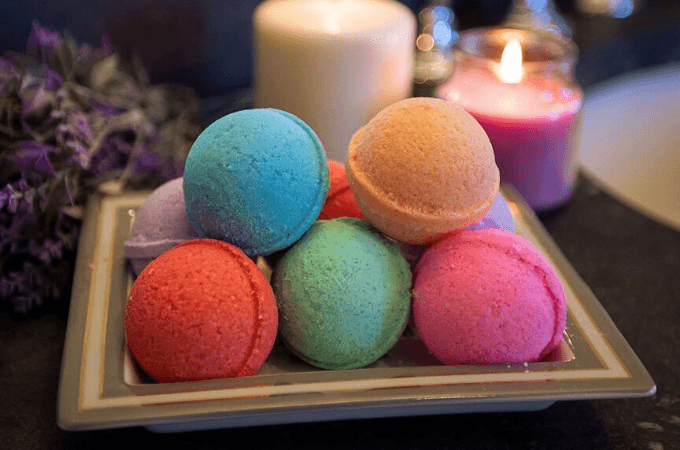 There's nothing like relaxing in a hot bath...unless you infuse your steamy water with the natural relieving properties of CBD. Which is what CBDmd has done with their high-quality CBDmd Bath Bomb signature collection. Multiple options are available to choose from, with some infused with Lavender, Eucalyptus and Frankincense for additional calming benefits. Each bomb is made with 100 mg of CBD and natural coloring that won't leave stains behind.
CBDmd Reviews: What people think about it?
You'll be hard-pressed to find a poor review of CBDmd online, or from those who use it. Their proprietary formulas and wide-range range of product offerings serve a variety of CBD consumers. And the results prove themselves. Most users boast about CBDmd's affordable prices, effective benefits, award-winning formulas and lab-testing that's provided with each product. Speaking of awards, in 2016 CBDmd was titled with 'Best Flavor', 'Highest Quality CBD Oil', and 'Reviewers' Choice Winner', which only adds to real-users experiences and reviews.
Callie S.
"All around amazing!"
I kept hearing people say they were using CBD pil to find some relief and I was curious to give it a try. I did a search and from my research this company had the best reviews and prices. I found a lot of sites who just wanted my card information for s free trial but didn't say what I was getting. That made me super nervous and I stayed away from those. What really helped me place the order was the money back guarantee. I ended up not needing it because I feel in love but it was nice to have that security blanket. It was really helpful that they had their process and lab results right on the site for me! I'm telling all of my friends and family!
Xanthus m.
"High quality | Fast free delivery"
I received my product within 2 days of ordering. Quality of the product was outstanding. Works like a charm and tastes really good too. Im a frequent customer of this company. Gonna be for a while :)
I ordered CBD tincture. For those of you that are not aware of this, this is an oil from the hemp plant. Yes, marijuana, grass, weed. The stuff to get you high is removed and it is legal in all 50 states. I got the product, not sure if it is working for me as normally my pain goes up and down. After using it for 2 weeks, I can only say that it has not eliminated my pain. No problem. Shot them an email (on Saturday) Heard back in a few hours. They have agreed to work with me and I will be switching over to capsules at a higher dose. The quickness that they responded to me has me delighted and them standing solidly behind their promises has me writing this!
CBDmd maintains a transparent outlook with their testing results and safety of products. Which makes them one of the most trusted and legit CBD brands on the market today. Their Certificate of Analyses are easily accessible online, and come with each product purchased. Not only does CBDmd use the most innovative technology to produce the wide range of products they offer, they ensure that their benefits are tested and communicated, for assurance too.
CBDistillery is another similar and comparable CBD brand, to CBDmd. If you're trying to decipher which to choose from, you may want to note some differences or how they're both alike.