The Club M subscription box is another one of California's monthly weed delivery services. Unlike other subscription boxes, this one is not full of smoking paraphernalia, but rather comes with actual marijuana products. Unlike its counterpart, Au, this product is available to the whole state of California (not just in San Francisco). Let's see what you get!
The packaging for the Club M box is unique and very elegant. In fact, it all comes wrapped up in something that looks a lot like an encyclopedia. It has a very nice design on the front in gold (the box is black), but nothing suggests that there's marijuana inside. Each month there is a different theme, which is printed on the spine in gold print. Overall, it looks very good, and not at all like it's the home of a whole heap of cannabis products! Very attractive and discrete.
The Club M Subscription Box
There's only one subscription box when it comes to Club M, which is a little bit disappointing when you consider other subscription boxes. There's no real space for customizing your box with Club M, as everybody gets the same box each month. However, the boxes are different every month, so you should be surprised by the products you get delivered every month.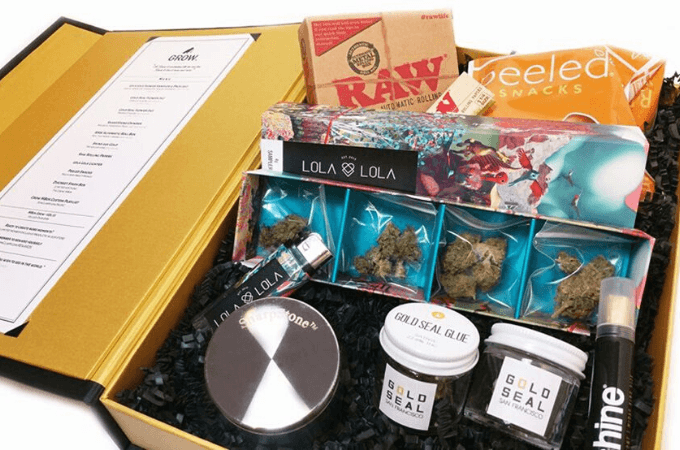 The Club M Subscription costs $97 per month, and Club M says that the retail value of all the products inside is over $200. The box comes with a great variety and is perfect for those who like to mix it up when it comes to weed products. There is usually around 6-8 items inside the box, and is a variety of flower, concentrates, edibles and topicals.
The variety of the box makes it fun for those who like a mix when it comes to the cannabis experience, and, besides, the Club M delivery is perfect for those who like to be discreet about their cannabis usage and don't want to wander around in dispensaries looking for products. The Club M delivery will be directly to your door and consists of a black box that none would tell is a package full of cannabis products and paraphernalia (as we said before, the box is very elegant). Nothing suspicious about the situation!
Club M seems to package the herbal material really well inside the box. It is inside a smell proof bag, so you can't smell any marijuana inside the box.
They also take the liberty of telling you the retail price of everything inside the box so that you know how much it would be if you went out and bought it from dispensaries.
You have to be a medical marijuana patient with your medical marijuana ID to subscribe to Club M's monthly subscription. As we mentioned, it is only for those living in California as they will not ship their product outside of the state.
Final Thoughts - Should We Subscribe To The Club M Box?
The box itself is really nice, and it seems like you get pretty good value for $100. If you went to a dispensary, those 6-8 items probably would cost well over $100, so there's definitely no doubt that you're getting a good bargain. However, what we didn't like was that there's only the single option and no room for customizing the box in any way.
It's a good box – there's no doubt about it. If you want a subscription service that's simple, Club M is a fine choice. However, if you are looking for something a bit more versatile, that fits your specific needs as a stoner, you might be better off checking out other cannabis subscription options!