The Daily High Club subscription, (previously known as "Dollar High Club") service features three different options, depending on what kind of stoner you are. Starting as low as $1 per month, there is definitely a Daily High Box to suit everybody's budget. So let's get straight into what you can expect from this subscription box.
The Daily High Club Box Review
All of the DHC subscription boxes come in simple, elegant packaging. They definitely don't overdo it when it comes to boxes or envelopes, choosing to use simple brown paper boxes and envelopes. They put a very inconspicuous "DHC" stamp on it, making it discrete against detection by others in your apartment block or living in your house.
Daily High Club can send their subscription boxes both within the USA and internationally. If you live in the USA, shipping on most of their boxes is free, and costs slightly more for orders being sent internationally.
Let's check out what comes in the three different subscription boxes from DHC.
Daily High Club Different Subscription Plans
We can choose between three different subscription plans, each one designed to suit the needs of different kind of weed lovers.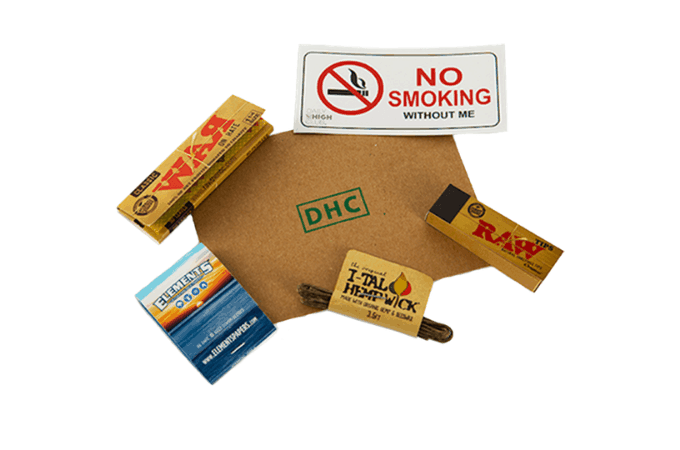 The cheapest – and first level – subscription box from DHC is the All Natural. To be honest, you don't get many items, but you definitely get bang for your buck. Included in the All Natural box is:
1 Packet MOON Pure hemp 1 ¼ rolling papers
3.3" of bee wick
1 packet of 50 Raw filter tips
1 Elements match book
It doesn't exactly feel like Christmas when you're unwrapping the All Natural Box, but the rolling papers on their own cost more than $1 in stores. So it's definitely good value. The only downside to this subscription is you pay $2 for the shipping and handling – literally double the cost of the box.- But we find it's still worth it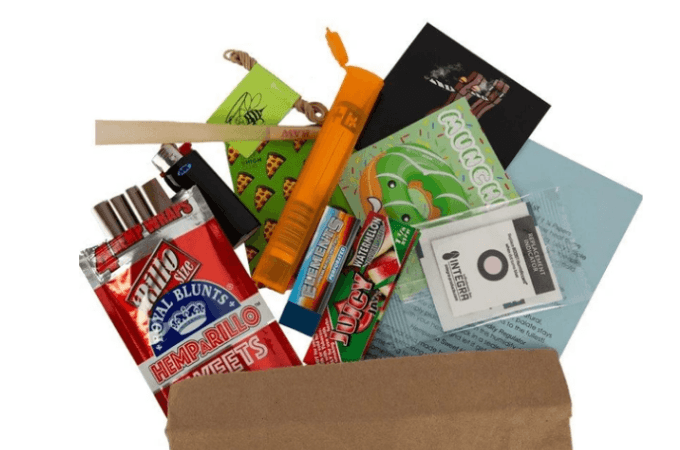 This box is a little bit more comprehensive for those who are more inclined towards smoking every day. One packet of papers (such as in the All Natural Box) per month just might not cut it. So what comes in the Connoisseur Box?
1 packet of Smoking Maiz 1 ¼ rolling papers (49 in a packet)
1 packet Rollies My F*cking Rolling Papers 1 ¼ size (50 in a pack)
1 packet Hempire King Size Pure Hemp rolling papers (33 in a pack)
Cyclones pre-rolled transparent grape cones (2 in a pack)
A Doob Tube
3.3" of bee wick
1 packet Raw filter tips (50 in a packet)
Juicy Jay Flavornator Cool Jay
A DHC quote sticker
So, on first glance, there is a lot more going on in this subscription box. In general, the Daily High Club likes to keep things pretty natural in terms of products. But in the Connoisseur box there are a couple of novelty gimmick items that you might enjoy from time to time, such as the grape cones and the flavor drops.
For $12, there isn't really as much value as with the All Natural Box (and the El Primo which we go through below). However, there's no cost on shipping. It makes for a great gift item if you want to say "happy birthday" or "i love you" to a fellow stoner.
The El Primo is the biggest subscription box that DHC has on offer. We think it's the best in terms of value and excitement – because there's a lot of goodies to unwrap. In the El Primo you get:
A glass pipe
Trip 2 Clear 1 ¼ rolling papers (pack of 50)
Hawaiian Skunk 1 ¼ rolling papers (pack of 32)
3.3' of Bee Wick
RAW Clipper Mini lighter
Doob Tube
A glass screen / filter
Zen perforated filter tips (pack of 50)
Dragon Bristle pipe cleaners (pack of 8)
Darshan Incense + holder
A cool DHC quote sticker
It's completely comprehensive. This is not really for the stoner who likes to spark up once or twice a week, but more for those who smoke every day. It's worth $30 just for the fact that you get a glass piece in there. Imagine getting one of these every month? A new piece of glass to smoke out of every month! You'll be a collector within a year. It's a lot of fun unwrapping this box, and I can't imagine it getting boring if you become a long-term customer of DHC.
Final Thoughts, Should We Subscribe To The Daily High Club Weed Box?
Overall, the best value for how much you spend is definitely the El Primo box. While the All Natural box is awesome, and contains great products all at $1, the shipping and handling brings it all up to $3. But nonetheless, it's a good box for those who aren't extravagant smokers.
Another cool thing about DHC is that you can always "go back in time" and get some of their most popular boxes. If you missed out on something cool, they might have a few that you can order. And according to DHC, they ship out the day after you make the order, which means you can be looking forward to it very soon. Of course, if you're on a subscription, then you can just look forward to getting one every month.
Overall good value, good products and a very nice delivery service.