Main Characteristics
Brand:

G Pen

Model:

Gio

Size & Weight: (

W x D x T) (16mm x 10mm x 104mm) & .09 LBS

Heating time:

instantaneous

Battery charging time:

2 hours to full charge

Colors:

Black

Warranty:

1 year
G Pen Gio The New Best Oil Vape?
Grenco Science is back with their newest Release, a totally different product The G Pen Gio.
There is a huge trend right now in these pod / Cartridge oil vaporizers and we have to admit they're impressive, extremely easy to use, extremely portable and produce really good vapor quality.
The G Pen Gio is a concentrates only device. Meant to be used with G Pen pre-filled pods. It wants to fight in the new oil vape pen market with the PAX Era, the first of its kind that was released a year ago.
We were really impressed by the performance of this little new device. If you want to know more about the G Pen Gio and the G Pen Gio Pods, keep reading our in depth review.
The package is really simple and minimalist, it contains the G Pen Gio Battery and a Micro USB Cable to charge it.
G Pen Gio Size and Design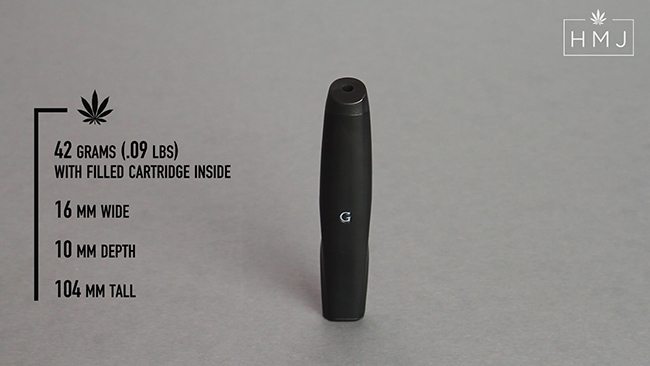 The Gio is a very portable and discreet vape. It follows the same tdesign line as the G Pen Elite but in a smaller and more convenient size. It measures 16mm wide, 10mm depth, 104 mm tall and a weight of only 0,9 lbs.
There are currently multiple different versions of the G Pen Gio: the Standard one, the Cookies Collaboration with Bernie Weed brand (available in three colors),  the Old Pal Collaboration, the Lemonade collaboration in yellow and the C/N collaboration in white and green.
All of these versions come are very nice looking, but they come in bright colors. That's why we personally prefer the normal version (all black) due to its simplicity and discreteness. 

This new era of cartridges vape pens is going to revolutionize the industry, and we have to admit that is really impressive. The vapor experience and flavor from the GIO Pods is superb. They come with pre-filled with 0,5 ml of cannabis concentrates. We only tried two strains. Jack Herer and Lemon PoundCake, from Cookies. But we're looking forward to see what else they add in their menu. Update!: We've tested all of the available pods and put an article with all the G Pen Gio Pods and where to buy them 
When buying the pods, each one comes in a nice package and child-safe container. With information on the strain type and THC/CBD content.
The G Pen Cartridges  have great capacity and are really easy to replace on the go.
We've been able to get around 100 hits of each pod!
If you want to know more about the G Pen Gio Pods, you can check this post with all the info about G Pen Gio Pods.
Available G Pen Gio Cartridges
Grenco science currently sales in limited locations. You can find cartridges in California and Colorado. But even within those states, they're doing a slow roll out. Only few dispensaries have the pods for sale.
Locations to buy the GPen Gio
Here comes the magic of these new oil vape pens, they're extremely easy to use, just align the g logo of the pod with the g logo of the battery, plug it in and hit till you get high. Once your cartridge is done, just unplug it, and replace it with a new one.
Don't have to grind herbs any more or wait till the device heats up.
Also there's a huge advantage in cleaning, as the mouthpiece is included in the pod, it never gets dirty is like using a fresh vape every time you change your pod.
They come with a series number which you will find at the bottom of the device, cartridge and box. Which you can register at gpen.com for warranty claims. And to ensure you have a real unit.
G Pen Gio Battery And Charging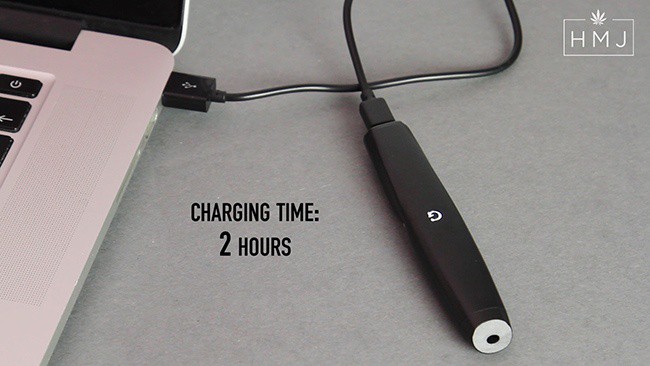 To charge the GIO , connect the USB charging cable to the bottom of the device and plug it to a USB port or any wall adapter. You will see a flashing light indicating is charging.
Once the device is fully charged, the G light will turn off when the battery is fully charged and ready to go!
It normally takes around 2 hours to fully charged from dead.
The simplicity of the device is what makes the G Pen Gio a top vape for oils. The market is clearly shifting to oils and concentrates, and with a big push for close system vapes.
Having to buy the pods from a dispensary and not being refillable might be a turn down for most people. Especially if you don't live in California or Colorado. Hacking the pods to put your own oil seems to be hard, so wouldn't recommend if don't like the idea of buying G Pen cartridges.
The PAX Era has been the leader in the space since it came out a year and a half ago. It's the best oil vape you can buy that comes prefilled. Their pod selection has been growing and you can find pretty much anything. From CBD only to different types of Sativa, Indica, and Hybrid pods.
Grenco Science has obviously seen a market opportunity there and has jumped into the growing market of prefilled oil vapes. Pricing on the G Pen Gio is $29.95 for the device and pods vary between $30-$50. At this price it's \$10 more expensive than PAX Era , it's major direct competitor.
Have to say that vapor quality of Gpen Gio is A+. Hard to compare with the PAX Era, since flavor varies a lot between pods (Fillers). But for their basic pods (Jack Here vs. Sativa from Bloom Farms) , I would say G Pen wins.
Summary, Should we buy the G Pen Gio?
Based on our preferences and tastes, definitely YES! When we reviewed the PAX Era we liked it a lot and we like this new concept of disposable weed pods. If you live in California or Colorado, check them out.
And now, on 2020, we still think that the G Pen Gio is a 'definitely YES' as an oil cartridge vaporizer. Although some similar products have hit the market during last year, the G Pen Gio Vaporizer is still one of the best oil cartridge vaporizers. And you are wondering why? Well, the first reason it's its very affordable price (only $29.95), the second one it's the great vapor quality it provides in every puff; and, the last one, all the G Pen Gio Pods you can find on the market: a wide variety of strains and flavors.
Most frequent questions and answers