If you haven't heard of Juuling yet, then you've so far missed the uprising of the most popular e-cigarette in the world right now. Described as the iPhone of the vape world, the Juul is a sleek e-cigarette that delivers high doses of flavored nicotine.
Creators Pax tout it as a way for adults to kick the habit of cigarette smoking, and many smokers do indeed report that the high nicotine content makes Juuling a satisfying experience that has helped them cut back on cigarettes.
Surprisingly (or not so surprisingly), however, Juuls have become very, very popular with teens and youngsters across the country. There are hundreds of thousands of social media posts showing minors using Juuls in schools and other inappropriate places. Some schools have even declared 'Juuling' by pupils to be a widespread and serious problem.
It's a craze of huge proportion. And while it has been great for business – Juul now represents 70.5% of the e-cig market, according to Nielsen data – the brand is taking some flack for the number of young people using their potent nicotine electronic e-cigarette. Although the company does not promote or sell its products to teens, the device's sleek design and ease of use have attracted a younger audience than intended.
The Juul certainly is easy and convenient to use. All you have to do to use the $50 e-cig is attach a pod and puff away. Those pods contain as much two cigarette packets' worth of nicotine, a substance shown to have extremely addictive properties.
The e-liquid in Juul's pods also contains nicotine salts. Nicotine salts, a relatively new innovation in the e-cig world, are the natural salts found in the tobacco leaf. They are used in e-liquids as they increase the bioavailability of nicotine, allowing it to be more readily absorbed into the body than with standard e-liquids. This results in a nicotine rush that's similar to smoking a cigarette – hence the reason they are aimed at smokers looking to quit.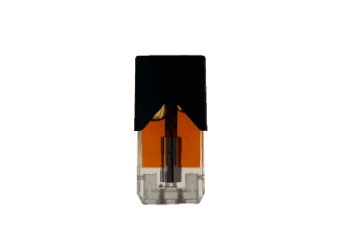 Can You Put Weed In A Juul?
Then, the right question would be: can you refill JUUL pods? They aren't meant to be refilled (we'll talk about it later on the post), but we're going to teach you how can you refill JUUL pods with both THC and CBD so you can create your own pods.
How To Put Weed In A Juul Pod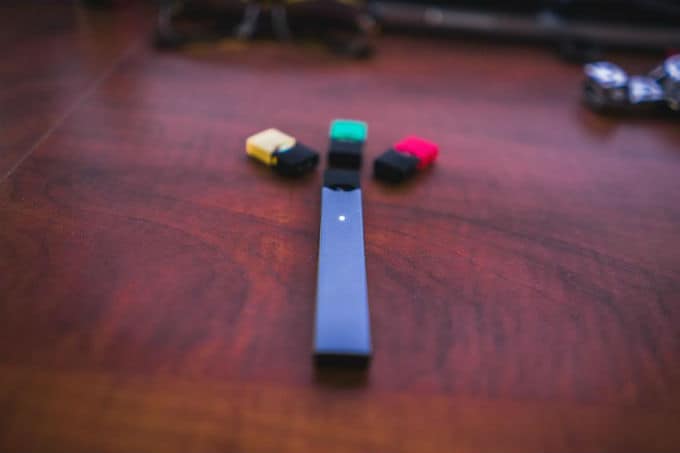 Although the Juul in designed to vape nicotine-containing e-juice, some clever folks have discovered a way to adapt the device so that it can be used to vape weed. This way, you can discreetly puff away on your Juul in public with no one suspecting that you are getting high.
There a few different ways to convert your Juul so that you can vape cannabis in it. You can use THC isolate, any type of concentrates like BHO or wax, or even bud itself. We will go over the most popular method in the following steps:
What you need
An e-liquid / a PG or VG solution / a wax liquidizer / or pure liquid terpenes
Some hash / kief / honey oil / CO2 / BHO / shatter / THC isolate / some other concentrate
Small metal cap, such as the cap from a whiskey bottle / or a tall glass shot glass
A spoon
A lighter / torch / slow cooker
Plastic syringe
Empty e-liquid bottle
A Juul and one empty Juul pod
The Steps
First thing you need to do to make a weed e-juice that you can use in the Juul is to put your concentrate or hash or isolate into a metal cap and dowse it in your solution of choice of e-liquid, PG/VG solution, or pure liquid terpenes. Stir it well.
Next, you're going to need to heat the solution over the flame of a lighter. Make sure not to heat it too much. You can tell if it's getting too hot if it starts to boil or smoke. Leave it over the fame for a couple of seconds, then stir it as it cools. Repeat this process two or three times.
After letting it cool, using your syringe, suck up the resulting mixture and squeeze it into your empty Juul pod. You can remove the black part of the Juul pod in order to refill it. Follow the images below for closer instructions on how to refill the Juul pod.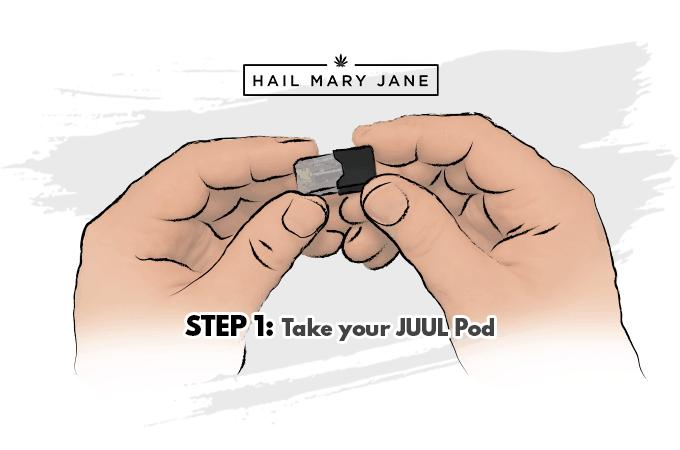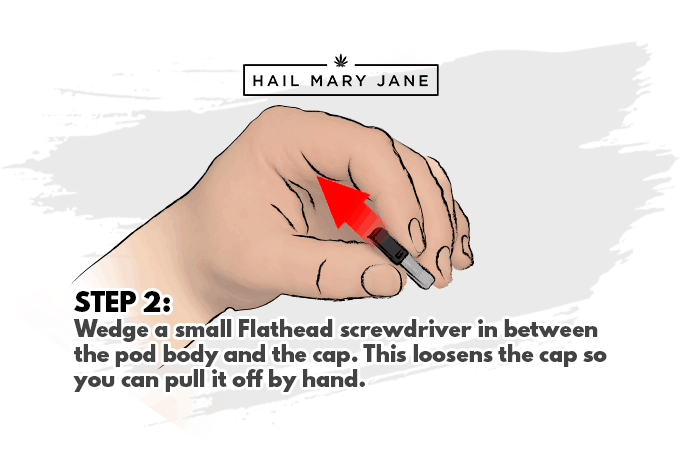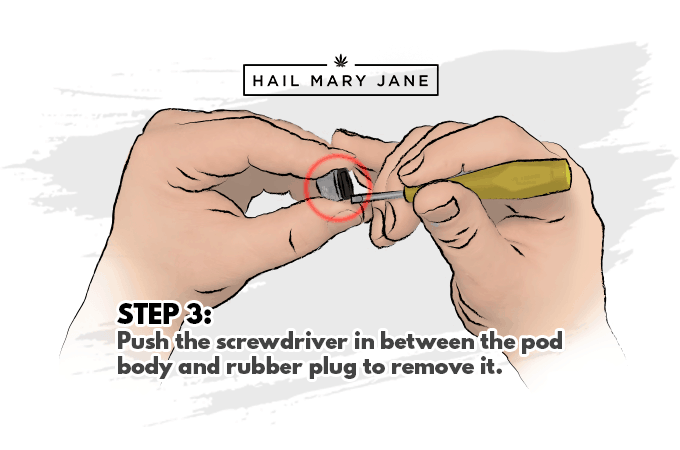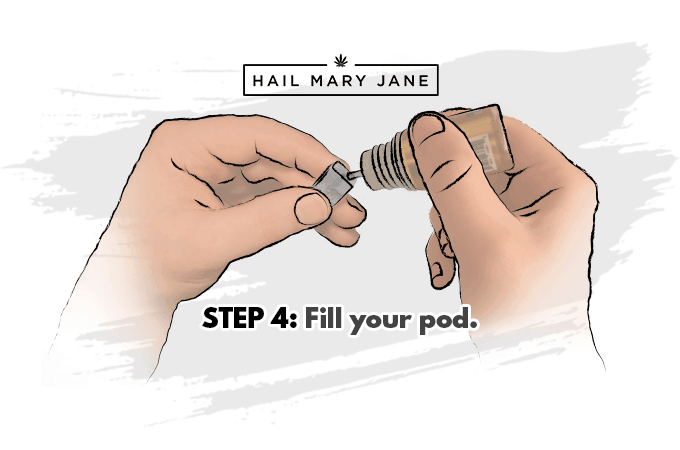 You're now ready to use your Juul as you normally would. Only now, you'll be vaping your solution of weed e-juice.
But if you aren't very handy, you can also find similar products on the Internet. For example, Ignite (Dan Bilzerian's brand) and Bõ have released a great vape pen that uses CBD pods, very similar to JUUL.
How To Refill Juul Cartridge With CBD
You can also refill your Juul pod with one of our favorites best CBD vape oils or CBD vape juice, which you can make yourself or simply purchase online or in some stores. If you want to make it yourself, you could use a similar method to the one stated above, just using a CBD concentrate or isolate instead of wax or THC.
Please note: however, you can not use CBD oil. CBD oil is CBD mixed with a carrier oil, like hemp seed oil or coconut oil, which is not suited to vaping. Stick to concentrates and isolates. Also, Juul pods are not designed to be refilled, so be careful when removing the black buffer.
Alternatively, you could buy weed JUUL pods with CBD in them pre-packaged and ready to go. Available in three different fruity flavours, Hempods make Juuling CBD easy as anything. Founded by two 22-year-old brothers, Hempod creates refillable CBD pods that fit Juuls.
To use, you simply put the Hempod in the Juul and you're ready to take advantage of the anti-inflammatory and anti-anxiety effects of CBD with the convenience and discreteness of the Juul.
The sibling founders have been motivated by personally discovering the therapeutic effects of CDB – one who used it to treat anxiety, the other for kicking a cigarette habit. Since realizing the power of CBD, they've both spent a good number of months meticulously testing out different ratios of cannabidiol and different e-liquid formulas. They are pretty happy with the result.
Despite being relatively new to market, Hempods are making waves across the country. They have no THC and 300mg CBD per weed JUUL pods, which offers about 200 hits, or puffs. The team at Hempod has also done their best to make the flavors as similar to the original Juul pods as possible. They have tried to replicate the taste while simply replacing the nicotine with CBD.
The popularity of Juul e-cigarettes means more CBD brands have begun offering their CBD for vaping in a Juul-friendly package. Here are some of the most popular selections of weed Juul Pods filled with high-quality, full-spectrum cannabidiol oil, but if you want to know more brands, we have this CBD JUUL Pods post where you'll find more info about.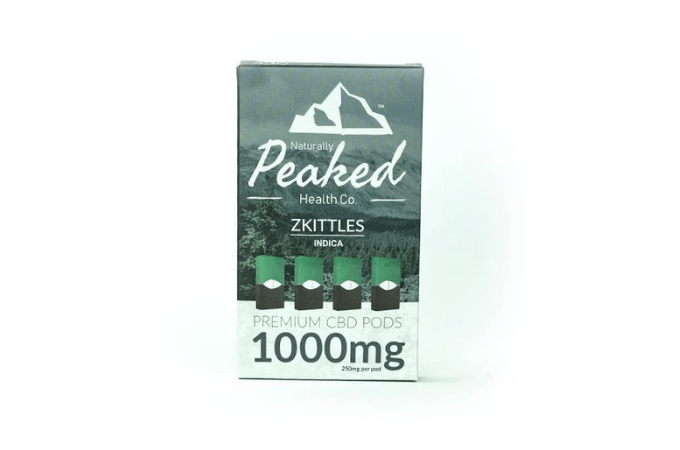 Peaked's CBD Juul pods come in seven flavors to choose from: Blue Dream, Pineapple Express, Clementine, Gelato, TahoeOG, Zkittles and Watermelon, and you can also choose the strain legend! (indica, sativa or hybrid). Each pod contains 250mg or 1000mg of CBD made with 100% organic CBD, coconut oil and terpenes. You can find them in packs of 1 or 4 pods, or a 'JUUL Kit' with the vape pen and two pods.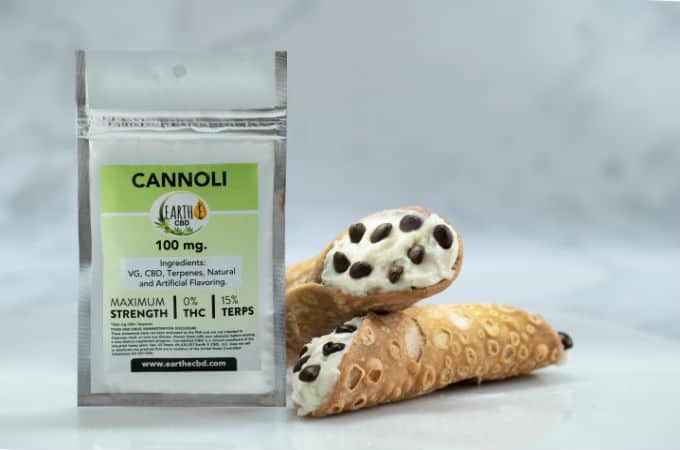 Earthe's CBD pods contain 100mg of full-spectrum CBD per pod, and they come in dozens of unique flavors like Cannoli, Banana Bread, Skittles, Wild Cherry, and Citrus Fruit Punch. They also promise 15% terpenes per pod, so you're getting all the plant benefits in every puff.
If there is a CBD option for something, chances are there is a THC JUUL pod option as well. Here are some options if you're looking for the full effects of cannabis when vaping with your marijuana JUUL pods.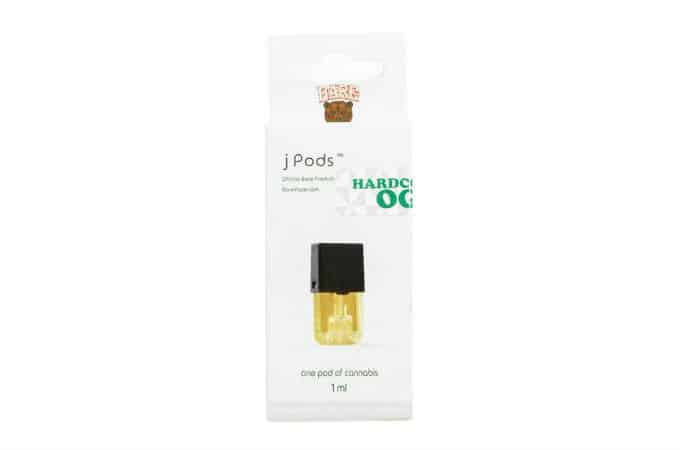 Barewoods has all sorts of strains available in their marijuana JUUL pods form, and Hardcore OG is one of the most popular. It's an indica known for its sleepy, relaxing, stress-relieving, and euphoric effects. Perfect when you need something to unwind after a long day and ease you into a pleasant night of sleep.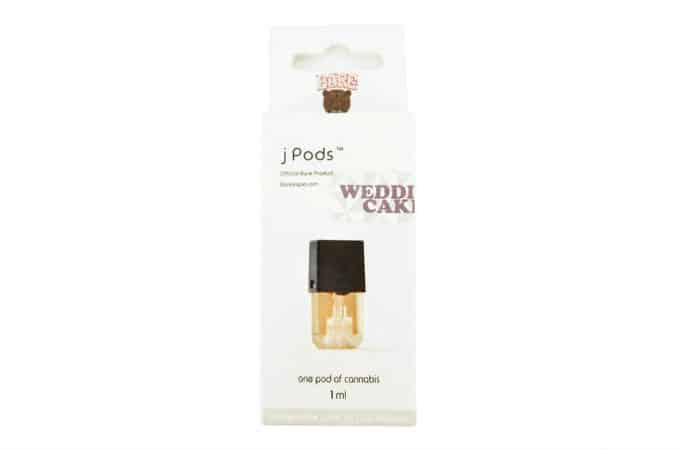 This Barewoods jPod contains 1ml of high-THC cannabis oil in the Wedding Cake strain, a combination of Girl Scout Cookies and Cherry Pie. This hybrid is known for its relaxing and euphoric effects that help relieve pain, depression, insomnia, and loss of appetite, so it's a popular option for those suffering from chronic illnesses who want to feel some relief.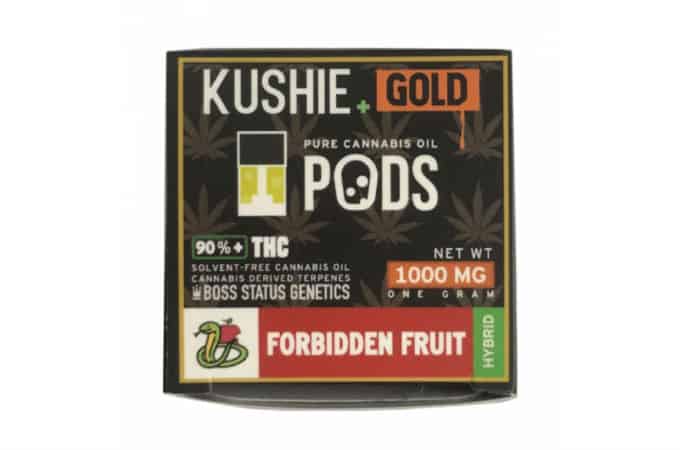 Kushie Gold's THC Juul Pod boast 90%+ of THC per pod of their solvent-free cannabis oil. Currently, they have several different indica, sativa, and hybrid strains available including Monster Cookies, Forbidden Fruit, Gelato, Purple Punch, Wedding Cake, El Chapo, King Louis OG, Skywalker OG, and Lemon Haze.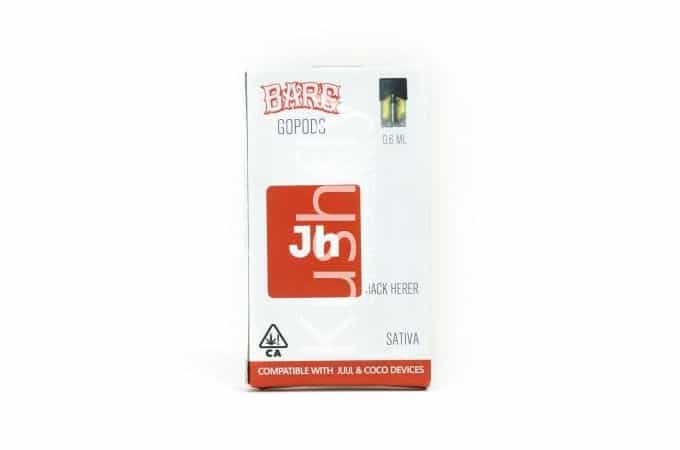 Bare GoPods are available for delivery in the Los Angeles area and are compatible with all Juul and Coco devices. Their best seller is Jack Herer, a sativa-dominant strain known for its intense therapeutic effects.
Where Are THC JUUL Pods Legal?
Can THC Juul Pods Be Dangerous?
JUUL THC pods are not inherently dangerous, but you should still exercise caution and consume liquid THC concentrates in moderation. The science is still new on the long-term effects of vaping, so make sure you're buying from manufacturers that are known for clean, pure liquid concentrates.
Most frequent questions and answers