Pax Vapor's latest release is the Pax 3 vaporizer, upgraded version of the Pax 2. All in all, there are no real changes to the overall aesthetic of the product (aside from a matte finish option), but what changes on the inside is pretty significant. Pax Vapor has been hard at work improving on the heating speed, presets, battery life and connectivity to your "smart" devices. It also features a dual dry herb and concentrate chamber, so that the user can choose which form of dope they want to vaporize.
All in all, the upgrades to the Pax 2 are pretty cool if you're a vaping nerd, but for those who can't really see themselves using their smartphone in conjunction with vaping, it might be a waste of money upgrading. If you aren't sure wether to upgrade or not, don't miss our PAX 3 Review
Main characteristics of the Pax 3
Brand: Pax Vapor
Model: Pax 3
Size : Dimensions are 4 ⅛" x 1 ⅖" x ⅞"
Temperature Range: 360 – 419 ℉
Heat production (Convection/conduction): conduction
Heating time: 20 seconds
Oven Size:Under 4 inches, can fit about .3 grams in there
Battery (duration and average charging time): 90 minutes battery life between charges and 100 minutes charging time
Colors: Onyx, Sand, Sage, Amber, Burgundy
Warranty: 10 years
PAX 3 Vaporizer Review
What's in the box? – PAX 3 Unboxing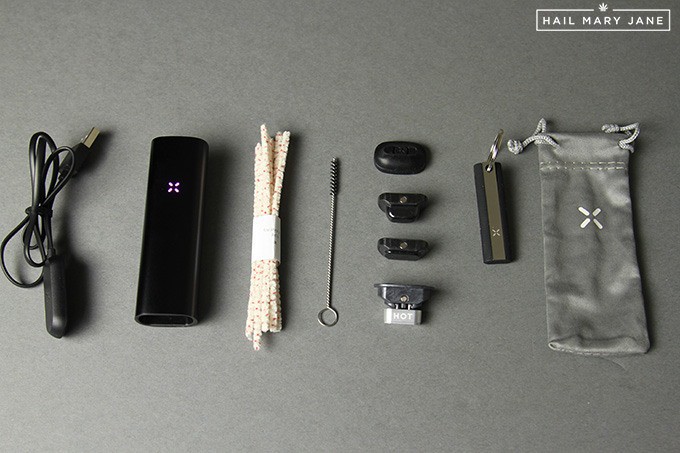 When unboxing the Pax 3 complete kit, you can expect to find:
A Pax 3 vaporizer
An insert for concentrates
A charging cable and dock
A multi-tool
Two mouthpieces
Two oven lids
Three replacement screens
One replacement o-ring (for the concentrates insert)
A maintenance kit
You can also buy the PAX 3 Basic Kit, which is $50 cheaper, you'll miss out on the replacement screens, the multi-tool, the concentrates insert and the oven lids. You'll still receive the maintenance kit, which includes some items you might need to clean and maintain your vaporizer. And of course, you'll still get your oven lids and mouthpieces.
The Pax 3 Design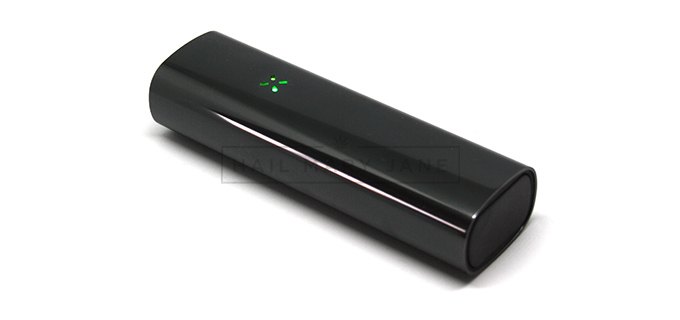 Nothing much has changed in terms of design between the Pax 2 and Pax 3, which isn't necessarily a bad thing. They are good looking vaporizers, after all. Completely sleek and discrete, this vaporizer is small enough to fit in your pocket or purse. The Pax vape is completely portable and to be honest, doesn't look an awful lot like a conventional vaporizer. For those who like showing off shiny new technology, the design of this vape is a win.
There were some complaints about Pax 3's tendency to attract fingerprints, so Pax Vapor went ahead and recently introduced an option for a matte finish. So for those who cringe at seeing fingerprints on shiny objects, the matte finish is the way to go.
The body itself is made from anodized aluminum, so it's light and durable. The oven lids are attached securely using a magnet. It's really simple to assemble and use, even if you're a bit technology-phobic.
The half-pack oven lid that comes in the package has been requested by customers of the Pax 2. It enables you to use the vaporizer without having to pack as many herbs in, which means you can get just as good a vape with lesser material.
The screen design for the chamber makes it a bit difficult when it comes to cleaning. If you leave the herbs in the oven for too long without using it, they have a tendency to get really sticky. Which means you've got to vape everything in there before putting the vape down. You need to stay on top of your cleaning game when it comes to using the Pax 3. It significantly drops in performance after a while if you aren't OCD with your cleanliness.
Heating and vapor quality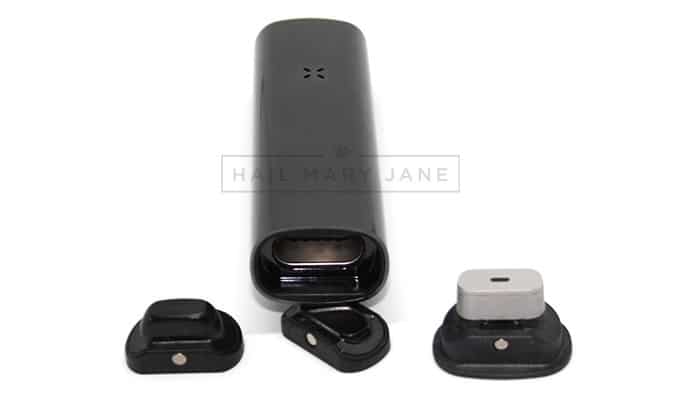 When it comes to the heating chamber, it uses conduction technology (rather than convection). Unfortunately, conduction heating chambers just don't quite give the user the full experience of flavor like a convection method does. There's been no design upgrades from the Pax 2 on this side of things, which is a little bit disappointing.
Heating up in just 20 seconds, the Pax 3 is three times as fast at heating as the Pax 2. It also gives haptic feedback when it's ready, so it literally tells you when to start toking – which I thought was pretty cool.
The Pax 2 was purely about vaporizing herbs, but the Pax 3 comes with the addition of a concentrates unit. However, with a maximum heat of 419 ℉, the oven doesn't get quite as hot as it needs to for vaporizing concentrates. That means it leaves a sticky mess in the canister once you're done using it – a pain in the butt for cleaning. It also sticks out of the bottom of the device, which is a strange design choice.
The Pax 3 ranges from 360 – 419 ℉ and comes with five different settings (an upgrade on the four settings of the Pax 2). The first four settings are the same, while the fifth temperature setting is a custom setting. Whatever you choose as the custom temperature has to be within the minimum and maximum range for temperature. To operate the custom temperature, you have to use the bluetooth connection and your smartphone – more about that later.

There are four modes to choose from when it comes to using the Pax 3, which again requires using your smartphone. They are:
Boost: reduces the auto-cooling faculty of the device. Don't leave this mode on for too long, because the device gets hot really quickly.
Stealth: This is basically the energy saving mode of the Pax 3. The lights are dimmer and auto-cooling is increased.
Efficiency: This mode ensures that the temperature rises steadily over time
Flavor: This takes the heating up a level so that you can get the maximum flavor profile out of your vape.
The vape quality overall is about the same whether you are using concentrates or dry herbs. As far as it goes for conduction heating, it's about as good as it's going to get. The flavor is much better when it comes to other heating methods, but the Pax 3 has just about nailed every other aspect. For what it has packed inside that very neat and tidy chassi, it's a very good vape quality. You won't be blowing huge clouds like you might get with coils, but you should enjoy some of the flavor at least.
How to use the PAX
The Pax 3 is extremely easy to use. It turns on by pressing the centre of the mouthpiece until it's on. Press and hold the power button while the device is on in order to turn on the temperature settings menu. Short pressing on the power button will let you cycle through the different settings.

Once you've chosen your temperature setting, just press and hold the power button again to select it, and the device will automatically start heating up. It will vibrate when it's ready, letting you know that you can start toking. It's lip sensitive, so no need to press a button to inhale. Just start toking! The exact same operating instructions apply if you're using concentrates.
The Pax 3 Smartphone App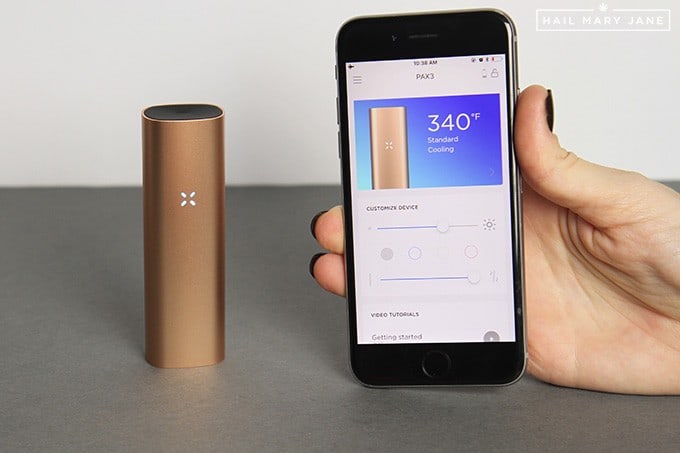 If you want to use some of the more advanced settings of the Pax 3, you have to download the smartphone app. The device connects to your smartphone using bluetooth, and from the app you can choose to set your own temperature or use one of the modes. All in all, you can get the most out of the Pax 3 if you download the app. You can even name your device through the application if you choose to use it.
Without the app, the Pax 3 ony features a faster heating time and a longer battery life compared to the Pax 2. If you want to really experience the upgrades and get your money's worth, it's best to use this vaporizer in tandem with its smartphone app.
PAX 3 Battery life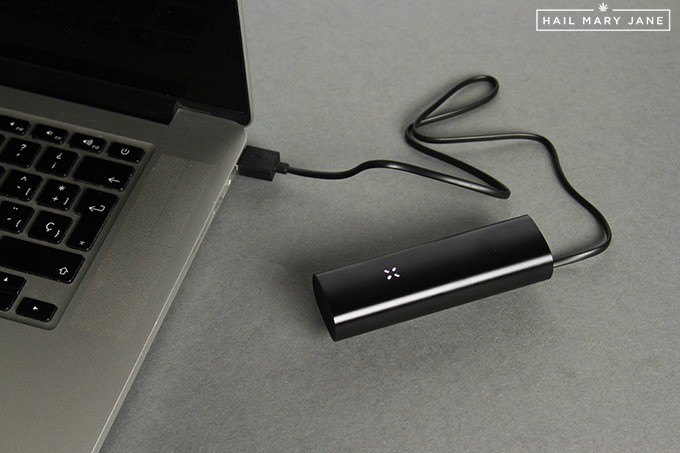 One of the advantages of the Pax 3 is its long battery life. Interestingly, the battery power has increased since the Pax 2 without them having to increase the size of the unit. Go figure that one. The previous Pax featured a 30mah battery, while the Pax 3 features a 3500mah battery. It lasts about 90 minutes between charges, which is pretty good.
The battery is non removable, which means you can't carry a replacement around with you. That's a bummer. On the other hand, it charges pretty quickly, going from completely empty up to full in about 110 minutes.
To check the remaining battery in our device, we just need to shake it and the number of LEDs that light up will let us know the percentage remaining, same as we with the PAX 2 which we think is pretty cool, right?

How to Clean PAX 3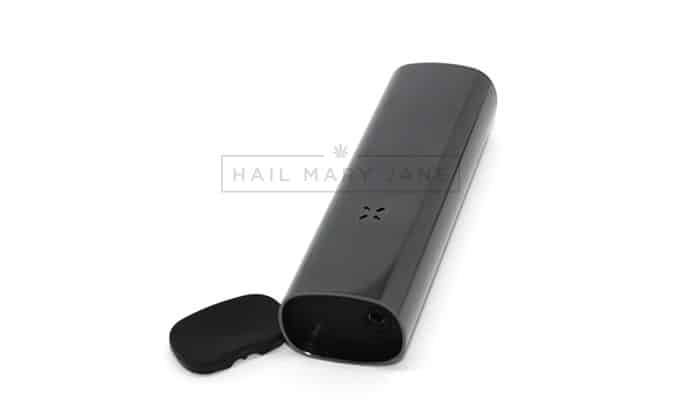 As mentioned, the screening design isn't ideal, meaning that the chamber can get pretty dirty pretty quickly. It's not terribly difficult to clean, but f you don't use up all the weed in the chamber it can leave it a little bit sticky. It comes with a cleaning kit so you can get right in there to sort out the chamber.
As for the concentrates canister, it get can downright dirty. The oven doesn't get really hot enough to vaporize everything in the concentrates unit, which can leave some grot in it. Just remove it, soak it in alcohol and let it dry.
Accessories
There is an accessory for those really wanting to smoke concentrates out of the Pax. It's called the WPA, which basically converts your Pax into a low temp dabbing rig. It definitely increases the flavor profile of the concentrates you're smoking and hits pretty well.
There are also vented oven lids you can purchase for your vape. It definitely decreases the amount of resistance when toking, also meaning you can take bigger hits and get more smoke.
Pros and cons
The best parts about the Pax 3 are definitely the long battery life, the option to purchase a full kit or half kit and the 10 year warranty that comes with the device. The aesthetic design, portability and discreteness also gives it a thumbs up.
Where the Pax 3 is lacking is in its heating technology, it gets really hot if it's being used for too long and that it doesn't have a replaceable battery. It can't be used for too long on the highest setting and there were no aesthetic changes from the Pax 2. At $249 for the full kit, it's also pretty expensive.
PAX 2 vs PAX 3
Even though the PAX 2 and the PAX 3 look almost identical, except from the different color options and the gloss finish, there are many differences in the inside. Check all the differences in the following table:

PAX 3
PAX 2
Heating Time
16 sec
45 sec
Battery Life

110 min
90 min
Vapor Quality
Excelent for conduction vapes
Excelent for conduction vapes
Concentrates compatibility
Yes
No
Others
– Vibration
– Smartphone App
– More Complete package
Shop PAX 3
Shop PAX 2
In the end it depends on what you expect from your vaporizer in order to choose one or another. We personally prefer the 3 :)
PAX 3 Vs Firefly 2
This is a tough one, a lot of people wonder which of the two is the best vaporizer and being honest here we don't have a clear answer, both are top end vapes and both are really different so in the end depends on each one tastes and preferences
PAX 3
Firefly 2
Heating Time
16 sec
On demand heating
Battery Life

110 min
45 min
Vapor Quality
Excelent for conduction vapes
Best vapor quality
Concentrates compatibility
Yes
Yes
Smartphone App
Yes
Yes
Others
– Vibration
– Easier to use
– Smaller

– 2 Batteries Included
Shop PAX 3
Shop Firefly 2
So PAX 3 vs Firefly 2, our pick is the PAX 3, we just love its design, how simple it is to use and its portability but, we have to admit that the firefly's vapor quality is better but in our opinion, not enough to provide an overal lbetter vaping experience
Final thoughts – Should we buy the PAX 3 vaporizer?
In general, the Pax 3 is a great product when it comes to portable vaporizers. However, it's not that cheap if you're just out on the market for a functioning vaporizer. In terms of portable vaporizers, it has some pretty high tech options, such as the app and its customization options through the app.
Other portable vaporizers aren't quite as involved as the Pax 3, making it an appropriate tool for those who want to get into its features. However, for those looking for a simple and cheap portable vaporizer, this isn't really the option. If you have the patience, the price should drop significantly over time, in which case you won't have to spend upwards of $200 for a portable vape!