Just as the name implies, pre-rolls are paper joints or cones that are neatly packed with marijuana and rolled before they reach the customer. Typically, they're available in a variety of sizes, from petite samplers to Snoop Dogg-sized rolls. In most places, you can buy half-gram or gram pre-rolls, but other dispensaries have joints with more than a gram. They have several benefits, but most of all they are known for their convenience, considered because of this one of the best ways to smoke weed. Rolling a joint is an art form, and not everyone knows how to do it correctly. Moreover, people who use medical cannabis to combat pain may have trouble with the small, dexterous movements required to roll a joint. Plenty of smokers simply don't like to roll their own joints, but at the same time, they don't want to use any other smoking devices. The most significant advantage of opting for pre-rolled joints or cones is that they're discreet. They look more like cigarettes, especially as you smoke. Due to their size and streamlined shape, concealment is effortless. 
What Are Pre Rolled Joints?
Pre-Rolled Joints are just that – rather than rolling your own, you can purchase joints pre-filled and rolled. The option designed by dispensaries and cannabis brands, to make flower more convenient for on the go use. To learn moe about how much THC you'll consume from joints like these, click here.
To make a pre-roll, cannabis is simply rolled into a paper joint, or into a pre-shaped cone.
Often with a filter for smoother hits, and a cleaner taste. Pre rolled joints usually come in single quantities, but some brands do offer packs, similar to cigarettes.
Pre-rolls have a bad reputation that's wholly undeserved. You may have heard from other cannabis enthusiasts that pre-rolled joints aren't worth buying because they don't contain high-quality cannabis. In a way, that description is understandable—or, at least, it was. When they first became a thing, it wasn't uncommon for budtenders and other purveyors of pre-rolled joints to mix flowers with trim, i.e., the stems, leaves, and cast-offs.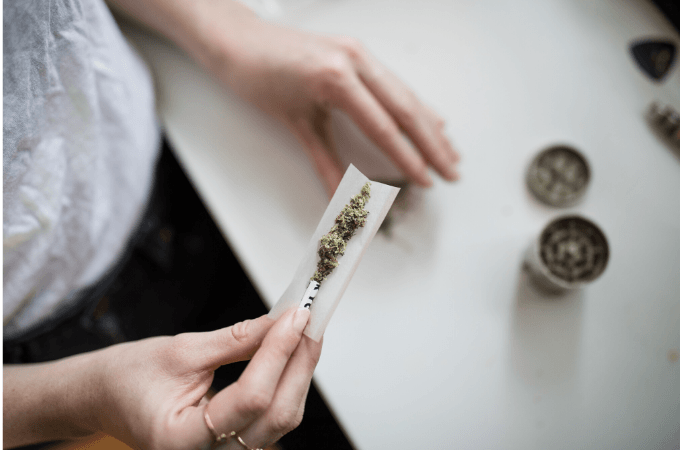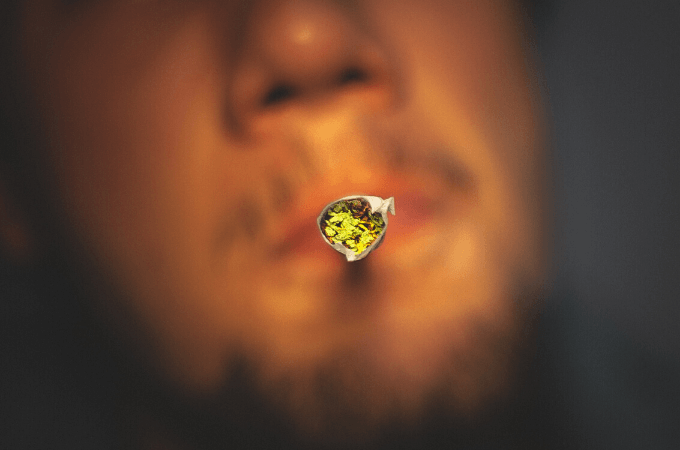 Unfortunately, some dispensaries still fill their pre-rolls with trim. However, it's not hard to weed out those places. It may mean biting the bullet and trying out pre-rolls from different dispensaries in your area, but remember, that's the convenience of ready-made joints: you can try a little before you buy a significant amount.
Reputable vendors rely on high-quality cannabis and well-reviewed strains. Moreover, the best budtenders offer variety. Not only can you choose from an endless assortment of strains, but you can also opt for indica, sativa, or a hybrid of the two, depending on your needs and symptoms. Trustworthy tenders will also listen to your concerns and what you need from your cannabis. Whether you shop at a bricks-and-mortar dispensary or browse an online store, feel free to ask questions and stay curious. You can do it in person or via customer service. Ask the vendors what they use in their pre-rolls and whether they're worth the time or trouble. Rest assured that shops listed above are thoroughly vetted.
Best Pre Rolled Joints Brands
In the following list you'll find our favorite brands and the best pre rolls on the market (for us). 
Island has everything you will ever need. From pre-rolls designed to look like cigarettes to minis and Catalinas, you can find every size and price point imaginable. Island uses unbleached paper, there are no GMOs in any product, and the growing process used at the farms they partner with are top-notch. Plants are typically grown in fertile parts of California as well as Nevada.
They're a really cool brand, offering 100% organic and natural Cannabis. Our favorites are the Premiums, which can be bought in 2, 6 and 8-packs, and choosing between Indica, Sativa and Hybrid depending on the mood you are.
Availability: Widely available
THC Percentage: 12%-25%+
Types: Indica, Sativa, hybrid
Strains: N/A
Prices: starting from $14+
Packing 'honestly' clean grown California cannabis into a perfectly shaped pre-roll is what Leune does best. The brand's pre-rolled joints deliver rich flavors from premium flower, and a balanced high. Boosting 17% THC, the Leune Cloud Berry pre-roll is a perfect hybrid. Delivering an ideal combination of feeling uplifted, but mellow and relaxed, too. Leune sells their pre-rolls individually in a modern designed, compact case.
Availability: California, Nevada, and states where cannabis consumption is legal
THC Percentage: Varies
Types: Hybrids
Prices: starting from $7
You'll take off to new spaces, with the premium pre-rolls from Neutron Genetics. The 'rocket infused' 1.5 g pre-rolls boost 27% THC with shatter and kief added for extra potency. Sold in single packs, their rocket pre-rolls come in a variety of strains. In addition to potency, Neutron Genetics pre-rolls have a clean, pure flavor and deliver smooth hits. If you're used to dab rips, or prefer concentrates – this is the pre-roll for you.
Availability: California, Nevada, and states where cannabis consumption is legal
THC Percentage: Varies
Types: Sativa, Indica and Hybrid
Prices: starting from $14
LoudPack's Skywalker OG is one of the best pre rolls for an indica fueled and relaxing high. Skywalker OG is a cross of Skywalker and the legendary OG Kush – delivering extraordinary calming effects.The California brand packs their premium indica strain into beautifully rolled cones. The Skywalker OG full gram pre-roll joint delivers on average, 19% THC. LoudPack also offers a variety of pre-roll strains if you prefer other effects, from quality sustainably grown flower.
Availability: California, Nevada, and states where cannabis consumption is legal
THC Percentage: Varies
Strains: Sky OG, Mango Brulee, OG Kush, Chem Dawg, Orange Kreamsicle and Wifi OG
Types: Sativa, Indica and Hybrid
Prices: starting from $10
You know Humboldt Farms. Every connoisseur knows Humboldt Farms. Even if you've never sampled the merchandise, you at least know the Humboldt story. After all, Humboldt County is legendary. The brand is no less so. Not only are Humboldt Farms pre-rolls widely available, but they're also affordable. Shop at the right online dispensaries, and you can often stumble over can't miss sales. Can you imagine snagging a pre-roll for just $5? It pays to be a smart shopper, no matter what you're buying.
Availability: Widely available
THC Percentage: 18%, 20%, and 21%
Types: Indica, Sativa, hybrid
Strains: Key Lime Pie, SFV OG, Tangie Dream
Prices: starting from $5+
THC Design fills their ½ gram classic J pre-rolls with indoor-grown quality bud. In single packages, or affordably priced 6 pre-roll packs. To make choosing more simple, THC Design sells pre-rolls in 'Indica', 'Sativa' or 'Hybrid' options. Delivering their freshest and most trendy strains in a rotation throughout the year. Their handy tin packs are discreet, and convenient for on-the go pre-roll needs. Included test results confirm clarity, and boast nearly 19% THC levels
Availability: California, Nevada, and states where cannabis consumption is legal
THC Percentage: 20%+
Types: Indica, Sativa, hybrid
Prices: starting from $39+
If you prefer the high of outdoor grown crops, than Flow Kana Pre Rolled Joints are for you. Their pre-roll tins come equipped with 6 ½ gram packed joints, full of flower supplemented by the sun. Grown in California, Gelato 33 is a cross of Sunset Sherbet and Thin Mint Cookies. Delivering euphoric yet relaxed results, from a beautifully pre-rolled joint. Flow Kana's pre-rolled joints are an affordable choice for conscious cannabis elevation. 
Availability: California, Nevada, and states where cannabis consumption is legal
THC Percentage: Varies
Types: Indica, Sativa, hybrid
Prices: $30
At Pacific Stone, all they do is flower and pre-rolls. Coming in packs of 14, or packs of 2 you have the option of stocking up, or just trying out a new strain. Their indica pre-rolls is at the top of our list, for the chillest of highs. With nearly 18% THC, the joints make you feel as good as they taste, too. Natural earthy aromas, with spicy notes come from transparent paper cones, rolled up just right. Pacific Stone's pre-rolled joints also come in sativa and hybrid options, too.
Availability: California, Nevada, and states where cannabis consumption is legal
THC Percentage: Varies
Types: Indica, Sativa, hybrid
Prices: $40
Pre Rolled Joint vs Blunt
If you've been using cannabis long enough, you know that joints aren't the only way you can roll-up the weed you like to smoke. Another popular, and even more tedious option is a blunt. So, what are the difference between joint vs blunt?
Well, a blunt is simply flower rolled up into a blunt wrap – that's more similar to a cigar in size and texture. Blunts are typically enjoyed by large groups, and provide a longer smoke session that most joints or pre-rolls. And are even harder to roll, than joints although that makes them more 'malleable' to create with them crazy blunts with every form you can imagine (crosses, spiders, etcetera.)
Which is why pre-rolled blunts are becoming more popular among cannabis users. But, they can be hard to find. Currently, pre-rolled joints are available at almost every dispensary or online retailer. But, blunts – not so much. When browsing for pre-rolled joints or blunts, be aware of the differences between the two. Blunts will hold more flower, hence their heftier costs. And some blunt wraps also contain tobacco, so check the one you choose, carefully.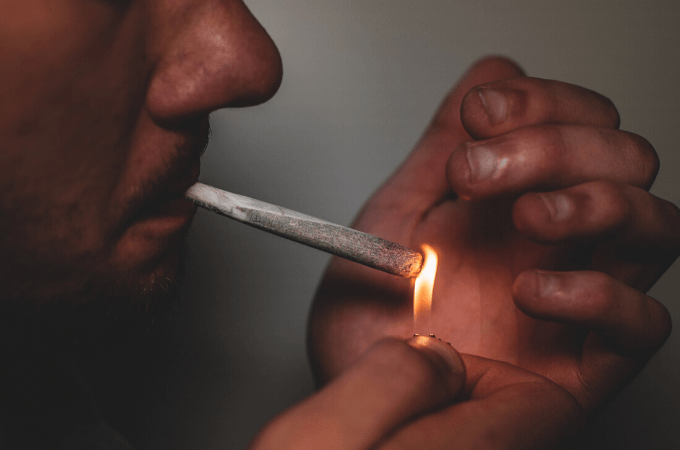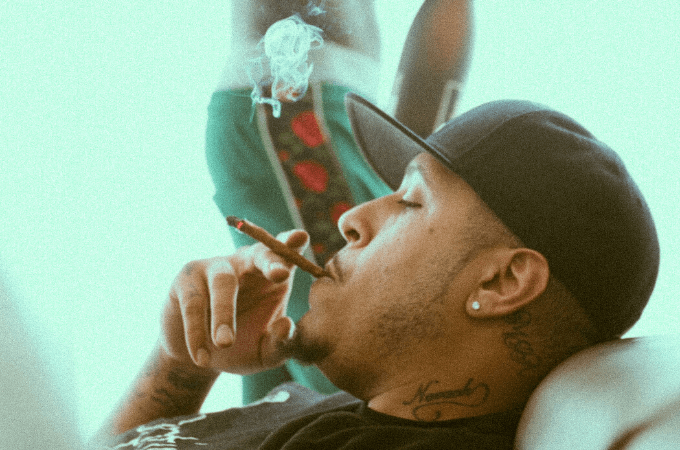 How Pre Rolled Joints Are Made
While you want to avoid dispensaries that fill their joints with trim and stems, the standard practice is to collect the shake from each cannabis jar at the end of the day. There's quite a bit, as the budtenders break off small nuggets of particular strains all day. The jars are always on the move, as well, being picked up, put down, open, and closed while filling orders. Many vendors also grind their own nuggets of cannabis to use in their pre-rolls.
The finely ground mixture goes into paper cones that are already rolled. Budtenders then use a machine to shake the cones. That settles the herb mix and gets rid of any air. After that, someone will tamp down the filling so that it's not packed too loosely, while also ensuring that it's not too tight. From that point, a twist of the end is all it takes to complete the pre-rolling process. The joints are then packaged or grouped accordingly.
It pays to ask around and pay attention to reviews as you browse for pre-rolled joints. Stick to reputable dispensaries and trusted brands. In the world of legal cannabis and medical marijuana, word of mouth is often the best advertisement. Talk to other enthusiasts, as well as a variety of budtenders.
Buy Pre Rolled Joints Online USA
Most frequent questions and answers