If you're a weed lover, you're probably familiar with the many benefits CBD can have on humans. But what you may not know is that CBD can also have many benefits for your furry friend, and there are many products on the CBD market that are marketed toward pets. However, not all CBD products for dogs are made equal, and not all are made without pesticides or additives.
If you've ever done a Google search looking for a CBD oil for your dog, you've probably found it to be an overwhelming process, especially if you're unfamiliar with the market. There are thousands of brands and products out there, so we've done our research and narrowed down a list of 7 CBD oils that we use with our own pets and recommend to any pet owner.
As with any supplement or new product, you should always consult with your veterinarian before giving your pet a new type of medicine, supplement, or even food. What's great about CBD oil is that it is not toxic and your pet will not overdose if you don't get the dose right the first time. However, too much may lead to lethargy until it's worked its way through their system.
HempBombs Pet CBD Oil 125mg
HempBombs is a popular name in the CBD world, so you can trust that their products for pets are just as high quality as their products for humans. Each bottle contains 125mg of lab-tested CBD oil blended specifically for pets with absolutely no THC. Customers use HempBombs Pet CBD Oil to help manage their pet's digestive health especially if they are prone to anxiety, plus relieve pain in arthritic animals and mitigate the symptoms of old age. With both chicken and beef flavors available, you won't have to worry about a bad taste preventing your pet from enjoying the benefits of CBD. Not sure how much to give your pet? Check with HempBombs dosing chart to figure out the perfect dose every time, or check our Hemp Bombs review to know more about the brand.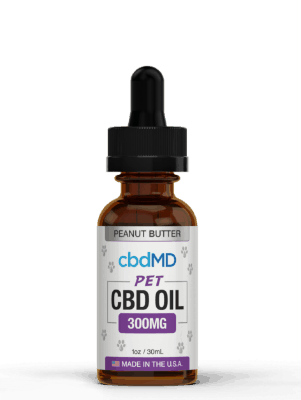 CBDMD OIL FOR DOGS
Different Sizes and Strenghts Available
If you want to ensure that your dog consumes the best CBD oil to treat anxiety or pain, CBDmd it's a very good choice.
We highly recommend it (and also consumer, you can check some CBDmd reviews to see it) because of its purity: the CBD is extracted by a method called "hybrid broad-spectrum" which preserves the cannabinoids, terpenes, amino acids, and essential oils of the plant. A plant which is Grade-A and has been grown 100% organic, with non-GMO, gluten-free and vegan.
This CBD Oil only contains CBD, MCT Oil (extracted from coconut oil) and, besides, it has a flavor that your pet will love: peanut butter!
CBDfx had been focused on creating the best and purest pet CBD tincture and they've just made it. This line of pet CBD products is made of CBD raw material with no toxins, pesticides or heavy metals, ensuring that your pet is safe when consuming it. As every CBDFx product, it's made using full spectrum CBD to avoid THC traces and assuring it's the highest quality product to provide pain and stress relief for your pet.
It's made for dogs, cats or any other pet, but if you have any doubt, you can read the lab report for each product (or even our CBDFx review). Each CBD Oil is intended for different breed sizes: the 150mg CBD Oil is for small breeds, the 300mg for medium breeds and the 600mg for large breeds.
This may not seem a CBD Oil and that's why it's pawsibly the perfect way to give your dog his/her CBD doses.
These CBD treats by CBDmd are made with its high-quality oil that we've just spoken about above (so it's ok to put this product on the list). This product is perfect for those who have difficulties to give the CBD Oil to their dogs. In comparison to the CBDmd Oil, it has only 3 strengths available 150mg, 300mg or 750mg of CBD, and they come in 2 bag sizes: one with 15 treats and the other one with 30.
And don't worry at all if your dog has an allergy, these CBD treats are made with no meat, corn or soy additives or poultry by-products, only natural ingredients are used to make this product for your furry friend.
Koi Naturals CBD Spray for Pets contains 500MG of Koi PRIZM© full spectrum, all-natural, GMO-free, THC-free CBD Pet Tincture in a 60ML spray bottle. All of Koi's products contain zero chemicals or pesticides, so you can rest assured knowing your pet's products are made with the same quality and care as yours. Order from Koi CBD and get free shipping on orders of $35 or more.
Canna-Pet ® – Advanced MaxHemp Liquid
CannaPet's Liquid MaxHemp is a highly concentrated, 100% organic whole plant CBD oil with 300 drops packed into each 10ml bottle. This blend is ideal for dogs and horses who deal with noise anxiety or pain and inflammation that comes with old age. It's recommended that the drops are placed directly into your pet's mouth under the tongue, but they can also be added to food.
For dogs under 20 pounds, the recommended dose is 2-3 drops, 3-4 times a day. For dogs over 20 pounds, 3-4 drops, 3-4 times per day is the recommended dose.
For horses, it's recommended to start with 15 drops, 3 times a day.
For cats, it's recommended to use the capsules as they do not usually like the taste of the oil.
The main difference is that liquid products are absorbed sublingually and metabolize more rapidly than capsules, which are absorbed through the stomach and take longer to kick in. The liquids are also nice if your animal has dietary restrictions or hasn't been eating and you're hoping to bring back their appetite.
Guaranteed Analysis
Crude Protein Minimum 1.0%
Crude Fat Minimum 15.0%
Crude Fiber Maximum 12.3%
Ash Maximum 3.3%
PurCBD+ PhytoCannaBinoiD Oil for Pets
Innovet's PurCBD+ oil for pets is a 100% organic hemp-based phytocannabinoid oil formulated specifically for dogs, cats, and horses. The cannabis used in PurCBD+ products is obtained via solvent-free CO2 extraction before it's third party tested to ensure quality, safety, and efficacy. Common uses for their oils include pain, inflammation, nausea and vomiting, anxiety, loss of appetite, and seizures.
In 2016, the owners of Innovet began researching CBD after their rescue bulldog, Gordo, was diagnosed with lymphoma and had a bad reaction to chemo treatments. In their quest for alternative care options, they decided to give CBD a try but sadly, Gordo passed away before their first bottle of oil arrived in the mail. They gave some of the oil to their other dog, Maximus, who had been fighting nasal cancer since 2012. Less than an hour after his first dose of CBD he was up walking around and exploring like he hadn't done in years. Read more of their inspiring story and why they trust CBD for their pets.
Honest Paws Purity Tinctures are all-natural, fast-acting, highly absorbable phytocannabinoid oils. They help to calm your pet's anxieties and phobias, mitigate seizures and spasms, relieve pain and inflammation, and improve their overall quality of life, especially as they get older. Their general dosing guidelines are as follows:
Purity Level 1 contains 125 mg of Cannabidiol, ideal for dogs that weigh up to 25 lbs.
Purity Level 2 contains 250 mg of Cannabidiol, ideal for dogs that weigh between 25-50 lbs.
Purity Level 3 contains 500 mg of Cannabidiol, ideal for dogs that weigh over 50 lbs.
The CBD Distillery believes that humans should not be the only ones reaping the many benefits of CBD. Their 150mg CBD pet tincture allows your pets to feel the same calm, relaxing relief that you've found in your own CBD products. They use 100% organic, all-natural, cold-pressed hemp seed to produce an oil blended specifically for the needs of cats, dogs, horses, and other furry friends. The cold-pressed extraction process allows for easy digestion, so it's great for pets dealing with a loss of appetite or nausea from illness or chemo treatments.
Source CBD's 200mg canine tincture is designed for small and medium-sized dogs who need relief from anxiety, pain, and the uncomfortable effects of aging. By infusing cannabidiol-rich industrial grade hemp oil with liquid coconut MCT oil, the result is 200mg of high-quality CBD tincture formulated specifically for your furry friend.
CBD Oil for Dogs: How it Works
While the research into the many different cannabinoids in the cannabis plant is still in its early stages, what we do know is that they interact with our body's endocannabinoid system, which all vertebrates, including mammals, have as part of their nervous system.
CBD interacts with the endocannabinoid system by either stimulating or modulating the signal of CB1 and CB2 receptors, which contribute to things like appetite, mood, hormones, responses to pain, and more. While THC interacts mostly with CB1 receptors which leads to the psychoactive effects of cannabis, CBD interacts more with CB2 receptors that help the body achieve and maintain a homeostatic state, which helps relieve pain and inflammation while decreasing anxiety and allowing a state of calm. This all leads to one chill (and happy) pup.
Benefits of Hemp Oil for Dogs
There are many reasons why pet owners may opt for CBD oil for their pets, whether it's for general wellness or to help with a specific condition. Whatever your reason, here are some of the conditions that CBD has been known to help with in animals:
Anxiety – Whether you're going on a long car ride or the fireworks are coming out, CBD oil can help calm your pets during stressful situations.
Appetite – If your pet has a condition that makes it difficult to eat or keep food down, CBD may help bring back their appetite by reducing nausea and vomiting.
Chronic Pain and Inflammation – CBD is popular among people suffering from arthritis as well as pet owners with arthritic animals. If your pet is in pain from a broken bone or other injury, CBD may help reduce the need for prescription painkillers.
Deteriorating Quality of Life – If you have an elderly pet, the calming and pain-relieving effects of CBD can help pets find peace and relaxation in their last days.
Seizures – CBD oil is rising in popularity among people who have epileptic seizures, and the same goes for pets.
What many people love the most about CBD, whether it's for pets or for humans, is that there are no known adverse side effects like that of many prescription drugs. If your pet relies on pain medication, you may find that CBD reduces the amount needed which can reduce the effects of the medication on their delicate organs.
How much CBD Oil should I give to my dog?
Dosing your pet's CBD oil can be a challenge if you're new to the products and don't know exactly where to start. Fortunately, most of these companies have a dosing chart available on their website or with their shipments so you can go off their direct recommendations.
Since there are no known drug interactions or toxic side effects, there is no risk of overdose with CBD. The worst that will happen if your dog has too much CBD is they will either feel more spry and limber than they've felt in years, or they'll fall into a belly-up deep sleep complete with snores and squirrel-chasing dreams. Still, if you worry you gave your pet too much CBD or that they are having a concerning reaction, you should get ahold of your vet right away.
Unfortunately, the research required to understand the correct dosage of CBD in pets has not been done, so you're likely going to have to go through some trial and error to figure out what works best. A dose that's too low will not have any noticeable effects but finding the right dose and giving it to your pet regularly will allow the cannabinoids to build up and provide longer lasting effects. Our recommendation is to start with the brand's dosing guide and monitor your pet's behavior to determine if the dose needs to be increased or lowered.
Is CBD Oil Safe For Dogs?
According to Dr. Gary Richter, owner and medical director of Montclair Veterinary Hospital in Oakland, California, life-threatening risks as a result of medical cannabis products are "exceedingly rare". In this interview with PetMD he adds that THC toxicity is the greatest risk, which just means they'll be really high for a few hours, or maybe a few days. The biggest concern would be if your dog ate a large amount of marijuana flower, which is why you should always keep your herb locked up.
If your dog consumes too much THC it might impair their ability to eat or stand up, but every product on this list contains less than 1% THC as per federal standards for CBD oil products. It's unlikely that your pet will have any adverse reaction to CBD products for pets, even if they consume too much, but if you suspect they are having a bad reaction, contact your vet immediately.
All in all, CBD oil is safe for dogs, and many would consider it safer than many prescription drugs that can wreak havoc on the liver or cause side effects that are worse than the targeted problem. As with any new medication or supplement, consult with your vet before trying a new product. We are confident you (and your furry friends) will love any of the brands on this list.