This week we are diving into another vaporizer. And this time it is the newer model of the DaVinci IQ, the DaVinci IQC. Between its clean technology, its app and precision heating system, this portable dry herb vaporizer allows you to smoke in confidence.
In the article below, we will be getting into the nitty gritty of this portable, clean first technology vaporizer.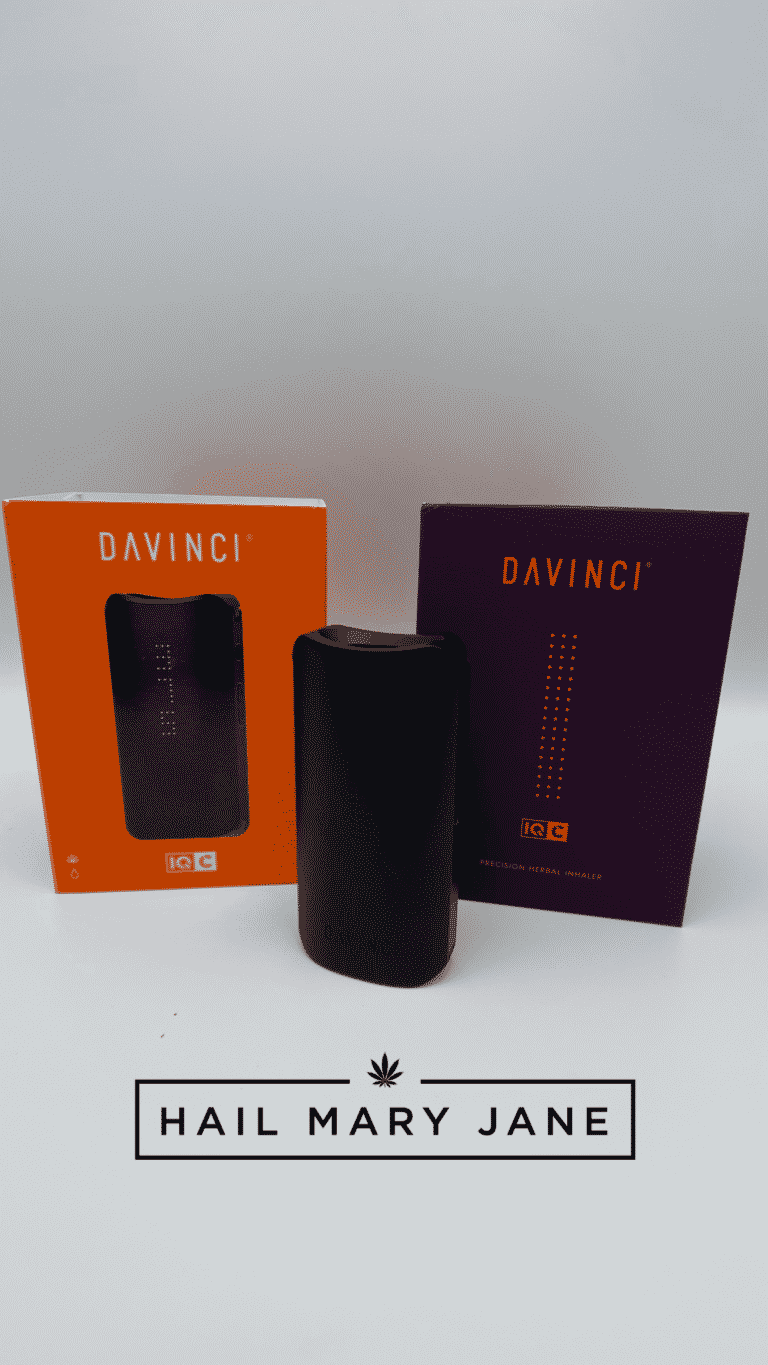 Davinci IQC
Portable Vaporizer
20% Off With HMJ20 Discount Code!

Precision Temperature to 430°F / 221°C

Removable 18650 Battery for up to 2 hour use
Cost: $229.00

Precision Temperature from 430 degrees Fahrenheit 

30 seconds to heat up

Removable 18650 Battery, lasts up to 2 hours 

Type C Charging

0.5g oven capacity for dry herbs 

Heavy metals tested 

LED Grid Communication plus Bluetooth 

Airtight Zirconia / Glass Vapor Path 

5 year Warranty
(1) DaVinci IQC

(1) 3 ft USB to Type C Cable 

(2) Stickers

(1) 10 mm Water Adapter

(1) Vaporizer User Manual

(1) Rechargeable Battery

(1) Pick Tool

(3) Alcohol Zipes

(1) Brush Tool
Please note that the Dry Herb Extract Kit is sold separately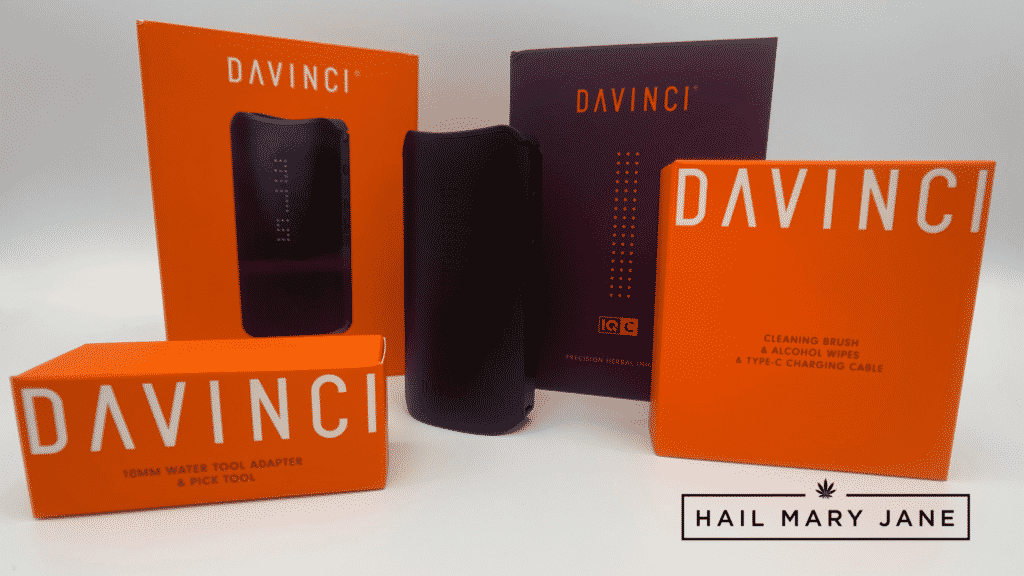 What's It Like Out Of The Box?
They have really branded this device nicely as it feels like luxury from the moment you start opening up the package.
The vinyl box gives you the impression that they mean business and once inside, you are able to see a sleek design with a matte finish that comes in red, green, blue and black. It looks great, feels good in the hand and is easy to load by just flipping it upside down and opening the bottom.
How Does The DaVinci IQC Work?
Start by turning on the device by pushing the control button five times. After it starts up, you will start to get haptic feedback and the device will be in the smartpath mode. This is the feature DaVinci has created by increasing the temperature slowly over the initial 8 minutes as your session goes on.
With this comes different levels that all have different temperature ranges. It offers the Flavor level, which is the lowest heat and goes up each level after. The other levels are Mind, Body, and Rest. Rest being the hottest level of them all.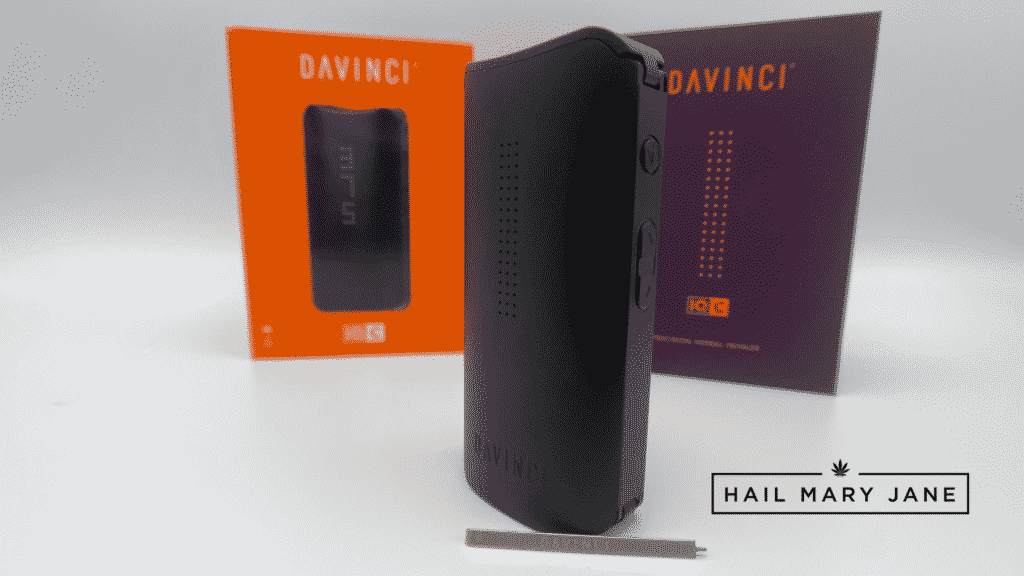 How To Be Precise With Your Temperature?
To be more precise with the temperature on this portable herb vaporizer, click the control button one more time and it will take you over to the precise mode. This will allow you to use the up and down buttons to adjust the temperature.
Can It Only Be Used With Flower?
A lot of people will choose to only use this device with flower but you are able to use it with concentrates if you decide to purchase the kit separately. It honestly might be nice to have on hand for whenever you're with someone who wants to try something different.
What Is The App All About?
DaVinci has created a web-based app that allows you to control your device from your phone. They are going to be rolling out more features for this but right now, you can do things like precision temperature mode, custom smart paths, stealth mode and more. Check out their website for more detailed instructions!
We think it is a pretty convenient feature to have and just goes to show that DaVinci is only going to continue to create more products that make having a smoke be easy and enjoyable.
We loved that this clean first technology device has a glass-lined ceramic heating oven that allows for the device to be in a + or – 1 degree temperature accuracy. This immediately gives you confidence that you have control over the quality of your smoke. 
It also gave us peace of mind knowing that their sealed zirconia/ glass vapor path does not have any metals or plastics used. This helps us to know that the vapor path is pure. 
Okay and did you know that you can charge your phone with the device? We don't know about you but it's easy to forget to charge your phone before going out so it is a awesome feature to be able to charge whenever you might get into a bind. 
Other key features that we loved were the share safe mouthpiece and the smart path heating modes.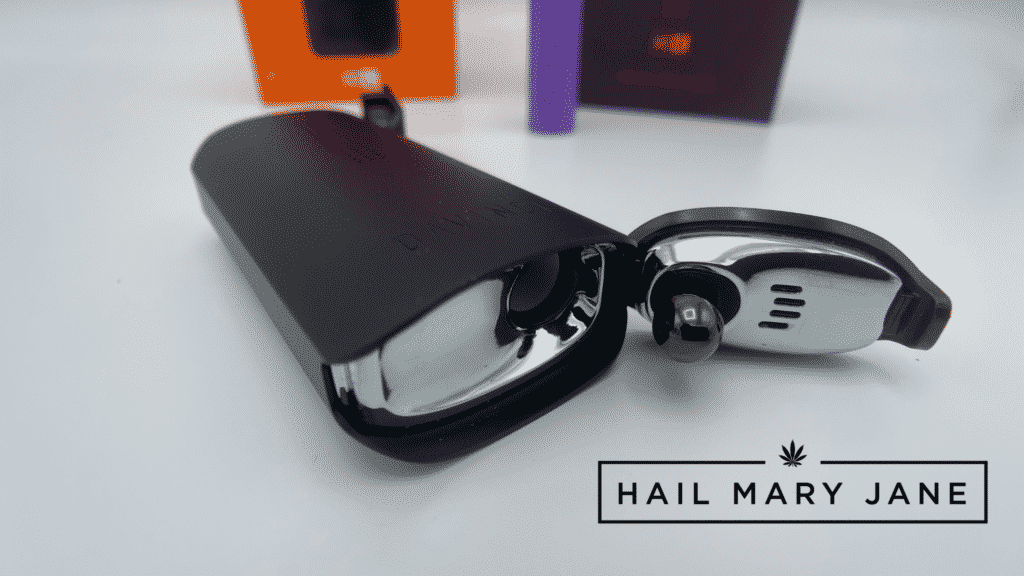 We were disappointed to find that this portable herb vaporizer doesn't have the adjustable airflow features like the IQ2 and that it only has the 5 year warranty when other devices have a 10 year warranty. But those really aren't make or break items for us. 
What's The Warranty Like?
DaVinci Tech covers the device "against defects in materials and workmanship under normal use." The 5 years that it covers starts the day you buy it from an authorized retailer. And just so you are aware, it is only covered by the original owner and cannot be transferred to someone else.
Also, make sure you hold on to that receipt so that you can use it to register the device. For all the little details on the warranty and product registration, make sure to check out their warranty page on their website.
Overall, the we think this is a solid option when it comes to portable dry herb vaporizers. It has high tech capabilities with its app and also the ability to charge your phone from it is a huge win for us too.
But probably the two most important aspects for us were the control we have when setting a temperature for our flower and knowing that the vaporizer has been tested for heavy metals. Those two things really brought things to the next level.