If you didn't know by now…CBD has a number of health benefits, including those that can rejuvenate your skin. Even specific effects that are beneficial for women's health. Recently, CBD skin care goods have been spotted not only on many brand's websites but even at high-end retailers, too. Here, we'll answer all of your questions on women's health, skincare, pregnancy, and breastfeeding. Like, Is CBD oil safe during pregnancy? Or, is CBD oil and breastfeeding ok? Keep reading for these answers and more.
How Does CBD Help Skincare?
Whether ingesting CBD oil or using a CBD topical or skincare product, the cannabinoid can provide natural benefits for your skin. Especially tackling troubles like acne or blemishes and signs of aging that can be difficult to combat. But how does it work? Let's refresh ourselves on how CBD works internally and externally to provide its effects.
CBD is a cannabinoid that interacts with the body's endocannabinoid system to offset its benefits. The cannabinoid attaches, binds, and inhibits a number of receptors that influence varying functions. For CBD and skincare, the most notable effects are on our system's glands, free-radicals, and being anti-inflammatory in general. Besides, further research is showing that CBD is antimicrobial and antioxidant, which is helpful for many common skin irritations or issues.
Benefits And Side Effects Of CBD Skincare
From these actions and functions of CBD, the cannabinoid delivers a few specific benefits and side effects that are rejuvenating in nature. Here's a quick breakdown of how CBD can enhance your skincare routines.
Signs of aging like fine lines, dark spots, and wrinkles, are often caused by free radicals buildup in our system. These free radicals can come from environmental factors like the sun, pesticides, smoking, or radiation. Over time, the cells cause our skin's collagen and elastin to break down. Hence, the appearance of these pesky problems as we age.
Studies are now showing that CBD can reduce free radicals and the oxidative stress they can cause to our internal systems. A few other significant ways that experts are noting CBD can help reduce the signs of aging include –
At any age, acne and blemishes can wreak havoc on a person's skin. Especially women. Conditions like psoriasis, eczema, and rosacea cause redness, bumps, and rashes to appear on the skin's exterior and have few actual treatments that combat the irritations. But recently, experts have been further exploring how CBD's natural healing effects may help. Here's a quick review of what they've found so far –
CBD During Pregnancy And Breastfeeding
With so much discussion on specific benefits for women and skincare, it's no surprise we're onto the topic of CBD oil and pregnancy. CBD during pregnancy is a well-debated topic, so we're diving in deep to find the answers. Especially to the question – is CBD oil safe during pregnancy? Let's start from the beginning and find out why pregnant women are turning to CBD and whether it's truly safe.
CBD During Pregnancy: Why Are Pregnant Women Using It?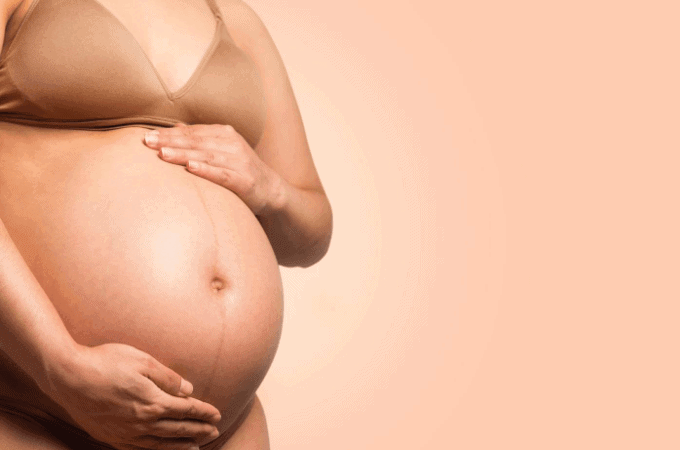 During pregnancy, a woman's body goes through several uncomfortable changes, to say the least. CBD's natural health benefits are known to alleviate many common side effects, like nausea, inflammation, and balancing moods. So, it's only 'natural' that many expecting mothers are turning to CBD as an alternative method to heal and feel more comfortable during the long nine months of childbearing.
Is CBD Safe During Pregnancy?
Even though many soon-to-be moms are self-medicating or self-exploring with CBD, it doesn't mean it's been 100% deemed safe. Currently, the FDA and The American College of Obstetricians and Gynecologists (ACOG) say no, and discourage the use of CBD oil during pregnancy. This advice, of course, comes without the lack of research to back it up. Currently, CBD is in its infancy of research overall, due to years of being prohibited. As actual studies catch up, we haven't quite reached the stage of expert review on CBD and specific factors like pregnancy and long-term effects on children.
What Do The Experts Say About CBD Oil During Pregnancy?
One of the most common reasons that experts cite CBD oil might not be safe during pregnancy is the lack of long-term research and the confusing regulations on the quality of many CBD products. Meaning, some could contain harmful ingredients from the processes used while in production. Certain moms are noting their doctors didn't have an issue with their CBD use, due to needing to find a solution to common pregnancy issues. In addition, to comparing the natural plant compound to prescribed medications, CBD's side effects or harm can be far less, too.
Then, can pregnant women have CBD?
Like many things during pregnancy… Taking CBD while pregnant is a choice that each woman can make on their own, once they've reviewed the actually available insight. It's hard to answer 'yes' or 'no' to a question with no actual scientific evidence that it is safe or unsafe. Once you do begin researching the topic further, you'll find that the amount of women who have used CBD safely during pregnancy is overwhelming. If you choose to use CBD while pregnant, using a safe and trusted brand with third-party verified lab reports is vital. Also, avoiding full-spectrum products containing THC would be advisable per the FDA's verbiage on the topic.
After a woman's pregnancy… Typically comes breastfeeding the baby. CBD oil and breastfeeding is a confusing topic, that is also highly-debated amongst experts and users alike. But many of CBD's benefits can be helpful for postpartum problems. Like pain, insomnia, and depressive symptoms. So, like CBD oil and pregnancy, we went in-depth into the topic to see – is CBD safe while breastfeeding? That question is up first.
Is CBD Oil Safe While Breastfeeding?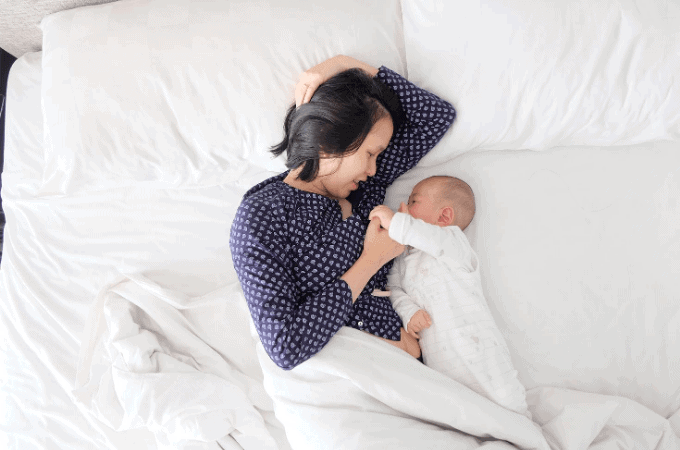 Because some research has shown that THC and chemicals from marijuana can be passed through breastmilk, experts are now heeding caution for using CBD. Because there are no direct studies on using the cannabinoid during breastfeeding, it's hard to cite whether using CBD oil during breastfeeding is safe, or not. When Parents Magazine asked one doctor, Felice Gersh, M.D., a board-certified obstetrician, and gynecologist, she had this to say, "Unfortunately, there is no safety data to allow a doctor to recommend the use of cannabis or CBD."
CBD And Breastfeeding: The Risks
Until more research is done, the risks of CBD and breastfeeding are speculative. Most sources refer to studies conducted on THC as reasons to avoid using CBD while breastfeeding. Although we all know THC and CBD work differently when consumed internally. Regardless, the FDA notes that CBD products could potentially contain 'other contaminants (e.g., pesticides, heavy metals, bacteria, and fungus)' as another reason to avoid use during breastfeeding. With that said, many brands in the CBD industry today, verify through rigorous testing that their products are free of these materials.
What Science Says About CBD And Breastfeeding?
Unfortunately, science isn't able to verify much on the topic of CBD and breastfeeding, as experts are still trying to investigate the exact internal connections. We do know that endocannabinoids are present in breastmilk, but to what effect is unclear. There is no direct evidence that if CBD can be passed to a child through breast milk, it would actually be harmful to the baby's development. In many cases, CBD is used and prescribed to children under 18 who suffer from severe epileptic seizures and other disorders. Of course, this is another side of CBD and breastfeeding that needs to be investigated further by the science community.
Alternatives To CBD While Breastfeeding
So, if you're breastfeeding and feel wary of the unknowns involved with using CBD…but, are seeking a natural form of healing for typical postpartum issues, what can you turn to? Luckily, there are a few alternatives to CBD that you can use to relieve stress, pain, and trouble sleeping. Including a few CBD products that you don't have to consume to enjoy. CBD bath bombs, balms, or salves can ease tension without entering your system. Others recommend an improved diet with nutrient-rich foods and exercise as a natural stimulant for the mood of newtime mothers.
Is CBD Skincare Worth It?
While there's little research on CBD skincare during pregnancy and on if CBD oil is safe during breastfeeding, we do know one thing. CBD skincare is definitely worth it when you're not pregnant or breastfeeding a child. Beyond that, results are still inconclusive for women during and after child-bearing. But even in widely published sources, many experts say using CBD may 'not be a problem' at all.
As we wait for studies to catch up on short-term, long-term, and safety effects of CBD, we can remain confident in the information science has uncovered for the cannabinoid and skincare routines. We know from that research that CBD can improve a number of common skin conditions that plague women of all ages.