The chances of actually sitting down and smoking with rapper Wiz Khalifa are slim to none but what you can do is smoke like Wiz.
Right now, one of the hottest commodities is the Stündenglass Gravity Hookah V2 and that might be due to Wiz's love for it too. But we can't give all the credit to Wiz, Seth Rogan was actually the first celebrity to send sales of this gravity bong through the roof. Keep reading to get an honest review of the Stundenglass Gravity Hookah V2.
What Can You Use It For?

Is There A Warranty?

Is the $600 Hookah Worth The Hype?
No Contact Smoking System

360 Degree Rotation

Percolated Water Filtration

Interchangeable Mouthpieces

14mm Adapter Capabilities 

Glass Globes Can Be Removed and They Are Dishwasher Safe

Capable of Hookah, Concentrates, and Dry Herbs 
Reusable Craft Box With Handle

1 Aluminum and Glass Hookah

2 Glass Globes

1 Male to Male Hookah Bowl Adapter 

1 Hookah Wand

1 Hookah Bowl

1 X3 Foot Hose

1 Flower Bowl

1 Coal Tray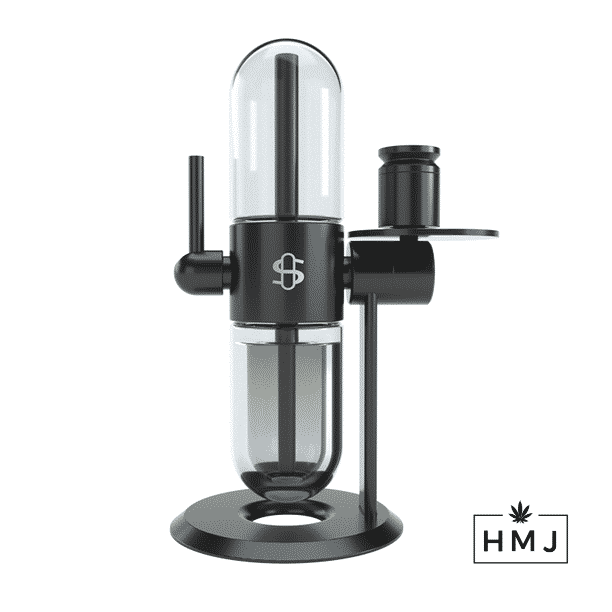 Gravity bongs and hookah's are a favorite to many because they make it easy to continuously smoke by creating a constant flow of smoke through the 360 degree rotation. This happens through the use of water and kinetic energy. And of course, making sure the coals are staying hot while in use.
This is not your average gravity bong so therefore, you may or may not have to do a little Youtube research when setting this equipment up. But once you have it together, it is pretty easy to use. 
How Does the Stündenglass Gravity Bong Work?
After putting it together, start by simply filling up the globe with water and pack the bowl after grinding up your dry herbs. After this, get your coals on the bowl and prime it. To prime it, you will want to rotate the machine a few times to get things going. You will want to let the bowl cool before use.
How Does the Hose Attach and Work?
The wand of the hookah will need to be attached to the glass mouthpiece and then you will want to attach it to the hose. The male to male adapter is going to want to be placed on the mouthpiece and then finally, you will need to connect the hose to the adapter. To fill the globes with smoke, you should start to rotate the machine.
How to Clean the Stüdenglass Gravity Hookah V2?
Although the glass globes are dishwasher safe, you can also clean the glass by emptying the water and then adding isopropyl alcohol to the globe. Once the isopropyl alcohol is added, rotate the device a couple of times and empty it. All parts of the Stündenglass can be removed and soaked in isopropyl alcohol to thoroughly clean it.
What Is The Contactless Smoking System?
These days, most people do not want to share germs. So smoking off of the same bong or hookah wand is not ideal for most people anymore. The system that Stündenglass created allows for the smoke to be inhaled without having to put your mouth on the device at all.
You can use it for hookah, concentrates and flower… and even dabbing. In addition to these, a feature that we think is pretty cool is the ability to use your Stündenglass to infuse your food and drinks too. They sell different aromas of wood chips for smoking your cheese, meat, cocktails, vegetables – really anything that you would want smoked. And they have a variety of flavors from apple to pecan to mesquite to alder and more. 
To smoke, add the wood chips, start it up and start turning it to get the infusing going. For beverages, they have a glass cloche that helps with the infusing. For food, you will want to use the plate cloche.
Luckily, with the price tag comes a great warranty life span of 10 years. You will need to register your bong on their website for it to be covered.
Is this $600 Hookah Worth The Hype?
If you are a person who loves versatility in your appliances at home then the Stündenglass Gravity Hookah V2 is going to be great for you. Its sleek design and modern look will not be an eyesore no matter where you decide to put it in your house.
It's also great because they have so many products that you can buy additionally that allow you to customize it to your own liking. Some of these items include different colors of glass globes and hose clips, patterned iDab glass hookah hose tips, wall mounts, and more. But if you are just looking to use this product for only one of its functions then the price tag might not be worth it for you.
After reviewing this product, we think it's pretty dope… I, mean, there's gotta be a reason why celebrities like Wiz Khalifa and Seth Rogan are such loyal fans. You just have to decide if it's the right addition for you.
And as always, if you decide to go ahead and purchase one, let us know in the comments what you think!