As cannabis slowly approaches full re-legalization, more and more glass blowers keep popping up, but how many of them will actually teach you how to make your own glass pipe? Luckily, I came across one such glass blower, at the Gypsy Jane Festival, who not only sells a variety of different artistic glass creations, but he'll also teach you how to make them yourself. In fact, he sent me a couple glass nug jars so I could show you the type of quality to expect from C&H Glassworks, which is based in Lakewood, Colorado.
WHAT TYPE OF CLASSES DO THEY OFFER?
But before I get into the glass pipe lessons, I want you to realize that there is more to C&H Glassworks than just a bunch of stoners making pipes, so they can get even more stoned.
You see, they'll open up their studio and let people come check it out, as well as set up events like the one they're hosting on December 6th & 7th, where you can actually make your own glass ornaments for the approaching holiday season. And hey, $30 to make your own, unique glass piece in 15 minutes to hang on your tree is actually a pretty good, seeing as how there are memories linked to, and meaning behind, the ornament you create.
And, if you want to shell out $45, they also have 30-minute classes where you can learn the basics of literally blowing glass, the old school way! I'm not sure what exactly you'll be making during this class, but you'll have a professional glass blower right by your side, working with you 1 on 1, so that your piece comes out as good as it possibly can, while you learn the ropes.
But, if you want more than just an introduction to glass blowing and can afford to pay $210, you can get 3 hours of a hands-on, 1-on-1 learning experience to teach you not only the basics of glass blowing, but you'll also have plenty of time to really map out and push your imagination with your newly-learned skills.
Heck, if you already know what you're doing, you can actually rent their glass studio, at $35/hr, and work on some glass pieces at your own pace. How many places do you know that will do that!?
But let's get into what you really came here for…
LEARN HOW TO MAKE A GLASS PIPE FROM A PRO
Now, this class is also a 3 hour, 1-on-1 lesson, so you're looking at a $210 price tag, but the focus of this class is going to be only on the creation of glass pipes. And, given the cost of a lot of the glass pieces I've bought over the years, that's not a bad price, since you're going to learn a new skill, create the type of pipe you want, and actually get to take it home and smoke out of it!
Sure, you'll still have to learn about how to use a torch, shop safety, what supplies you'll need, and how to set up your workplace, but you'll also get to see a few demonstrations on different glass pipes, before you even get started. All of these different classes can be scheduled and purchased through THIS PAGE, but do these guys even know what they're talking about? I mean, I haven't showed you any of their work yet, so how can I expect you to shell out a bunch of money for these lessons, without showing you some of the end products?
CHECK OUT THESE STASH JARS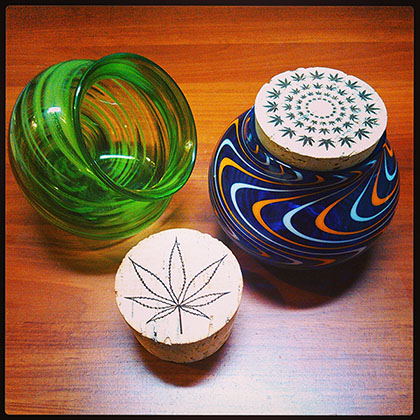 Corey Silverman, the "C" in C&H Glassworks, was kind enough to send me a couple of the glass stash jars, which were made for the festival we met at, and they're actually pretty nice. They both appear to be blown glass, as you can see in the image below, and would hold around the same amount of herb (probably about little more than a half ounce), but the green jar has a nice tilt to it, which might make it easier to grab a few nugs out of it. They also have fatty corks, to help seal in the dankness, and are etched by the artist on the bottom.
The blue, white, and orange jar is close to 4 inches in diameter, at its widest point, with a 2 and 5/16″ diameter opening. It's about 3 inches deep, and it appears that it would keep enough light out of your jar to keep your cannabinoids from degrading. I kind of like how you can feel the ridges of the different colors of glass on the outside, but I'm not sure how I feel about the $75 price tag. Sure, that's probably a reflection on the time put into the piece and the materials needed to create it, but I'd be more likely to shell out some cash for the other nug jar, since it's priced a lot lower. Call me cheap if you like since, as you can see at their store, they really create some high-quality art when they're in the studio, but let's move onto the next jar.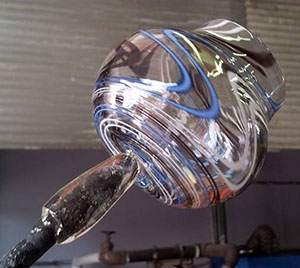 The green, white, and glittery green jar with a tilt, is also about 4 inches in diameter, at its widest point, with the same size opening, but it has more of a flare to it, which might make it easier to get your hand in there. And this jar is slightly deeper, if you measure at an angle from the opening, diagonally to the back, but it doesn't block out quite as much light. Now, you're probably only going to use this jar for herb that you plan on smoking soon, so it might not be that much of an issue, but I do prefer the tilt design a little better, for dispensing purposes. And guess what else I like? That it only costs $40!
If you're going to spend close to $100 on some good greenery, what's another $40 to encase it in some crafty glass? These stash jars come in a variety of colors, which cause the price to fluctuate, and you have three options for your cork: plain, or laser etched with a single pot leaf, or a ring of pot leaves.
Sure, you can go to C&H Glassworks to purchase a variety of different glass creations, but when they're opening up their studio to you, and are willing to teach you their craft, why wouldn't you take advantage of that?