Portlands Best Dispensaries
Lovers of the ol' ganja will be in a heaven in Portland. Coming from Denver, CO, I'm familiar with what a saturated market looks like – Denver feels like there's a dispensary on every corner. But Portland is another thing entirely. There, it's more like one on every corner and a couple sprinkled down the block in between.
But variety is just the start of it. Oregon also has really friggin' good weed. Oregonian budtenders will wax poetic about living soil and finding the right balance of natural microorganisms to boost yields and preserve terpene profiles. Some of the methods we heard about might even cross over a little into the woo-woo, but personally I love the idea of growing weed with crystals in the soil alongside the roots.
So naturally, when a colleague and I found ourselves with a day to kill in Portland before a conference, we decided to spend it bouncing from one dispensary to the next in an unscientific but very entertaining day of "research."
There's something really charming about old buildings from way, way back in the day being repurposed into dispensaries. Built in 1913 and listed on the National Registry of Historic Places, Cannabliss & Co's Fire Station 23 feels a little bit like a museum that also happens to carry fire flower. The brick façade and massive doors give way to a reception area anchored by an expansive oak desk. A glass case in the corner holds historic memorabilia. A fire extinguisher in what looks like a Campbell's soup can? Check. A grapefruit sized grenade, pin still in place? Check.  The marketing team works out of the upstairs office and could realistically slide down a pole rather than use the stairs to go on a coffee run. It doesn't really get any better than that.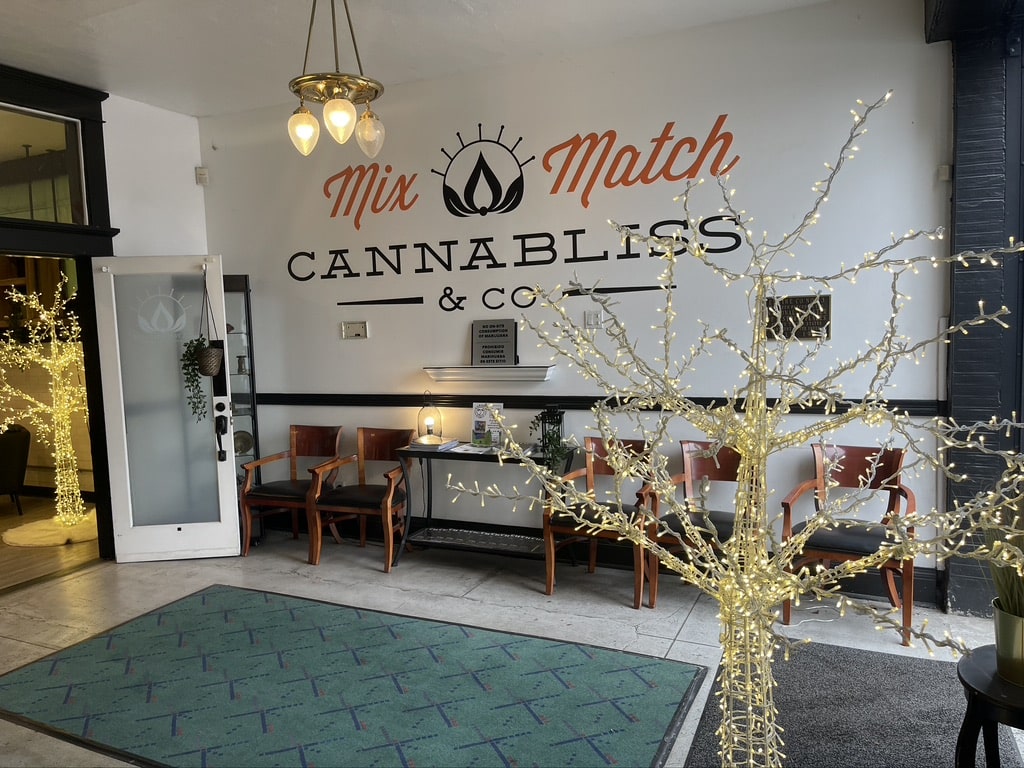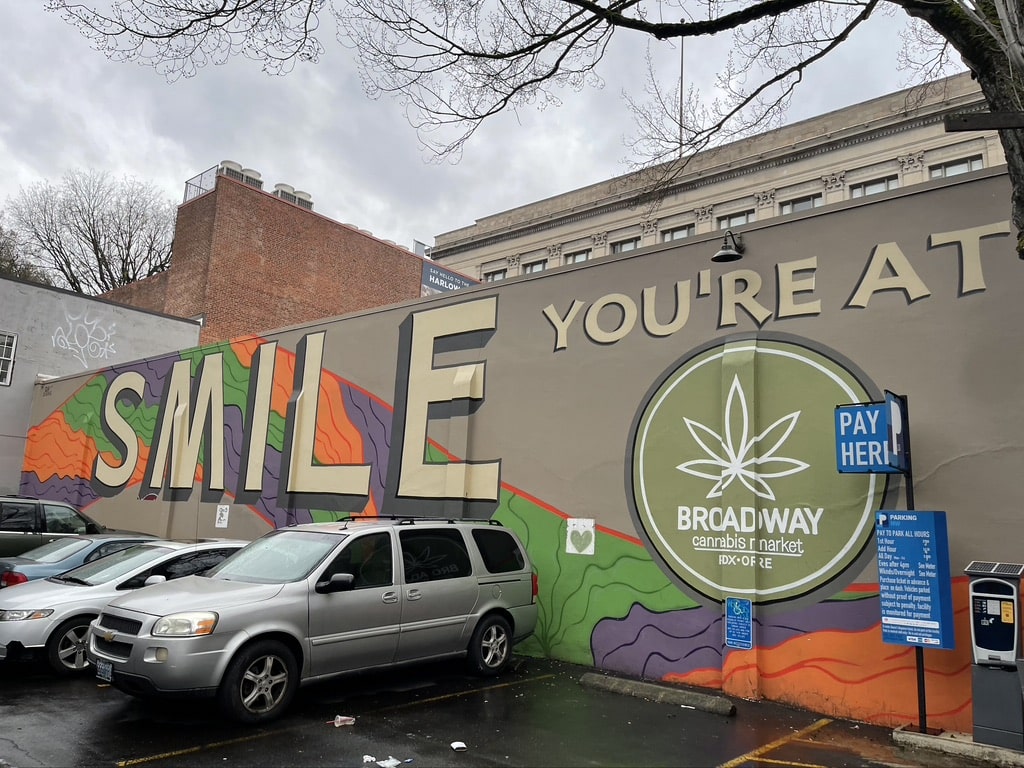 With its entire south-facing brick façade covered with a purple, green and orange SMILE mural and a dedicated parking lot in Portland's downtown corridor, Broadway Cannabis in the Pearl District near downtown looks from the outside to be anything but a budget option, but that's by design. Founded with the vision of creating a dispensary that offers "premium without the price," Broadway had some of the best deals we've seen, not just in the state, but maybe in the entire country. They had – are you ready for this – a $30 ounce. Now, now, I know what you're thinking. This was not the schwiggety schwag, brick dirt weed those of us who came of age in the 90s/early 2000s might remember. Bruce Banner, which the store had on special the day we visited, a sativa leaning hybrid mix of OG Kush and Strawberry Deisel, is nothing to scoff at.  The selection changes daily and if you want this smokin' hot deal, get there early. With prices this good, the product goes quickly. The brand has another location in Beaverton and new stores in the works.
I first visited Jayne several years ago on a trip to Portland and was immediately struck by the thoughtful interior design. The interior features slate blue and turquoise wallpaper overlaid with an oversized cream fleur de lis design. Hefty "joints" of white tissue paper and bright green moss dangling in a tiny alcove. Giant leather bound menus that make you feel like you're flipping through a book of potions. It's bougie, feminine and thoughtful, while still remaining competitive in pricing. But their merch. First off, I'm not sure if it's the fact that they've built a really strong brand or that this dispensary has their merch game locked down, but I see the Jayne logo everywhere: on a beanie at an industrial dispensary in LA, a sticker on a cooler while tailgating at Red Rocks, or a hat on a guy in Antigua, Guatemala at a BBQ restaurant. This is a brand that travels. But my all-time favorite pickup was a gorgeous graphic art smell-proof pouch an employee designed. Lined in pink satin, it's beautiful, practical and perfectly captures the brand that Jayne PDX has built.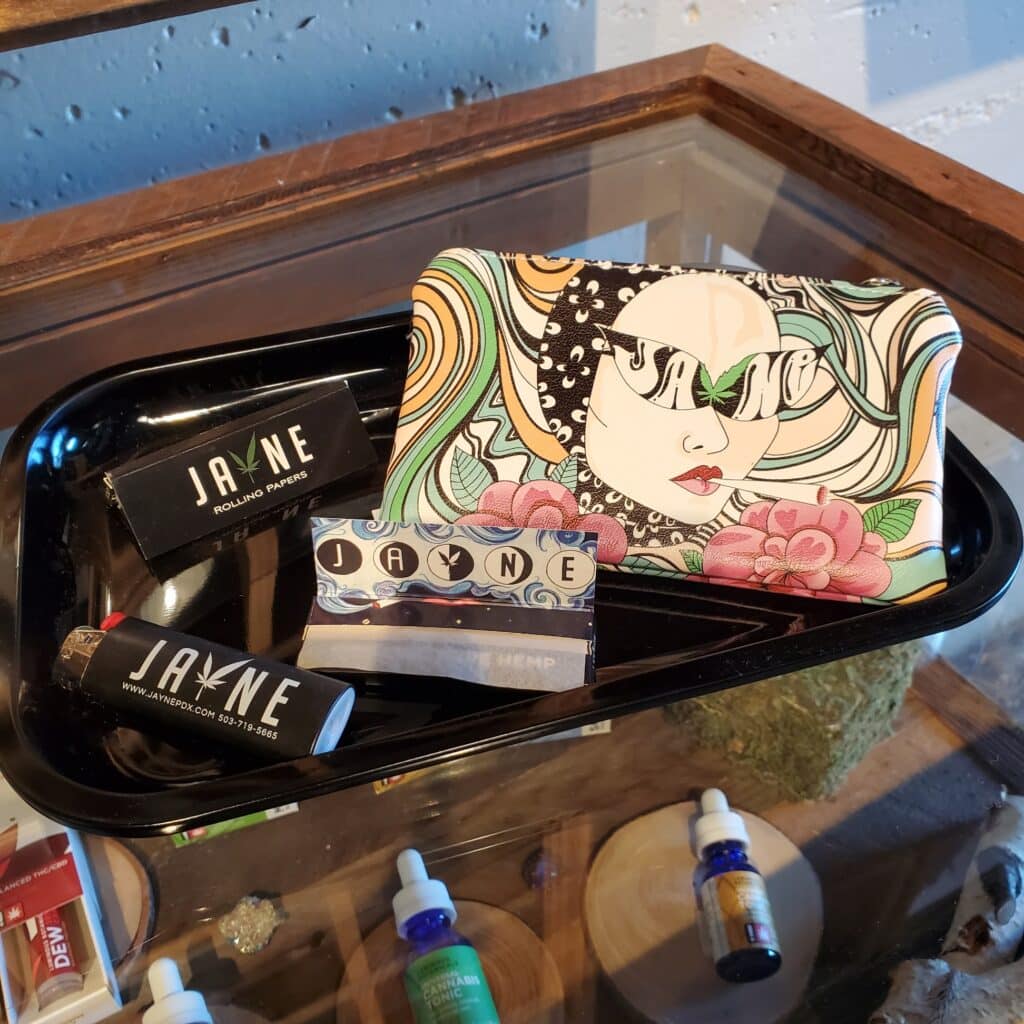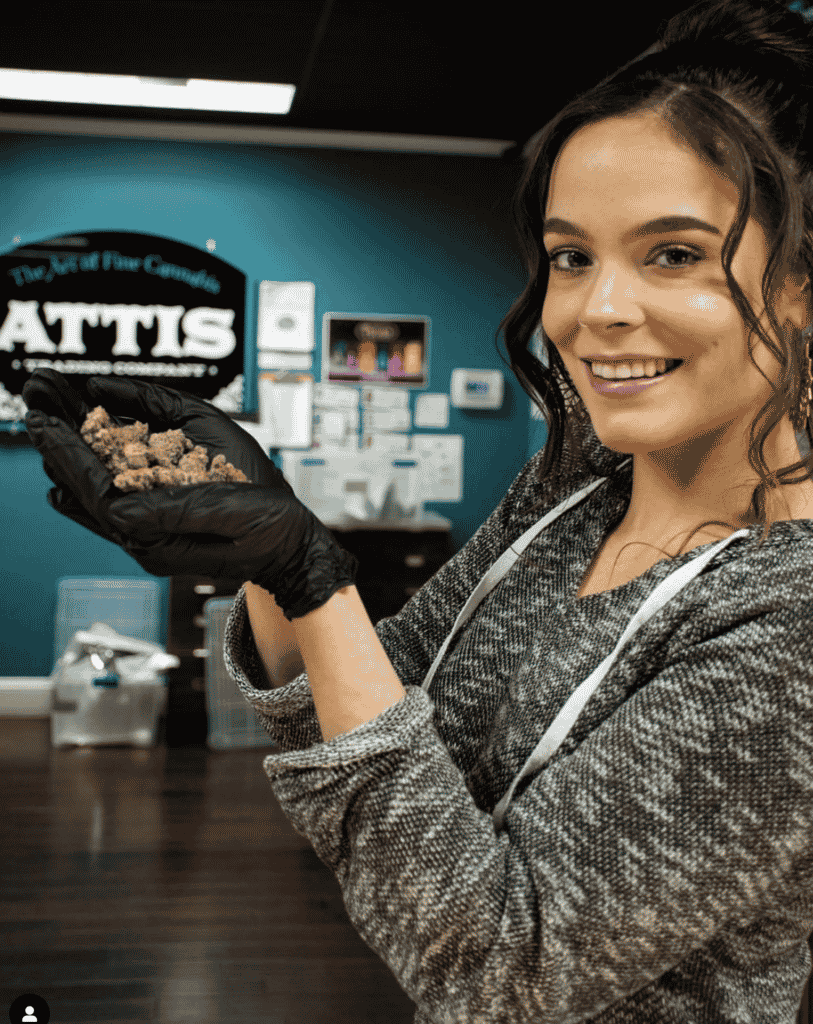 Stepping into Attis Trading Company's Gladstone location feels a little like coming home. It's not necessarily a tangible thing – it's really more just a feeling. Warm and cozy and 100% authentic because the budtenders – and the space – cultivate an environment of familiarity. Eli Bilton, the brand's founder, has two and a half decades of experience in the space, having learned from California's cannabis OGs at Harborside. Training and education are foundational pieces of the brand's promise, so he makes sure that the chain's budtenders understand the process in its entirety, from the fact that their growers opt to incorporate indigenous microorganisms over synthetic nutrients, to the unique terpene profile of their Banana Puddington strain. Oregon may be the absolute definition of a mature market, but Attis has had some budtenders since the brand opened its doors in 2015. But don't just take our word for it. The Dope Cup by High Times bestowed the award for Best Budtender on Attis back in 2019.
Bridge City Collective Serves up some of Portland's best flower in a totally unpretentious, streamlined environment that appeals to everyone. Both the canna-curious and the grizzled old-timer can appreciate the quality that the brand's grow, Panda Farms, puts out. Most of their growers have been at it their entire professional careers – growing weed has literally been the only job they've ever held. Between the three co-founders, they've got four decades of growing experience and place a huge priority on efficient systems. Their grow lights use half the industry standard LEDs. But what really makes them stand out is their genetics. They've got two incredible phenotypes of Working From Home – one a vibrant purple that smells vaguely like burnt apples; the other almost a technicolor green that evokes fall and apple cider. But you won't find just Panda Farms' flower in the Bridge City's two Portland locations, but also some of the best organically grown, small-batch flower in the state. Whether you're looking for Focus North's Fatso, Deep Creek's Megafauna, Eastwood's Elephant Ears, or Fox Hollow's Violet Fog, Bridge City Collective will have something to suit your fancy.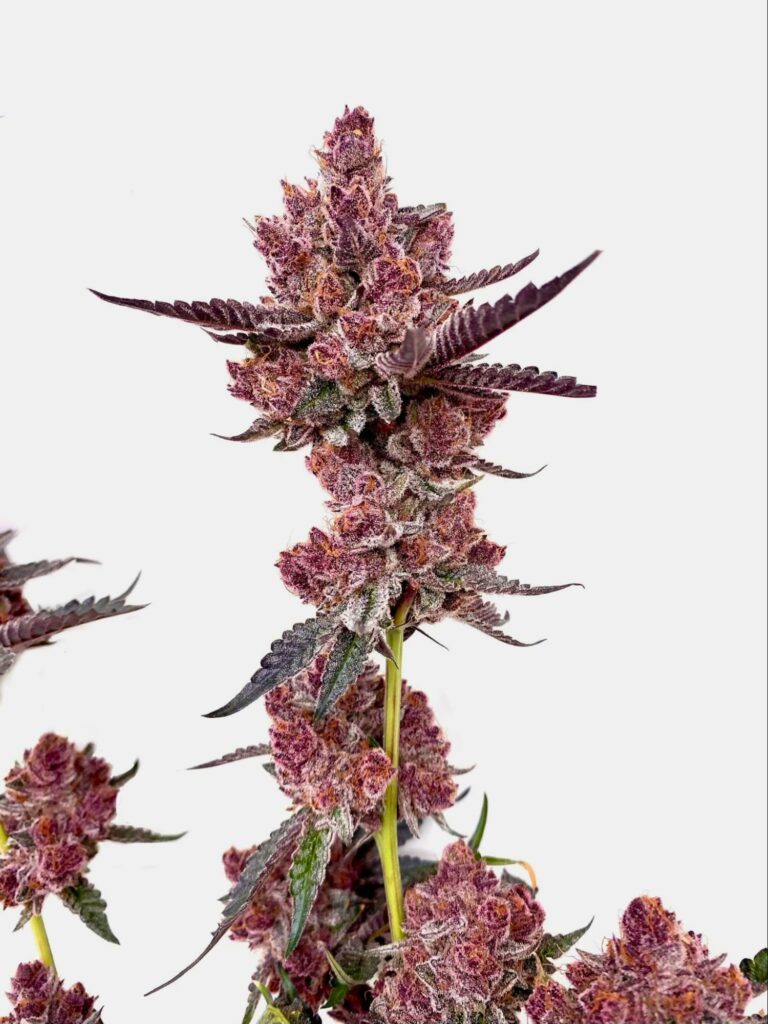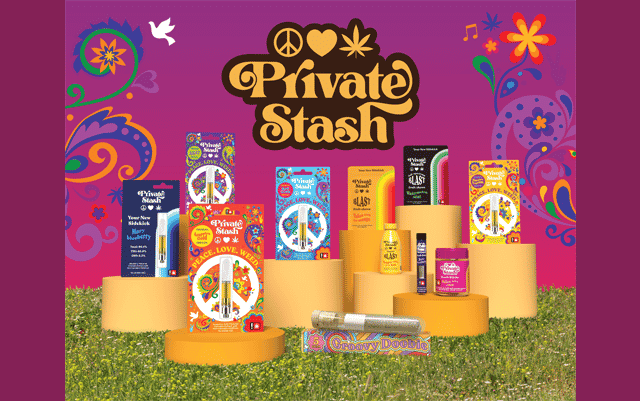 My favorite movie growing up, other than The Princess Bride, was none other than Willy Wonka's Chocolate Factory (the flawless original, not the over-hyped Johnny Depp remake). So, when I stepped into Chalice Farms' Airport location and saw the Elysian Fields promotion that would grant several lucky golden ticket winners and their friends a personal tour of Bald Peak Farms' grow operation…to say I was charmed is an understatement.
But the Private Stash line is what really sold me. Loaded with a variety of products designed to recall 1969 and the Summer of Love, Private Stash leans in on nostalgia, and it works. From a five-gram joint aptly named, "Ruby Doobie," to the brand's brightly colored, psychedelic packaging, Private Stash aims to normalize the plant we all love. Your parents' grandparents' smoked weed after all, what's the problem?
During our time in Portland, we saw dispensaries with relatively small, curated selections designed appeal to a very specific customer demographic and stores that could legit qualify as superstores. Kaleafa struck the right balance.  The brand, which recently announced a collaboration with Wiz Khalifa – because really, why wouldn't you – in particular stood out for their concentrate selection. It was truly out of this world. While most Portland dispensaries we visited might carry a few dozen concentrates, Kaleafa's Woodstock location had 160 in stock. Ranging in price from $10/gram all the way up to live hash rosins at $90/gram, there really was something to suit all tastes, preferences and price points. They had a huge selection of local favorites: Dr. Jolly's dabs, Sugar Bud shatter and Faded sugar wax. Stop in one of the brand's seven locations around the metro Portland area and see for yourself.