Blue Cookies Weed Strain: Effects, Reviews, & More
You're a bonafide blueberry lover… blueberry pie… blueberry crumble… blueberry tea… and maybe even blueberry-flavored weed?
Whaaaaaaaat?!
That's right! Blue Cookies strain is the blueberry-flavored bud you do not want to miss out on.
Follow along as we take you on a flavor-filled journey to discover everything there is to know about this delightful strain and why it needs to be added to your 'must try' list today!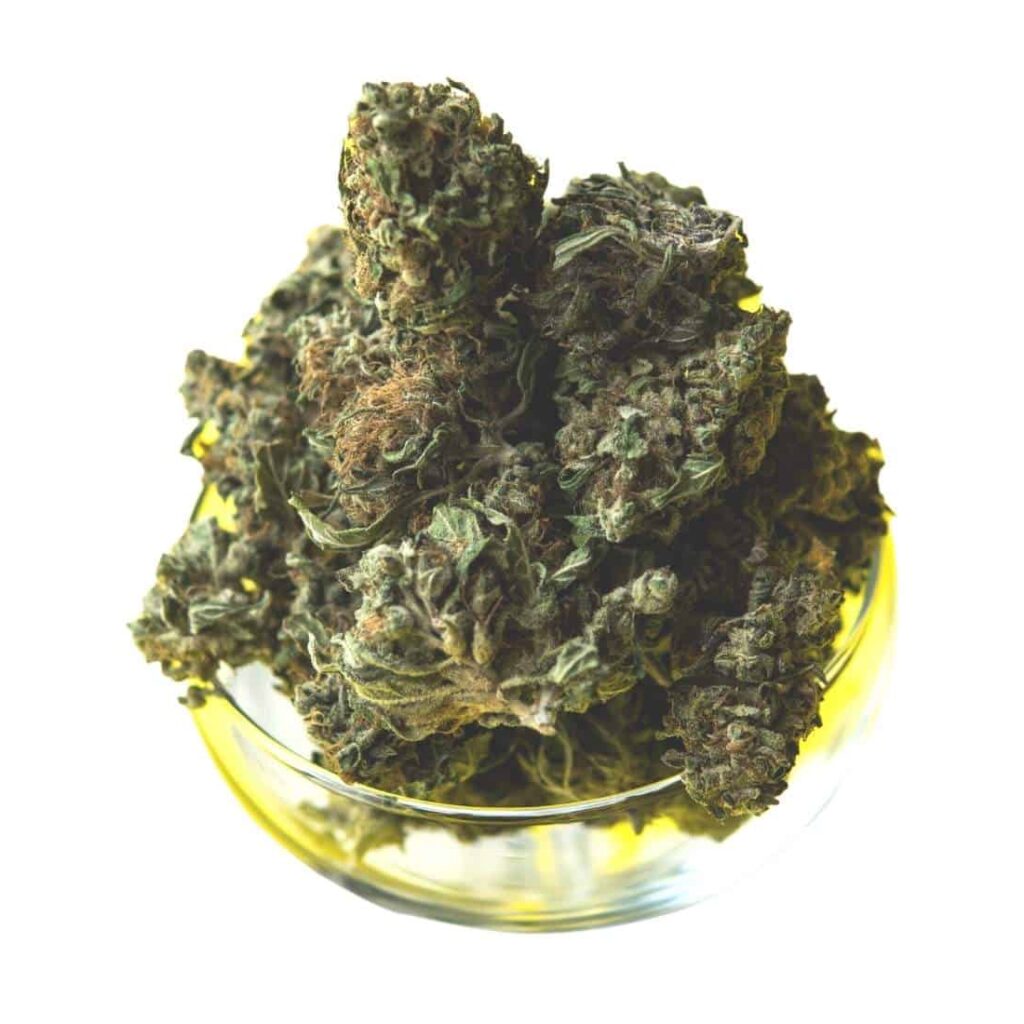 Everything You Need To Know About The Blue Cookies Strain
Blue Cookies Strain Effects
Some of the reported effects of Blue Cookies include:
Relaxed 

Happy

Aroused

Euphoric 

Hungry

Sleepy
Here's how we like to describe Blue Cookies strain effects:
Expect Blue Cookies to hit you hard in the head at first, with a euphoric rush that soon washes over your whole body. Suddenly everything around you takes on a different meaning, but don't worry, it's not overwhelming or disorienting, just chill, grounded, and occasionally spacey. Before long, you'll be feeling the need for sleep, so aim to try this one at night if it's your first time. 
With a super high THC level, Blue Cookies strain may also be used as medical marijuana to help with:
ADD

Depression

Anxiety

Nausea

Loss of appetite

Chronic pain

Insomnia 

Irritability

PMS
Things to Do While Enjoying Blue Cookies Strain
While you may feel an immediate head rush, the high eventually calms down into a relaxed state of bliss. 
Experienced users may find Blue Cookies to be the perfect strain for working out or taking a hike, while less experienced users may want to plan to stay close to the couch — Netflix binge, anyone? 
A charming effect is the potent sexual arousal some users have claimed to have, so if you and your partner are looking for an aphrodisiac to spice things up, Blue Cookies might just be your new go-to.
As always, we really don't like the idea of anyone operating heavy machinery or driving when under the influence of marijuana. So, please don't. 
Blue Cookies Strain Terpenes
Terpenes give us the flavor and aroma that makes each strain so unique. In addition, terpenes help to determine what type of high each strain will deliver.
The dominant terpenes in Blue Cookies are: 
Pinene – sage, and blueberry

Caryophyllene – rich spicy odor, pepper

Humulene – hops, sage

Linalool – lavender, perfumey 

Myrcene – lemongrass, spicy, balsam
These terpenes give Blue Cookies the delicious flavor and aroma you came here for. With notes of blueberries and citrus, the palate is sweet and smooth.
The aroma, similar to cookies, might remind you of grandma's kitchen or maybe your favorite bakery.
Blue Cookies is a cross between the GSC (originally called Girl Scout Cookies) and Blueberry strains. 
GSC is an award-winning, Indica-dominant hybrid strain that's famous for its euphoric effects and full-body high. 

Blueberry is a sweet-tasting, A-list strain known for winning the

2000 Cannabis Cup

for best Indica.
Blue Cookies Strain Reviews
Here are opinions that were written by various internet users about the Blue Cookies strain:
Love this strain. One of my favorites. I was able to get the highest I've ever been without suffering from anxiety or paranoia. Both mind and body felt relaxed. Helped with pain and tension. Definitely made me happy, and stress free. The smooth sweet flavor is great. I highly recommend it! – Allbud user

I love this strain! It relaxes me at night and helps my body recover for the next day.

– Wikileaf user

I picked up a few grams cuz it sounded cool. pleasantly surprised at the even distribution between body/head high. Not really a day time high, more like a 7pm chill and watch Netflix high. – Leafly user
If you've tried Blue Cookies strain, please leave a review below:
Blue Cookies Strain Appearance
When you first lay eyes on the bud, you'll notice: 
Elongated leaves

Dense, clumpy, bluish-green nugs

Bright orange hairs

A purplish, thick layer of resinous crystals

#1: What Is the THC Content in Blue Cookies Strain Cannabis?
At an impressive 28% THC level, it's no wonder this strain is a favorite among veteran users. If you'd prefer a strain with less THC, try one of these:
Easy Bud

Elektra

Harlequin

Suzy Q

Catatonic; or

Any strains listed in the question below
Or if you're looking for other strains that are high in THC content, you can also try these:
Little Devil

The Toad

Quattro Kush

Strawberry Banana

Caviar Gold

WiFi OG

Brandywine

And more

#2: What Is the CBD Content in Blue Cookies Strain Cannabis?
Blue Cookies strain weed contains less than 2% CBD. 
Are you looking for a weed strain high in CBD? Try one of these strains:
Charlotte's Web

Skywalker OG

Lifter

Special Sauce

Cherry Wine

Hawaiian Haze

Sour Tsunami

Bubba Kush; or

Harle-Tsu

#3: Is the Blue Cookies Strain Indica or Sativa?
Blue Cookies strain is a hybrid consisting of 90% Indica and 10% Sativa.

#4: Does Blue Cookies Strain Have Any Hybrids or Crossbreeds?
Blue Cookies is a breed by Purple Caper Seeds and does not have any crossbreeds or hybrids that we are aware of. 
A rare and interesting cut of GSC, the award-winning strain has never been available in feminized seeds.
Where to Buy Blue Cookies Strain Near You
Enter your zip code below to find dispensaries that offer the Blue Cookies strain near you.
Are you looking for Blue Cookie strain? Let us know. We've made it our mission to test every cannabis product out there so that we can curate your experience. Our goal is to deliver a product that checks all your boxes. Give us a call!