From their web-site to product branding, you can tell that Ananda CBD oil and products are truly top-notch. The brand's aesthetic highlights Ananda's strive for high-quality CBD, that is rating just as high in reviews from actual users. Let's take a deeper look at the newly trending CBD brand and their products, in our in-depth guide to Ananda CBD.
Ananda Hemp may be a new kid on the CBD block, but the brand comes from established roots in the industry. Their parent company, Ecofibre Ltd., is a genetic development company that's been operating out of Australia for over 20 years. The company is one of the most well-known seed banks in the world, and where the hemp seeds for Ananda's products are sourced. The seeds make the journey to Kentucky, where Ananda Hemp oversees their growth from start-to-finish. Meaning, not only are you getting USA grown hemp but specifically bred and proprietary genetics, for premium end-results.
This attention to detail and focus on their plant products, truly shines in their full-spectrum CBD goods. Ananda uniquely utilizes a 'green' ethanol extraction process that has the capability to harness high concentrations of whole-plant nutrients. Terpenes, cannabinoids, flavonoids and phytonutrients, included. Their plants are grown with organic practices, and third-party tested to verify the products are free of pesticides, herbicides, fungicides and glyphosate. Some of the top traits of Ananda that stands out amongst our review and online reviews, alike, include –
Now that you know more about the Ananda brand and their practices, it's time to get to the goods. Next, we'll cover each of their top-rated products for our full Ananda CBD oil review.
Ananda's full-spectrum and broad-spectrum oils are their flagship products and spotlight the true natural power of the hemp plants they tend for with such care. The oils are free of additives, and made with plant-based ingredients for optimal health and wellness.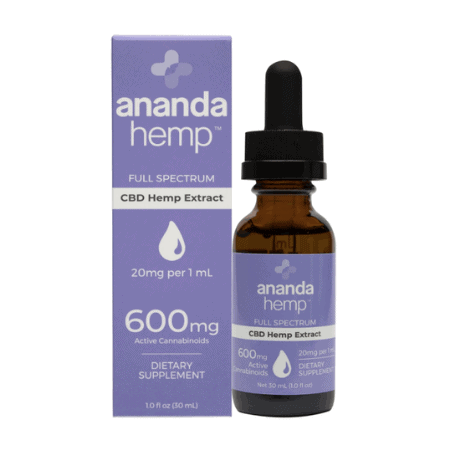 Ananda's Full Spectrum CBD hemp oils come in varied strengths of 300 mg, 600 mg and 2000 mg to serve a wide-range of CBD consumers. The oils use cold-pressed hemp seed oil and sustainably-sourced, coconut-derived MCT oils as plant-based carriers to achieve their promise for all-natural and organic goods. Each bottle delivers the following per serving -
What makes Ananda's full spectrum CBD oil so effective, is the 'entourage effect' of the wide-range of cannabinoids it contains. Since Ananda extracts whole-plant material, you'll feel the extra soothing of CBD, CBG, CBN, THC, terpenes and flavonoids working together and amplifying each other's effects. Like other full-spectrum formulas, Ananda's blend is an ideal CBD oil for diabetes or CBD oil for pain relief, too.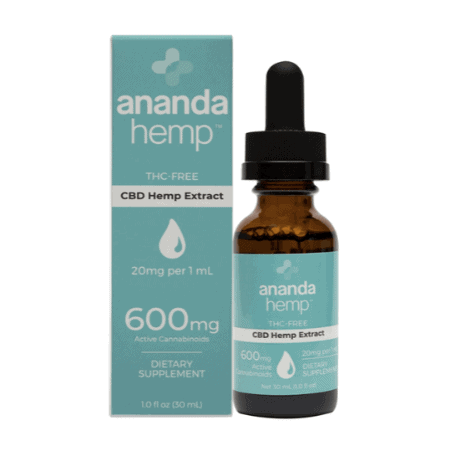 Of course, Ananda can understand that some CBD consumers may want to avoid THC. Due to known adverse reactions, or fear of it showing up on a drug test. For those CBD users, Ananda has curated a broad spectrum version of their CBD oil. Their broad spectrum oil delivers the same harmonious effect of cannabinoids, terpenes and plant nutrients, without the presence of any THC. Ananda does just offer 1 strength of 600 mg for their broad spectrum product which may be a downside for some. Regardless of strength options, we found the formula to be just as effective, as many online users note it as one of the best CBD oils for sleep.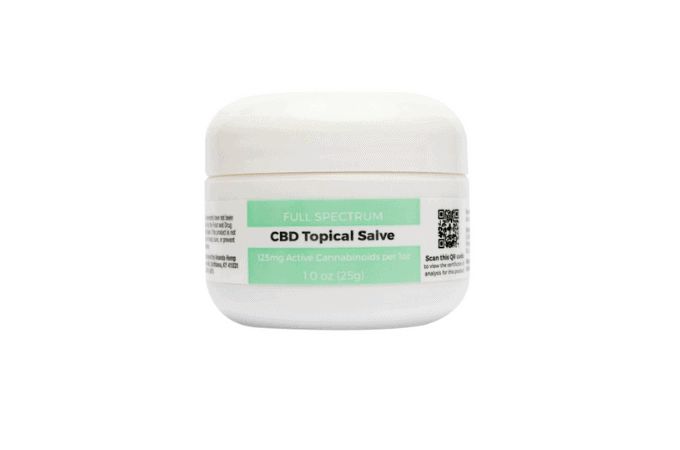 Ananda Hemp takes their same full spectrum CBD power and infuses it into a 'thoughtfully-crafted' blend that is highly effective for a number of symptoms or conditions. Along with CBD hemp extract, the salve contains healing herbs, essential oils, moisturizing shea and coconut oils for moisturizing and calming relief. With 125 mg of total active cannabinoids, the non-greasy formula went on evenly, absorbed for quick moisture and provided a calming sensation for targeted areas of pain. The Ananda hemp spectrum salve 125 comes with a pleasant, natural and lightly floral scent from the essential oils of lavender, eucalyptus and peppermint.
If you're not a huge fan of CBD oil or tinctures but benefit from CBD's effects, then softgels are normally the delivery method of choice. So Ananda has taken their same beloved full spectrum and broad spectrum CBD oils and contained the formula in easy to digest softgel capsules. The softgels are easily consumed with your daily vitamins, and have 15 mg of active cannabinoids per capsule. Ananda offers a 30 and 60 count bottle of their full spectrum CBD softgels and the THC-free broad spectrum version comes with 30 capsules per bottle.
To continue their all-natural wellness focus, Ananda has expanded their product line with a variety of topical options. From using CBD on the go, or under the sheets, Ananda has fine-tuned their full spectrum formulas to be the most effective where CBD is needed the most.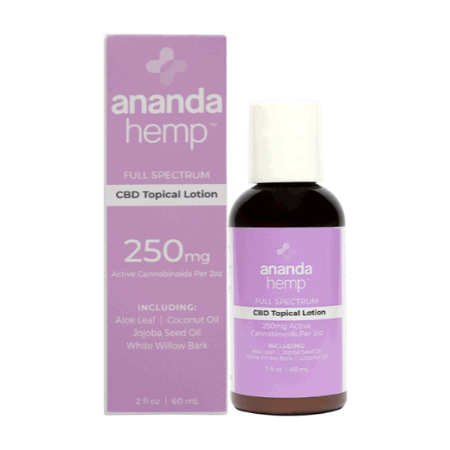 As one of their latest products and top-sellers, Ananda Hemp's full spectrum lotion is popular amongst online user reviews. The blend contains organic aloe leaf, organic jojoba seed oil, white willow bark, organic coconut oil and 250 mg of cannabinoids to provide soothing and moisturizing relief. Ananda's full spectrum lotion is paraben and sulfate free, and has a texture that nourishes skin while providing soothing muscle recovery.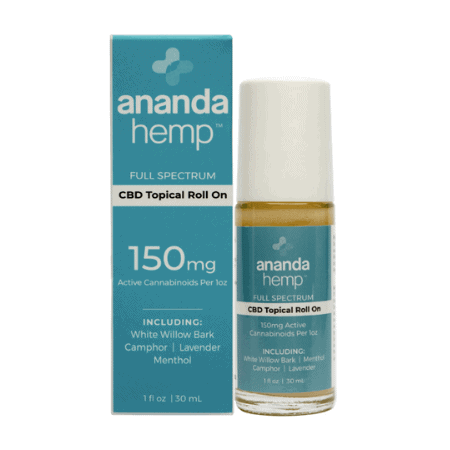 Another popular Ananda product is their full spectrum CBD roll-on. It packs the same full spectrum CBD punch, in a handy, on-the-go bottle. The roll-on method allows an easy and mess-free application, while containing 150 mg of active cannabinoids to relieve targeted areas of pain and inflammation. Their effective CBD is blended with a variety of essential oils and ingredients that additionally promote relief, conveniently.
Ananda goes the extra mile for its CBD consumer with this unique product. Their CBD bliss intimate oil blends 250 mg of full spectrum cannabinoids and terpenes with all natural ingredients for a stimulating effect. Like, cacao seed butter, peppermint, black pepper, organic theobroma, coconut oil & l-arginine. The brand's Chief Science Officer, Dr. Alex Capano is a nurse practitioner who focuses on sexual and reproductive medicine formulated the Bliss Intimate Oil specifically for safe and soothing sexual pleasures.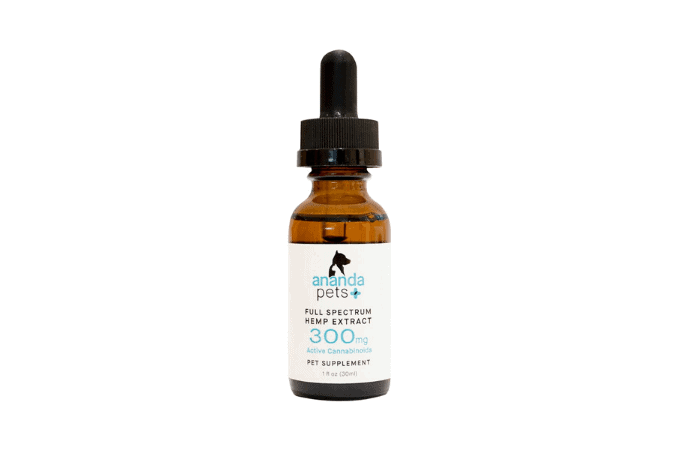 Ananda cares for their pet CBD consumers' all-natural needs just as much as their humans. They've specially crafted a full spectrum CBD oil for our furry friends, that's even flavored with vegetarian certified bacon flavoring. The 300 mg strength is ideal for soothing common pet issues like hip and joint mobility, relaxation and comfort, and neurological and cognitive function. The oil's consistency is ideal for adding to food, or soaking over treats and seemed to be well-received by canine companions.
Ananda Hemp Reviews: What Customers Think?
CBD can affect everyone differently, but one thing that online users can agree on is Ananda Hemp products do work effectively. While perusing the abundant amount of reviews found online for Ananda Hemp, on their own web site and others, it was hard to find a negative. Overall, CBD consumers agree that Ananda hemp stands out from other brands in a few unique ways. The most prominent highlights we found on what customers really think of the brand, include –
Of course, and to be fair some reviewers did have a few negatives to note that don't directly reflect on the quality of the brand. Some users noted their shipping times were unknown and slow, and others with coconut allergies noted the unavailability of products without coconut for their use.
Ananda Hemp Review: And, What Do We Think About It?
You can't go wrong with proven genetics, and carefully cared for hemp plants. That's where CBD products begin their quality, and Ananda is sure to deliver on their all-natural and whole-plant promise for benefits. It's apparent from first taste, that Ananda's mild and refined CBD oil is powerfully potent in hemp's natural benefits. Ananda's oil was quick to provide effects, with a rush of a mood-elevating euphoria along with a soothing sense of calmness.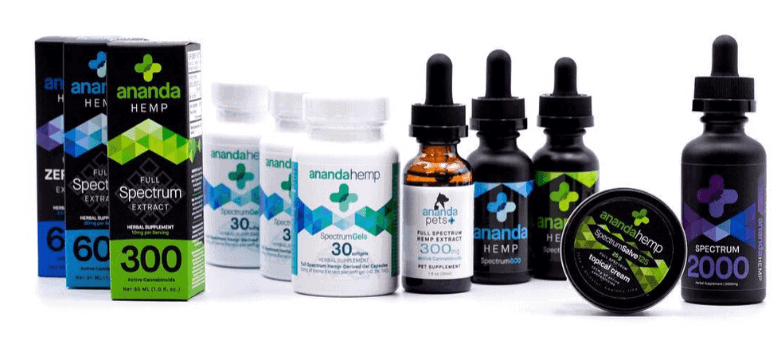 Their topicals are just as high-quality, and we found them to be as effective as their CBD oils and capsules. You can feel the synergy of ingredients work together to provide its relief with an ideal texture for moisturizing, too. While we do wish they offered consumables or edibles like gummies, with their potent full spectrum formula…we can't complain with their other product options like Bliss Intimate Oil or roll-on CBD. All of the products were well-labeled, easy to use, and manufactured with quality and care in mind. If you're seeking a cost-effective option for full-spectrum and all-natural CBD power, then Ananda is one of the top recommended brands by online reviewers, and us, too.