Some companies are started by businessmen. Others are started by people passionate about creating better products. Don Ballou, the founder of CBD Essence, is one of the latter. He started the company in 2014, after a long path toward health while battling the symptoms of ADHD. The company now prides itself on its natural products, formulated with the health of their consumers in mind. But, is CBD Essence oil really up to par? Here's what customer reviews have to say—plus some extra information.
CBD Essence: Medicinal Grade Hemp Extraction
Think small batch. CBD Essence is made from small-batch hemp extractions. Like all CBD, CBD Essence products are made by extracting cannabidiol (CBD) from the hemp plant using a solvent. In this case, the solvent is carbon dioxide (CO2). During this medical-grade extraction process, CBD is separated from the cannabis plant and concentrated into an oil. After extraction, the oil is then infused into tinctures, added to topicals, and used to fill capsules.
Unlike many large commercial brands, CBD Essence extracts CBD in small batches. This small-batch method means that CBD Essence can ship their products out within 24 hours after processing, which ensures that consumers get a fresh product that hasn't been sitting on warehouse shelves for the past year. (When you buy direct, anyway).
But, there are a few other potential advantages of CBD Essence. Like any high-quality CBD-brand should, they third-party test their products to ensure quality. Test results are available to the public on their product pages as "Certificates of Analysis." These certificates will tell you whether or not the product has passed basic inspection for CBD content and potential contamination.
Looking for brief facts? Here's a quick summary of the brand's main features:
Different CBD products work better for different things. An edible, for example, tends to last longer and often produces stronger effects than a topical or an oil tincture. On the other hand, a topical often works better for localized ailments. Most customers find that mixing and matching their CBD products inspires the best results. Here's a brief breakdown of this brand's best-sellers:
CBD Essence Oil is an oil-based tincture that's formulated for absorption under the tongue. The brand uses colloidal emulsion suspension to improve the overall effectiveness and absorbancy of the product. A colloidal emulsion ensures that the CBD is microscopically dispersed throughout the oil, which makes dosing more consistent and precise than your average tincture.
Strength and size vary from 300 to 2,400 milligrams, with the most popular option being their 600-milligram bottle. Customers can choose between a dropper or spray bottle, as well as the following flavors: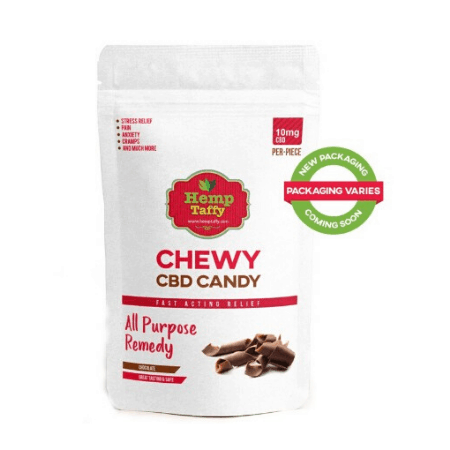 Of all CBD Essence products, their CBD Chewy Taffy is one of the most popular. Each chew contains about 10 milligrams of CBD, which is the standard dose for an adult consumer. The CBD used in these chews comes from organic hemp extract, which contains the natural terpenes and bioactive compounds naturally found in hemp. These taffies were specifically formulated for fast absorption under the tongue. When swallowed and digested, however, expect a slower activation time and potentially more powerful experience.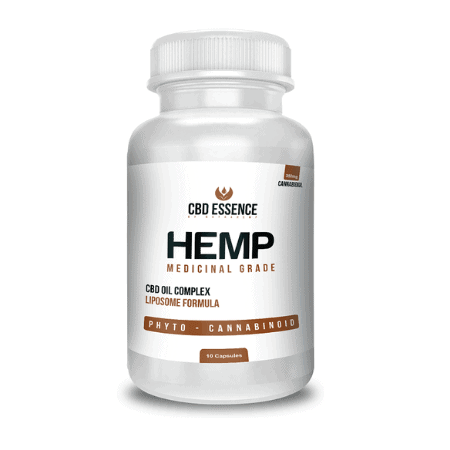 The CBD Liposome Capsules are arguably CBD Essence's most innovative products. A liposome is like a soap bubble. Normally, most CBD is not very bioavailable. That means that CBD is not easily absorbed by the body—the majority of it is excreted without your body using it at all. Liposomes attempt to solve this problem. Liposomes encase CBD like a soap bubble, making it easier for more CBD to pass into the bloodstream. This kind of product is ideal for anyone interested in making sure that they're getting the most of their CBD.
Topicals are extremely popular CBD products, for good reason. CBD does not travel into the bloodstream with topicals, which makes them valuable for those who are concerned about taking a wellness supplement. CBD Essence topicals come in two variations: an All-Purpose CBD Lotion and a Hot CBD Muscle Rub.
The first was formulated for general aches and pains and contains eucalyptus. The latter contains full-spectrum hemp extract and capsaicin, the same compound that gives chili peppers their spicy kick. The Hot Muscle Rub was made specifically for muscle recovery and muscle pain. Both products contain 600 milligrams of CBD per two-ounce container.
CBD Essence Reviews: What Customers Think About It?
Reading customer reviews is essential when shopping for anyone shopping in the modern CBD landscape. There are more CBD tinctures, capsules, and products on the market than ever before. So, doing some research and separating the good from the bad is the safest way to make sure that you're getting a quality product.
So, let's take a look at some CBD Essence reviews. As of April 2020, the brand earned 332 on Trustpilot, with over 85 percent of consumers giving a five-star rating. The biggest draw to CBD Essence? Their customer service! And their products seem to work well, too. To find out what people love about CBD Essence, we scoured the Truthpilot for the best reviews. Here's what came up:
Another five-star customer, Terry Waltrip, also uses CBD Essence for pain—back and hip pain, to be specific. In a Trustpilot review, Waltrip says that the natural CBD oil has a pleasantly sweet taste and works better than other CBD products they've tried. Waltrip has been using the 600 milligram solution, although they don't specify their exact dosage.
Regardless, most CBD Essence reviews seem to be overwhelmingly positive.
Final Thoughts: Is CBD Essence Worth It?
So, is it worth it? It's always important to mention that CBD works differently for everyone, just like any other supplement or health product. While some people may find that CBD benefits their lives and daily routines, others may find that it doesn't quite work as well as they hoped.
'But, the only way to know whether or not it works for you is to try it.'
But, before you buy, contact your normal healthcare provider and ask about incorporating the supplement into your routine. Talking to your doctor is especially important if you're taking any medications or are concerned about how CBD may affect a pre-existing medical condition (like CBD oil for diabetes). CBD is known to interact with some medications, and may not be suitable for everyone.
Want more information? As a consumer, you have the right to reach out to the brand and request more information. Hop on their customer support chat or give them a call if you have any questions or concerns. If you get your product and decide that you'd rather not try it, you can always return your unopened bottle within 30 days of purchase.