CBD Pure is a big brand in the CBD world with a small-town focus on their local and homegrown roots in Colorado. Their launch onto the market came with the motivation for organic growth and the purest of CBD oils and products. As they've expanded, CBD Pure now offers a wide range of CBD goods from their original oil, to topicals, pet products, and capsules too.
The brand not only provides transparent third-party testing reports but guarantees satisfaction with a 90-day money-back offering. CBD Pure treats their hemp and CBD oil processing with the utmost of care, through CO2 extraction methods. Delivering cold-pressed and un-refined final products that are full-spectrum in nature. By retaining the natural value of the hemp plant, you can taste and feel the difference.
For being fairly new to the CBD market with its launch in 2016, CBD Pure has come a long way to win over users with high ranking reviews. Let's get to know CBD Pure more, with our in-depth review of their products and what real users have to say.
CBD Pure's hemp oils deliver a cost-effective and natural solution to introducing CBD into your health regiments. The brand takes the initiative to cold-press oils for an unrefined product, meaning you're getting the most natural essence of the hemp plant they organically grow. Each oil is full-spectrum so you're treated to a higher range of cannabinoids, terpenes, flavonoids and plant nutrients that are highly beneficial.
The most notable feature of CBD Pure is the purity, they're able to capture with their CBD oils and products. You can see the pureness in the oil's golden yellow color which is a standard amongst CO2 extraction oils. The additional care for filtration is also seen by a lack of green color or tint in the oil. Meaning CBD Pure took the extra steps to remove excess plant material that can leave a bitter taste.
With no artificial ingredients or additives, their brand name is fitting. CBD Pure definitely delivers one of the most 'pure' oils on the market today. You'll smell the purity on your first whiff as the oil has an organic and earthy aroma. The oil has been ultra-filtered to ensure that the taste isn't too overpowering and is crisp and clear in flavor.
CBD Pure Hemp Oil 100 mg, 300mg, 600 mg or 1000 mg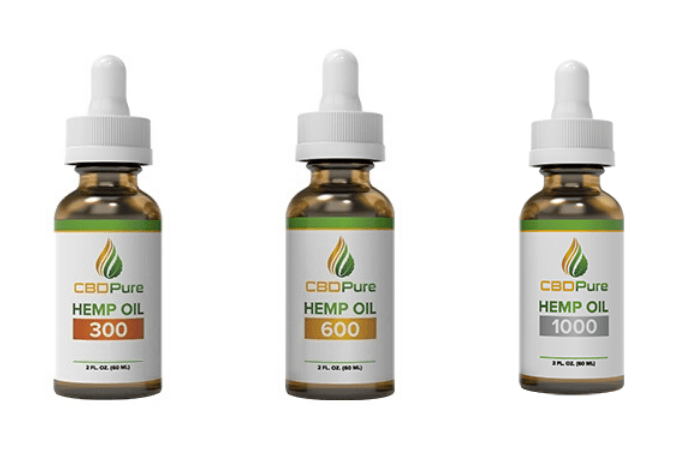 CBD Pure makes choosing a strength of oil simple for even the most beginner of users. Their CBD pure hemp oil comes in 300 mg, 600 mg and 1000 mg allowing for easy dosage and increasing strengths when necessary. The brand recommends their 300 mg option for beginners, and 1000 mg as their most concentrated and strongest solution. Each bottle is 2 ounces and chock-full of natural hemp tastes and CBD power.
As you increase the MG's you'll increase the daily dose of CBD you're receiving in the bottle's easy to use eye-dropper. Their 300 mg delivers 10 mg of CBD per dose, 600 mg delivers 20 mg of CBD per dose, and their 1000 mg delivers 33 mg of CBD per dose. So, you can see how dosing is totally user-friendly. What's best is the entourage effect you'll feel from the full-spectrum cannabinoids and organic plant matter. Each terpene, flavonoid, and nutrient work together to amplify their effects. Increasing the effects you feel, for an affordable price overall. This allows CBD Pure to have one of the best CBD oils for anxiety and depression, and the best CBD for pain relief, too.
CBD Pure Oil Softgel Capsules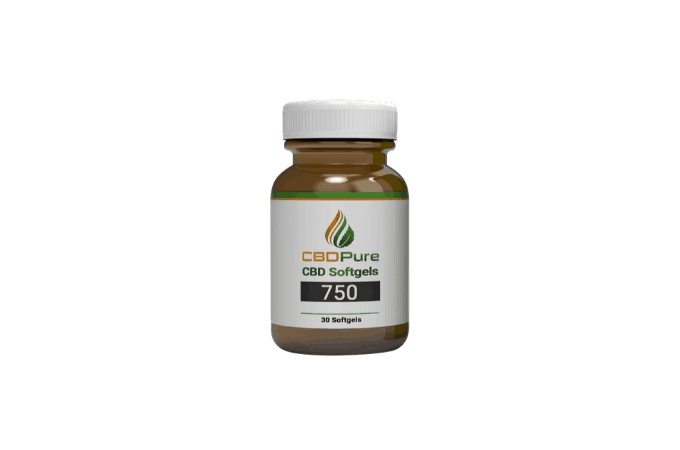 The purity of CBD Pure's oil is contained in easy to digest soft gel capsules for yet another consumption method option. If you're sensitive to the natural taste of hemp oil, or not a huge fan – then the soft gel capsules are ideal. A one-month supply of CBD Pure soft gel capsules contain a total of 750 mg of CBD, with 25 mg per capsule. The brand also gives you a chance to get a discount on ordering in bulk. While their 1-month supply is normally $89.99, when ordering a 3-month supply the per bottle cost drops to $74.99, and $62.49 per bottle with a 6-month supply order.
We love the CBD Pure soft gel capsules as they allow you to take a higher dose of CBD at one time, without any taste or measuring needed. Capsules are preferred for this reason by those with medical sensitivities or who are treating specific conditions with increased dosages. Even better, CBD Pure's capsules are discrete and easy to take, making it even easier to use CBD on-the-go or in public, too.
CBD Pure Muscle and Joint Cream
CBD Topicals are a great way to target specific areas of pain, with an extra layer of soothing CBD effects. Not only does the CBD Pure Muscle and Joint Cream contain their naturally potent full-spectrum CBD hemp oil, but is also infused with menthol and white willow bark for additional relief. You'll only need a small amount of the cream to feel its powerful effects. CBD Pure took the extra care to formulate their topical with rapid absorption. Their proprietary formula takes action in just 2-3 minutes with a tingling and calming sensation to even the deepest pains. You'll feel the cooling from the menthol and the relief provided by the natural botanical, white willow bark. Which is known as 'nature's aspirin'.
To add, CBD Pure's muscle and joint cream is non-greasy and goes on smoothly. One tube is affordably priced, with 250 mg of total CBD. The brand also offers a bulk-discount for ordering, with price breaks for buying 3 tubes, or 6.
Among its users and personal reviews, CBD Pure ranks high on a few varying factors. The majority of CBD consumers who have tried the brand have noted the following as the brand's most notable advantages.
Final Thoughts: What We Think About CBD Pure Products
Overall, we agree with the rave reviews that users are giving to CBD Pure. Their products are as pure as pure can be, and you can see and taste the quality and care they put forth towards their process. With that said, you've got to love the pure taste of hemp oil to appreciate the CBD Pure products. As not everyone is a fan of unflavored hemp products, and they can take a while to get used to it. Among the other unflavored options on the CBD market, CBD Pure is one of our favorites. The brand does a superb job on the filtering of their oils so the natural essence and taste are soothing and tame.
We'd recommend CBD Pure as a great starting point for any beginner user of CBD and also for those who use it on a regular basis. CBD Pure's 3-month and 6-month supply options allow an unmatched affordability for their high-quality CBD goods. So, to wrap up our in-depth review – CBD Pure is a top-ranking brand with customer experience and assurance rating high with users, including ourselves. You can't go wrong with any of their goods and if you're not completely satisfied, you're able to get your money back with their extended guarantee time-frame.