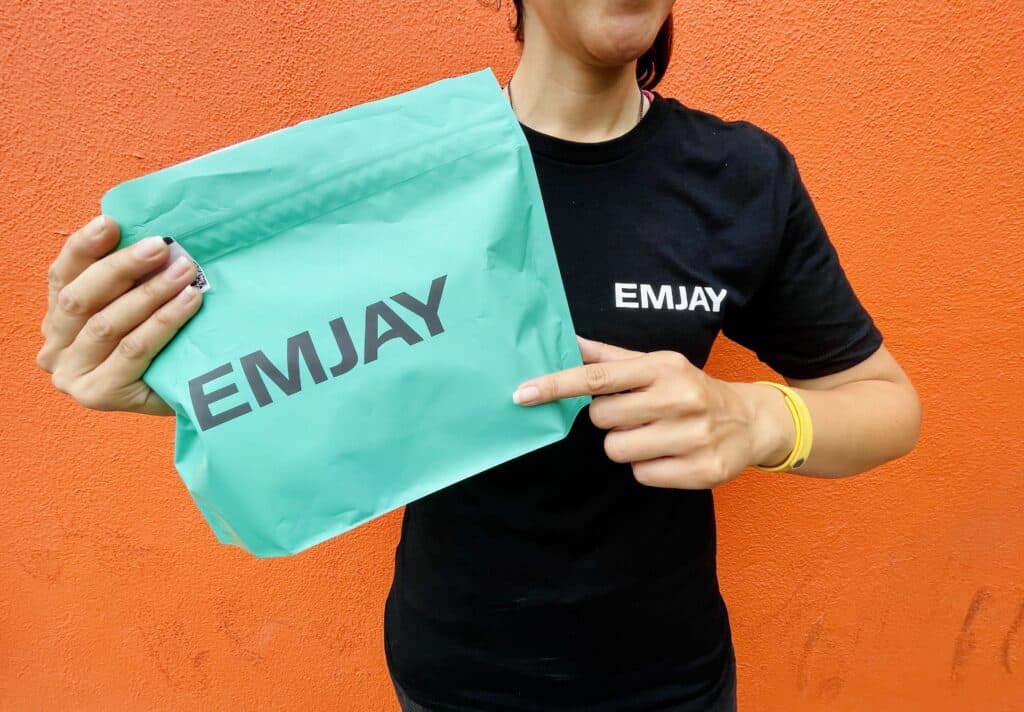 TAKE 27% OFF YOUR FIRST EMJAYORDER
By Leslie McMann for Emjay
Get weed delivered with Emjay
Life is hard: that's why there's weed. But getting weed shouldn't be hard. That's why there's Emjay, California's leading cannabis delivery company. Emjay delivers cannabis products and accessories to your door, with no delivery fee and no mark-up on items. Our products are the same price as a physical dispensary, but you'll save money on gas by staying home and letting us drive the dispensary to you. And you can save even more by taking advantage of our sales and deals.
What deals does Emjay have available?
What kinds of deals does Emjay have? Might be easier to say what deals we don't have, but let's give it a try: Emjay has deals every. Single. Day. Selling merchandise at full price is the least cool part of our job, trust. Check our page on the daily to see what items we've discounted under Today's Deals. We're known for delivering a broader range of cannabis products than our competitors, and that applies to our deals as well. Every day you will find a mix of discounted flower, pre-rolls, vapes, and edibles from classic names and small business brands alike. The discount is automatically applied at checkout.
And unlike other delivery services and storefront dispensaries, our discounts aren't a clearance section of old products. We get a thrill from having the lowest prices on highly sought-after brands. 25% off on Jeeter prerolls for a week? Sure! A one-day sale on STIIIZY vapes or Kanha edibles? Why not!
And those are just the deals we're blasting on our site's homepage. After creating an account, Emjay will also send you personalized promo codes, just to let you know we're thinking of you and appreciate you. Copy the promo codes from your email and enter them at your online checkout to receive a discount on your entire order (excluding tax). These codes have expiration dates, however, so use them quickly or you'll miss out on some pretty sick deals.
Emjay's Referral Program
If you want to spread the love and share the good word of Emjay with your buddies, we're all for that. We're not some cult you have to keep hush-hush. Through our referral program, you can earn rewards every time you get a friend to try out Emjay. Send your personalized referral code to anyone you think might like to get their weed delivered by reliable and friendly people. Your friend will get $20 off their first order, and you'll get $20 towards your next Emjay order once they've completed their first order. There's no limit on how many friends you can refer, so please share your code on social media, with family, on first dates—heck, we don't even mind if you write it on the wall of a bar bathroom (although Emjay does not condone vandalism).
And if all that isn't enough, you also earn 3% cashback on every Emjay purchase.
Take 27% off your first Emjay order with this promo code
Sound cool to you? Well since you've read this far, take this promo code for 27% off your Emjay order: WHYNOTEMJAY27. All that Reading Rainbow you watched as a kid is finally paying off. Enter the promo code at checkout and hit apply. You should see the discount applied to your cart total.
Why is Emjay better than other cannabis delivery companies?
Emjay is the top cannabis delivery service in California because we have the largest selection of products and the broadest variety across both storefront dispensaries and delivery companies. And we offer the brands you know and love like Pacific Stone, Sherbinskis, Kiva, Pax, STIIIZY, and Wonderbrett.
We also have two retail fronts as well: a co-owned store with Sherbinskis at 345 N Fairfax Ave, Los Angeles and our own Emjay store at 7180 University Avenue, La Mesa. We'd love for you to stop by some time, just as much as we love coming over to your place.
Emjay is one of the only vertically integrated retail and delivery platforms. That means, we own and operate all our own infrastructure, allowing us to offer incredible pricing and better service to our customers. Like we say around here, Emjay has "All of the weed. None of the markup." But our low prices don't mean subpar service.
About Emjay
At Emjay we are ethical human beings first, cannabis enthusiasts second. Unlike so many other delivery companies, our drivers are professionals. They are employees of Emjay, not independent contractors or workers from a third-party courier company. If you're interested in becoming a driver with us, please apply (https://heyemjay.com/courier). We offer guaranteed pay, mileage reimbursement, a flexible work schedule and we're proud to say our drivers consistently remark that Emjay is the best company they've ever worked for. Our customers can feel secure knowing our onboarding and training process for couriers is rigorous and extensive. We're sending a stranger to your house—the least we can do is make sure they're not a stranger to us!
We believe in fully employing our delivery team because maintaining the trust of our consumers has been our top priority since we started in 2019. Safely processing your online transaction and then quickly delivering your order is our top job and we take it seriously. Our customer support team, who are also employed by Emjay, works tirelessly to correct mistakes or find alternatives to satisfy you. And our experienced store managers and knowledgeable associates are happy to make recommendations or discuss products with patrons. Like we said from the top, getting weed shouldn't be hard. See for yourself how easy it is by downloading the Emjay app from the App Store or checking out the site here.