Kat's Naturals began in Tennessee with its namesake Kat Merryfield as their founder and leader. As a former herbalist and nutritionist, Kat developed the CBD brand with health and wellness specifically in mind. Now, the company offers a wide range of natural CBD goods that are loved by consumers across the country.
The trending brand uniquely infuses hemp seed oil with CBD, terpenes and essential oils. Curating potently powerful blends that are available in full-spectrum or THC-free isolate form. Here we give our personal take on the growing brand along with highlighting Kat's Naturals reviews, for what other users have to say. Before we go any further let's touch upon a few other factors that make Kat's Naturals brand special in its own ways.
Kat's Naturals CBD: What Makes This Brand Special?
Kat's Naturals has the mission of improving the 'quality of life' for their consumers. The brand does so through using quality ingredients and providing transparency through trusted third-party testing. Giving their customers the peace of mind, that is so necessary in a somewhat 'new' CBD market with some untrustworthy players in the game.
After beginning in 2015 to stand out among the crowd, Kat's Naturals has taken a personal and organic approach to their formulas. Here's what we found makes their brand unique, and high-quality overall –
Kat's Naturals CBD Products
When perusing Kat's Naturals CBD collection of goods it may seem hard to choose just one. From topicals to oils, edibles to skincare products…they seemingly have it all. With a wide range of options to choose from in each category too. Here we chose some of their most popular products, to see what the brand really had to offer. Let's take a more in-depth look more at each one.
To make choosing even easier for even amateur CBD users is Kat's Naturals branding of each oil they offer. The tinctures whether THC-free or Full-Spectrum, are classified as the following adjectives to give their consumers a glimpse into the effects they'll be receiving.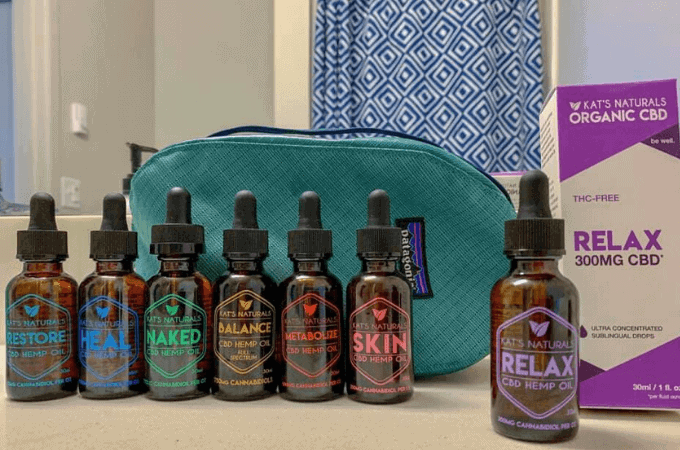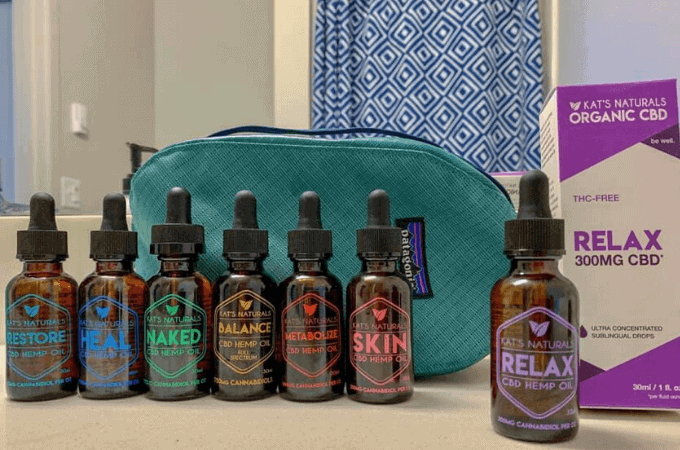 As you may know, full-spectrum oils contain all the hemp plant has to offer. Including beneficial plant nutrients, like flavonoids, terpenes, vitamins, and a range of cannabinoids like CBD, CBG, THC, etc. What makes Kat's Naturals THC-Free formula unique, is it's not exactly 'isolate' either. The carrier oil is hemp-seed oil so it comes along with beneficial plant matter like Omega-6 and Omega-3 fatty acids, vitamin A and E.
The brand takes the extra step to deliver powerful natural effects by infusing their THC-Free oils (besides 'naked') with terpenes and essential oils, too. Terpenes are the 'aromatic centers' of the hemp plant so they add natural taste, along with their own unique effects. Even more, each bottle has the addition of essential oils like peppermint, wild orange, lemon and ginger to boost their formula's effects. We found this combination incredibly effective while adding to the oils impressive flavoring.
Kat's Naturals Skin Serum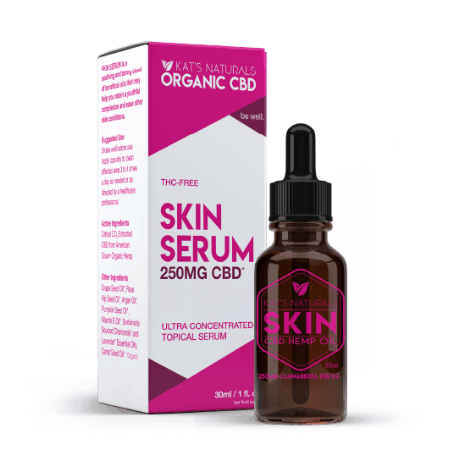 The demand for natural skincare routines is at an all-time high and Kat's Naturals put together a serum that's designed to please this need. Their CBD Skin Serum product like their oils has been amplified with a few additional luxurious ingredients to make it quite effective. Carrot Seed Oil, Argan Oil, Rose Hip Seed Oil, Grape Seed Oil, Pumpkin Seed Oil, Chamomile and Lavender Essential Oils are all added to the already vitamin-packed hemp CBD oil. Together, we saw the clearing and even-ing of our skin tone. But, if you're allergen sensitive or have sensitive skin, this lengthy list of ingredients might not agree with you.
The serum has a luxurious consistency to it and wasn't too greasy as far as serums go. It's recommended for daily use and is moderately priced considering the ingredients it's chock-full of.
Most CBD brands offer gummies and capsules as their edibles offerings, but Kat's Naturals does things a little differently. They've infused premium chocolate bars and unlike any brand, offer activated edible hemp. What does that mean? It's basically a way to DIY your own edible with hemp that's been heated lowly and slowly, to be 'activated'. During this process, CBDA transforms into its usable form of CBD. So you can add the loose flower to smoothies, granolas or baked goods as an extra natural touch, with beneficial effects.
Their chocolate bars will definitely satisfy your sweet tooth and come in Dark Chocolate and Peppermint White Chocolate. While the bars note they can contain THC, one drawback is there's no actual MG's listed for CBD or other cannabinoids. This makes accurately dosing, almost impossible.
Kat's Naturals CBD Oil for Pets
You can tell that Kat's Naturals cares for their pets, just as much as their humans. As they're offering canines and felines more options than most CBD brands do. They offer the following options with differing blends for pet-specific CBD oils –
Just like their regular oils, Kat's Naturals takes the time to curate oils that will specifically target the needs of pets, who are aging, active or especially anxious. While we can't speak to their effects ourselves, Kat's Naturals CBD reviews rate high in pet categories. The oils are an ideal consistency for adding to wet or dry foods and can be soaked onto treats too.
Kat's Naturals CBD Beauty Products
To expand their brand's reach even further Kat's Naturals has an exclusive line of CBD Beauty Products with their 'Fhenix' skincare collection. Coinciding with their attention to details with all of their products, Kat's Naturals has infused a number of beauty products with highly beneficial CBD and other rich nutrients to promote healthy skin overall. The goods include –
What makes these products even more unique is their infusion of botanical stem cells. This ingredient along with fatty acids, vitamins, and essential oils and extracts takes CBD skincare to a whole new level. We found all the goods to have a luxurious consistency that went on smooth and absorbed quickly. The essential oils provided a natural and pleasant aroma but could be an irritant to those with sensitive skin.
When reviewing Kat's Naturals CBD reviews overall, users are raving for the health and wellness that the brand promotes and provides. Being moderately priced yet high-quality in nature also rates high among CBD consumers. While no one is explicitly noting Kat's Naturals as the best CBD oil for sleep or CBD oil for diabetes…they are being applauded for promoting specific types of healing with all of their product categories.
One negative that some users have highlighted, as we also mentioned is some products do not specifically state how much CBD is contained in them. Like their edibles, and their beauty products too. Luckily, their customer service is easily accessible and found to be quite helpful.
Is Kat's Naturals Worth it?
Their founder Kat has put her knowledge from nutrition and herbs to work with the unique blends the brand now offers. If you're looking for a one-stop-shop that offers retail locations, a wide range of CBD products, including full-spectrum and THC-free options than Kat's Naturals is for you. Taking user reviews into consideration, along with our own personal experience we'd highly recommend the brand for beginner or advanced CBD users alike.