The Lift Grinder, previously called The Clipper, sold out its pre-sale stock at record speed, and with very good reason. This grinder is no ordinary grinder. It is completely different in every way. Looking at it, you would not even know what it is. Made by Canadian-based Lift Innovations, the grinder has no metal teeth. Instead, it has blades, just like a blender, with a truly innovative and versatile sieve design.
Defining the meaning of quality, the Lift Grinder appears indestructible. It is heavy for its size, evidencing its solidity. It looks beautiful, feels sturdy, and has a smooth finish the envy of all other grinders. You will not find a similar product anywhere and you will pay a small fortune for the privilege. However, since it will last you a lifetime and brighten every day, the dollars are well worth spending.
What is enticing about the Lift Grinder is its customizability. You can choose your sifting disc and kief mesh screen, even buy them all, and using a simple tool that doubles as an ashtray, change them up as you see fit. Lift Innovations really went out of their way to make a grinder like no other, one that stands out above its competitors and guarantees no cause for complaint. Ever. With a lifetime warranty.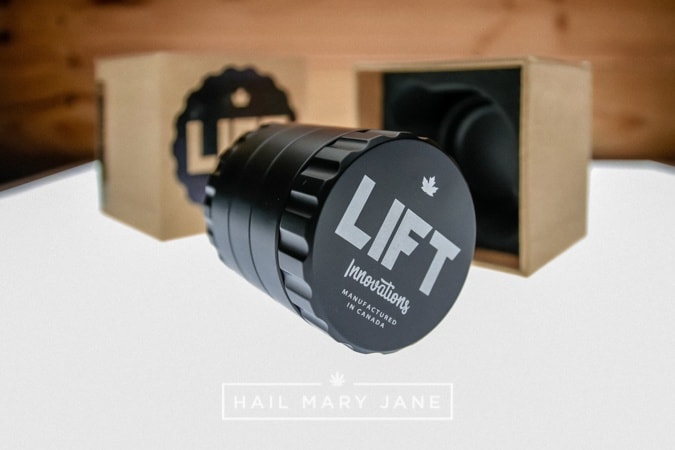 Unboxing the Lift Grinder is a pleasure. You can hardly wait to see and touch it. The moment you take it from its storage box, you will want to get busy using it, so have some sticky herb at the ready. It comes nestled in foam. The company sells two grinders: One four-tiered, the other three. You can also buy it inclusive of all its accessories. If you get the 4-piece Lift Grinder, this is what you get:
· Medium Sifting Disc
· Medium Mesh Screen
· Assembling Tool
· Guitar Pick Scraper
Although it comes with a medium-sized sifting disc and mesh screen, you can opt for a larger sieve or a finer one. You can choose the accessories it comes with according to your smoking preference or, if you enjoy joints, bongs, even dry herb vaporizers, you can buy them all together. The ground herb comes out fluffy and, well, perfect for use in anything. The three-piece grinder has no kief catcher, however.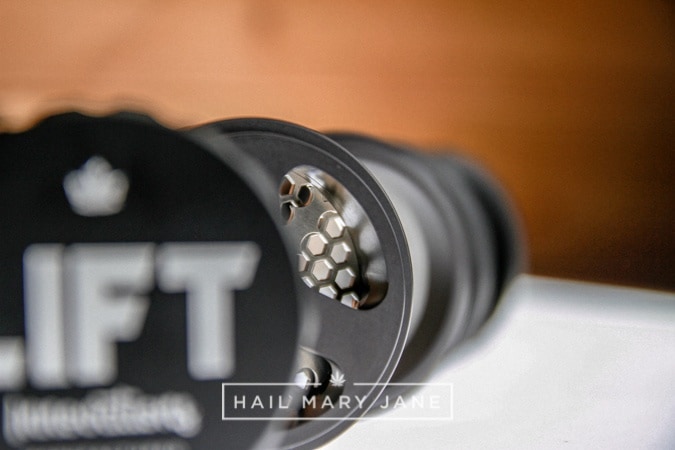 The Lift Grinder is made of aluminum with stainless steel components. The casing is black, smooth to the touch, and emblazoned with the company's brand. It is bulky, yet pretty and highly efficient. The blade, sieves and mesh screens are all stainless steel, making it easy to collect kief and keep the gadget clean. So well made is the grinder that you only need brush it on occasion and wipe it very infrequently.
A magnet holds the parts in place, tightly and securely. There is no need to screw and unscrew the grinder or put too much physical effort into turning it. The grinding action is smooth and requires no exertion at all, even if you do need to give it quite a tug to loosen it from the magnet when opening it. Operating it is otherwise, quite literally, effortless.
This grinder comes with a warranty for life. At 2 1/4 inches tall and 2 1/2 in diameter, it will not fit comfortably into your pocket. It is still portable in bags and cars, if perhaps too heavy to carry on your person. It accepts three different sized sifting discs to personalize your grind size, as well as three different mesh screen sizes to choose how much kief you want to collect.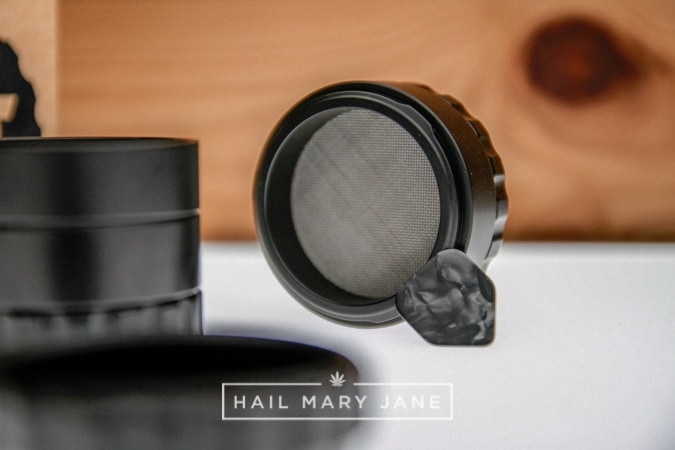 A quarter-turn thread design promises the ultimate convenience. The stainless steel blade is unbreakable. It comes with a rounded bowl on the bottom to make access to pollen easy. The Lift Grinder's wedge design is still pending patent, which it will undoubtedly win. Electroplated anodization makes the surface non-sticky and incredibly tough.
How to Use the Lift Grinder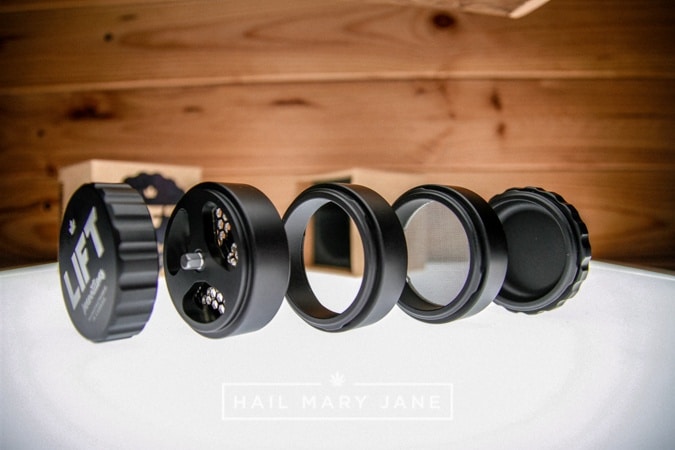 Using the grinder is simple once you find your way around it. Pull firmly to take the lid off its magnet. Then, place your bud into the triangular chambers and put the lid back on. Give it several good twists in both directions. Each turn will move the blade, which will cut up your herb for you. Once ground to your desired consistency, open it in the middle to get your herb out.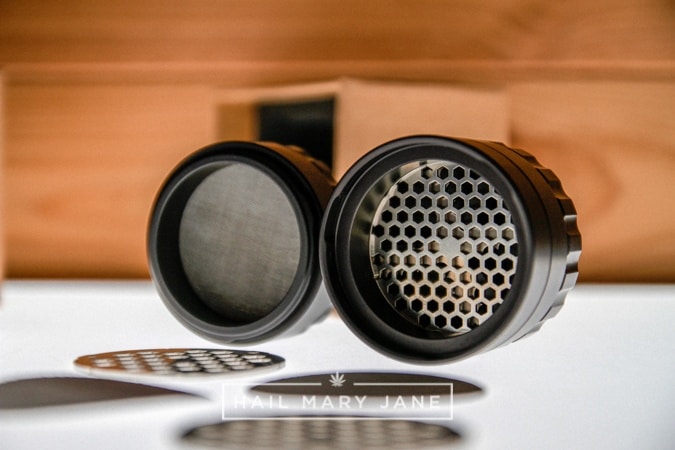 If you want to change the sifting disc or mesh screen to another size, then use the assembling tool it comes with. You will see it has raised ridges. Line them up with the slots provided, underneath the sieve and mesh pieces, and give it a quarter-turn counterclockwise to release it. Fit the part you want in its place and then give it a quarter-turn clockwise to lock it again. It really is that easy.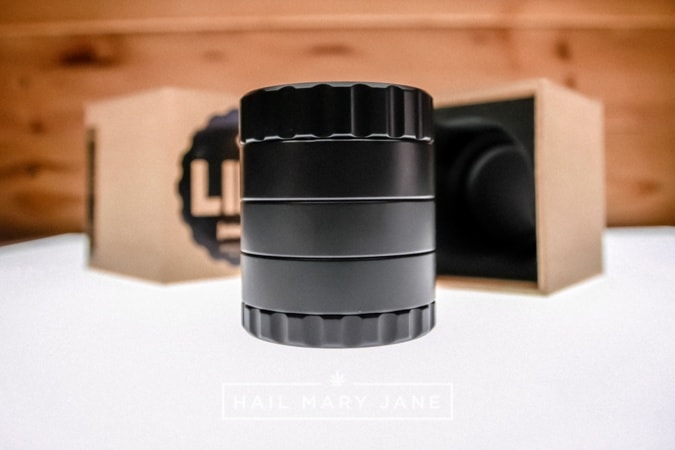 The Lift Grinder comes highly recommended. If you have the money to spend, it really is a must-have. If not, save. There will be no buyer's remorse. For just a few dollars more, though, you can get all the accessories too, including the different sieve and mesh sizes. Having them will prepare you for any scenario, whether you need finely ground herb for vaporizing or course-ground bud for bongs and joints.