Not everybody enjoys smoking, vaping even less. More and more, people are ditching the toke and turning to edibles instead, both medically and recreationally. Eating THC is extremely effective. Although it takes longer to feel effects, the buzz is notably more intense and can last several hours. The Magical Butter Machine is fast becoming a standard appliance in most kitchens, and it works with any herb.
MAGICAL BUTTER
Use code MARYJANEVAPES for 20% off
This all-in-one extraction machine makes it easy to produce your own cannabis-infused tinctures, oils and butters at home, which is notably cheaper than buying it from a store, if it even has any. The Magical Butter Machine infuses butter and oils with pot in just an hour or two, faster and easier than you could do it by hand. In no time at all, you will have a potent base ingredient to add flair to any dish.
In fact, this nifty gadget can make life easy for anyone who spends time making just about anything. You could make soaps to sell at market, creams to give as gifts. Even homemade toothpastes are becoming ever more popular, as people ditch fluoride for health. You can make your own sunscreens, candles, anything you want. The Magical Butter Machine is truly a must-have, whether you are a stoner or not.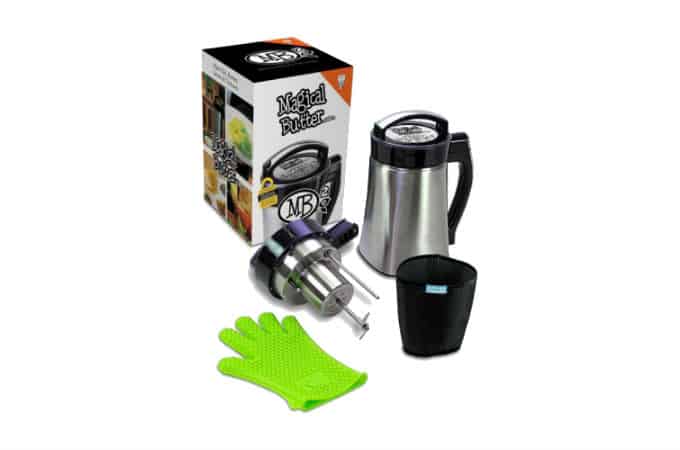 You will not find the word "cannabis" mentioned anywhere on the box, in the manual, or on the appliance itself. Not weed, not marijuana. This is for legal reasons, but the company speaks openly about pot on its website, where you can find help in abundance, should you need it. You can find ideas there for making different infusions and browsing the website is well worth your time.
Unboxing the Magical Butter Machine is truly exciting. The package is bland, not a clue of what is inside anywhere. Opening it is much the same as unwrapping a long-awaited gift under the Christmas tree. You will want to start using it straight away. As with any new appliance used to make food, however, you should always clean it first. Set it on a "clean" cycle. When you open this box, you will find the following:
The latest model of the Magical Butter Machine.
A LoveGlove™, to prevent burning yourself.
A PurifyFilter™ Bag, to filter your mixtures through.
The Magical Butter Machine is just funky. It looks like an electric teakettle, in aluminum, and it takes up just as little space in your cupboard or on your countertop. Despite having a heavy-duty plastic lid for guaranteed robustness, this appliance is stylish. You will find a LED indicator light on the lid, as well as several good-looking buttons to control the unit, all in a very user-friendly, handsome design.
Inside the lid, you will find the blender motor. The heating element is also inside the lid, along with all electronics for timing and control. Nobody will raise an eyebrow if accidentally seen in your kitchen, as it will fit snugly, discreetly and unobtrusively anywhere. The control panel, on the lid itself, displays the main features of the Magical Butter Machine. These are, amongst others far too numerous to mention:
One-hour button for making cooking oil.
Two-hour button for making butter infusions.
Four-hour button for extracting tinctures.
Eight-hour button for making extra strong extractions.
Fully automated, microprocessor-controlled program sequencing.
Exclusive technology for even heating.
Solid stainless steel pitcher.
Integrated digital sensors and thermostat.
Recipe guide.
Self-cleaning.
How to Use Magical Butter Machine – Producing Cannabutter Step By Step
If you're wondering how to use Magical Butter machine, we can tell IT'S VERY EASY TO USE, anyone can use it, even the highest of peeps. The unit comes with an owner's manual that includes recipes for making oils, butters and tinctures. If you want to make cannabutter specifically, just put cannabis in it where the recipe calls for "botanicals," set the appliance and voila. All you need are dank buds, unsalted butter and any lecithin. This is how you make a potent cannabutter:
Toss ingredients into the appliance and close the lid.
Press the temperature button and set it to 160°F/71°C.
Select the butter option, which is the two-hour button.
When done, unplug the cord and take the lid off.
Wearing your LoveGlove™ to protect yourself from burn, pour the contents through the filter into your choice of molds, ice trays or other containers.
You should never pre-grind the weed you use. Additionally, you can add as much as you want, according to your own preference. Lecithin may be difficult to find, depending on where you live, but although recommended, it is not essential. It just acts as an emulsifier to bind ingredients and increase potency. If you can get it, then avoid buying it in capsule form, as this contains too many fillers and binders.
How To Make Vape Juice With Magical Butter Machine?
As it's name suggest, the Magical Butter machine is meant to be used to make cannabutter, but you can, in fact, make more things with it like oils (olive oils, coconut oils, etc), tinctures, vinegar and even cannasugar! 
Although, on the Internet, you may find some more base recipes like, for example, the 'Magical Butter Machine Vape Juice' recipe. It doesn't vary a lot from the cannabis oil recipe, but it has some different ingredients like vegetable glycerin and propylene glycol. Click here to find how to do it.
Magical Butter Machine Recipes
As we said before, there are plenty of things that you can make with this device: drinks, candies, baked goods, gummies, soups and even beauty products. All this recipes can be made by creating, first, the Magical Butter Machine base (oil, sugar, butter…) and then mix it with whatever product you want to use or consume. 
But if you don't know how to cook/made these products, a great source with infinite guides is the machine's website, where you'll find lots of recipes to do anything, from bath bombs to gummies. There you may find all the recipes with all the info you need to make the cannabis infused product you want. 
Cleaning the Magical Butter Machine could not be simpler. It actually does the job for you. When the timer beeps with your infusion done, unplug the appliance. Then, just add water to the pitcher, filling it between the MIN/MAX lines. Squirt a drop of dish soap into it, replace the pitcher head, and plug the cord back into the wall. Then, just tap the "CLEAN" button and rinse when finished. As easy as done.
Magical Butter Reviews: What Customers Think About It?
Most of the reviews state that this gadget is very easy to use and highlight the fact that it has a lifetime warranty is a thumbs up and the cannabutter it makes is amazing! There aren't a lot of Magical Butter tincture reviews, because almost everybody uses it to make butter, but the few we've read they say that the final product is as good as the cannabutter.
Magical Butter Review: Is It Worth It?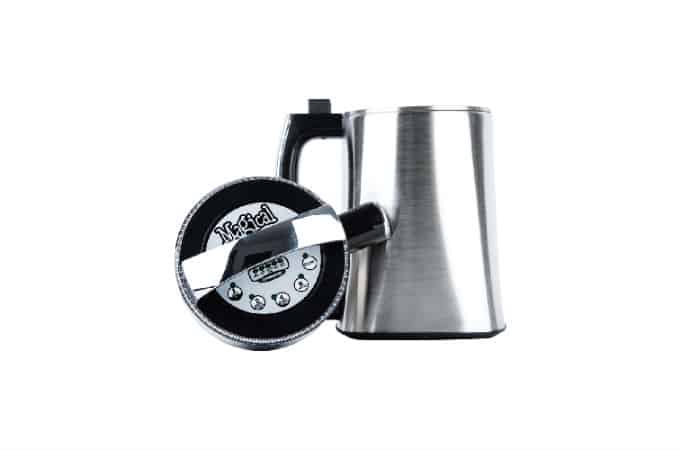 To finish our Magical Butter review, we must also say our opinion, and first of all: this handy little appliance is not just for stoners.
You can infuse any herbs you desire, not only weed. You can make grain alcohols, lotions, pet medicines, essential oils and beauty products, whatever you want. It is quick, it is easy to use, it works extremely well, it looks good, and it even cleans itself. More importantly, despite its initial purchase cost, you will never have to buy pricey concentrates again.
Not only is the Magical Butter Machine more than a useful gadget to have, but it will also save you thousands of dollars in buying infusions and concentrated products all the time. Edibles are expensive to buy, even to make yourself without this trendy device, and very few can actually afford it. You will have none of these worries anymore, or any labor- and time-intensive hassles. Worth the price? Absolutely.