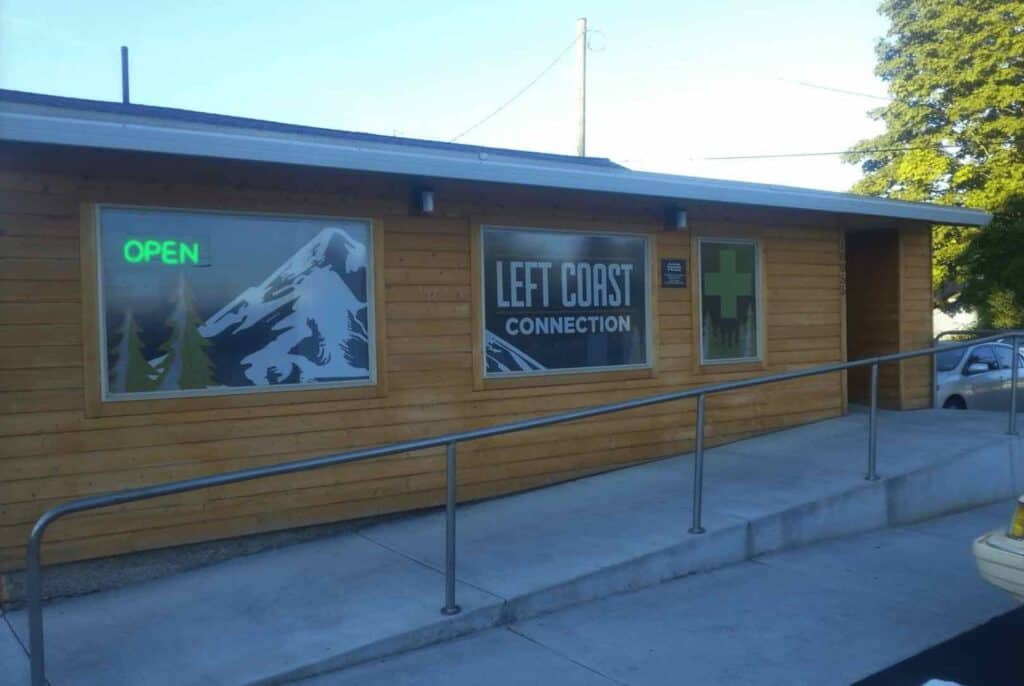 Left Coast Connection Recreational Marijuana Dispensary in Portland
Why is LCC is one of the top dispensaries for cannabis in the greater Portland Oregon area?
Left Coast Connection in Portland is a recreational and medical marijuana dispensary that offers a great and relaxed shopping experience. 
At LCC, our goal is simple…
We aim to provide you with the best cannabis products at the best price. From some of the top brands of flower and edibles, to our in-house 
We proudly carry these types of cannabis products at our dispensary: 
Flower, pre-rolls, joints, vaporizers, concentrates, edibles, topicals, tinctures, CBD
Click Here to Order Online and View The Menu For Left Coast Connection
Dispensary Attributes/Features:
Here are the best answers we've found for what you can buy/do at Left Coast Connection.
Does this dispensary do delivery or provide weed delivery services?

Yes. You can order online and schedule your weed delivery by clicking here.

Is Left Coast Connection located near the Portland Airport, or PDX?
Do they take credit or debit cards? Or, do I need to have cash?
Does this dispensary have an ATM on-site?
Do they offer birthday deals or specials for your birthday?
Do they have curbside pickup? Can you order online?
What is this dispensary known for or the best for? 
 
Are they open late?
What are their specials?
What's on their menu?
Do they have special 420 deals?
Is this dispensary medical? Recreational? or both?
If medical, does this location accept insurance of any kind?
How much weed can I buy at this dispensary?
Does this location track how much you buy in one day?
Can this dispensary ship out of state?
Are the carts safe at this dispensary?
Can I buy edibles here?
Is this location the cheapest?
Do they sell clones here?
What's the best way to choose a Portland Pot Shop?
Is this location known for having the best edibles?
Are THC and CBD edibles available?
What are the top Edibles for sale at this location?
What might be some other open dispensaries nearby this location?
What can I expect on my first visit?
Do I need to have an ID?
How long after taking an edible will it take for me to feel it?
What product types do they offer and/or sell here? 
Yes.
Can you order online and pickup?
Yes.
Popular Cannabis Strains at Local Oregon Weed & Pot Shops
Portland Oregon has a large number of dispensaries.
Some of the most popular cannabis and marijuana strains in Portland include Green Crack, Sour Diesel, and Blue Dream. Other strains that are popular include Sour Kush and Northern lights.
It's common in most dispensaries to see strains like these ones below.
gelato, wedding cake, gorilla glue, purple punch, sour diesel, mimosa, ice cream cake, Durban poison, og kush, girl scout cookies, jack herer, bubba kush, cherry pie, etc.
Communities We Proudly Serve:
https://www.google.com/maps/place/Portland,+OR/@45.5423706,-122.9345088,10z/data=!3m1!4b1!4m5!3m4!1s0x54950b0b7da97427:0x1c36b9e6f6d18591!8m2!3d45.5051064!4d-122.6750261
Some of The Best Tourist Attractions in Portland, Oregon:
Portland, Oregon is an amazing city and tourist attraction. There are a lot of things to do in Portland like the world-famous Powell's Bookstore, the Tom McCall Waterfront Park that has a giant statue of Linus riding on his blanket waiting for The Great Pumpkin, and the International Rose Test Garden. With all these amazing places to visit, it is not hard to see why people from all over make their way to Portland every year. In addition to having all these wonderful things in this city, Portland also has some of the best food around, which you can enjoy while sitting outside at one of many restaurants that have outdoor seating or eating lunch at one of the many food carts. Another great thing about Portland is how bike-friendly it is as there are miles and miles of bike lanes and other bike routes throughout the city. It doesn't matter if you're looking for something fun or relaxing there are plenty of opportunities for both in this beautiful city so don't miss out on visiting when you get an opportunity.
The Grotto Portland: The Grotto is a large portal into the past in Portland, Oregon. It's an amazing place that feels like it's been frozen in time. Here you will find a peaceful garden with a waterfall, modeled after the Garden of Eden, and lots of religious statues. You can also take tours and you'll be able to explore some parts of the cave systems beneath it.
Mount Tabor Stairs:Mount Tabor is a hill in north Portland. It's part of the Tualatin Mountains, and was named by pioneer settlers for its biblical association with Mount Tabor in Israel.