At first glance, Premium Jane CBD looks like a high-end product found on the shelves of any chic boutique. As you start to learn more about the brand, you'll quickly find out the aesthetic truly does back up their high-quality blends. Premium Jane not only offers a plethora of CBD products, but their attention to detail begins from the crops they sow with sophisticated care. So let's learn more about what makes Premium Jane CBD oil a top-shelf CBD brand and review the products they have to offer.
What Makes Premium Jane CBD Special?
With so many brands in the CBD market today, it can be hard for any to truly stand out. To Premium Jane CBD that didn't stop them from trying. Based in Scottsdale, Arizona the brand's founders came together with one goal in mind. To source CBD products from controlled and regulated hemp plants, that is natural as can be. Here's a few key features that make Premium Jane CBD, that much more special.
Quality of Plant Material
Premium Jane CBD Products
The number of options Premium Jane CBD offers alone, is enough to be sold on their brand. Even though they don't rank as the best CBD oil for sleep, their products provide a variety of therapeutic benefits. After experiencing the top-shelf difference of their top-notch blends, you can see 'quality over quantity' isn't always true. Premium Jane provides both with their expansive collection, each just as good as another. So, without further adieu, let's see how the brand upholds their reputation with their actual goods.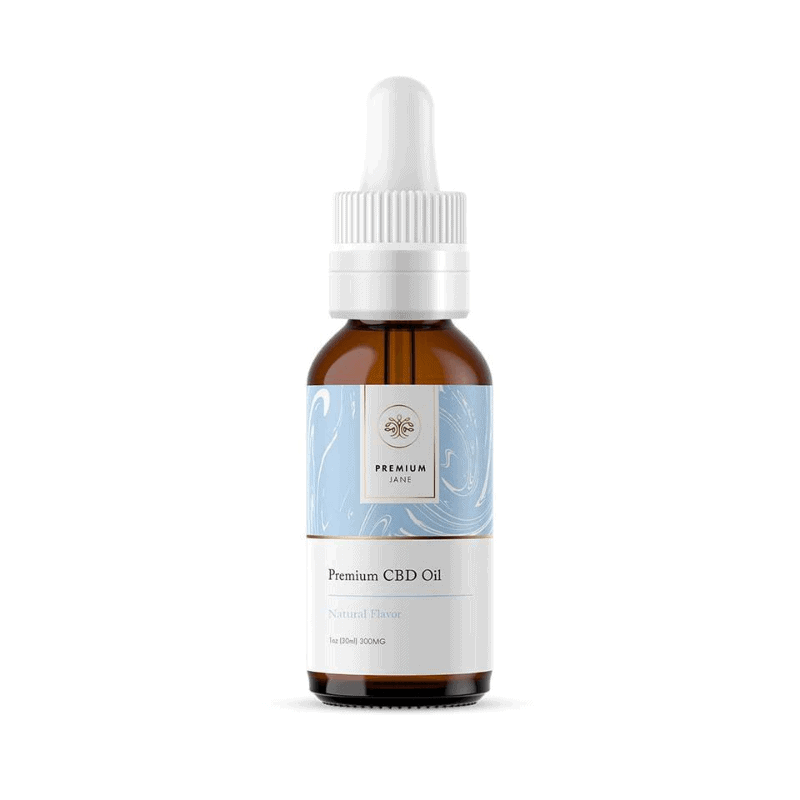 First up, is Premium Jane's CBD oils which come in a variety of options. Their oil is full-spectrum in nature, but generally contains less than 0.02% THC to avoid any psychoactive effects. Full-spectrum CBD oils contain whole plant material, for the benefit of full-bodied effects that come from the combination of terpenes, cannabinoids, flavonoids, etc. Which Premium Jane's CBD oil definitely delivers. Their formula is rich in earthy and natural tastes, and many oils are available with additional flavors. Including -
As for potency, the brand's tinctures come in the following strengths: 300MG, 600MG, 1000MG, 3000MG or 6000MG. 
Their 'luxe*' line features a lemon-lime blend which is available in their highest potencies of 3000 MG and 6000 MG. Designed specially for those who require an extra strength for healing like some of the best CBD oils for diabetes also boast. The oils are non-GMO, and vegan, making them friendly for even more types of consumers to use.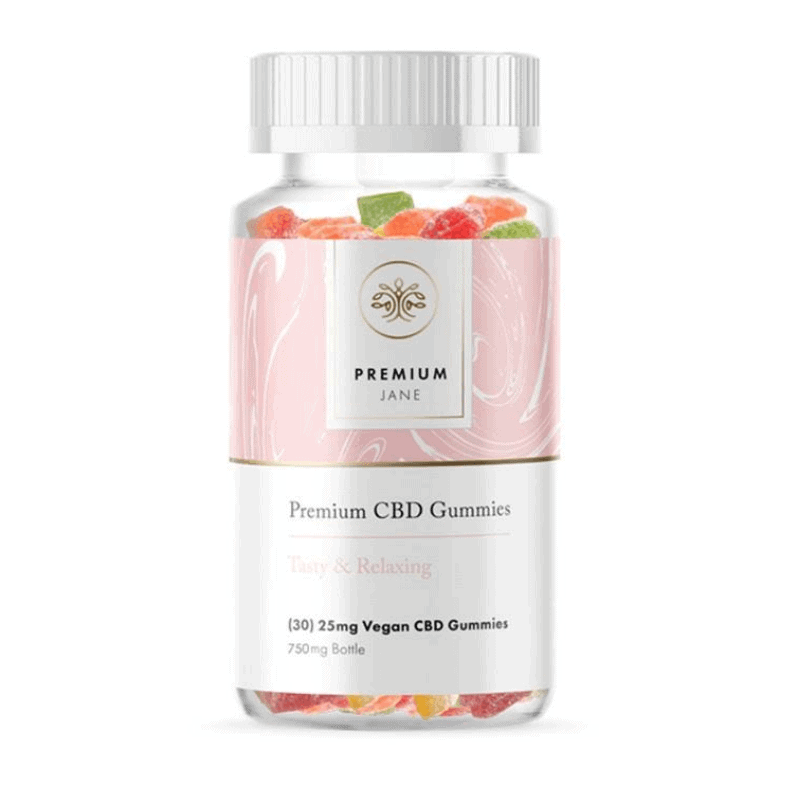 Premium Jane's CBD and vegan gummies are just as effective as they are pretty, and tasty. The organically made treats contain 25 MG of CBD per gummy for easy and accurate dosing. Each bottle comes with 30 gummies for a total of 750 MG altogether. What makes Premium Jane CBD gummies unique to their other goods, is they're not full-spectrum in nature and 100% THC free. To make their gummies, Premium Jane uses CBD isolate which is 99% CBD and CBD only—allowing those who are fearful of THC showing up on a drug test, or those with sensitivities to THC, to enjoy the benefits that CBD has to offer in a sweet and delicious package, too. Premium Jane's CBD gummies are flavored with a mixed-fruit blend that you'll definitely crave.
Premium Jane CBD Capsules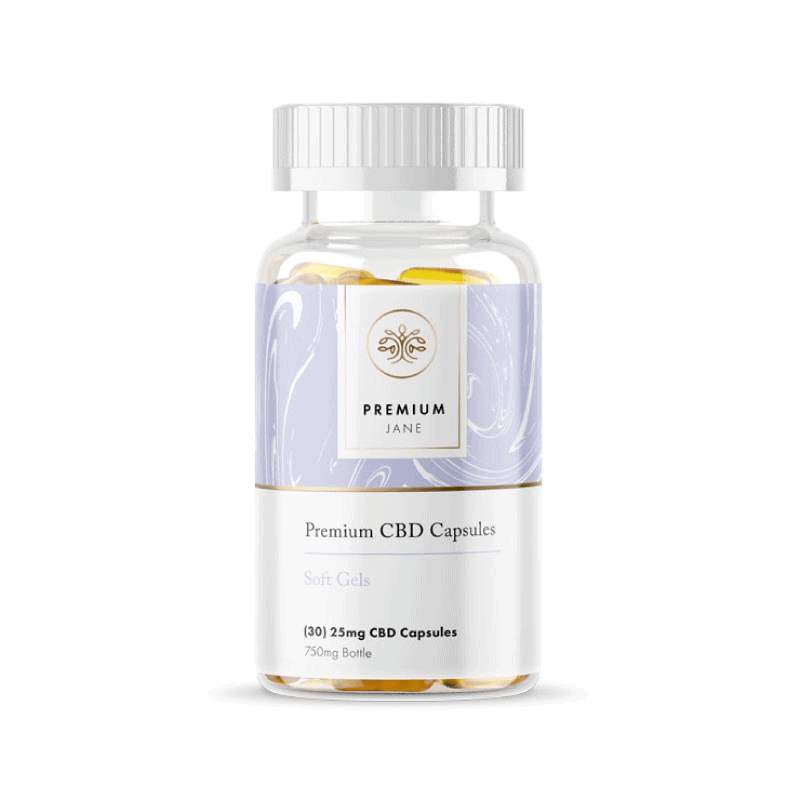 Many CBD consumers prefer CBD capsules for their discrete nature, and ease of use. Not to mention, they're ideal for those with sensitive stomachs as you'll take them just like any other pill or supplement. Premium Jane's softgel capsules are designed for just that with the potency to match. They're made with all-natural ingredients, and artificial flavorings for organic plant power in an easy to swallow and digest capsule.
Each cap has 25 MG of CBD, so if you require extra strength for dosing, you'll have to take multiple at a time. The bottle contains a total of 750 MG with 30 capsules each but is also one of the pricier products that Premium Jane has to offer.
Premium Jane CBD Topicals
Premium Jane takes their skincare and topical game seriously, with over eight different CBD products to choose from. They include –
If you couldn't tell…there's practically a product for anyone, and every part of your self-care routine. CBD has a number of benefits for the skin from decreasing fine lines, filling in wrinkles, moisturizing and rejuvenating, which Premium Jane puts to work with their full-spectrum blends. Their topical salves are more designed for targeted pain relief, and both have a refreshing smooth scent, too. Besides, each product is specially infused with natural additional ingredients that extra promote their skin-healing benefits. Like argan oils, omega-3 and 6, charcoal, hemp seed oil, and more.
Last but not least, are Premium Jane products for your furry friends. The brand's pet line features just as premium products for humans, but specifically designed for the size of your canine companion. Premium Jane has two CBD options for pets –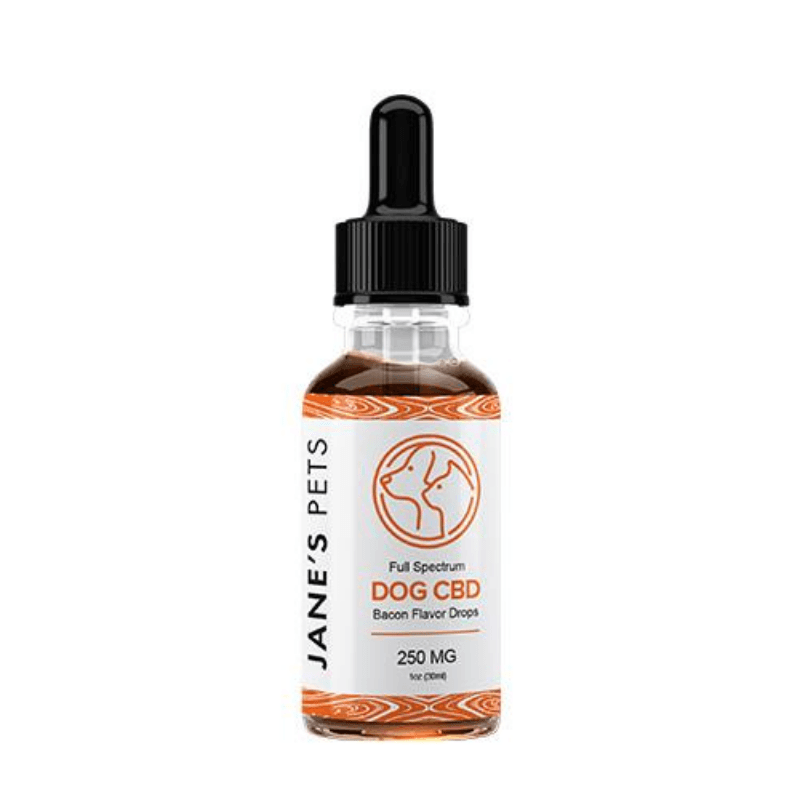 DOG CBD Drops - Bacon flavored 250 MG
What dog doesn't like bacon? That's the idea behind Premium Jane's bacon-flavored, full-spectrum CBD oil that's specifically made with dogs in mind. The oil is a perfect consistency to add to your pet's bowl of food, and they'll lap up the extra tasty flavor that's chock-full of natural healing benefits. Premium Jane uses their same formula for humans, dialed down for pet-sized doses.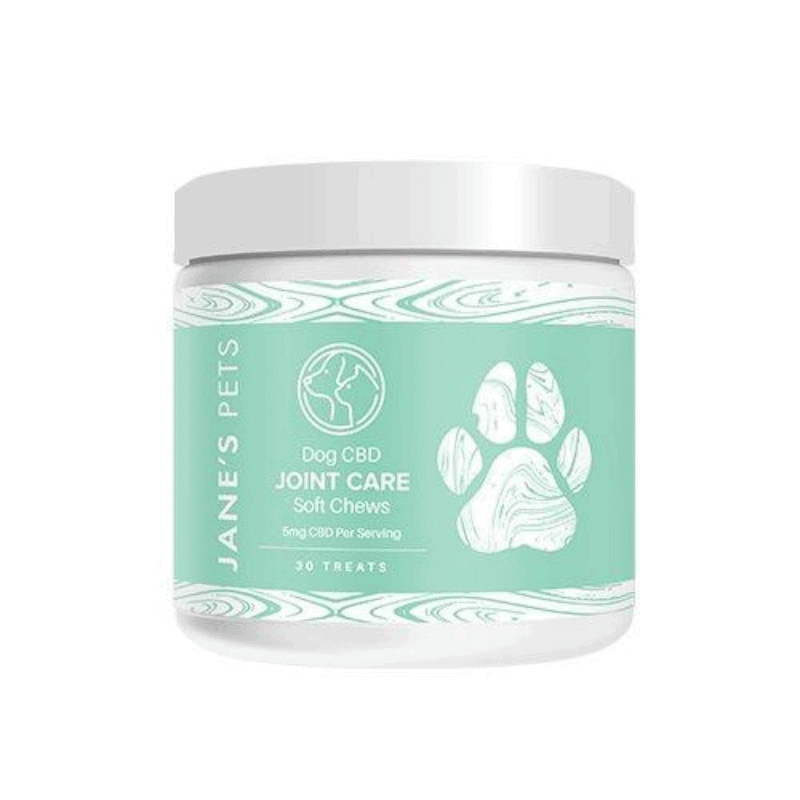 CBD Dog Treats 5 MG
More than bacon, dogs love treats too. If this sounds like your pet who could benefit from CBD, then these soft chews are for you. Each chew has 5 MG of CBD, and the bottle comes with 30 total. Making the Premium Jane pet treats highly cost-effective, too, at under $20 per bottle. The chews are ideal for any sized dog, without halfing or cutting them into pieces for smaller dogs, making dosing even easier for pet owners.
Premium Jane Reviews: What Customers Think About The Products?
Premium Jane has an ample amount of customer reviews, listed directly on their website and across the internet. Overall, consumers agree that for efficacy and quality, Premium Jane is about as good as it gets. While their CBD oil doesn't receive claims of being the best CBD oil for pain relief, overall, real-time reviews share real-time success. Most reviews note their affordable pricing for quality as a reason for staying true to the brand, and their wide range of flavors and products rate high, too. The only negative reviews we came across were issues with ordering and shipping notifications, which the Premium Jane seems to be working towards addressing as a whole.
Like online reviewers, it's hard to find a bad thing to say about Premium Jane's CBD collection. Their website is easy to navigate, the brand offers a wide range of goods, and each product has a detailed description with everything you need to know for purchasing. Once you experience the Premium Jane difference and the essence of quality-grown hemp plants, you'll have even more to applaud for the brand. From their edibles to their flagship oil products, we found each desirable in taste and efficacy. If you're seeking a CBD brand you can trust for natural plant healing, then Premium Jane should definitely be on your list of products to try.