SOL CBD puts a natural and health-focused spin on the products they've brought to the industry. The company founders, Oksana and Larry Ostrovsky were well integrated into the natural wellness world prior to starting SOL CBD. Noting 'science as their biggest ally', the couple created the brand through their passion and purpose to help people achieving optimal health. This is why their all-natural products not only range in selection but deliver high-quality effects, too. Let's take a look at their top products we tested, and what we found from real SOL CBD reviews for an in-depth glimpse into the brand.
SOL CBD has taken their signature oil and tinctures seriously, with high concentrations and quality ingredients. Their full-spectrum oils come from the most prestige extraction method, CO2. The technique allows for the optimal capturing of an abundance of cannabinoids, terpenes, and flavonoids that lend to the oil's powerful effects.
What sets their tinctures apart amongst SOL CBD oil reviews is using MCT (Medium Chain Triglycerides) oil for infusion. This type of oil is a fat commonly found in coconut oil and is one of the easiest fats for humans to process and use. Meaning, your CBD and natural hemp compounds will be utilized to the max upon consumption.
The blue SOL CBD oil bottles are synonymous with quality. Next, we'll review the brand's oils to give you a better idea of why SOL CBD oil reviews rave about the products.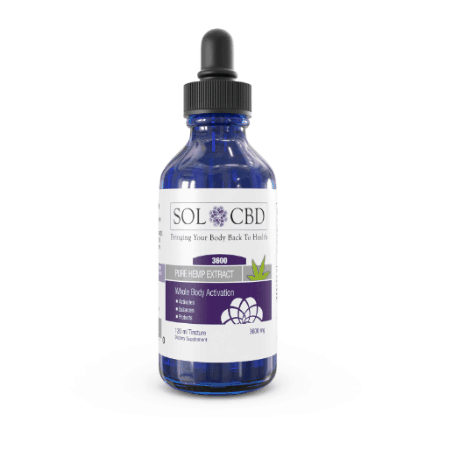 SOL CBD's focus on health-driven CBD shines high-strength 3600mg CBD tincture. As you may know, many common conditions require high doses of CBD for relief. Which can be hard to come by or extra pricy when purchasing multiple bottles to achieve. Even though the SOL CBD 3600 mg tincture comes with a hefty price, the concentration of CBD you're receiving is worth it.
The tincture comes with 3x more CBD per dose than the brand's standard oils. Packaged in a 120 ml bottle, their certificate of analysis boasts over 35 mg per 1 ml. As we mentioned, the effects end up worth the cost. We felt the difference first-hand, with powerful relief and a long-lasting soothing sensation.
Cinnamint and Natural SOL CBD Oil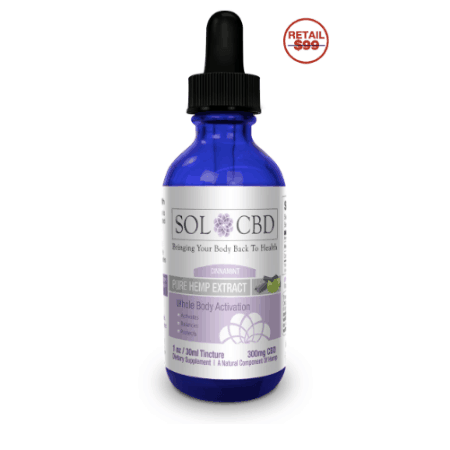 The brand also offers a standard strength tincture, with two options for taste - cinnamint or 'natural' flavored. The 30 ml bottles come with 300 mg of CBD and are backed with a transparent certificate of analysis, to ensure consistency and confidence. Since SOL CBD uses MCT oil it was easy to feel the effects, even at the smaller strength. Either flavor is mild and enjoyable, but we recommend opting for cinnamint if you're sensitive to the pure taste of hemp. The minty flavor is not over-powering or artificial in nature.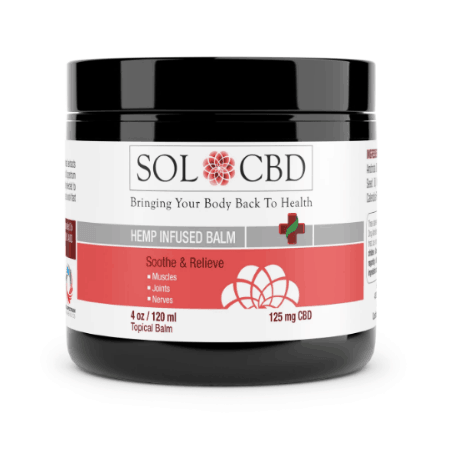 One of their most popular items, the SOL CBD infused herbal balm is trending for good reason. The balm takes an extra step with additional infusions of the world's 12 most potent herbal extracts and oils. Including Omega-6's, Omega-3's, vitamins C-D-E, grapeseeds, linoleic acid, wintergreen oil and more. The combination delivers potent effects especially for muscle and joint pain. In addition to being soothing enough to help treat skin conditions like eczema, acne or wrinkles and fine lines.
Altogether, SOL CBD's balm is multi-faceted for positive effects. It goes on smoothly, without residue or greasy textures and absorbs quickly. You can tell the product has been crafted for ultimate relief, the first time you use it.
CBD Liposomal might be a term you're unfamiliar with. Basically, it's a CBD oil that dissolves in water. As you know, oil and water never mix. But with SOL CBD's liposomal products they're defying that issue. If you're not a huge fan of the taste of CBD then SOL CBD's liposomal's are perfect for you.
Scientifically, liposomal's are liquid-filled bubbled made from phospholipids. The bubbles carry the CBD and transport more quickly than other intake methods. Because they're promoted through the intestinal lymphatic system, CBD is fed directly to the immune system, then to the bloodstream. This avoids any deterioration of compounds by the liver.
The products come in a handy pump package that makes infusing any beverage simple, and mess-free. We found both flavors to be easily mixed into any beverage and non-artificial in taste overall. Let's cover each option, more in-depth.
SOL CBD Liposomal Orange Twist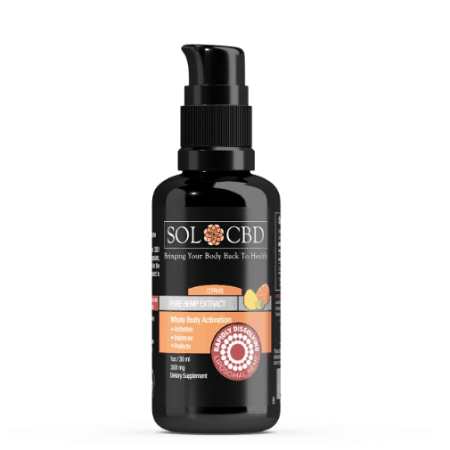 The Orange Twist SOL CBD Liposomal added a natural tropical flair to the beverages we infused. The advanced technology of the delivery method allows for effects to kick-in quick. The product is full-spectrum too, so it provides an entourage effect with the plant compounds working synergistically.
One drawback is the Orange Twist flavor only comes in the 30 ml size. Although you can purchase 2-packs or 3-packs for a bulk discount. SOL CBD recommends using 4 pumps in a glass of water, twice a day so you might want to stock up or consider their subscription options if you dig the effects that Liposomal delivers.
SOL Advanced Liposomal CBD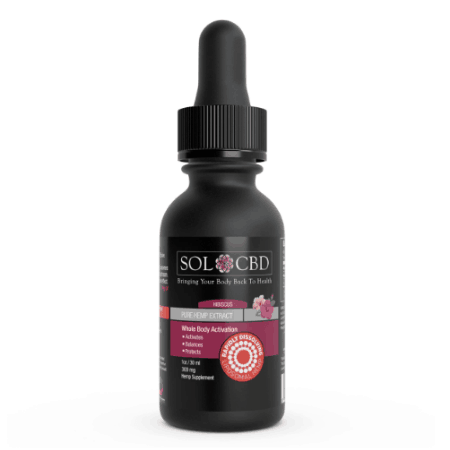 SOL CBD's Advanced Liposomal CBD is so state-of-the-art it's actually patent pending. The hibiscus flavored liposomal solution offers one of the most effective bioavailability rates accessible on the market today. A fact that's study proven, and available on their web site for viewing. Even though the 30 ml bottle is one of the most expensive, the cost is justified for the premium delivery of hemp extracts for powerful healing, and quickly.
We found the hibiscus flavor to be naturally appealing, and mild but if you're not a fan of flavored oils then you're out of luck. As of now, SOL CBD does not offer an unflavored option of their liposomal products.
SOL CBD Skincare Products
Organic skin care products from SOL CBD take the brand's level of care and attention to a new market. They've begun a fresh line of luxurious goods that are designed to address common skin care issues with organic ingredients, plus CBD. Their first two products are aptly titled 'Nourish' and 'Extra Care' and deliver the same high-quality hemp and CBD extract as their oil products.
The Nourish formula combines 22 powerful ingredients for moisturizing, softening and balancing skin tones. While Extra Care restores a youthful and healthy glow with a combination of 22 herbal extracts. The lotions are made in small batches for quality assurance, and to deliver the top-notch products you're used to seeing from SOL CBD.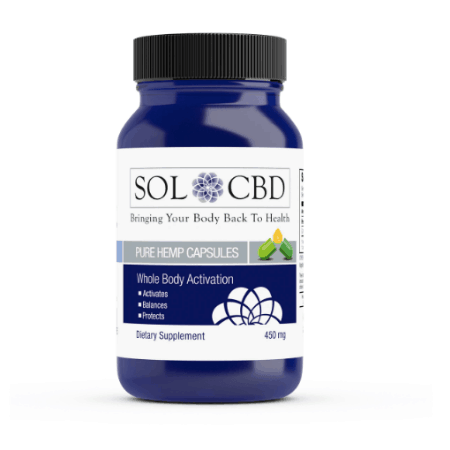 When you need a convenient way to take CBD on the go, capsules are your best bet. SOL CBD takes this into consideration and crafted capsules with the same quality of their oil. Their capsules are also recommended to CBD consumers who love the brand's effects but aren't a fan of the taste of tinctures. Capsules are often taken by users addressing conditions that last all day - like anxiety. If this is you, you might want to brush up on the best CBD oil for anxiety, here.
SOL CBD's vegetable-based capsules are easy to swallow, but at 15mg's each you might have to take a couple to reach your desired dose. We can affirm that the capsules deliver the same high-quality and full-spectrum effects that SOL CBD oils, do too. With 30 per bottle, SOL CBD's capsules are one of the most cost-effective options amongst their product offerings.
When taking a look at SOL CBD oil reviews, we found a few common consistencies. Even though users rate the company as one of the most expensive, overall consumers found the effects to be worth the cost. Especially considering the brand's subscription, and bulk discount options.
'Reviewers also rate SOL CBD high in transparency with their product's certificate of analysis being easy to access.'
Another common factor amongst reviews is the brand's CBD efficacy to help treat common medical symptoms, like pain, insomnia, nausea, etc. The reviews go to show that SOL CBD's commitment to improving optimal health is working for real-life users. In addition, reviewers have an appreciation for the brand's 60-day money guarantee even though few actually reported returning their products.
Negative reviews of the company included their lack of vape cartridges or vape oil for vaping consumption. If you're also a consumer that prefers to vape your CBD, check out our guide to the best cbd vape oil, now.
Final Thoughts: What We Think About SOL CBD Products
When looking at the big picture of SOL CBD, we have very few negative things to say. Their drive for health-focused CBD effects shines through each and every product, they offer. What we love most is their attention to infusing products with additional natural ingredients to amplify desired effects.
We find this attention to detail worth every bit of the extra cost. As they say, you get what you pay for and with SOL CBD you're getting the best of the best. We do wish that the products had a wider variety of flavors and sizes to choose from. But, most customers, ourselves included, are able to find a package or product that will work efficiently for them.