We're all very familiar with edibles. Baked goods, candies, drinks – all of these are great products from a variety of excellent producers.
But sometimes, deviating from the norm – albeit risky – can really lead to something great. This is the case with Tasty Buds, a unique company who offers what is arguably one of the most original cannabis-related products on the market.
Established in 2018, Tasty Buds is a small business based in British Columbia, Canada. According to their story, the company was founded by "[two] best buds from Vancouver, B.C."
As the cannabis industry grew and eventually became legal in October of 2018, Tasty Buds set out to offer a new type of product.
Rather than create edibles infused with THC and CBD, Tasty Buds sells products made from top quality chocolate and other "gourmet ingredients," creating a variety of amazing flavors.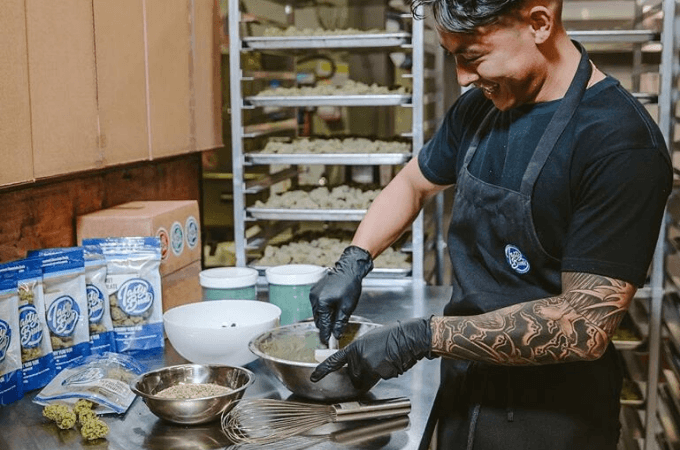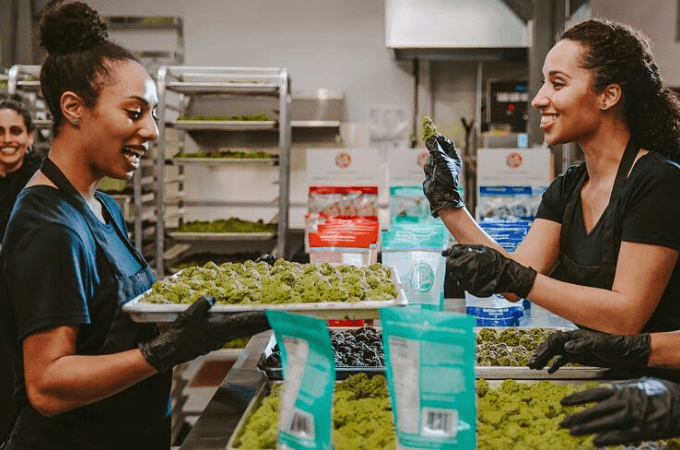 But perhaps the most creative and unique part is that the edibles are designed to look exactly like authentic marijuana buds. Rather than satisfy the need to get high, customers can use Tasty Buds to address the munchies.
Despite the lack of THC or CBD, Tasty Buds is phenomenally successful and is available in hundreds of Canadian niche retail stores, along with many online outlets.
Do you live outside of Canada and still want to get your hands on some Tasty Buds? No problem. The business ships their products worldwide.
Who Makes Tasty Buds Edibles?
Tasty Buds chocolate buds are use white chocolate as a base, along with other ingredients to give the products a cannabis-like appearance and consistency.
The products have a cannabis-like aesthetic, coming in clear bags available in half-pound, one pound, 2.5 pound and five pound options.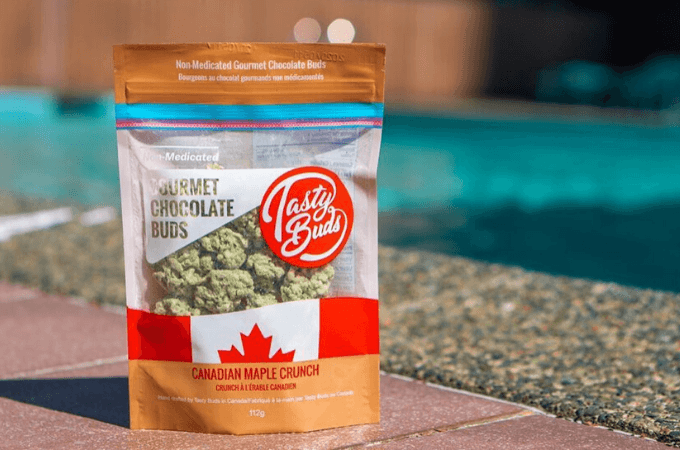 As its name implies, Canadian Maple Crunch takes a classic Canadian flavor based on one of Canada's most famous commodities. Flavored with maple syrup, maple flakes, maple drops and molasses, these white chocolate treats add hemp hearts and rice crisps for a delightful, crunchy imitation cannabis snack. If you want an option that screams "Canada," Canadian Maple Crunch is the perfect choice.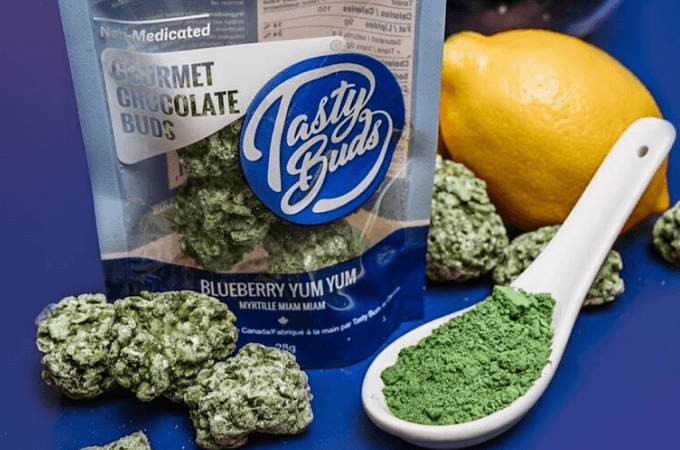 Blueberry Yum Yum's name says it all. Sourced right at home from B.C. blueberries, this variety carries a delicious, fruity flavor infused into quality white chocolate. Along with hemp hearts, matcha, rice crisps and a splash of organic lemon oil, Blueberry Yum Yum hooks you in with its blueberry flavor and hammers it home with a crunch. A highly popular flavor, Blueberry Yum Yum is a great option for sharing or giving out as a party favor.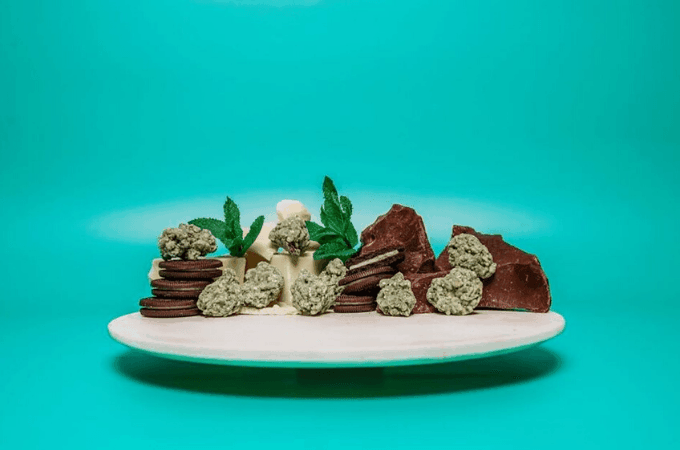 Mint Cookies takes a classic flavor and adapts it perfectly for the Tasty Buds line of products. The mix of white and dark chocolates with Oreo pieces makes for an authentic cookies and cream experience. Organic peppermint oil gives Mint Cookies its nice, minty bite. Combined with rice crisps and hemp hearts to give it a crunchy texture, Mint Cookies is a refreshingly sweet choice for Tasty Buds fans everywhere.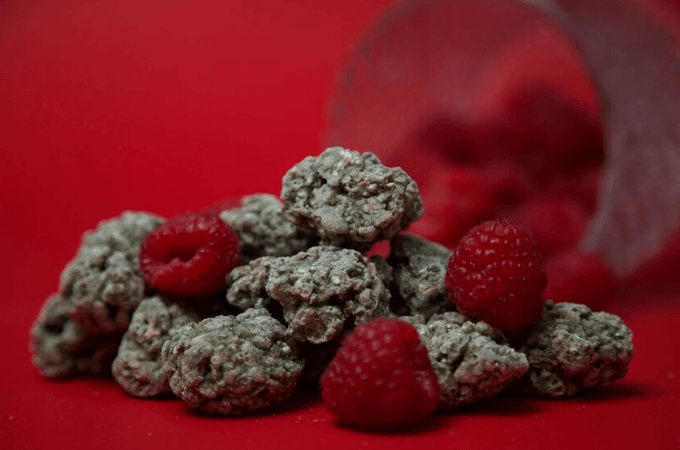 Raspberry Haze combines the tartness of raspberry with an assortment of subtle flavors. Made from white chocolate, dark chocolate and natural freeze-dried raspberries, Raspberry Haze reigns in the sweetness a bit. However, it's not all tartness. The addition of hazelnut praline and maple flakes helps offset the strong raspberry flavor to give it a subtle sweetness that provides an excellent balance.
Tasty Buds has a great line of products year-round, but they also love to bring out some real gems for the holidays.
Tasty Buds' Seasonal Specials are available for a limited time, with products and flavors that give their snacks a festive vibe.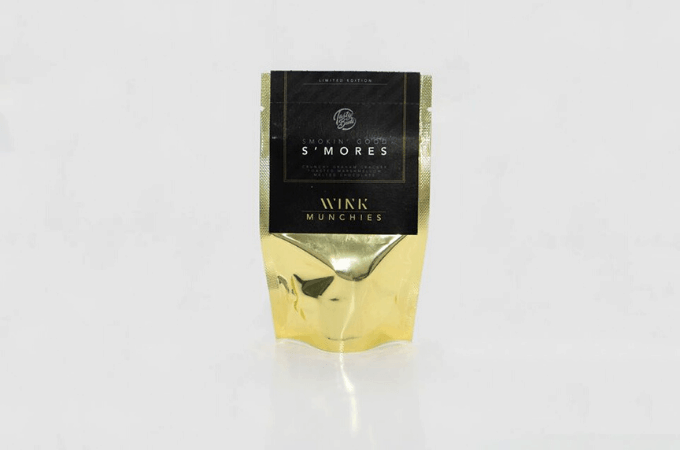 A Tasty Buds take on an old classic treat, Smoking Good S'Mores has all the ingredients you'll find in the staple campfire snack – and more. Each bite brings forth the flavor of white chocolate, rice crisps, toasted marshmallows, chocolate chips, hemp hearts and graham cracker bits.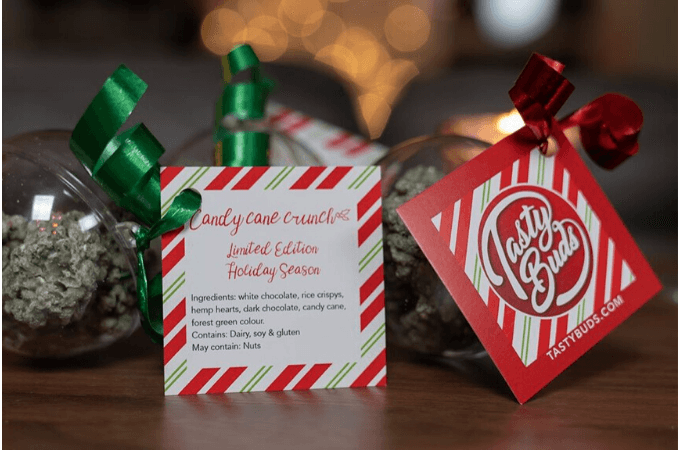 Add some life to someone's stocking or tree with Tasty Buds Holiday Ornaments. These handy, clear plastic balls come with a small amount of their Candy Cane Crunch flavor. Inexpensive and decorated with a shiny ribbon, Tasty Buds Holiday Ornaments will definitely bring attention to your tree – even if it raises a few eyebrows. But don't worry. As always, their products contain no marijuana, CBD or THC.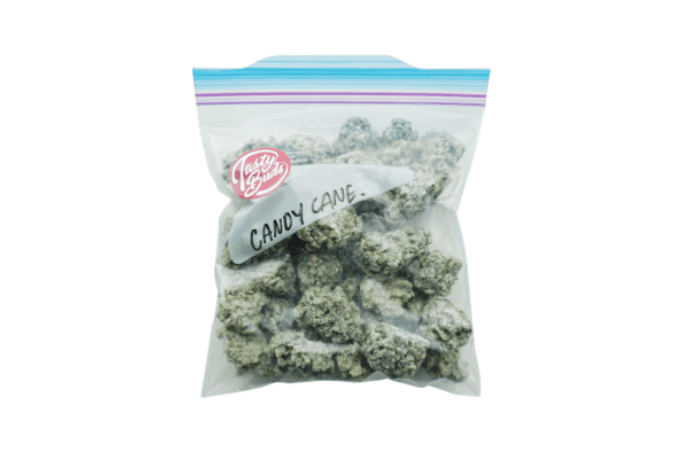 Tasty Buds loves to bring out some holiday cheer, but nothing is more festive than their Candy Cane Crunch flavor. Made with quality white chocolate, crunchy rice crisps, hemp hearts and real crushed candy canes, Candy Can Crunch is the perfect finger food for a party or the munchies.
For those not fortunate enough to be near a store, customers can also buy online directly from the Tasty Buds website.
Alternately, Tasty Buds products are available at several online retailers. Keep in mind, all of these sources are Canadian, so prices will be in Canadian dollars. However, some stores, like Head Candy Smoke Shop, deliver to the U.S.
Some of Tasty Buds' products are also available on Amazon Canada
Tasty Buds Review: What people think about Tasty Buds?
Innovation is always a gamble, especially when going out on a limb with something as inventive as Tasty Buds. In most cases, such experiments end very well or very badly.
But based on what customers say, Tasty Buds appears to have enjoyed the former outcome. Obviously we can't speak for every person who tried these snacks, but there's no doubt they were well-received.
For instance, one Amazon reviewer called them "fun and so good!" They go on to say:
Similarly, the Tasty Buds Facebook page contains almost universally positive reviews, with an average of 4.5 out of 5 stars (the only complaint being unrelated to the product itself).
For instance, a retailer wrote:
Final Thoughts: What We Think About Tasty Buds CBD Products
Initially, it felt odd looking at what appeared to be marijuana, knowing full well that hemp hearts were the snacks' only connection to cannabis.
The snacks didn't disappoint. The crunchy consistency was perfect, as was the distinct blueberry and white chocolate flavor. We also can't help but marvel at the creative way in which they used these ingredients to create the cannabis aesthetic.
Overall, we can't recommend these enough, either as a casual snack or a solution to the munchies.