Arizer has been on the vape market for some time now, with the Arizer Go (ArGo) being their fifth product release. Arizer's previous releases lacked in the area of portability, but with the ArGo they have managed to cram all of the features of their previous products into a tiny hand-held. In terms of size, the ArGo is a step up from the Arizer Air 2 and Solo 2. And it hasn't had to compromise on any of the quality.
Main Characteristics
Brand: Arizer
Model: Go (ArGo)
Size & Weight: 2.04" x .94" x 3.26", weighing 97 grams
Temperature Range: 112 – 418℉
Heat production (Convection/conduction): Convection
Heating time: ~90 sec
Oven Size: about .15 grams (10-12 hits)
Battery (duration and average charging time): 1.5 hours battery life, 3.5 hours charging from empty to full
Colors: black
Warranty: Lifetime warranty on the heating element, limited 2 year warranty on other defects excluding the battery
What's in the box?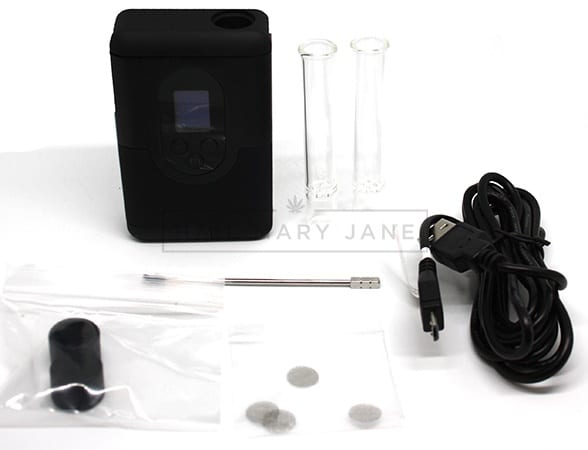 The ArGo box is fully equipped with everything you might need to use the vaporizer and to take it with you on the go. You can expect to see:
1 Arizer Go vaporizer
1 replaceable 18650 Li-ion battery
1 USB charger and adapter
2 glass aroma tubes
1 carry case with a belt clip
2 silicon caps
1 stainless steel oven tool
4 stainless steel filter screens
And a user's manual
Size and design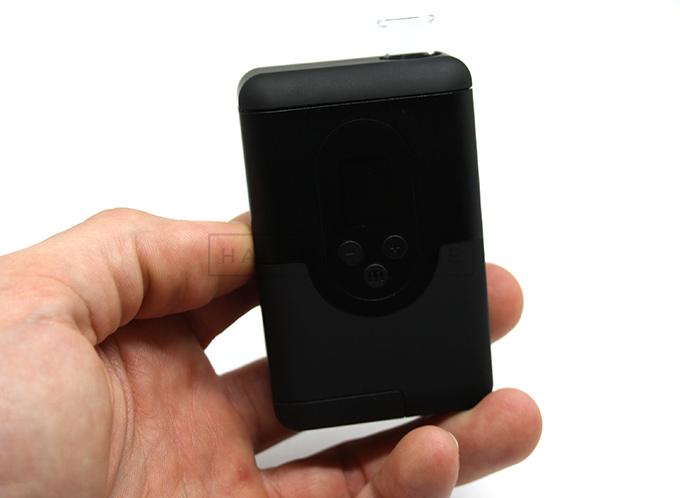 In all of its 97 grams, this small piece of work is a well designed unit. Arizer definitely didn't compromise on the features of all of its other products to make the ArGo. It has just about all of the features everybody loves about the Arizer Air and Arizer Solo, only crammed into something super nifty and cute.
It would be completely palmable with just about any hand, making it extremely portable and very discrete. It definitely has a quality of discretion compared to Arizers other models which are bulky and look like …well… vaporizers. It definitely fits in your pocket, but if you like belt accessories this one comes with a belt clip.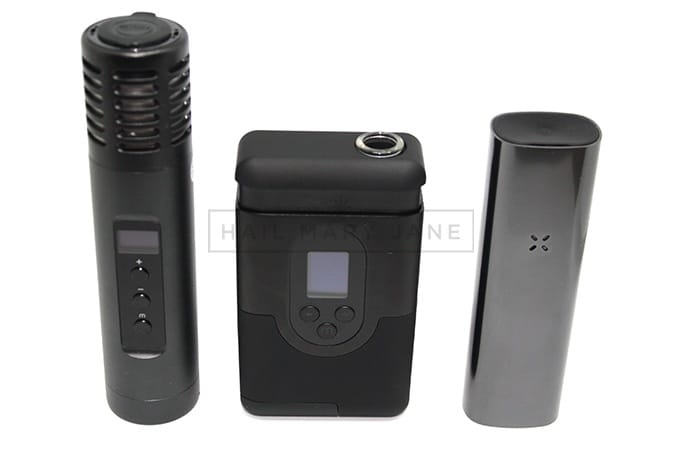 The Argo has a glass vapor path which is probably the best material for a vape, but of course comes with the quality of delicateness. This model has to be dealt with pretty delicately to avoid it breaking. This glass piece also happens to be where you load the material. It unfortunately doesn't have a huge space for packing herb, so sessions usually involve some re-packing. However, this means you don't lose on vape quality.
There are two silicone caps that come in the box. They are for covering the part of the glass tube that contains buds. It means you can pack the buds and cover using the silicone. Then you're free to travel around fully loaded.
There is one reservation when it comes to the design of the ArGo. Pressing the top of the ArGo down reveals the mouthpiece, and a press of a button pops the top back up to make it sit flush. Although this seems cool and nifty, moving parts have always proven themselves to be easily broken when it comes to vaporizers. They are usually the first parts to break and the hardest to fix.
Heating, temperature and vape quality
The ArGo has a huge temperature range from 112-418℉, although it's a mystery why anybody would try to vape at 112℉. It works the best around 395-400℉. One of the best things about this unit is that it has precise temperature control. You can scroll through temperature in one degree increments, giving the user complete freedom.
A convection heating method also makes the ArGo unique among its handheld competitors, giving it a great vape quality. There's no real potential for huge clouds, but it's still a satisfying vape overall.
As we mentioned, the oven doesn't have a lot of space for packing herb. For some this is a downside, because it involves having to pack often. For others, it's a great quality because the smaller the oven, the better the heat gets distributed around the herbs.
There's no compromise on taste with the ArGo. The glass aroma path and the convection style heating means there's no threat of burning your buds. It's great at preserving the entire flavor profile of whatever you've got inside the oven.
There is a tendency for the ArGo to heat up during a session, so be mindful of having extra long sessions with it.
How to use it
The ArGo is pretty easy to use with the three buttons on the front- +. – and M. To load it up, remove the glass aroma path and pack some herbs into the bottom of it. Push the glass tube back into its home and you're ready to turn it on and get vaping. You can only insert and remove the glass tube when the top of the vape is pressed down, exposing the glass tube.
Press the + and M buttons simultaneously and the screen will start showing you a countdown. Don't let go of the buttons until the ArGo greets you with a beep and a smiley face. Once its on it will begin heating, so now is the time to use the + and – buttons to select your temperature. When it's at temperature, it will beep twice, which usually takes around 90 seconds.
Now just put the glass on your tube and take long, steady tokes.
You can use the M button to scroll through the menu, where you can customize your session, change the countdown timer for turning on, change the volume of the beeps and the brightness of the screen.
When you're finished vaping, hold down the + and M buttons simultaneously again until it powers down.
Battery life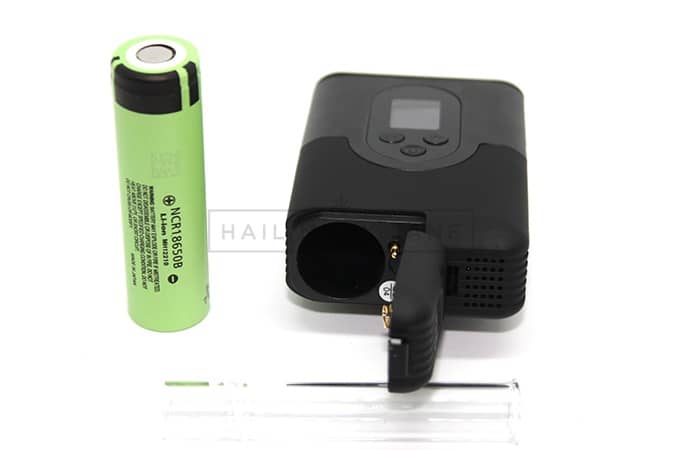 The ArGo comes with an interchangeable 18650 lithium ion battery. It can be recharged using the USB and adapter. The battery life is usually around 90 minutes, which is pretty good for a portable vape. No complaints on the battery life itself, but it has quite a long charging time, sitting at around 3.5 hours. It can take even longer if you are using it while you charge it.
However, it doesn't really matter that it takes so long to charge because you can buy another battery and alternate between them. It's handy to carry around a second, fully charged battery if you're going to be using it on the go.
Cleaning
The Arizer Go ticks all the boxes when it comes to cleaning, mainly because there really isn't anything involved at all. As long as you pack the tube properly and there aren't any buds sticking out, all you will ever have to clean is the glass tube – which is quick and simple.
Accessories
There aren't an awful lot of accessories that go with this vape, which is presumably due to its design. Most of the accessories that you can purchase from Arizer are carry cases. If you happen to break a tube, you can also purchase them from Arizer or Amazon. You can buy a dual battery charger for its battery though, which is pretty cool.
Final thoughts, Should we buy the Arizer Argo?
There's nothing fancy here! Just a really good quality vaporizer. Arizer hasn't tried to overcomplicate the device by adding a whole bunch of settings, nor fiddling too much with the technology inside. It's a really simple design that is functional, which gives it 10/10. You don't even have to be a really proficient vaper to enjoy the features of the ArGo.
The convection style heating also means that the device doesn't need all kinds of nifty technology inside to make it better. It already is great, in all of its simplicity. Its ability to allow the user full freedom in choosing a temperature also gives it extra props.
For anybody looking for a good quality vape that doesn't mess around, this is a great unit. Easy to use, easy to clean and perfectly discrete. What more could you need?