The first Firefly was released in 2013, and was the target of a lot of criticism for its performance. Lacking in battery life, bulky in size and lacking in temperature control, it didn't really stack up as a portable vape. A lot of those problems have been well and truly dealt with with the Firefly 2, and there are a lot of positive things to say about it. Firefly have really stepped up to deliver the world an on demand convection style vaporizer.
Main Characteristics
Brand: Firefly
Model: 2
Size & Weight: 5.1" x 1.4" x .95", weighing 145 grams
Temperature Range: 340 – 420℉ for dry herb, and 500℉ for concentrate
Heat production (Convection/conduction): Convection
Heating time: 400℉ in 3 seconds, 420℉ in 5 seconds
Oven Size: 17mm x 17mm x 8mm, .2 grams
Battery (duration and average charging time): ~40 30 second draws, charging in about 45 minutes
Colors: Zebra Wood, Oak, Black, Blue, White, Jet Black
Warranty: 2 years
Firefly 2 Vaporizer Review
What's in the box? – Firefly 2 Unboxing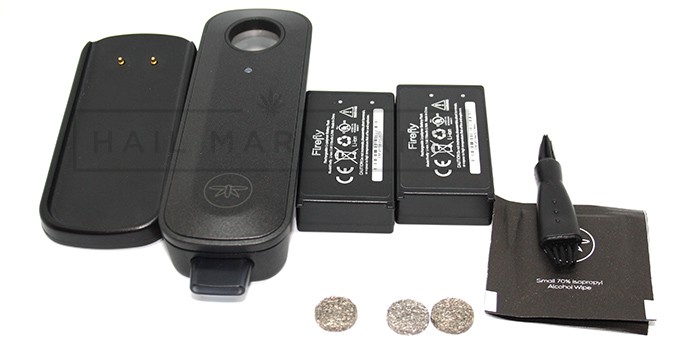 The Firefly 2 kit comes fully equipped with:
1 Firefly 2 vaporizer
2 rechargeable batteries
USB cable and charging dock
3 concentrate pads
Cleaning kit
The concentrate pads are mesh liquid pads that go inside the oven so that you can vape concentrate without messing up the oven entirely.
Size and design
Although the Firefly 2 still errs on the side of heavy, it's a huge improvement from the Firefly 1 which weighed around 250 grams. It was also a robust thing, making people wonder if it was really a portable vaporizer. Anyway, Firefly definitely upped their game with the second product, making it 33% smaller and 55% lighter. It's small enough to fit in a bag or pocket for sure.
In terms of design, the thing is pretty neat. It is made out of magnesium alloy – which is probably what makes it so much lighter than the previous model. It comes in two parts, one of which is the main body of the vape, the other is the magnetic lid. The magnetic lid covers a glass oven which has 55 holes in it. And the lid has a quartz cover over the oven so that you can literally see your buds as you're vaping them.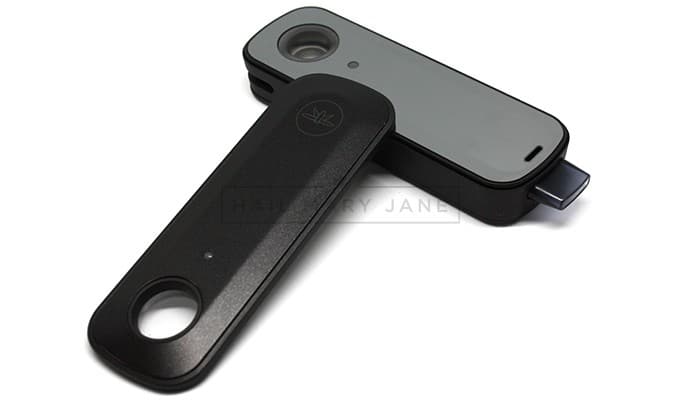 While the unit might be small, it isn't the most discreet vaporizer on the market. While you're vaping it basically looks like a pipe because of the way you have to hold it. There's no real potential to palm this vaporizer, unless you cover it with your hand and make it look like you're playing a harmonica. Okay – so it's not the most discreet thing. But it heats up instantly, and so many critics are overlooking the way it has to be used. Perhaps this is the kind of unit you can learn to use discreetly.
The weight of the Firefly 2 vaporizer gives it a sturdy feel in your hand, definitely making you think it can't be broken easily. While it is durable, don't forget that the oven is made out of glass. While quartz is much harder to break, the oven is moderately delicate.
Overall, it looks great. Unboxing it reveals a good looking vaporizer without a doubt and makes for a pretty decent piece of technology to add to the collection.
Heating, temperature and vape quality – Where the Firefly 2 vaporizer really shines

Those who don't like to wait will love it because it heats up basically instantly. It has a convection style of heating that only heats your buds while you're inhaling. That means two things. One: you don't waste anything while you're preparing for the next inhale. Two: you have to take long draws – around 20 seconds – to get the best quality vapor. If you're the kind of person who likes to take a couple of hits and then move along to other tasks, this is also a design quality you might enjoy.
There are five temperature settings if you're using dry herb – something the Firefly 1 was lacking. Those settings are 340℉, 360℉, 380℉, 400℉ and 420℉. To use these temperature settings you have to connect it to the iPhone or Android app (which we'll talk more about later). If you're going to be using concentrates, there's only one setting, which is 500℉.
The vapor path is made out of borosillicate glass, making for an insanely delicious vape. All of the subtle flavors of your buds are completely preserved through the convection method of smoking, and nothing is lost to the glass. However, if you want to go chasing clouds, it's going to take some practice with this vape. The glass oven itself doesn't heat up dramatically. It is only really pumping hot air through when you're inhaling, so there's not much residual heat on your buds. The best way to use it is to take longer draws that are consistent. It will have great vape production once you get the hang of it.
If you think you've conquered how to use a vape, the Firefly 2 might make you think twice. It might be disappointing at first because of what you're used to, but once you get the hang of it you should come to enjoy the vape quality a lot.
The efficiency of it is superb. You literally don't waste anything because the thing doesn't heat up while you're not taking draws.
How to use it
Hopefully next time Firefly releases a product they can do a little something about the ease of use. It's not that it's difficult. It's just that it's really different to how we've come to experience the portable vape.
There are no on/off buttons on it. It's constantly on standby. With two touch sensors, one on either side of the vaporizer, you can let it know you want to start drawing. By holding them down, you will activate it. It will start flashing a green light to tell you it knows you're touching it and then the light will turn solid when it's time to draw. You have to keep your fingers over the sensors while you draw, and it will automatically go back to standby after 30 seconds.
The best way to use this vape is to be taking slow, longer draws over the entire 30 seconds. Pulling back hard and short unfortunately won't give you the vapor cloud that you're looking for. It might take some practice but when you learn how to use it properly you can make some pretty decent clouds.
To use concentrate with this vape, simply put one of the concentrate pads in the oven and load up your concentrate on top. You'll need to use the app to change the temperature setting to the single concentrate mode – which is 500℉.
The Firefly smartphone app
There is an app available on iTunes and Google Play. If you want to be able to control temperature settings, you will really need to download the app. It can be a bit weird getting the device to connect to the app sometimes, so be aware of this when you're getting your phone out.
On the app, you can change the temperature settings to any of the five within the dry herb category. Alternatively, you can choose the only setting for concentrates.
From the app you can also change which sensor is required for firing it up and drawing incase you don't really dig the double sensor default setting.
That's about it when it comes to things you can control from the app.
Battery life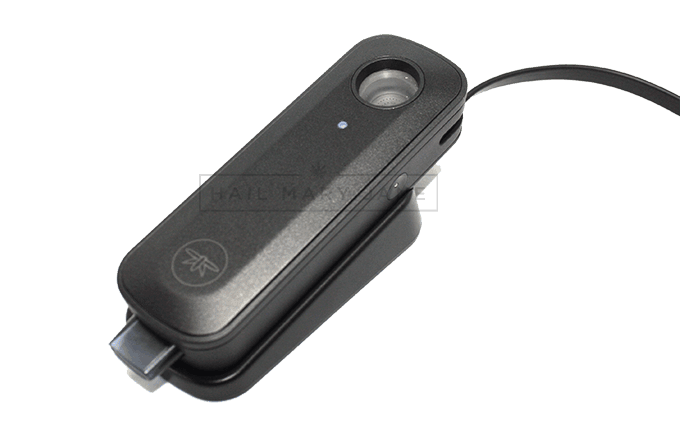 The battery life is also somewhere that the Firefly 1 disappointed people. But the battery life on the Firefly 2 is a huge improvement – and it comes with a second one in the box. It is fully replaceable and rechargeable.
Because it doesn't really have an on/off function, the battery life depends on how often and for how long you're taking draws. We're usually getting somewhere between 35 and 45 long draws (around 30 seconds). Of course, once the battery dies you can replace it with the other one.
Now there seems to be one strange design flaw with the battery of the Firefly 2. It has to be in the vaporizer in order to charge it. That means you can't charge the flat battery while you're using the other one – and you can't use it while it's charging. Which seems to me to defeat the purpose entirely of having a second battery. You can mitigate this by buying an external charger from Firefly.
The device can be charged in about 45 minutes, reaching 80% in the first 20 minutes by placing it on the charging dock that comes in the box. The charging dock is completely wireless. It magnetically attaches. Pretty nifty!
Cleaning the Firefly 2
This vaporizer is super easy to clean. No real build up takes place in the oven, but you can get some on the quartz lid. To clean either of them, literally just dip a paper towel into some rubbing alcohol and give it a wipe. Do the same to the vapor path on the body and under the lid!
The mouthpiece is fully removable so that you can give that a clean too. There is also a cleaning kit that comes in the box.
Firefly 2 Accessories
One of the first accessories you're probably going to want to buy with this device is an external charging unit. The short battery life on it means that to use it on the go, you have to carry around a bunch of extra things with it. A little bit frustrating, but worth it if you can get down with instant heat up time.
Otherwise, if you're not shy about having your vape lying around, you can get a car charger for it – a time where you shouldn't be vaping, by the way! So you can charge it on your way home and it should be ready to vape by the time you walk in the door!
Final thoughts, Should we buy the Firefly 2 Vaporizer?
Okay, if you can get past some of the minor things, such has having to re-learn how to use a vaporizer, this piece really does a number on other vaporizers. It can be a bit frustrating to learn how to use a vaporizer when you feel like you've been practicing for years. But the flavor and vape quality is basically unbeatable.
The battery life also isn't anything to do a song and dance about, but it heats up near instantly! The dynamic convection technology makes it advanced in terms of preserving flavor and avoiding waste entirely. The pros definitely outweigh the cons with the Firefly 2, and if Firefly ever releases another handheld that can bypass the minor flaws with this one, vape lovers everywhere will be rejoicing.