Name/Type: Utillian 720
Website: https://tvape.com/utillian-721-vaporizer.html
Rating: 4.5 stars
Overview: This product is very sleek and straight forward. I was a little intimidated by the size and thought for sure it would be something complicated to use. I was pleasantly surprised that it only took me a few minutes to learn. This vaporizer can be used for dry herb or concentrates which is definitely a plus. Excerpt from the website:
"The Utillian 720 is newest unit from the popular Utillian line. The unit is a convection vaporizer that provides excellent vapor quality and features 8 heat settings in an easy to use package."
Personal Comments: We really enjoyed using this vaporizer. If you are someone who loves vaping meds this one is the last vaporizer you will buy and even if you are new to vaping you will love this vaporizer just the same. I'm not normally into using vapes but this one really changed my mind. It heats up very fast, its fairly discreet and I cannot stress the ease of use. One thing I found however was that when using the wax canister it took a bit of time (not much) to cool down before another dab could be loaded. I was afraid to load too much so when loading the next dab I didnt wait long enough and wasted a dab because it melted before I could replace the mouth piece and take a hit.
The Utillian comes with a wax canister used to load concentrate, tweexers, a dab tool and O-ring replacements.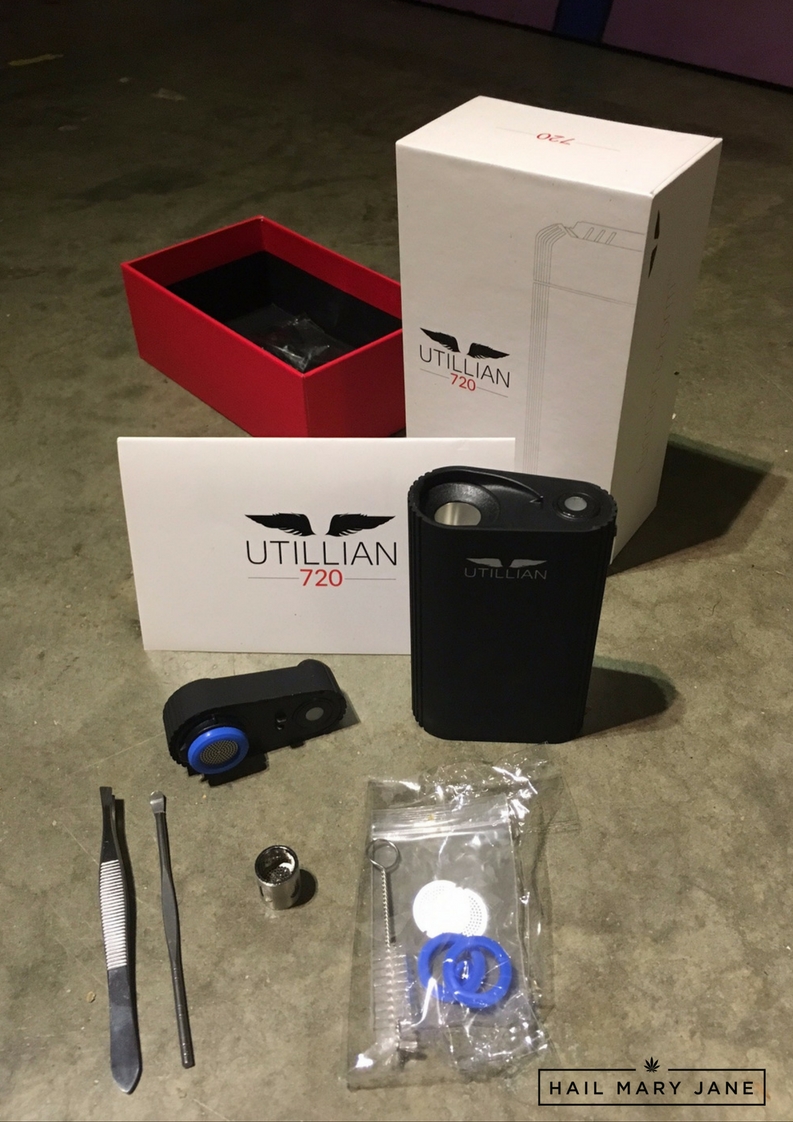 Overall: Over all this is a very solid vaporizer, I was a little intimidated by the size and shape but it turned out to be so simple and such a great smoking accessory. Consistent and smooth smoke. The only down side for me is that it does get a bit hot in the hand but hey, its a mini oven. Cools down very quickly. More suitable for one person use.
If you're looking for the best vaporizer for weed of 2018 check our latest article. We also highly recommend checking the G Pen Pro Review and Davinci IQ, as one of the best units of 2018.