Looking for the best weed grinder? We got your back! Our team has tested and reviewed the best marijuana grinders on the market. Wasn't easy, as everyone had their go-to weed grinder. But we all had to agree to make this list!
Nothing's better than starting off the day with a good ole wake 'n' bake. Pair it with a cup of good, strong coffee and how can you have a bad day?
Well, you can if your smoke isn't as smooth and strong as your joe.
Do you know what makes your favorite dark roast so tasty?
The fine in the grind, my friend.
The finer your coffee is ground, the better your coffee is – smoother, stronger, tastier.
It's the same with your weed, regardless of how you take it:
That makes the herb grinder one of the most important parts of your smoking experience, and if you don't have one, you're missing out.
It seems like a flood of new weed grinders hits the market every few months. It can be overwhelming, if you're unsure what you want and need.
That's okay – we've done our homework for you:
1. Santa Cruz Shredder Cookies 4-Piece Grinder
This limited edition of the Santa Cruz Shredder borns from the union of the Californian brand with Cookies. 
Substance/Material
One of the top improvements of this best weed grinder is the materials used for the edition: the never dull ultrasonic cleansed anodized aluminum and the nickel-copper-nickel triple layer to avoid abuse and corrosion.
Teeth
This option hasn't diamond-shaped teeth as every weed grinder on the market. The Santa Cruz has an innovative tooth design that fluffs your weed. 
Grind It
The Cookies edition use Neodymium Diametrically Magnetized Cylindrical Rare Earth Magnets (like Platinum Grinders Herb). This type of magnetic system provides a reliable lid closure system that prevents the weed from drying out.
Screener
It works well making kief because of its high-quality mesh sifter, collecting every time you grind all the resin glands.
Extras
The Santa Cruz is without many extras, you will find in its box the 4-piece grinder and a sifter, but it has a lifetime warranty — meaning it's gonna last years!
Verdict
A top notch quality 4-piece grinder that works perfectly in every aspect, a perfect grinder for those who don't care about the price if the product they need is great. It has a lifetime warranty, too. 
The Vibes 4 Piece Grinder is a sleek example of a perfect combo – lightweight, yet durable.  Manufactured by Vibes Rolling Papers, the brand knows what it takes to perfectly grind your bud for a joint, bowl or blunt. It's made to last years.
Substance/Material
The sleek design is made from 6061 aircraft-grade aluminum. You can tell this is a 4-piece grinder that's made to last years. With an anodized finish, it prevents any metal from deteriorating.
Teeth
The Vibes 4-piece grinder is equipped with a standard amount of diamond-shaped teeth, that are razor sharp. What helps the teeth grind buds so consistently, is precision-balanced head and neodymium magnets.
Grind It
The advanced double-lead threading and magnetic lid make loading a breeze.
Screener
The Vibes best weed grinder also comes with an integrated pollen screen. Aside from the pollen, it also comes with a handy pollen scraper to use for your need.
Extras
The Vibes 4-piece grinder comes with a handy travel pouch, for ultimate convenience. 
Verdict
For the price and premium features – the Vibes 4-piece grinder is definitely worthy to be titled one of the best grinders on the market. It'll be years of using it for your enjoyment.
The Santa Cruz Shredder is a known top quality grinder,. This American-made weed grinder is one of the best weed grinders on the market.
Substance/Material
Santa Cruz Shredders are fashioned of anodized aluminum for flavor retention as well as for a smooth design finish that is corrosion-resistant.
Teeth
The Santa Cruz teeth are  rectangular with indented sides. This makes the corners razor-sharp to get fine grinds every time.
Grind It
Another distinctive feature of the Santa Cruz Shredder is that its holes are oval not circular. This is better in that more of your ground herb falls through and no pieces get stuck.
Screener
Santa Cruz Shredders also come with a stainless steel mesh screen, like what you get with the Platinum Grinders Herb Grinder. It works as a kief catcher.
Extras
The Shredder also comes with two small magnets to keep the lid secure and avoid spilling herb. It also comes with a kief scraper in the form of a guitar pick.
Verdict
Overall, the Santa Cruz Shredder is an excellent herb grinder and it's one of the best grinders on the market. It has a lifetime warranty, so it will be around for years. However, the overall quality was less than expected. For example, the kief scraper doesn't seem to scrape as well as it should.
The Otto grinder is an innovative and complete product. Electric grinders are so in, and it"s a special top electric grinder because as well as fine grind your herbs, it rolls your joints!
Build
This electric grinder is made of premium grade wear-resistant metal teeth. It also has a sleek design. 
Teeth
Its metal Grinder sharp teeth are perfectly lined up for cutting up your dry herb.
Grind It
The Otto Grinder has a patented smart grinding technology that detects the consistency and automatically adjusts to the optimal even grind for all kinds of materials. 
Extras
The box is also full of different tools like a fresh seal cone tube, an extra seal, a cleaning brush, a USB charging cable, a cone retention straw and 20 premium cones carefully hand rolled.
Verdict
It's an incredible top product when you look at the options for electric grinders, however, it has a drawback: it hasn't a screener as a kief catcher.
The Space Case herb grinder is legendary. It is American-made and of good quality to take your experience to the next level.
Build
There's a misconception that Space Case weed grinders are made of titanium, but they are not. The black anodized finish that Space Case grinders are famous for is called "Titanium", but it's the name of the color not the type of substance.
Teeth
Space Case makes its herb grinders with a large number of diamond-shaped teeth. This design shreds your herb easily and consistently for fine grinds each time.
Grind It
Space Case also sets a high standard for grind quality and even fine texture and numerous holes make it easy for stuff to fall through so it doesn't get stuck when grinding.
Screener
The stainless steel pollen sifter on the Space Case weed grinder is secure and well fitting to catch pollen nicely. And although it's a good quality kief catcher, the corners aren't rounded, making scraping kief out more difficult.
Extras
Every Space Case grinder even includes a guitar pick of a kief scraper with the Space Case logo – pretty cool even if you don't play guitar.
Verdict
The Space Case grinder is one of the premium grinders, however, it's not very large like other top products. 
*Before you buy a Space Case grinder online, be sure you're not buying a cheap knock-off. Space Case is notorious for having its design ripped off, and it's you who suffers.
The Santa Cruz Shredder Vogue grinder is as futuristic in features, as it is in appearance. The Vogue grinder may look like a mini spray paint can, but all it does is shred in a top quality fashion.
Build
This extraordinary grinder is built from anodized aluminum, for a product that will last years. With a textured outer layer, to improve grip.
Teeth
For the finest results on grinds each time, the Santa Cruz Shredder Vogue grinder puts the revolutionary bi-directional cutting teeth design to work.
Grind It
The grinder successfully shreds herb easily with a textured grip and unique teeth design, but don't let you pack too much.
Screener
 It's standard but certainly does the trick to make kief.
Extras
The Santa Cruz Shredder Vogue grinder comes in 5 modern colors so you can choose your design.
Verdict
A lifetime warranty and features like the power of the proprietary teeth, fine grinds, and even the overall large design just add to making the Shredder Vogue model, one of the top grinders.
In a world where automation in grinders and products is taking over, Tectonic9 delivered to the demand with their top grinder that saves your fingers the work of tedious transferring. 
Build
This top grinder is made with space-grade anodized aluminum adding durability to the advanced piece. 
Teeth
28 diamond-shaped and efficient teeth grind up herb into pure fluffy grinds for your easy auto dispensing pleasure.
Grind It
Grinding with the Tectonic9 Auto Dispensing grinder takes away half the job by dispensing grinds for you so you get to save time.
Screener
Because the Tectonic9 grinder has auto dispensing technology, there is no mesh (like in  Platinum Grinders Herb Grinder) you get in the device.
Extras
One of the coolest features you get with this weed grinder is the viewing window to let you peek into your stash. An LED light even illuminates the inside, so it's easy to take a peek at the quantity you have stored. 
Verdict
It may take some getting used to but once you get the hang of it, the performance perks outweigh the time it takes to learn new tricks.
8. Aerospaced 4 Piece Grinder
The Aerospaced herb grinder is one of the best weed grinders out there. This is the 4-piece version measuring 2.5 inches in diameter, but you can choose between a wide variety of colors and sizes.
Build
As its name suggests, the Aerospaced is a grinder made of aerospace-grade aluminum.
Teeth
Aerospaced comes with 50 diamond-shaped teeth that finely grind your plant. It works consistently well enough for joints, blunts, or vaporizers.
Grind It
 Its sharp cut grinding teeth will never dull with a great grinding performance every time you grind your herbs.
Screener
We like that this 4-piece grinder has a  fine pollen sifter to help create pollen. 
Extras
You also get powerful lid magnets with Aerospaced grinders. They include a pouch to let you save it or carry it around. There's a pollen scraper you can use, too.
Verdict
Aerospaced is, without doubt, king of the grinders. With its relatively low price and the lifetime warranty, you'll see it's hard to beat the perfect combination of value and quality. You get fine grinds and performance each time. 
The Groove lives up to its name by first glance, alone. Groovy in appearance, and unique in grinding technology the 4-piece grinder is compact in size but big on bud benefits.
Build
Crafted from aerospace-grade aluminum and anodized for a smooth finish, the Groove feels as good as it looks. It also boasts coaxial turbine technology.
Teeth
Like many grinders, the Groove has razor-sharp, diamond shaped teeth that let the grinder deliver an easy, fine grind each time.
Grind It
Grinding in the Groove is superfluid and efficient with the uniquely designed grooves found inside. What stands out most, is the fluffy end-result that the Groove weed grinder produces.
Screener
The Groove comes with an equally effective mesh sifter, along with a pollen one for easier collection of kushy kief. So if you like your kief and a pollen screen, this product is a great option.
Extras
Groove offers a variety of color options. The grinders also come in 1 solid color or tri-colors, whichever you want or think is better.
Verdict
The Groove is ideal for traveling, while still functioning effectively for high-quality and feathery ground up bud.
Our simplest grinder on the list, is the high-quality Vibes 2-piece grinder. With just two parts, it's the best choice to get any small job done from a grinder still made with premium manufacturing.
Build
Like their 4-piece weed grinders, the Vibes 2-piece is made with anodized 6061 aircraft-grade aluminum which prevents the exterior from flaking.
Teeth
Small in size but mighty, the compact grinder packs in 30 razor-like diamond shaped teeth to finely grind up buds.
Grind It
The Vibes 2-piece grinder is easy to operate, grinds smoothly and delivers a better and even consistency from a tiny package compared to others. The magnetic lid comes in handy, along with optimized threading too.
Screener
Being just a 2-piece grinder, the Vibes version does not come equipped with this part for kief. So for those who like their kief, other options would be better as this one is without.
Extras
This herb grinder comes with strong neodymium magnets that hold an airtight seal and comes in two colors, gold and black.
Verdict
For on the go use – this best weed grinder is perfect. The grinders come in a small size that's light enough for easier travel, while efficient enough to produce the high quality grind you want.
11. Volcano Vaporizer Acrylic Grinder
The most common grinder, the option which everyone has known and have had: the acrylic grinder.
Build
This herb grinder is made with plastic. All of its parts were made with the same stuff with a mold, as all the acrylic grinders.
Teeth
As previously said, the teeth of this herb grinder are made of "stash case". This isn't very good and the teeth can break easily.
Grind It
Plastic isn't the sharpest of products, so you can't expect to get a lot from the acrylic grinders.
Extras
The grinders come with a third part to save our herbs after grind them.
Verdict
Acrylic grinders aren't for all people. This type of grinders come with disadvantages that make them a worse option compared to expensive ones used by vets.
A disadvantage you get is it hasn't a pollen chamber, a drawback for people who like their pollen. 
If you're looking for a classic or old-fashioned grinder, then look no further. This 3 piece wooden grinder has an elegant and vintage appearance for any cannabis connoisseur.
Build
The 3 piece wood grinder is made from solid rosewood – which is impressive enough to put on display, or to share with your smoke sesh buds.
Teeth
Inside, instead of sharp teeth you'll find internal steel pins that adds to the grinder's classic appeal.
Grind It
Regardless of old-time features, the herb grinder still shreds successfully for smooth and fluffy puffs of bud. 
Screener
The herb grinders also come with a sifter for unwanted stuff, and leaves only the best behind.
Extras
The price of this herb grinder is its' best extra. While quality vintage looks can normally bargain higher price tags in grinders, that's just the opposite for this piece.
Verdict
If you're looking to get aesthetics and impressive appearance, than this Rosewood model is ideal. Not only does the grinder produce finely ground bud, it looks just as good, too.
What Exactly Is a Weed Grinder?
An herb grinder comes in many different names – weed grinder, marijuana grinder, cannabis grinder, or flower grinder.
Before you jump online for reviews or roll into your local smoke shop for the cheapest or most colorful weed grinder you can find, you need to see a few things first
Materials Used In Weed Grinders
The most common materials all have advantages and disadvantages: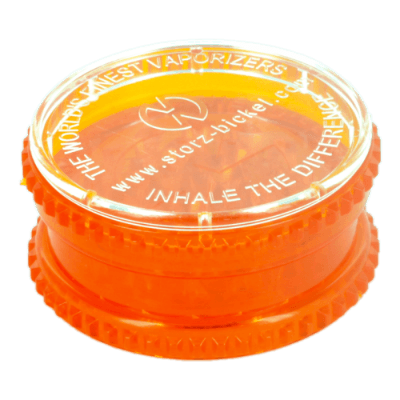 Plastic grinders are typically made of acrylic, but for many cannabis vets, they are the last choice in weed grinders. Most serious marijuana smokers will avoid grinding their weed with a plastic device despite the fact that they're inexpensive; these people might have a plastic grinder lying around for backup use when the need arises.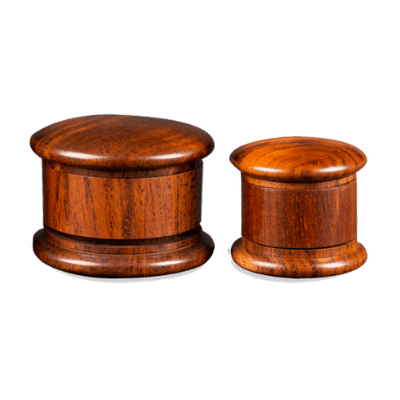 Wood grinders certainly have a better appeal than acrylic ones do. Herb grinders made from wood look and sometimes smell great – at least until you start using them regularly, at which point the nice pine/wood smell would get overwhelmed by the weed.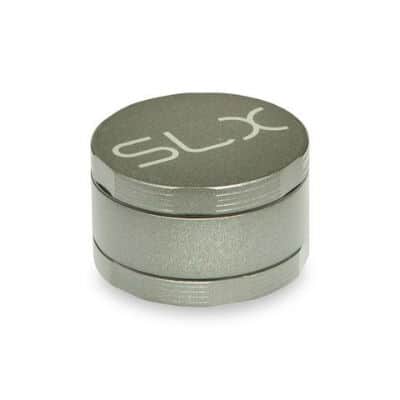 Many metal grinder manufacturers claim their herb grinders are made of titanium. If that were true, the market would be saturated with different grinders costing hundreds of dollars. In fact, most metal weed grinders you search for are made from aluminum; the ones claiming to be "titanium" are really aluminum ones coated with titanium. Adding to the confusion is that sometimes the color of aluminum is called "titanium".
Even so, aluminum or titanium-coated aluminum grinders are unsurpassed in durability, sharpness, quality, performance, and safety. Many cannabis veterans and connoisseurs believe that metal grinders are the best for their need.
Regardless of the type of metal, aluminum or titanium-coated aluminum herb grinders provide weed smokers the best results, are the most popular, and look great. Another popular aluminum weed grinder we haven't included in the list is the Cali Crusher, another great product. The Cali Crusher boasts a unique Quicklock feature. The aluminum in Cali Crusher is medical grade. Also, Cali Crusher has neodymium for easier closure. 
Zinc alloy is another type of metal used in weed grinders. Zinc alloy is heavier than aluminum, and one known example of a zinc alloy grinder is the DCOU Premium Grinder.
For people who are new to grinders, there might be confusion on the terminology. When referring to a weed grinder by compartment, always add one to the number of compartments to know how many pieces it's actually made of. For example, an herb grinder with one compartment is made of two pieces.
Conversely, if you're looking at the number of pieces, subtract one to know how many compartments there are. For example, a three-piece grinder will have two compartments.
For simplicity, we're going to use the number of pieces for reference.
As with materials, each number of compartments has both benefits and drawbacks: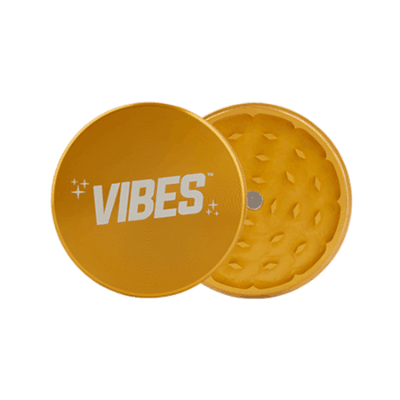 Two-Piece Grinders
These entry level pieces are perfect for new cannabis enthusiasts looking for a design that's easy to use. They also have a lid and only one compartment in which the weed is ground and collected. That means the weed is stored in the same compartment in which it was ground instead of filtering through to a separate chamber below. For many people who are weed veterans, this is problematic.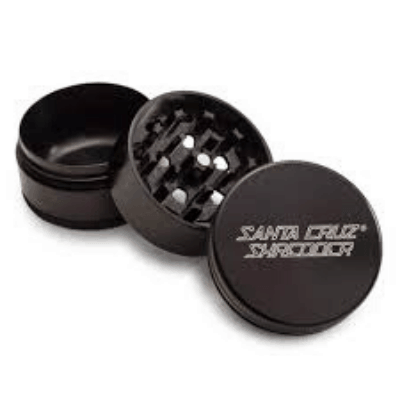 Three-Piece Grinder
A three-piece herb grinder comprises a lid, a grinding chamber, and a collection/storage chamber. Although access to your ground herb is much easier, there still isn't a separate chamber to collect that all-important kief. This means if you want to use the kief, you'll see four-piece grinders as best.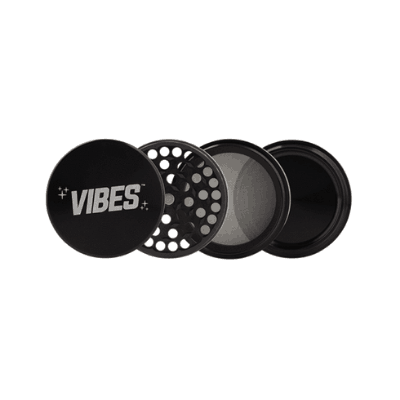 Four-Piece Grinder
To many weed smokers looking for perfomance, these best weed grinders are the ultimate one you want. They're fashioned with a third compartment under the second chamber and are separated by a fine screener designed as a catcher of kief, as kief is the best part of the flower you want. Despite the price of these grinders, they're the ultimate grinder for weed that you're going to smoke or vape.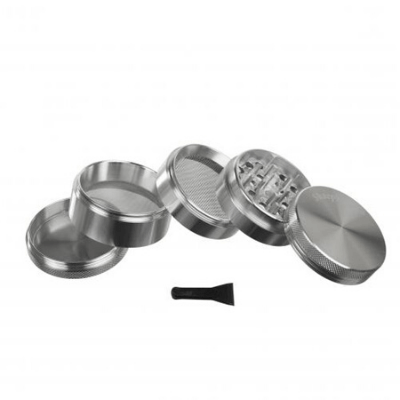 Five-Piece Grinder
The boss of weed grinders is the five-piece shredder. These are large grinders and you'll see various options designed to make your sesh perfect. In addition to the chambers found in a four-piece device, there's also a new extra one that works as a kief catcher. It also catches other fine flower remains.
Grinder Parts and Accessories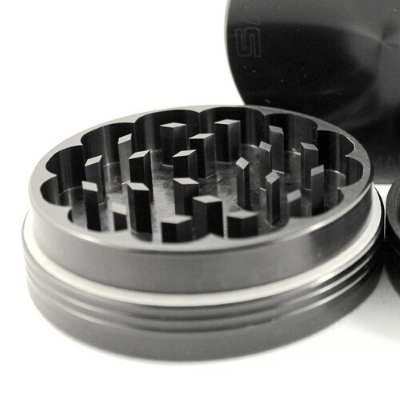 Teeth
Simply put, the more teeth, the better. To get your weed thoroughly ground, which means better and cleaner smoking or vaping, a grinder would need a lot of teeth. A good weed grinder should have roughly 50 teeth on a grinder that's about 2.5 inches in diameter.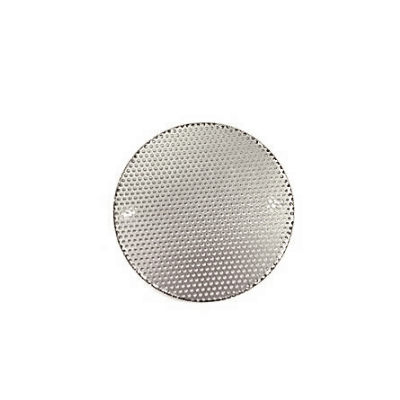 Removable Screens
This is a fairly recent innovation that allows for easier cleaning and replacement after it wears out. Removable screens are regularly included in quality grinders. Typically, it's a mesh as what's reflected in the above reviews.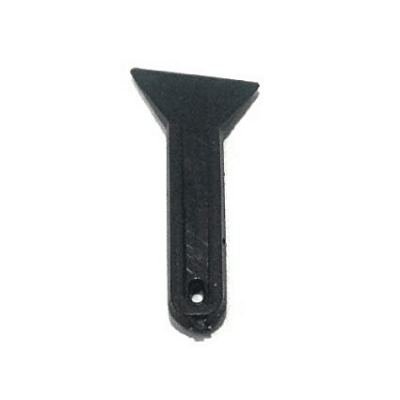 Kief Scraper
A kief scraper is exactly what it sounds like – a small device, usually plastic, which you need to scrape out the kief. Because the kief scrapers are small in size, they're also easy to lose, so some grinders now include at least one extra scraper.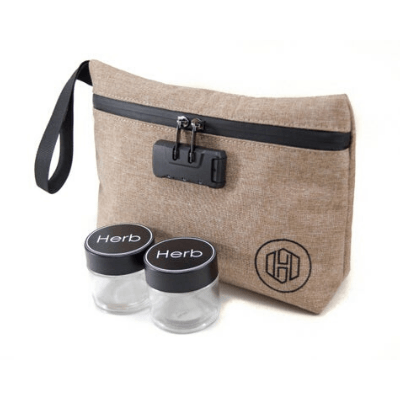 Pouches/Carry Bags
A pouch or carry bag is among the nicer features available for grinders these days. Often, you can get them in materials such as velvet. With a drawstring for tightening, you'll see that the weed grinder easily fits in the space to keep it protected and clean while not in use.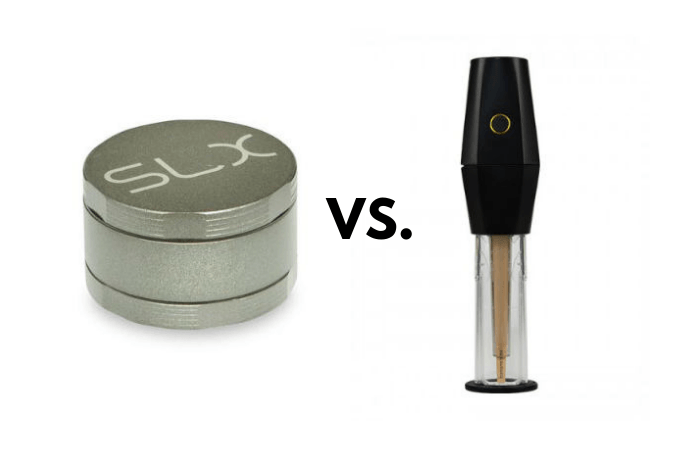 The final thing to consider in our buying guide and reviews is whether you want to upgrade to electric grinders or stick with manual. In your search, make sure to know the difference.  The difference between the two is simple – manual grinders take elbow grease, either by twisting it to grind or using a hand crank to get your weed; a push of a button is all it takes for electric grinders to do all the work. 
For medical marijuana patients with arthritis or some other condition that makes twisting a lid or turning a crank painful and difficult, an electric herb grinder is ideal. It's one of the options that save time but doesn't compromise performance.
On the other hand, the performance of manual grinders aren't quick. It also takes work to get the right consistency you need compared to electric grinders, which some might consider a problem. However, you are able to customize the grind level better according to need or different preferences.