The original Boundless CFC could have been an excellent dry herb vaporizer, but it fell short of greatness to become just another good one. Boundless improved the original design and fixed its flaws in its CFC 2.0. However, although it performs well, it has a budget feel and look that detracts from its potential. For newbies, it is a good choice, but once you start vaping, you will likely want a better one.
Boundless' CFC 2.0 is markedly more enjoyable than the original. For one, it is slightly bigger, which makes it more comfortable to use, yet still highly portable. The inclusion of a water pipe adapter is an innovative improvement that secures its title as a decent first vaporizer, but all the plastic just makes it appear more humble than what it actually is.
Brand: Boundless Technology
Model: Boundless CFC 2.0
Size & Weight: 5.2 inches tall and 1.1 inches in diameter, and it weights 227 grams.
Temperature Range: 140ºF-446ºF
Heat production: Conduction
Heating time: 30 seconds
Oven Size: 0.5 grams
Battery: 10 sessions
Colors: Black
Warranty: 3 years
BOUNDLESS CFC 2.0
Water Pipe Adapter Included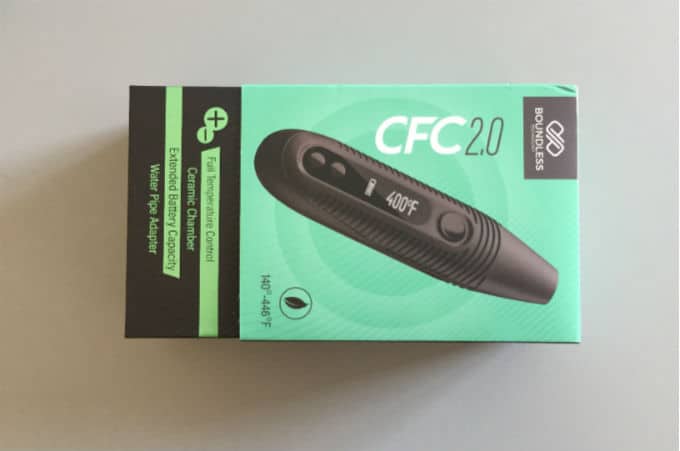 Unboxing the Boundless CFC 2.0 is quite exciting. It comes with some nice goodies. However, it does not include a good quality grinder, which you definitely need if you want to keep your new vaporizer operating at its full potential. It is important to grind your stash to the right consistency. Failure to do so can destroy the experience. When you unpack the CFC 2.0 for the first time, this is what you should find:
Boundless CFC 2.0 vaporizer for vaping weed.
USB cable to charge the battery.
Water pipe adapter to enhance performance and bong occasionally.
Packing tool to help fill the chamber.
Cleaning brush to make cleaning quick and easy.
Three mouthpiece screens for sharing.
Two oven screens to prevent scratches.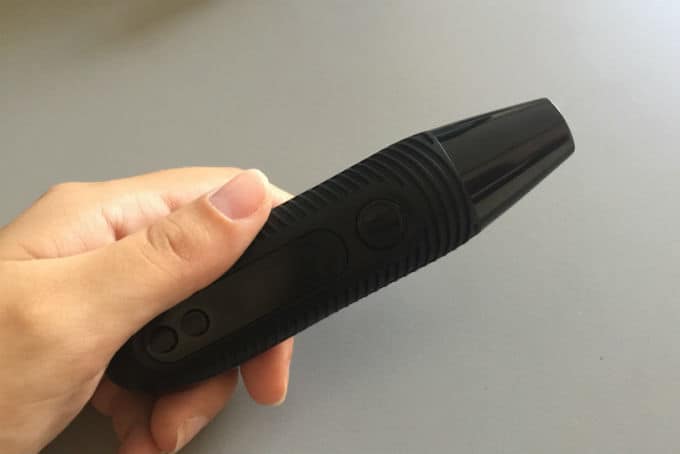 The CFC 2.0 is small at 5.2 inches. It is compact enough to promise the ultimate portability, and since it weighs only 227 grams, its weight is barely noticeable. Boundless prides itself on the CFC 2.0's ergonomic, simple design that guarantees discretion. There is nothing flashy at all about this vaporizer. The quality of its ceramic conduction oven is top class, but the rest of the plastic gives it a cheap feel.
Heating, Vapor Quality, and Temperature Settings
Heat production of the CFC 2.0 is a massive improvement on Boundless' original CFC. Heating time is only around 30 seconds, and the ceramic oven does a perfect job of conducting heat. Since it works as a tiny conduction oven, this vaporizer is specifically suited and highly efficient at vaporizing dry plant matter, including weed and other dry herbs.
The CFC 2.0 gives full temperature control to you. Its lowest setting is just 140°F, but you can set the heat anywhere up to 446°F. Vapor quality is excellent, but it depends on you vaping at the correct temperature. Always remember to vape dry herb at lower temperatures. You do not want your stash to ignite and burn, just release inhaling vapors. 
Using the Boundless CFC 2.0 could not be any easier. Simply remove the mouthpiece to find the chamber. The chamber is very easy to load and can hold 0.5 grams of weed. Fill it with your favorite strain and replace the mouthpiece. To power, the device, just press the power button five times. Then, choose your preferred temperature. Wait 30 seconds or so for it to heat up before inhaling.
Since you cannot use the CFC 2.0 while it is charging, it is important to keep an eye on its battery level. Fortunately, this device charges quickly, within three hours. Its non-removable 18650 battery has an excellent lifespan. A full charge can last as many as 10 sessions, which is more than adequate for the day, even several days, depending on your usage.
Cleaning the CFC 2.0 is not a complicated affair. You only need a cotton swab, some warm, soapy water, and some isopropyl alcohol. Its cleaning manual says to soak all the screens in isopropyl alcohol. However, it warns against leaving plastic in the alcohol. Instead, wipe the silicone gasket and plastic mouthpiece with alcohol and then soak it warm, soapy water. Swab wherever you notice buildup.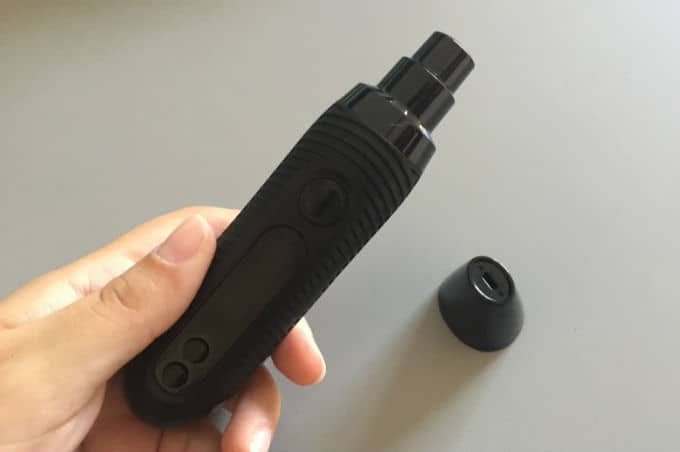 The CFC 2.0 is a budget device. As such, it comes with no extra accessories besides its water pipe adapter. This piece effectively turns the vaporizer into a bong, which is a very nice little extra to get with the Boundless. You can get replacement mouthpieces and screens from several Boundless suppliers, should yours ever break or otherwise need replacing.
The Boundless promises a few advantages, as well as a few disadvantages. It is a solidly built, quality vaporizer for its humble price. It has all the features you need and then some, but you can still find a better vaporizer in the same price range, if not quite a few. It makes a wonderfully cloudy vapor, yet has little taste. At low temperature, you do not get much. If the heat is too hot, the vapor degrades.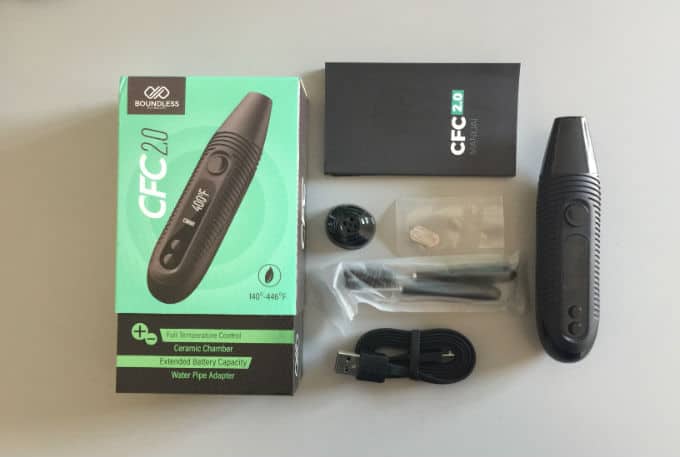 If you are looking for a simple, budget-friendly vaporizer at under $100, the Boundless is one of the better few you will find. It offers no new excitements or next-level features. Its main attraction is its low price point, but for just $10 or $20 more, you can find one with a removable battery and better build quality. Despite this, it works very well and is proving hugely popular as an entry-level vaporizer.
In the CFC 2.0, Boundless fixed the durability issues in its original vaporizer and kept what consumers liked about it, namely its digital temperature control, pocketable size, cloudy sessions, and affordable price. Although there is more competition for your dollars in this budget range, the added water pipe adapter makes it worth the buy. However, if you intend a long vaping career, you may outgrow it.