Dosist pen is the new rave for cannabis micro dosing formerly known as hmbldt. It was founded in 2016 with the aim of providing health and happiness to the masses. The vape manufacturer officially changed its name to Dosist on Dec. 26, 2017. The company adopted the name Dosist from the Greek word Dosist, which means dose, to imply giving or a "gift."
The award-winning vaporizer company has seen tremendous sales with its latest Dosist pen, which comprises six active cannabis ingredients namely: calm, bliss, relief, sleep, passion and arouse.
Dosist, a cannabis-based wellness company believes that organic medicine can bring healing and pleasure to users through the six scientifically tested formulas.
Since its launch of new products earlier this year, Dosist has received extensive accolades for advancing access to targeted safe, and effective cannabis micro dosing therapy as a wellness tool with consistent outcomes.
The innovative product lineup brings out a natural design, high-tech inventions, and exclusive dosage technology. A combination which projects cannabis in a positive light and functions as a good solution for people looking for health and wellness in vaping technology.
Dosist was created with the goal of producing reliable cannabis products based on the scientific research behind the plant, which proves that cannabis provides numerous health benefits such as pain relief, energy, relaxation, euphoria and sleep aid.
The Dosist manufacturers determined the precise cannabis compounds balance necessary to produce vape products that offer a consistent outcome while controlling psychoactive effects frequently linked with cannabis consumption. Cannabis is a Natural herb, a gift from the Earth, and Dosist is a gift to people looking for safe and guaranteed results to feel better.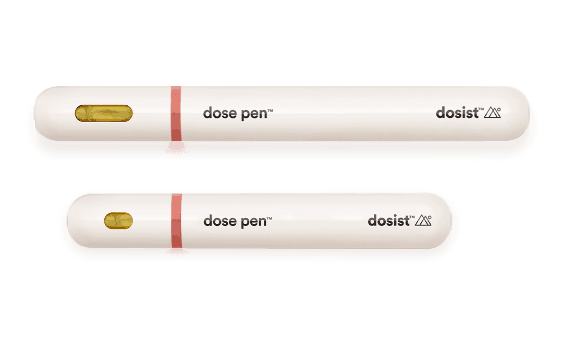 Named one of the best 25 innovations of 2016 by Times magazine, Dosist certainly got things right with their medical cannabis. The production quality and technology with each hmbldt pen is outstanding.
The scientifically researched cannabis oil formulas produce quality products eagerly awaited upon by the masses. Dosist is popularly known for the accurate and quality vape doses.
Every HMBLDT vape comes in a prefilled pen with quality flavors formulated for specific health benefits. The dose pen features a microprocessor chip, and a 260 mAh lithium-ion battery. The microchip controls the airflow, timing, and optimized temperature, to ensure each vape pen draws out a precise 2.25 mg dosage of pure cannabis micro-dosing.
The Dosist pen has an inbuilt white LED light that illuminates when inhaled. It also has a vibration alert that goes off automatically after a three-second-inhaling session. The latter is a high assurance for the right dosage for new and experienced vape enthusiasts.
To ensure safe and precise dosing of the available formulas, Dosist developed the dose pen in two manageable sizes of 50 and 200 doses. Each uses superior vaporization elements made to activate the cannabis compounds in the dose pens quickly.
The Dosist pens come in lightbox packs. The pens are the size of an average-sized slender index finger and come in 200 and 50-dose sizes. Opening each box feels like unboxing a newly launched iPhone for the first time.
Dosist delivers safe and practical solutions for some common illnesses. The company takes an ethical approach to manufacturing, which includes recyclable medical plastic pens and a systematic testing process to ensure all products are legal and safe for the overall wellness of consumers.
How the Dosist System Works?

The HMBLDT pen by Dosist uses high vaporization elements designed to heat the Dosist formulas to a specific temperature and to deliver quick vapor. The processor guarantees Consistent dosage through three key features: controlled airflow, time control, and optimized temperature.
The pre-filled pens are disposable, no charging necessary and precision engineering makes them incredibly easy to use. Simply inhale steadily for three seconds, after which the pen will vibrate to let you know your dose was achieved and turn off. It doesn't get much easier than that!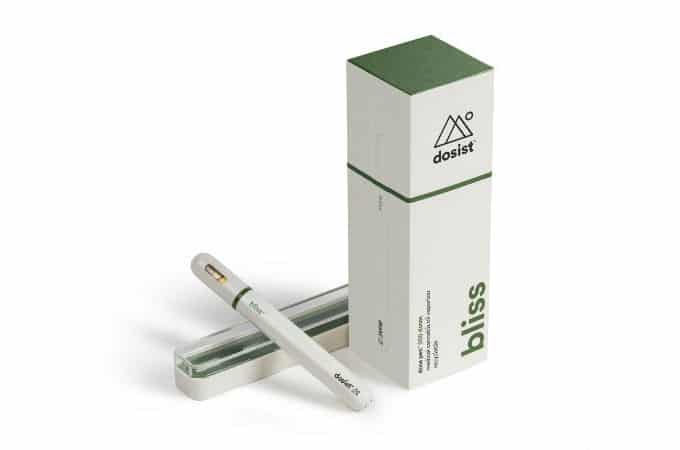 Component Facts: Bliss contains 1.49 mg THC per dose (330 mg/dose pen), and 0.16 mg CBD per dose (35 mg/dose pen) – made to help you feel good, a THC formulation balances in a 9:1 ratio with CBD supplemented by uplifting terpenes. The pre-filled dose pen offers (2.25mg per dose) in 200 treatments ensuring a precise dose each time you consume your cannabis.
Component Facts: Calm contains 0.10 mg THC per dose in small doses of 24 mg per dose pen; and 1.54 mg CBD / dose (343 mg/dose pen)- Made to naturally aid the body into a tranquil state and keep the mind at ease.
It contains a high-CBD ingredient that connects anti-anxiety properties coupled with balancing influences of beta-caryophyllene and limonene and the calming effects of myrcene. The pre-filled dose pen includes over 200 doses of 2.25mg per dose and ensures a precise dose with each inhalation.
Component Facts: Contains 1.10 mg THC per dose an equivalent of 245 mg / dose pen); 0.54 mg CBD / dose (120 mg / dose pen)
This formula contains A CBD-rich ingredient with a balance of a 2:1 THC-to-CBD manufactured to soothe inflammation and ease the pain. This formula provides exceptional relief for moderate pain. The pre-filled dose pen offers 200 doses of 2.25mg per dose with each precise dose per inhalation .it eases pain naturally and soothes unbearable inflammation.
Component Facts: Contains 1.46 mg THC per dose with a pen dose of 325 mg / pen); each containing 0.18 mg CBD / dose (40 mg / dose pen). Formulated to help sleep and stay asleep naturally, it consists of a THC-focused formula reinforced by CBD ratio of 8:1 THC-to-CBD. The prescription is supported by a sleep-inducing terpene blend that helps you feel calm and relaxes your mind and body. The dose pen comes in pre-filled 200-dose packs, each with a 2.25mg per dose and ensures a precise dose every time.
A THC-forward formula, in a ratio of 10:1 THC-to-CBD, it is designed to relax your body. This formula uses a precise terpene blend combined with farnesene and linalool to help you feel aroused and boost your excitement naturally. The dose pen comes in pre-filled offers containing 200 doses with 2.25mg per dose and ensures an accurate dose each time you inhale the HMBLDT pen.
This fantastic formula comprises of A THC-dominant ingredient in a ratio of 11:1 THC-to-CBD, with a blend of myrcene and limonene. This Dosist product delivers a euphoric feeling created to boost sensuality and make your experience adventurous. The pre-filled dose pen has more than 200 doses of 2.25mg per dose and releases a precise dose with each puff.
We've tried out the entire product line, which includes their specific flavors and formulas for passion, arouse, calm, relief, sleep, and bliss. Each vaporizer is solid and suitably pre-charged and filled with oil, set for use right out of the pack.
The Dosist pen brand has an attractive visual presentation, clearly embossed with lab facts, all through to its targeted cannabis ingredients and of course, the inhaler device itself. Dosist provides one of the best professional displays of quality medical cannabis.
Each vape has a distinct taste and smells with minor variations. I did an extensive 5-second drag on the Dosist pen, leaned back and let the vape fill my lungs as my body took in the refreshing passion and aroused flavors. I could sense some mild pepper and light floral undertones – quite clean and natural vape, the taste lingers for a while in your mouth long after your pleasure drags.
Each vape assures you of the same desired effect as predicted on their website. I tried the Dosist sleep ingredient, and after a few 3 seconds drag, I was drifting into a beautiful trance of peaceful sleep. I have never experienced such a wonder herb.
The former hmbldt pen formulas coincide with the latest terpenes and cannabinoids research. At 2.25 mg per dose, 2-3 doses of the sleep ingredient ease you into a sweet slumber. The gentle formula, with its low THC formula and high CBD, blended with the right terpenes, unwind your mind and body into a state of calm.
The vape pen is super sleek and sturdy, built of quality materials. It looks and tastes like a piece of high-end vaping technology, yet at the same time, it is discreet for carrying around in your pocket.
Each Dosist pen contains 500 mg of cannabis in precise cannabinoid and terpene mixtures. Each pen contains formulated cannabinoid to terpene in a ratio of 88% to 12% respectively.
Dosist offers quality medical cannabis and as a hi-tech discovery mentioned by Times Magazine as one of the leading vaping companies the industry. Very few cannabis vape options provide medically tested cannabis with wellness benefits in mind. The Dosist dose pen is an excellent option for users seeking the desired effects for their various medical conditions.
Dosist Pen — Where to Buy?
Most frequent questions and answers