Kiva Confections has become one of the most well-known edible brands worldwide, as legalization continues to grow. The brand began with premium chocolate bars, and since its start has continued to expand its product offerings, too. Because Kiva chocolate and other goods are available in multiple States, it's good to get to know the brand that is a standard across the industry. So keep reading for our in-depth guide into Kiva Confections, more about the brand in and their 2020 featured products.
What Is Kiva Confections?
Kiva Confections is actually celebrating its tenth anniversary this year, as a brand that emerged initially in 2010. Its two founders Scott Palmer and Kristi Knoblich, set out into the cannabis industry, attempting to produce a potent, consistent, and enjoyable product. At the same time as realizing there was a lack of edibles available on the market at the time. They then set their sights on infusing cannabis into food and began their journey at a local chocolatier.
From there, they've produced multiple types of chocolate bars and have now expanded their product line to include other cannabis edible goods. At the same time, keeping their focus on quality, efficacy, food safety, and integrity. The brand boasts an 'artisanal' touch to differentiate its edible offerings apart from others available on the shelves.
Kiva has California roots, but is now available in Arizona, Nevada, Hawaii, and Illinois. Expanding quickly across the Nation as legalization also expands. After winning multiple awards through the years, one thing consumers can count on with Kiva is a dependable, potent, and consistent edible. Making it a go-to for newbies, specifically. While the brand might not offer the best CBD oil for pain relief or best CBD oil for depression, it does uniquely offer high CBD: THC goods for those who can benefit from the non-psychoactive cannabinoid.
Kiva Confections Products
There's one thing you can tell when reviewing Kiva Confections' latest 2020 products. The brand has continued to stand for quality and versatility throughout the years. Kiva now has five different edible options to choose from, each chock-full of potent cannabis plant power and top-shelf ingredients too.
Chocolate is where it all began for the Kiva brand. So, their flagship product is by far their most popular, still in 2020. Their chocolate or 'Kiva Bars' come in nine different flavors. Including –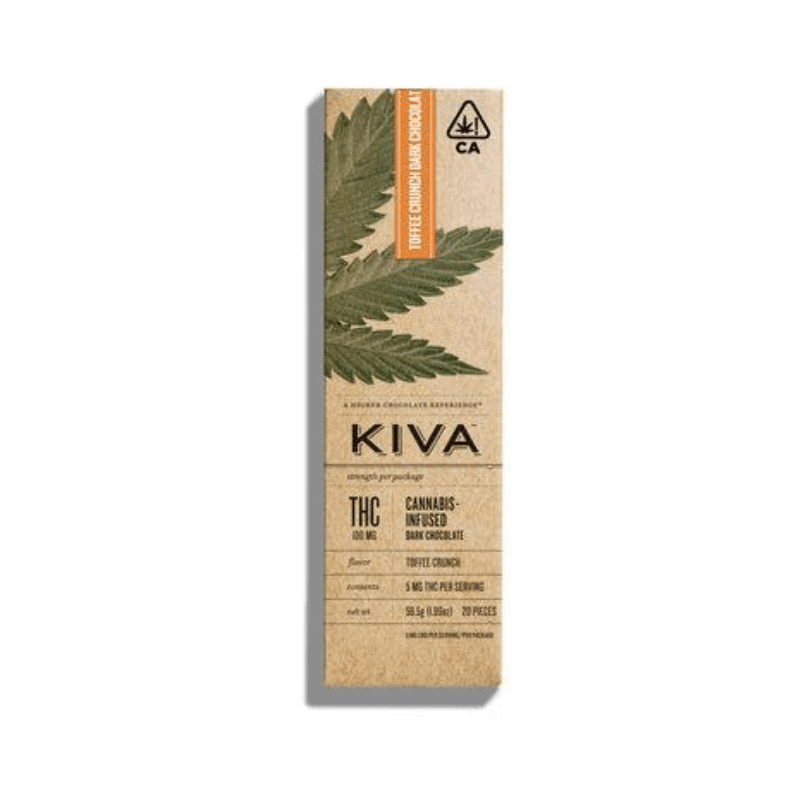 As you can see from their flavor selections alone, Kiva is a premium choice for any cannabis 'foodie.' In fact, the brand's attention to flavor combinations and its 'artisanal' touch makes them like the Godiva of canna-chocolates. Other than their CBD 5:1 bar, each Kiva Bar contains 100 MG of THC total, or 5 mg per 'square' or bite. Meaning, you can certainly have more than one and rest assured with the brand's accurate dosing. Do keep in mind, their potency options and flavors will vary from State to State, too. Like, some chocolate bars being available in higher potencies in Arizona, and some flavors only being available in California.
No matter the location, Kiva uniquely uses a 'cold-water' extract that has the ability to harness the full profile of terpenes and cannabinoids, from the flower they use to infuse their chocolates. So, not only will you be treated to high quality and premium ingredients like Pacific Sea Salt, Fresh Berries, and pure Cocoa…but, you'll experience elevated potencies, from top-shelf cannabis flower.
Overall, Kiva chocolate reviews are rating just as high. It's hard to come across any cannabis consumer that has something negative to say on the Kiva chocolate quality, and potency. If anything, some users may gripe about the cost of Kiva Chocolate bars. Which even then, reviewers note that the price appropriately reflects the quality of the good.
Kiva took their edibles to a new level in 2015 with the first-ever cannabis-infused 'mints' in California. The Petra Mints now boast five different flavors, to enjoy including –
Like their Kiva Bars, the Petra mints come with 100 MG of THC per tin, and 2.5 MG of THC per serving. Allowing you to microdose throughout the day, or take more than one at a time to reach your desired dose. From their fruity options to their classic mint flavors again, the brand offers a taste for seemingly anyone, including those who prefer the benefits of just CBD, with their Citrus CBD Petra mint option. Kiva Petra Mints reviews rate the brand high for subtle flavors and balanced cannabis effects.
We'd have to agree with the plethora of Kiva Camino Gummies reviews. Our experience was nothing but positive like most actual cannabis consumers are testifying to, too. Again, the brand offers a wide range of flavors, and this time – more than one combination of CBD to THC for varied effects. Kiva customizes their Camino gummies with custom blends of cannabinoids, allowing for a range of benefits and a variety of tastes. Of course, their flavors are just as 'artisanal' for the brand's gummies as they are for their chocolate. Including the following options –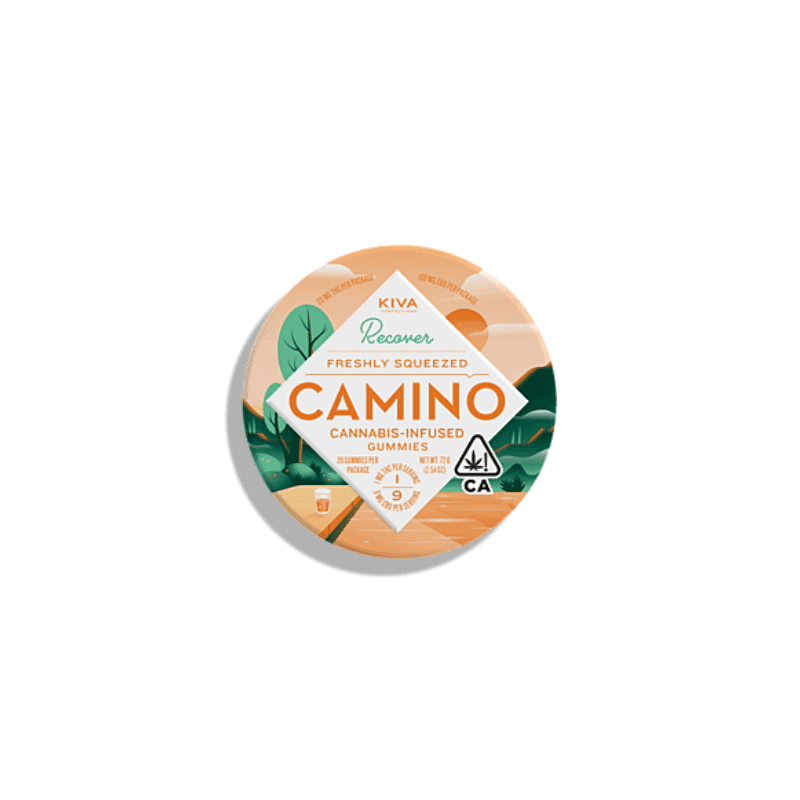 Depending on the type of flower and terpenes each gummy is infused with, whether indica or sativa, determines what kinds of effects or benefits each flavor provides. Not to mention, the brand's flavor options sound like desserts off of a 5-star restaurant's menu. And, their effects will make you feel just as rich in natural benefits and potency. Each 100 MG package, serves up 5 MG of THC per gummy, allowing for convenient and accurate dosing.
Kiva Terra Bites are the brand's answer to making their delicious chocolate in a more convenient package and on-the-go option. The mini bites quickly became the #1 edible in California after emerging onto the market as a new canna-infused edible offering. Kiva's Terra Bites are made with innovative technology and come in four varied flavors to satisfy practically anyone's sweet-tooth cravings. The options include –
Beyond their Dark Chocolate Almond CBD option, all of the Terra Bite packages come with 100 MG total THC, with 5 MG THC per bite. The bites come in a handy and easy to travel with tin and are perfectly dosed for microdosing or elevating throughout the day when necessary. Besides, the premium cacao used to make Kiva's Terra Bites is sustainably sourced.
The last and least of Kiva's artisan confection products is their Kiva Singles goods. Less is more with these handy, single packages of Kiva's top cannabis-infused edible products of 2020. The Kiva Singles is an affordable way to try the brand's goods in smaller quantities. These packs are available in sample sizes of the following products –
This is a unique way for Kiva to allow their consumers to try some of their more unique goods, in a size that makes the trial cost-effective, too. The size is also ideal for gifting to others, or adding as a little fun treats to any gift bag or care-package.
Kiva Confections Review: What we think about these products?
It doesn't get much better than the attention to detail that Kiva Confections puts towards their edible offerings. They've stuck to what they know best – artisanal, high-quality ingredients, for a premium and top-shelf edible each time. No matter the batch, or product, Kiva Confections outputs a consistent and dependable edible product that is just as potent and quality in cannabis effects. We'd be hard-pressed to choose our favorite Chocolate Kiva Bar flavor, as each is just as unique and delicious as the other. Their Petra Mints and Singles products are easy options for on-the-go use, and Kiva Camino Gummies burst with refreshing flavors. Along with delivering customized benefits to fine-tune your satisfying experience better.
One drawback to Kiva Confections is they have a void in CBD goods for the consumers who can benefit more from the cannabinoid. If this is you, check out the best CBD oil for diabetes, or top CBD products for other specific effects, instead. But, if you're into the healing effects that THC can provide and at levels ideal for microdosing…then Kiva Confections edibles are for you. Not only are they widely available, but they have an option for seemingly any taste palette, and cannabis need or dosage, too.