With advancements in the cannabis industry, it seems like a new product hits the shelves more frequently than ever. Live resin cartridges are just the latest in product offerings from a variety of cannabis brands. The term 'live resin' is reserved for a specific type of concentrate that boasts powerful plant effects. In addition to having a natural consistency ideal for live resin vape cartridges.
As live resin becomes more and more popular, it's best for any cannabis consumer to brush-up on what's trending. In this guide we've put together everything you need to know about live resin carts, including the best live resin vape cartridges on the market today.
What Are Live Resin Cartridges?
Live resin cartridges are vape carts that are filled with a special concentrate known as live-resin. It seems simple enough, but the process to extract live-resin varies from most oils you'll find in standard vape carts. The way the premium concentrate is crafted begins differently from the start.
This key factor is why live resin cartridges taste unusually better than most vape carts found on the market. Especially if you've ever wanted to take a bite out of your favorite strain's bud. With live resin vape carts, you'll inhale the plant's full profile of terpenes and flavonoids at maximum levels. That's why live resin is gaining the reputation of being the most pure method of consuming cannabis versus other ways to consume.
Other cartridges are normally filled with distillate, which can also include terpenes but at lower levels. That's because the oil is typically re-infused with lesser amounts to add natural flavoring. With live resin, there's no additional refinement needed, as the process of extraction upholds the integrity of the plant's natural aromas.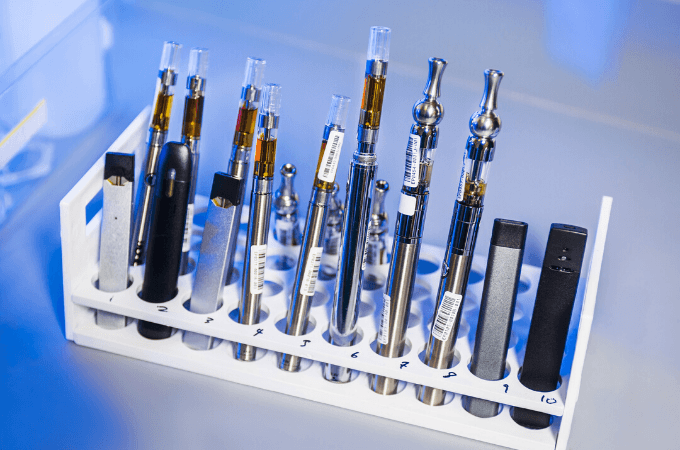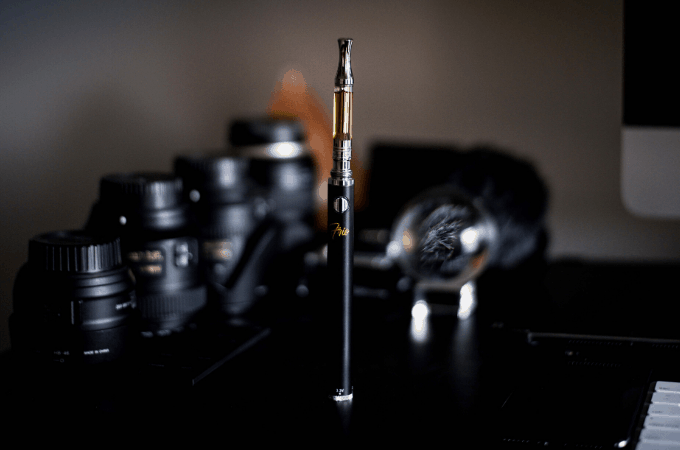 With that said, live resin cartridges tend to come with a more premium price. The end-products are capable of delivering not only a deliciously tasting high, but one with an entourage of effects. Live-resin provides the ultimate combination of plant nutrients, cannabinoids, terpenes, and flavonoids that work together to amplify each other's effects. Meaning you're getting a buzz that is full-powered in efficacy and flavor, too.
So, what are the best live-resin cartridges available for purchase today? We'll review our favorites, next.
Best Live Resin Cartridges
From coast to coast, we took a look at the live resin cartridges available for purchase by cannabis consumers. The best live resin carts on the market this year have a few similar qualities.
Without further adieu, let's get right into our top 3 live-resin cartridges and what makes each one of our favorites.
Heavy Hitter Vape Cartridge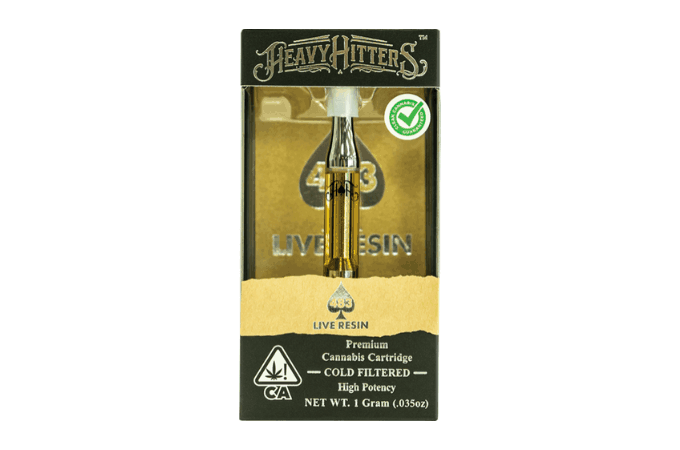 The Heavy Hitter live-resin vape cartridge is first on our list and a fav of many online reviewers. It all starts with their quality California grown cannabis and crave-worthy strains. Currently, the live resin carts they have available to purchase at dispensaries are –
These fruity flavors are amongst the reasons we loved their live-resin cart experience. The aromas are pungent and satisfying upon your first hit. Heavy Hitter takes extra care to retain their plant's natural aromas by using a proprietary cold-filtering extraction technology. Their live resin cartridges motto is 'celebrating the 483 compounds' found in cannabis. Which you can tell from the effects they provide. The carts treat you to a potent experience, fueled by their refined quality product.
To add, Heavy Hitter uses 'True Ceramic' for their cartridge heating element. Ceramic is not only safe for consumption and free of harmful products but delivers a smooth and easy hit, each draw. The 510 threaded cart is universal for battery sake and the 1g amount lasted relatively long due to needing less hits, for an elevated high.
Even though Heavy Hitter is popular in its area, finding the vape cartridges online is relatively easy. Most dispensaries offer online ordering, or a store location function to find a retailer near you.
Concentrate Remedies Live Resin Oil Cartridge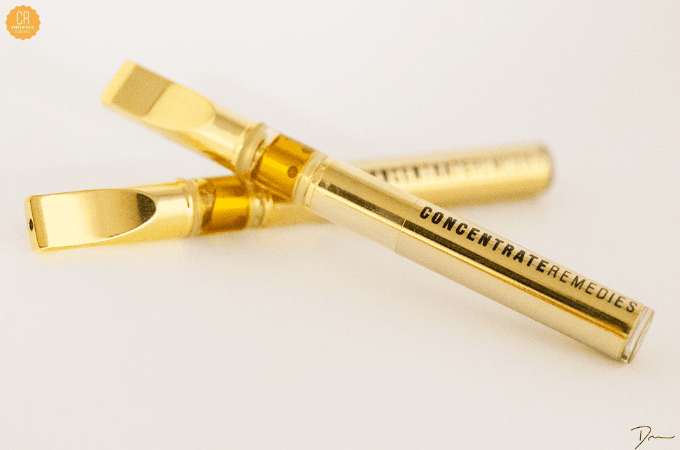 A colorado brand, Concentrate Remedies is transforming high-quality Natty Rems cannabis into a discrete and easy-to-use live resin vape cartridge. In 2017 they perfected their extraction process to deliver pure liquid live resin ideal for vaping. The process has the ability to retain terpenes at their highest levels while carefully capturing cannabinoids and plant compounds for additional effects. That means all of their live resin cartridges are full-spectrum and strain-specific.
To add to aesthetics, Concentrate Remedies has branded their vape carts in gold with disposable batteries, too. Showing their premium status, and delivering a style like no other brand. What it also means, is your battery is always ready-to-go and doesn't require charging. The vape cart's hardware implements ceramic technology for heating. This allows for consistent and uniform flavor by not over-heating delicate terpenes and flavonoids.
Right now, the vape pen they have to offer is a 300 mg mini and disposable vaporizer. The brand indicates their 500 mg option, will be available soon. One drawback to the brand is it may be hard to find. Only a few dispensaries in Colorado are offering the live-resin carts and online availability is scarce.
Prime Wellness Live Resin Oil Cartridge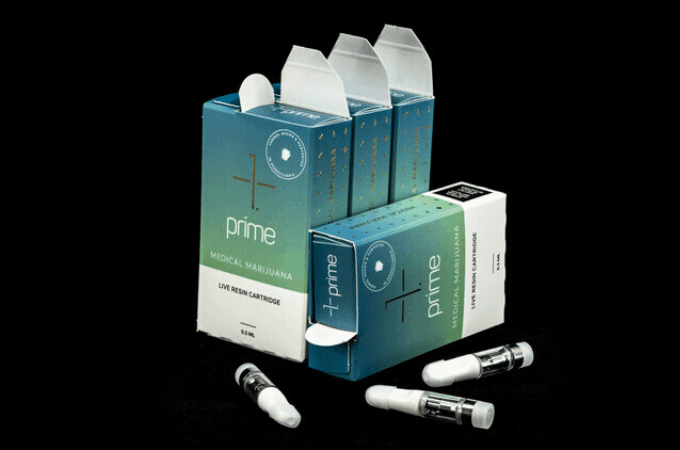 From the first look of its sleek and modern packaging, you know you're getting a quality live resin vape cartridge from Prime Wellness. The Pennsylvania based medical marijuana brand formulated their extraction process to avoid the formulation of crystals, and deliver a sappy live resin liquid perfect for vaping purposes.
The latest offering from the brand comes from a reputation known for terpene levels. Each of their vape cartridges comes with a unique breakdown of the terps included. The brand even offers terpene syringes. So, they know what they're doing when it comes to the aromatic centers of the plant.
That trait is obvious from the powerful flavor their live resin cartridges provide. Prime Wellness carefully selects the trendiest and hottest strains for consumers to choose from. Like, Scarlet Fire, Double Afghan Chunk, and Cherry D amongst others. Unfortunately, due to the popularity and limited live resin options in the area…Prime Wellness live resin cartridges can be hard to find. We recommend searching specific dispensaries in your location, and double-checking on inventory as Prime Wellness works on improving their own web-site's shopping capabilities.
Another good thing going for the brand's live resin cart is being universal. The 510-threaded cartridge is usable with almost any battery making it even more convenient for use.
Live Resin Cartridge Review: What We Think About These Products?
As for a discrete and on-the-go method of consumption, vaping is definitely our favorite. Live resin cartridges take the preferred delivery method to a whole new world. The uniquely formulated vape carts are taking the industry by storm, as consumers like ourselves are blown away by the pungent and natural aromas they provide.
If you're a true cannabis connoisseur and appreciate the plant's scent and taste, then there's no better choice than live resin. Whether dabbing or vaping with a live resin cartridge, it's honestly the ideal choice in experiencing weed's natural essence. Because the carts are strain-specific they're also straight-forward in effects. This is ideal for patients using medically, or recreationally trying to achieve certain effects. From viewing the strain's full cannabinoid profile and terpene levels, you know exactly what kind of high or experience you'll be getting.
Unfortunately, so far there aren't many CBD live resin options available on the market. So, THC reigns supreme and most live resin products are fully THC focused. Although Prime Wellness does offer a CBD Cherry live resin cartridge at limited retailers. For those users who are into CBD dominant effects, check out our full guide to CBD vape cartridges or our list of the best CBD vape oils.
To finish…if you're looking for a purely elevated and naturally aromatic experience, live resin cartridges are for you. Ensure you're trying the best by checking out the favorites on our list or checking those available in your area, for the traits that make them great.