Medterra is a modern and trending CBD brand that's gaining popularity in 2020. Since their launch, they've acquired a plethora of professional athletes and brand ambassadors who validate their products' power. From their hip packaging, to their neat website, Medterra claims they're 'more than a logo and pretty, purple packaging.' So let's find out more about the brand and what online Medterra CBD oil reviews have to say on efficacy. Our in-depth guide covers Medterra's unique goods, and of course, what we thought about the up-and-coming CBD brand, overall.
Medterra's goal is to provide quality CBD products at an affordable price. In fact, one of the brand's mottos is 'CBD for all'. To do so, they monitor their hemp production from seed to sale, and stay on top of the latest industry innovations. Helping them to efficiently and effectively deliver CBD goods with prices, the average consumer can afford.
The brand offers a wide range of products, bundles for budgets, and are proud to boast all products are THC free. But don't worry, that doesn't mean you'll miss out on the beneficial 'entourage effect' of cannabinoids working together to amplify each other's effects. Medterra has one of the most diverse CBD oil lines on the market today with broad-spectrum, isolate and specially formulated options. The brand's oils have even earned high marks as one of our best CBD oils for pain relief. The most notable highlights of Medterra and their CBD goods include –
Overall, Medterra is in the CBD spotlight for producing high quality products with affordable price points. Making them widely loved by CBD consumers across the board. Next, we'll review Medterra's products individually to see what makes them unique.
Medterra is all about choices with their products, and it begins with their oils and tinctures. They seemingly have a strength and type for almost anyone. Medterra's attention to extraction detail produces high quality oils with the efficacy and taste CBD users crave.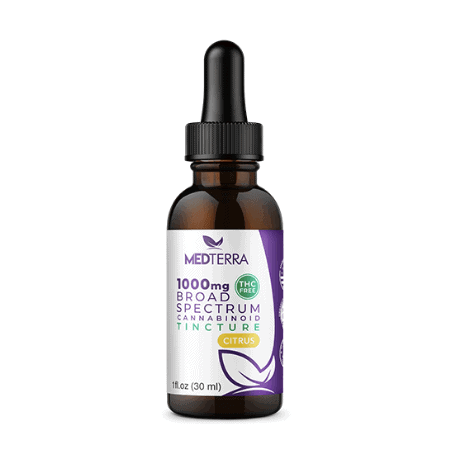 Medterra Broad Spectrum CBD
Medterra delivers the natural essence of their Kentucky grown hemp in their Broad Spectrum CBD oil. As opposed to their regular CBD oil tincture, the brand's Broad Spectrum version contains whole plant cannabinoids like CBG, CBC, CBN and CBDV along with plant terpenes. But, without the presence of THC like a 'full-spectrum' oil would contain. This allows many CBD consumers to avoid the possibility of psychoactive effects, or the worry of failing work-related drug testing. While still benefiting from the 'entourage effect' that occurs when whole-plant nutrients and cannabinoids amplify one another's effects. Even better is Medterra's broad spectrum oil comes in the following variety of flavors and two varied strengths -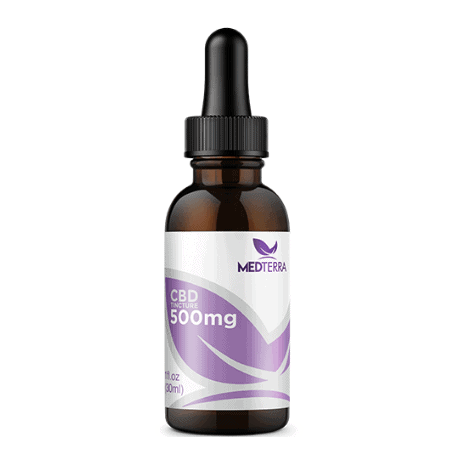 Medterra CBD Oil Tincture
Medterra's most popular product is their flagship CBD Oil Tincture. The brand utilizes a CO2 extraction method to capture the highest concentration of CBD possible, from their premium grown hemp plants. The end-result is highly popular amongst CBD consumers, as it delivers an average of 99.6% CBD per bottle. The CBD is blended with coconut-derived MCT oil, meaning there are only two ingredients and the tincture is completely organic. Medterra's CBD Oil tincture is available in the following strengths -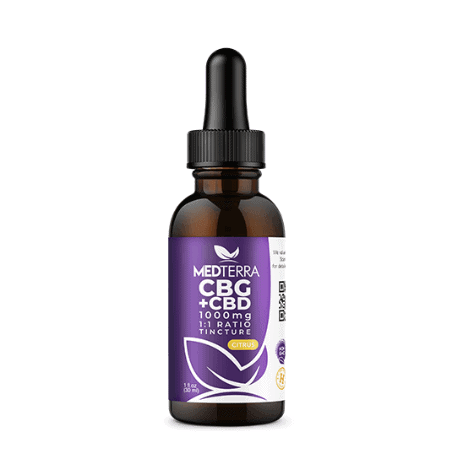 Medterra CBG-CBD Oil
Medterra has kept their focus on providing top-quality CBD products by focusing and maintaining plants that are not only high in CBD, but CBG too. Which allows them to create their unique 1:1 Medterra CBD-CBG oil blend. Due to its rarity, Medterra's CBG-CBD oil is their most expensive. But the elusive combination of powerful cannabinoids proves to be worth it as it delivers the highest level of wellness.
Like we mentioned, Medterra is all about options. So for topicals, they have four diverse products to choose from when addressing specific CBD needs. Whether you're looking to address pain, nourish the skin or take your relief on the go, Medterra has a topical for everyone.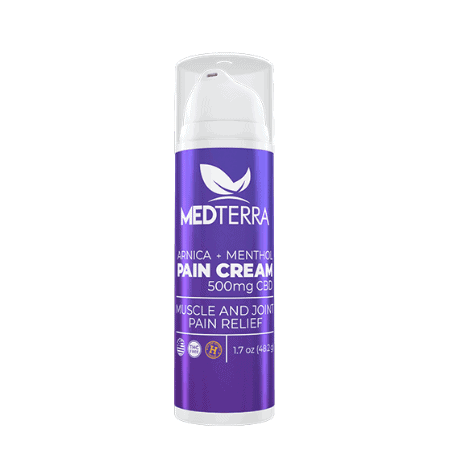 Medterra CBD Cream for Pain
Medterra's CBD Cream for Pain not only comes with a mess-free pump, but it's packed with just as much CBD power as their oils. The isolate topical boasts 99.6% CBD which is blended with all-natural ingredients like peppermint oil, jojoba oil, and aloe to add to its nourishment. Medterra's CBD pain cream comes with a luxurious texture and can address varied levels of pain from sciatica and back injuries, to muscle recovery from working out. The pain creams come in two strengths -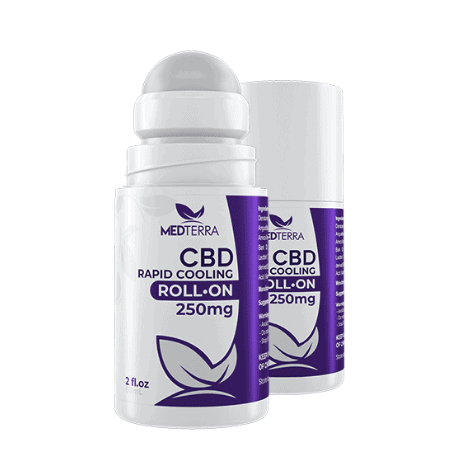 Medterra CBD Roll On
Take your pain relief on the go with Medterra's CBD Roll On. This product takes the brand's successful CBD pain cream formula, adds a boost of cooling relief and packs the blend in a handy and mess-free applicator. The end-result goes on smoothly, and provides relief in an instant with a soothing cooling effect. Medterra's CBD Roll On does only come in one strength, but 250 MG is plenty especially when the price is under $20.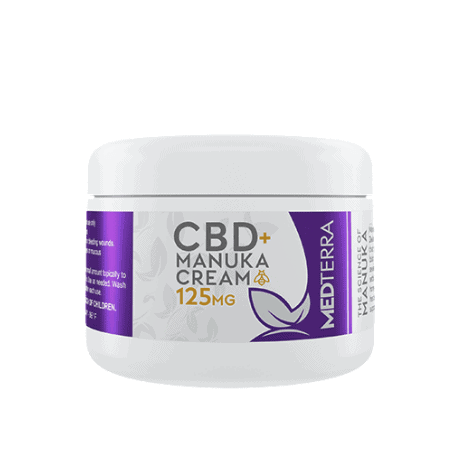 Medterra CBD Manuka Cream
CBD is just as effective at soothing and nourishing your skin through topicals, as it is at addressing pain. So, Medterra crafted their CBD Manuka Cream to help balance and moisturize with all-natural ingredients and CBD's skin relieving traits. The non-GMO product combines New Zealand Manuka Honey and 20 botanicals for a natural addition to any skin-care routine. The CBD Manuka Cream comes in the following two strengths -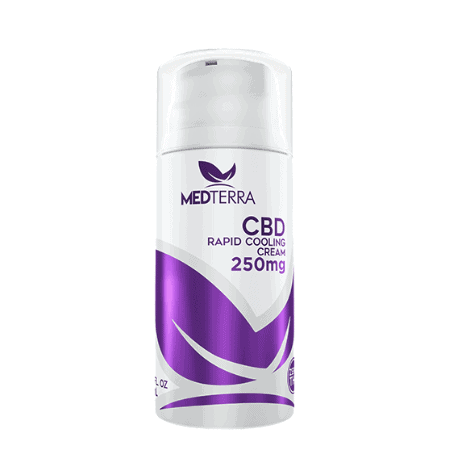 Medterra CBD Rapid Cooling Cream
When you need to take your pain relief to the max, and quickly, Medterra's CBD Rapid Cooling Cream is the product for you. The brand adds menthol and arnica to CBD for a powerful combination that soothes almost instantly. A little bit will go a long way, and their well-priced cooling cream will last up to 100 uses. Medterra's Rapid Cooling Cream comes with an easy pump that's mess-free and is pleasant in scent. The product is also available in two varied strengths -
Medterra CBD Oil Capsules
A growing population of CBD users are adding capsules to their routine for convenience and ease. By popping a CBD capsule each morning or night (even both), with daily vitamins, it's a simple way to harness the benefits of CBD. Medterra's CBD oil capsules in 25 MG or 50 MG do just that, and at a cost-effective price point for those who prefer or require capsules.
Since CBD can provide effects for focus and relaxing, alike, Medterra has gone a step beyond with their specially formulated Melatonin and Good Morning capsules. These two options further address daytime and nighttime needs with their already top-quality capsule.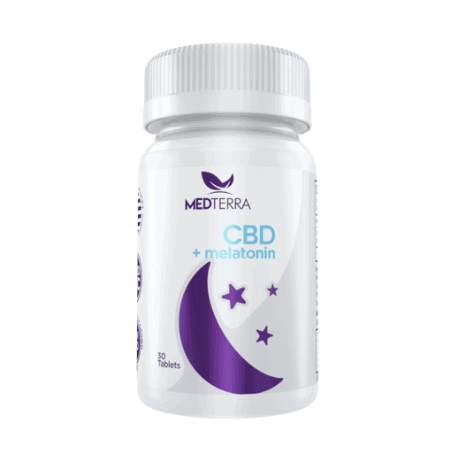 Medterra CBD Melatonin
To wind down at night, Medterra combines CBD with Melatonin for a natural ease into sleep. Their CBD Melatonin Tablet does however come with a unique delivery system. The tablet is placed under your tongue and dissolved for effects to be felt to their fullest. Each one comes packed with 25 MG of CBD and 10 MG of melatonin that'll effectively lull you into a soundful slumber.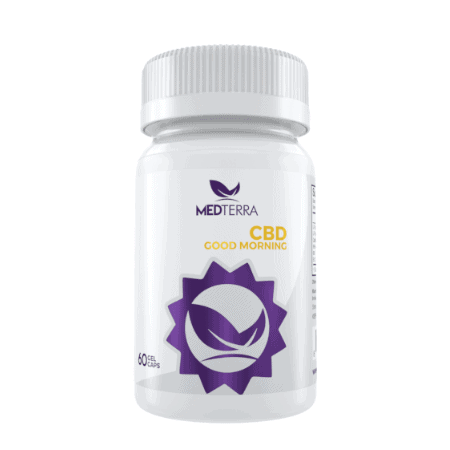 Medterra Good Morning Capsules
With Medterra's Good Morning Capsules, you'll kick off each day with a refreshing CBD start. These combine caffeine, B6, B12, L-Tyrosine, L-Theanine and 12.5 MG of CBD per capsule to deliver a fine-tuned focus. This is one of Medterra's standout product offerings, as there are few other options on the market providing similar ingredients.
Medterra CBD Oil For Pets
Again, options, options, options. Medterra's got them, and even for pets. Their CBD Pet Tinctures come in three flavor options, to satisfy the needs of any canine companion. Any pet can dig Medterra's beef, chicken or unflavored options and the consistency is ideal for soaking over food. The tincture is highly cost-effective, and each flavor comes in three strength options –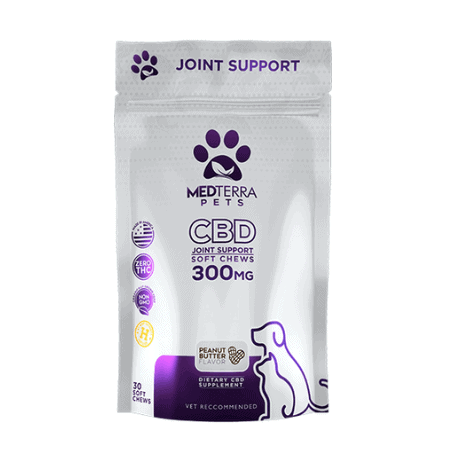 Medterra CBD treats
With Medterra's Good Morning Capsules, you'll kick off each day with a refreshing CBD start. These combine caffeine, B6, B12, L-Tyrosine, L-Theanine and 12.5 MG of CBD per capsule to deliver a fine-tuned focus. This is one of Medterra's standout product offerings, as there are few other options on the market providing similar ingredients.
On the pricer pet side, Medterra offers CBD pet treats too. Which turn out to be worth the cost. With two flavors, pets wag their tails for the taste of Medterra CBD relief. Which even comes in specific effects for pets – joint health, and calming. Showing the brand's level of care for humans and pets, and further proving their motto 'CBD for all'.
Lastly, is Medterra's CBD Gummies as their edible options. One category that the brand is semi-limited in. Even though they only offer gummies for consumables, of course, they have varied ingredients for specific effects with flavors to choose from, as well. The gummies contain 25 MG of CBD each, are satisfying to the sweet tooth and effective as an on-the-go CBD option. Medterra offers the following options for their gummies –
Final Thoughts on Medterra
Medterra is quickly becoming one of the 'coolest' CBD brands on the market, and for good reason. We found their products to be fine-tuned for CBD users' needs, as well as extremely affordable for the quality goods you'll get. From seed-to-sale, packaging to branding, Medterra goes a step above the rest. While they may not have the most ideal CBD oil for diabetes, or the best CBD oil for weight loss, they're ranking as one of the top brands in general effects, sleep, focus, product availability and cost-effectiveness.