Black Diamond Weed Strain: Effects, Reviews, & More
Maybe you've heard about this rare strain and want to know more about the effects, terpenes, taste, and genetics of the Black Diamond strain.
You're in the right place! 
We'll cover everything you ever wanted to know about Black Diamond and tell you exactly where you need to go to buy some of this earthy, delicious strain and give it a try.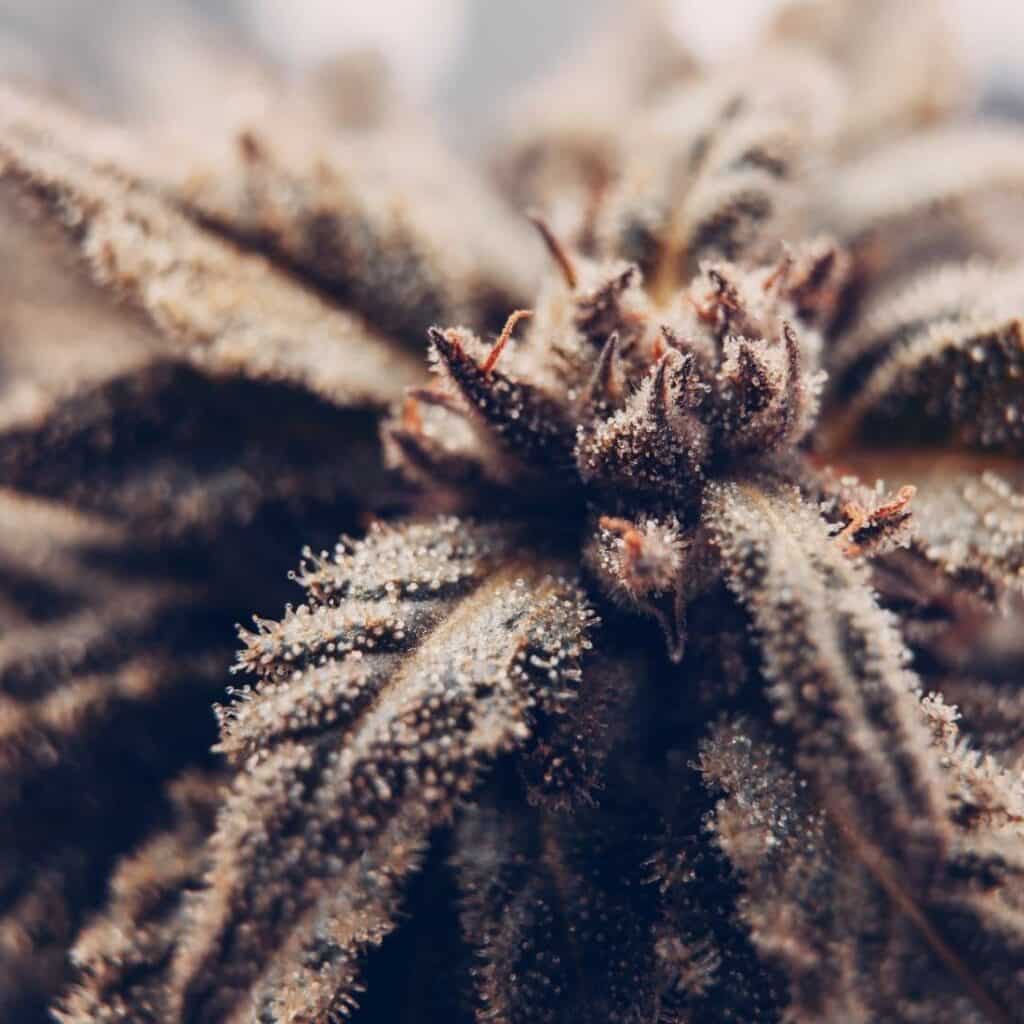 Everything You Need To Know About The Black Diamond Strain
Black Diamond Strain Effects
Some of the reported effects of Black Diamond, or "Black Diamond OG" include:
Calming 

Relaxed

Happy

Hungry
It has a juicy blackberry scent on the nose, with layered notes of burnt toffee and hardwood. 
Here's how we like to describe Black Diamond kush strain effects:
The Black Diamond high often causes quick sedation, so it's best to consume in the evenings. Hunger is common, so be prepared to have snacks or a meal close by. Black Diamond is known to cause fits of laughter, making it a great strain for hanging out with friends.
Due to the high quantity of THC inherent in Black Diamond, it has been known to cause hallucinogenic effects along with some mild sound amplification if it is smoked in high quantities. 
As the high progresses, a gentle calm will develop into a surprising giddiness. 
With a typical THC level that ranges from 18-24%, the Black Diamond strain is perfect for medical marijuana use but will still allow the user to feel sociable and active.
Things to Do While Enjoying Black Diamond Strain
Black Diamond leaves the user feeling not quite tired, but very mellow and unmotivated to move. 
Movies or catching up on TV shows with friends is great for those who enjoy company, but a relaxing jam session or some quality couch time might be more realistic for those smoking at night. 
Medically, Black Diamond strain is often recommended as a nighttime smoke to assist those suffering from insomnia since it is highly sedative. It's also commonly used for alleviating pains, muscle spasms, nausea, and anxiety. 
Also, because Black Diamond tends to cause hunger, it's also often used by those who suffer from loss of appetite.
When under the influence of marijuana, including the Black Diamond strain, it's not recommended that you drive or operate heavy machinery.
Black Diamond Strain Terpenes
Terpenes are what drive experience and richness in flavor, and next to the strain, terpenes will directly define the type of high you can expect from cannabis.
The dominant terpene in Black Diamond cannabis strain is myrcene, followed by:
Pinene –

pine

Caryophyllene –

pepper

Limonene

– zesty citrus
The myrcene gives off earthy, peppery aromas and flavors and is the most abundant terpene in Black Diamond. 
These terpenes give Black Diamond the flavor and aroma that it's famous for: a musky and earthy scent reminiscent of a deep red wine.
Black Diamond is a cross between Blackberry and Diamond OG, and sometimes called "Black Diamond OG" strain or "Black Diamond OG Kush." It is bred in the Northern California region as a clone-only strain. 
This is an Indica-dominant strain and is considered to be rare to find (like a diamond, you might say).
Black Diamond Strain Reviews
Here are opinions that were written by Reddit and Allbud users about the Black Diamond strain:
"Anyways, for the high and smoke, it was very good. Quite potent and the high is a very relaxing chill/mellow high. The type of high I desire for evening after dinner. Wife also loves it, she thinks it's the best looking weed we've ever received. The smell isn't too strong but you can smell the sweet scent of berries."

"Pretty damn versatile. Contention with whatever you're doing, I think if one word if any could describe this high it's equilibrium. Usually hate indicas, but this sedation is light and unique. Would get again."

"Great for sleep, extremely relaxing high. A really pungent smell (in a good way). Get ready for a good case of the giggles and the munchies. Highly recommend."
If you've tried Black Diamond strain, please leave a review below:
Black Diamond Strain Information & History
Black Diamond strain is a cross between Blackberry (50% Sativa /50% Indica) and Diamond OG (50% Sativa /50% Indica), Black Diamond is an Indica dominant hybrid at 70% Indica, 30% Sativa.
Black Diamond tests out at THC levels as high as 24% and as low as 18%.
When you first lay eyes on the Black Diamond bud, you'll notice: 
Orange-colored hairs which are long and thin shooting out of the denser buds

Flowers that have a glittery trichome covering and purple coloring 

It's likely coated in a thick gloss of white, sticky trichomes

#1: What Is the THC Content in Black Diamond Strain Cannabis?
The THC content in Black Diamond strain weed averages from 18-24% (though this can vary). 
If you're looking for a strain with less THC, try one of these:
Easy Bud

Haze Berry Automatic

Harlequin

Remedy; or

Catatonic
Or if you're looking for other strains that are high in THC content, you can also try these:
The Toad

Godfather OG

Strawberry Banana

Amnesia Haze

WiFi OG

Or

others

#2: What Is the CBD Content in Black Diamond Strain Cannabis?
Black Diamond strain weed contains only trace amounts of CBD, from 0.039-1%.
If you're on the hunt for a weed strain high in CBD, try one of these strains:
Charlotte's Web

ACDC

Sour Space Candy

Lifter

Ringo's Gift

Cherry Wine

Elektra

Sour Tsunami

Ringo's Gift; or

Cherry Wine

#3: Is the Black Diamond Strain Indica or Sativa?
Black Diamond kush strain is a hybrid consisting of between 70-80% Indica and 20-30% Sativa. 
The strain gives users a balanced mix of the relaxing and calming effects of Indica and the energizing, anxiety-reducing effects of Sativa.

#4: Does Black Diamond Strain Have Any Hybrids or Crossbreeds?
Black Diamond strain does not have any common cross breeds or hybrids.
Where to Buy Black Diamond Strain Near You
Looking to give Black Diamond strain a try for yourself? Simply enter your zip code below to find dispensaries that offer the Black Diamond strain near you.
If you can't find the Black Diamond strain near you, then reach out to us. 
We've spent more than a decade trying, curating, and reviewing cannabis products for our customers and we'd love to help you find exactly what you're looking for in a cannabis product.